Touring bikes—often referred to as baggers—may be the trendy models among motorcycle manufacturers now, but Harley-Davidson's Heritage Softail Classic, last reviewed here in 2011, has filled that role for 30 years.
Not much has changed on this motorcycle in three decades with this Softail offering amenities like leather saddlebags, a windshield, and a sissy bar so its ready for touring right from the showroom floor. Along with rider-friendly ergonomics, the Heritage Softail Classic has been the go-to motorcycle for motorcyclists looking to trade up to a touring motorcycle that doesnt have all the bulk.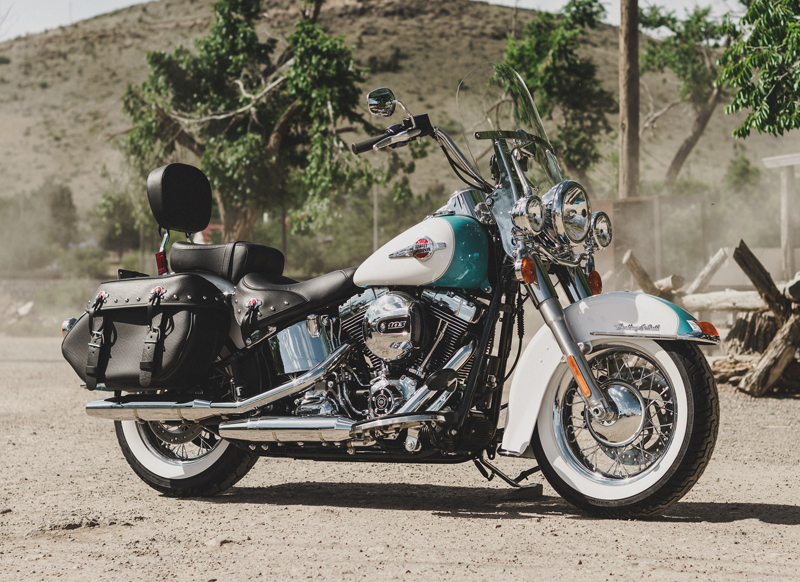 For 2016 the bags, windshield, and sissy bar are still standard equipment, but Harley-Davidson went one step further making the motorcycle more touring-capable by upgrading the engine to its High Output Twin Cam 103B with sixth gear overdrive, the same engine introduced in 2014s Project RUSHMOREmotorcycles, and now found on all Harley-Davidson FL touring bikes, Softails, and most Dynas.
The High Output Twin Cam 103B is tuned to deliver strong acceleration and passing power with a new high-flow airbox and camshaft that optimizes torque at lower rpm. And with cruise control as standard equipment, long highway jaunts are more relaxed than ever.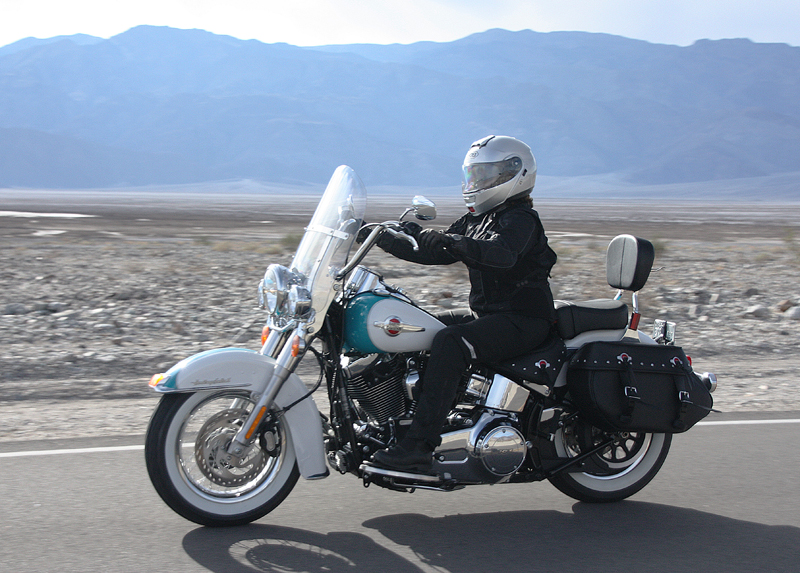 My husband, Tim, has owned three Heritage Softail Classics over the years, so he and I took turns swapping between the 2016 Heritage and Harley's Sportster SuperLow 1200T on a trip from Los Angeles to Death Valley. We both immediately noticed an increase in power over the Heritage's previous generation motor without increased vibration. The motorcycle pulled smoothly, quickly, and easily from first gear. No matter what the speed, the mirrors remained clear and the ride comfortable.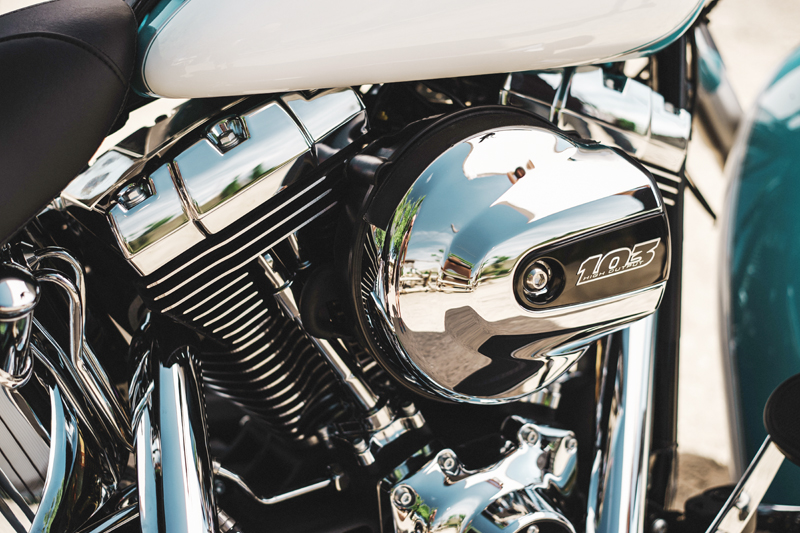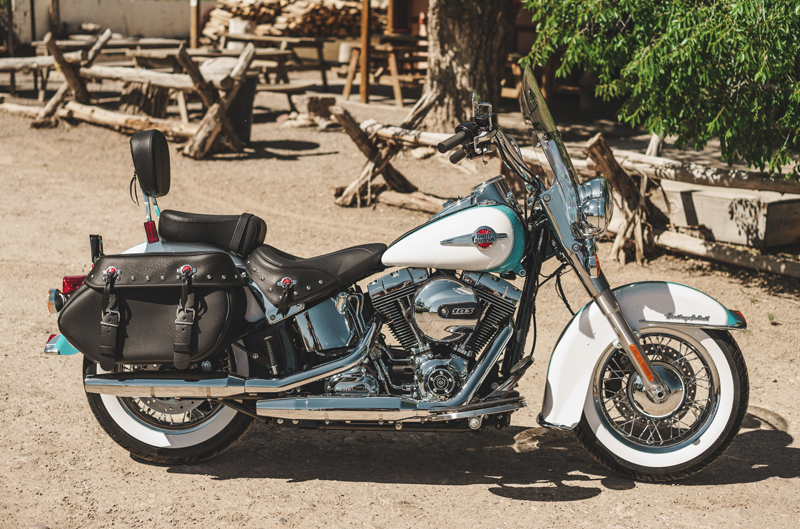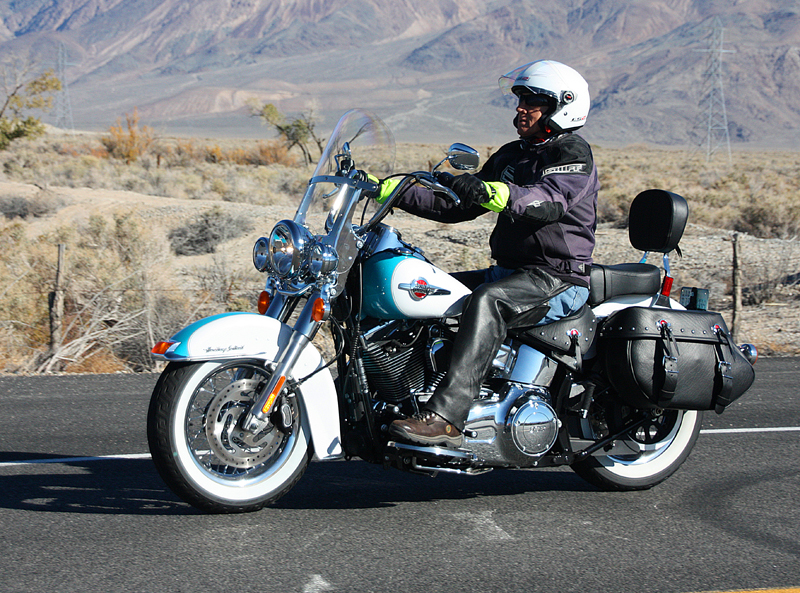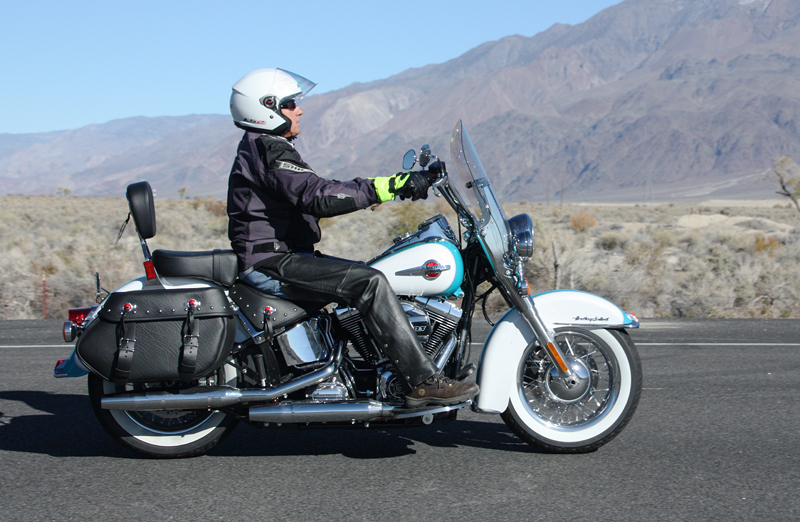 The Heritage Softail Classic is perfect for full days in the saddle. Handling is nimble and compliant. The Softail's hidden rear shocks, important to complement the styling, work well at minimizing bumps and jars from the road.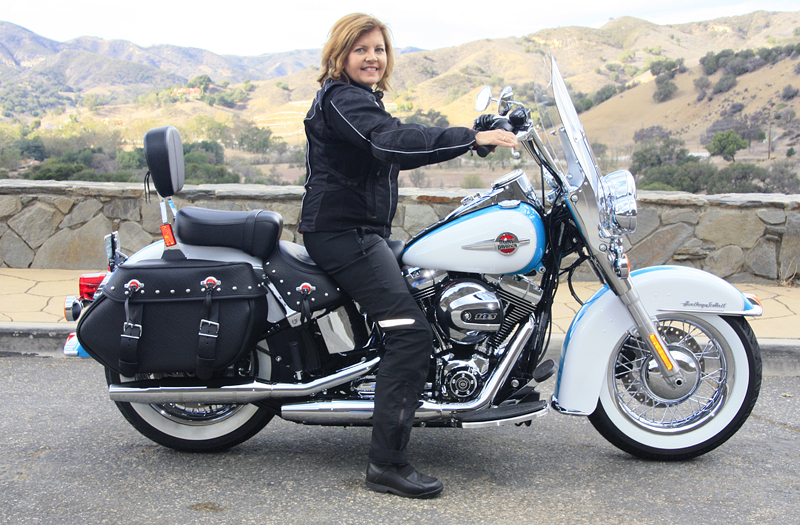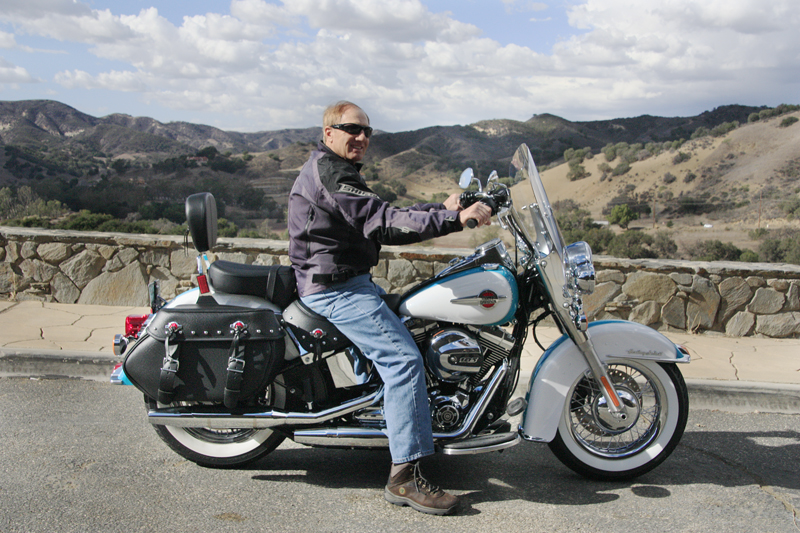 Touring has been the Heritage Softail Classic's purpose since its beginning, and over the years Harley has upgraded a lot of the touring goodies on the bike. The king-sized windshield is detachable for days when youre just rolling through town, as is the two-piece, two-up seat pillion for when you just want a solo seat.
For 2016, the saddlebags are redesigned with a new mounting system and internal rigid structure to prevent the sagging that plagued previous models. The bags now retain their shape making it easy to fill them.
| | |
| --- | --- |
| The Classic's saddlebags feature new hidden quick-detach buckles. The bags offer 1.27 cubic feet of storage, plenty of space for a multi-day touring trip. The bagger has a nice wide rider and passenger seat, but its width interferes with opening the saddlebag lids all the way. | Harley-Davidson subtly updated the look of the Heritage Softail Classic for 2016 without losing its distinct vintage style. The nostalgic vibe remains, but fewer studs, red glass inlayed "cat-eye" inserts in the conchos on the seat and saddlebags, and a new leather tank panel and 3-D tank medallion update the look. |
| The tank-mounted dash is retro-styled and includes an electronic speedometer with odometer, clock, dual tripmeter, RPM/gear display, fuel gauge with low-fuel warning light and miles-to-empty feature, low-oil pressure indicator light, engine diagnostics readout, LED indicator lights, and a 6-speed indicator light. | The classic styling wouldn't be complete without full-length, rubber vibration-isolating floorboards and a wide brake pedal. Harley-Davidson's Genuine Accessory catalog includes vintage add-ons to customize the look, such as white floorboards and pedals, seen here on WRN. |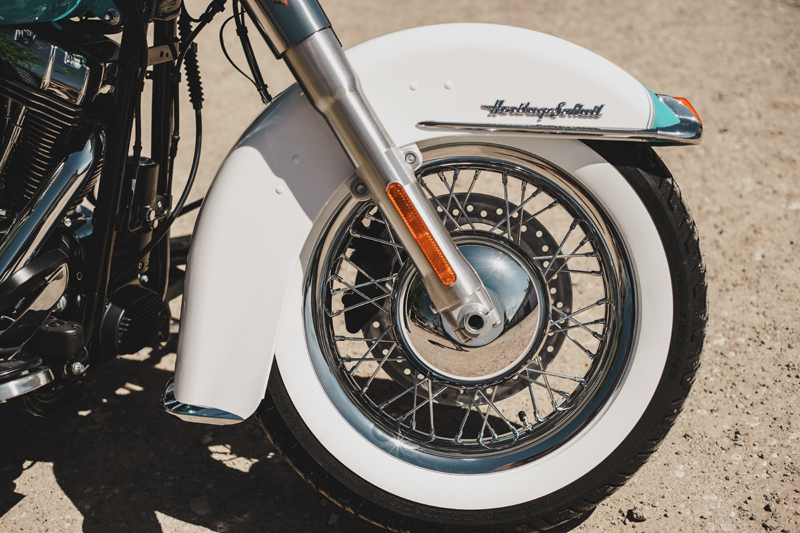 Cruise control is a welcome amenity on touring motorcycles and this year Harley-Davidson added it as a standard feature on the Heritage Softail Classic. The button to activate it resides under the left handlebar control cluster. You set the speed by pressing a small plastic lever with your thumb, and you can increase and decrease your speed using the lever.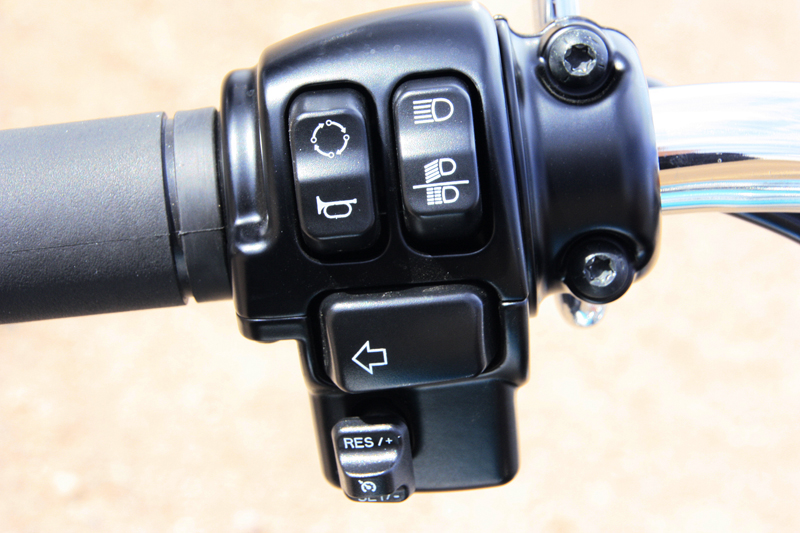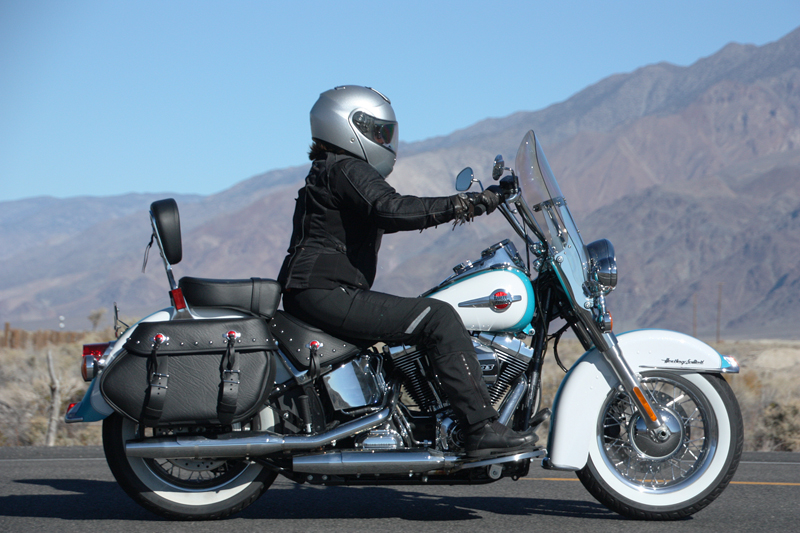 Specs At A Glance: Harley-Davidson Heritage Softail Classic
Engine Size: 1690cc
Seat Height: 25.5 inches
Weight: 755 pounds
Fuel Capacity: 5 gallons
2016 Colors: Vivid Black, Superior Blue, Billet Silver, Olive Gold, Crushed Ice Pearl/Frosted Teal Pearl, Amber Whiskey/Vivid Black, Purple Fire/Blackberry Smoke, Cosmic Blue Pearl
Price: Starts at $17,349
WRN Recommendation
A long-time favorite of ours, the Heritage Softail Classic is a comfortable mid-sized touring bike that handles long days in the saddle even better than ever, thanks to the addition of cruise-control and more powerful engine. For riders with some experience looking for a tour-worthy motorcycle they can handle easily that comes with a low seat height, the Heritage Softail Classic is an excellent choice. We love that you can roll right out the dealership with a windshield and saddlebags so its ready for your first road trip.
Related Articles
Harley-Davidson Softail Slim
2011 Harley-Davidons Heritage Softail Classic
All Harley-Davidson Reviews
All Motorcycle Reviews