Kudos to the designers and engineers at Harley-Davidson who were given the challenging task of revamping some of the brand's most iconic models from the ground up. Last month WRN reported the big news about the eight all-new 2018 Softails that merge the models previously known as Softails and Dynas, marking the Motor Company's largest R&D project in the company's history.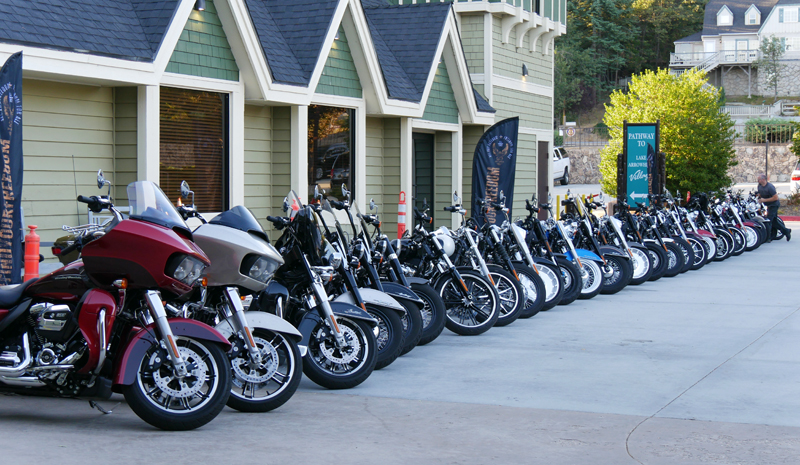 I was the only full-time female moto-journalist invited to the two-day press introduction test ride of all eight models around beautiful Lake Arrowhead in California. Harley-Davidson organizers created an efficient system to ensure we all had enough seat time to evaluate each model, putting no less than 50 miles on each bike. It was scorching hot, reaching 104 degrees at times, but the weather did nothing to take away from the cool factor the new Softails received everywhere we rode.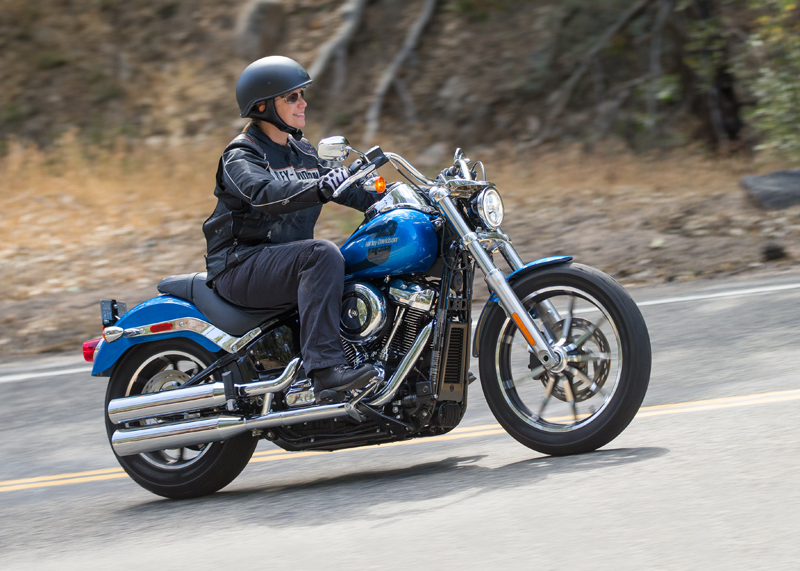 All eight Softails—Street Bob, Low Rider, Slim, Fat Bob, Deluxe, Breakout, Fat Boy, and Heritage Classic—are powered by the dual-balanced, rigid-mounted Milwaukee-Eight 107 inch (1746cc) engine in a new frame and chassis that incorporates a redesigned rear mono-shock that improves ride quality, traction, and control. Hidden to create a hard tail look, the shock is easier to adjust than ever before.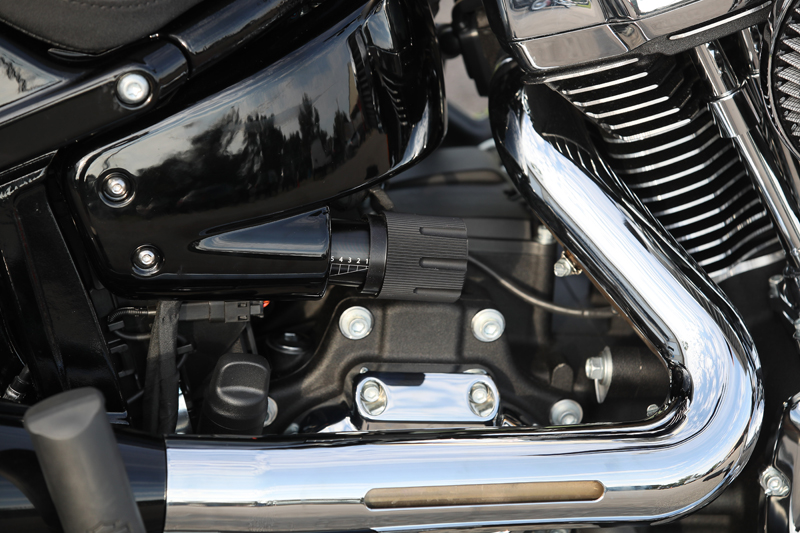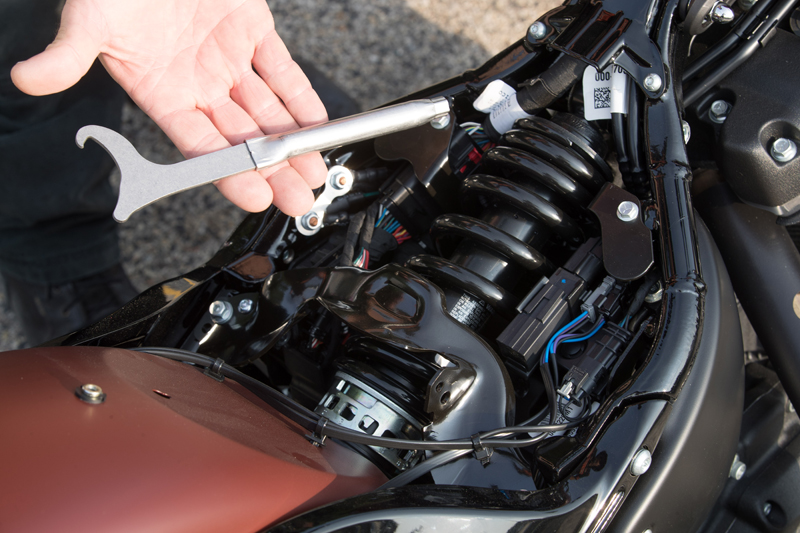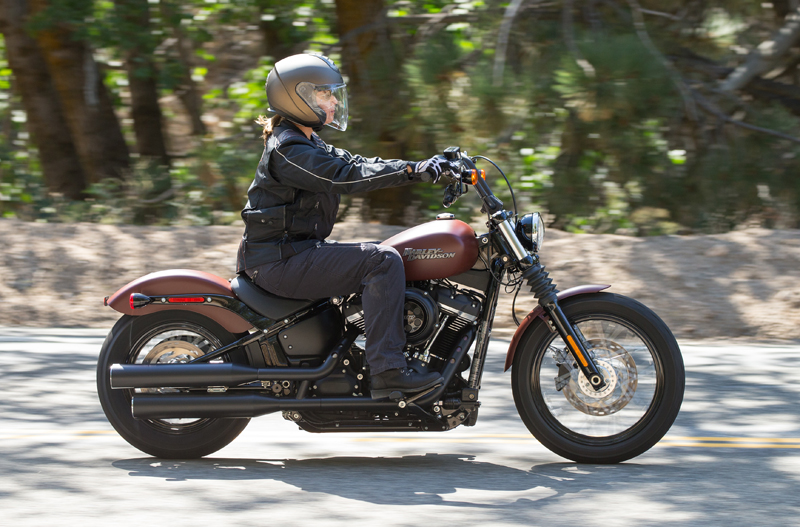 Four Softails—the Fat Bob, Breakout, Fat Boy, and Heritage Classic—are also available with the Milwaukee-Eight 114 ci (1868cc) engine. A back-to-back comparison ride on the Heritage 107 versus the 114 reveals not only a more immediate torquey response, but less shifting and more relaxed revs at higher speeds. I definitely see the benefit of having the bigger engine for riders who will be loading up a long tour's worth of gear.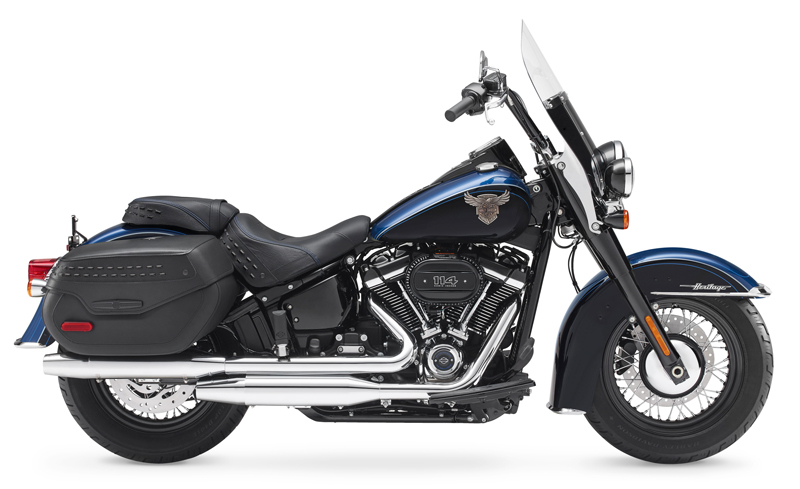 The new Softail design results in lighter, stronger, more powerful motorcycles that are more fun to ride and easier to lift off sidestands—something all women will appreciate. Improved cornering clearance is well received by riders like me who regularly scrape footpegs in curves.
The new Softails' power-to-weight ratio is vastly improved, and editor Genevieve Schmitt goes into more detail about specific technical changes and weight reductions in her article here. It's also important to note that the new design drops the center of gravity lower, which directly attributes to having better control at low speeds, something women will definitely appreciate.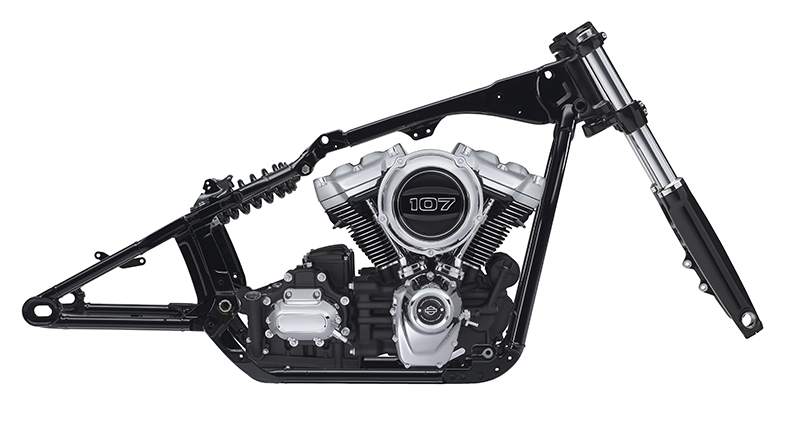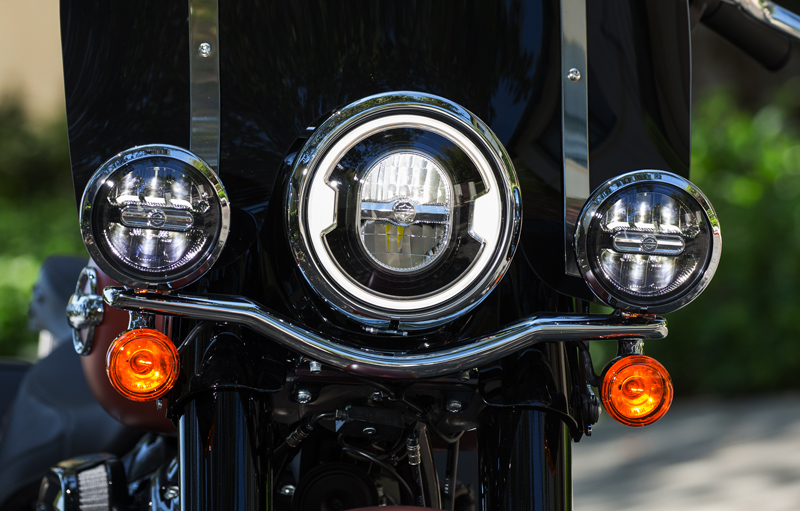 With regard to that all important seat height measurement, critical to a woman feeling comfortable and in control on a motorcycle, seat height gains were less than an inch, except for the Slim, Deluxe, and Fat Bob (The 2018 Slim seat height is 1.7 inches higher than its predecessor, the 2018 Deluxe is 1.4 inches higher, and the Fat Bob is 1.6 inches higher.)
Incorporating modern styling and technology without losing the iconic feel of the Harley brand was no easy task. While I personally think the styling department proved each model more than worthy of the Harley-Davidson badge, many of the initial comments I saw on Facebook when the motorcycles were first shown involved the loss of chrome for black. Black bikes and satin finishes have been trending for the last few years, so it's no surprise to see more exhausts, forks, and air cleaners being treated to these finishes.
But remember, these are still Harley-Davidsons; they are supported by the best aftermarket offerings for customization available. I expect to see just as many bone-stock Softails cruising down the road in 2018 as I did in all the years prior (almost none). After all, making your bike your own is a huge part of what makes owning a Harley-Davidson so appealing. And the Motor Company is ready with a full line of all-new accessories to fit the 2018 Softails.
What I immediately noticed on each bike was how easy it is to use the new sidestands. I'm a fairly tall woman at 5 feet 7 inches and even I have struggled to reach a far-away Harley sidestand on previous years' models to put it down. The company finally rectified this issue and all the stands are shorter, well-placed, and designed so it's no longer a challenge to use them while seated on the bikes.
I was very impressed with the overall quality of every model. Harley's engineers and stylists did a world-class job making sure each new Softail has its own look and ride character, making it distinctly unique from its siblings. Below, I call them the way I see them based on what I found to be each model's special attributes.
Click the image to go to that model.
Softail Sportbike Wannabe – The Fat Bob
I love the Fat Bob. In fact, the only Harley-Davidson I ever owned was a 2009 Dyna Fat Bob. I loved its mean stance and I could ride it aggressively like a sportbike when I wanted to have fun in twisty corners. I loved the feeling so much that I sold the Dyna cruiser earlier this year and bought a real sportbike, a BMW R 1200 RS.
But the 2018 Fat Bob is pulling at my Harley-Davidson heartstrings again. I couldn't wait to get seat time on the 2018, and I wasn't alone. The Fat Bob was a clear favorite among many moto-journalists at the press launch, and I noticed Harley proudly features this bike front and center in a lot of its marketing materials.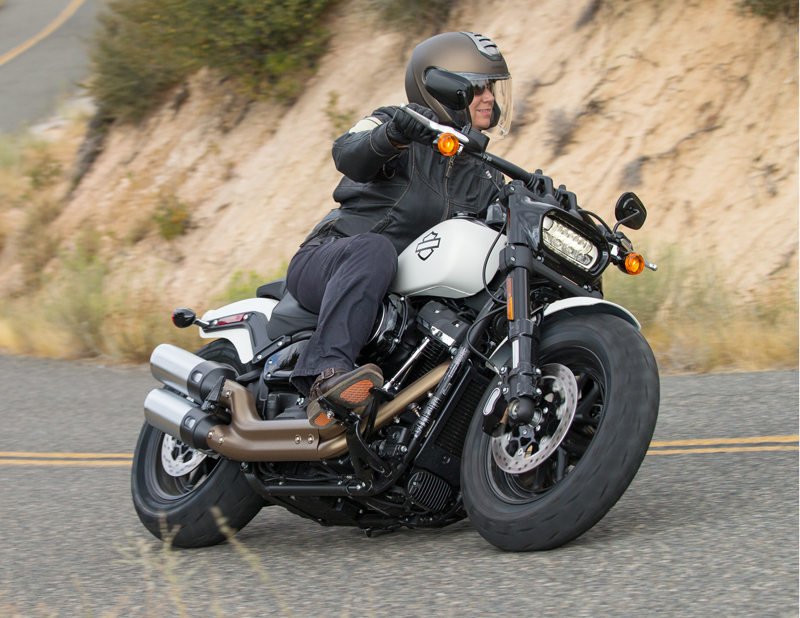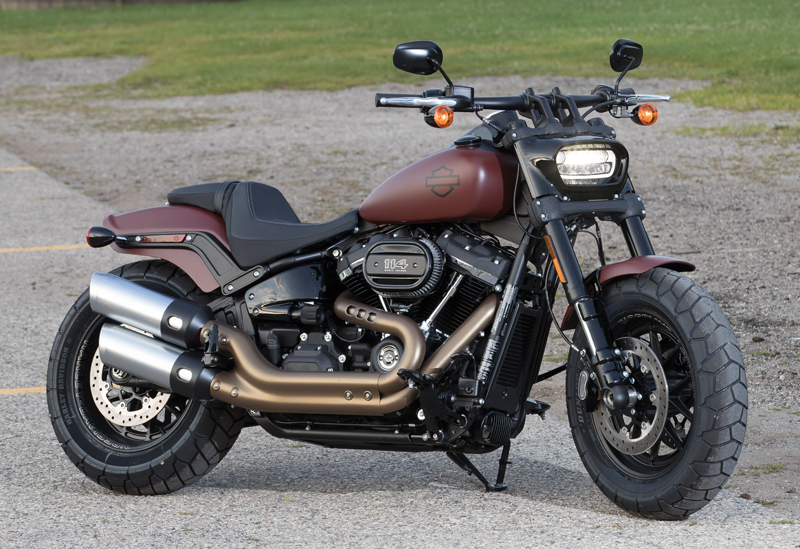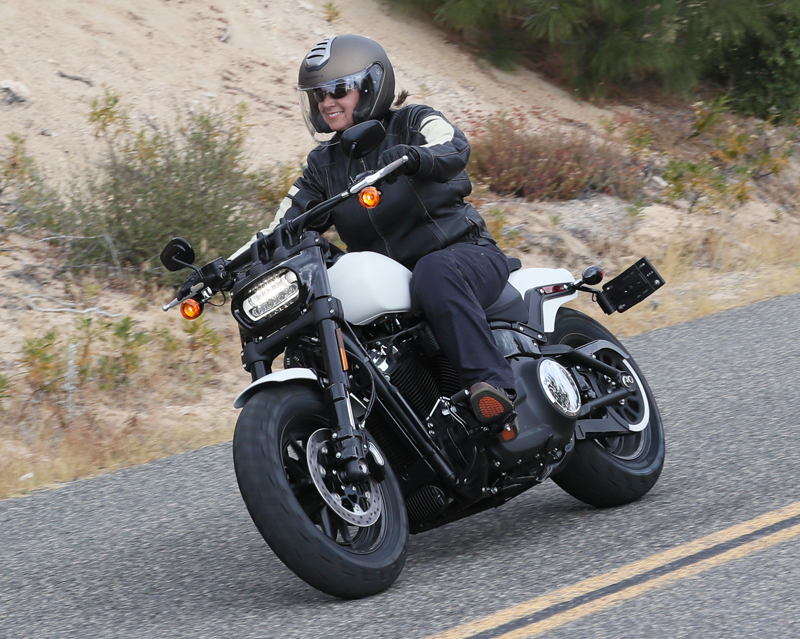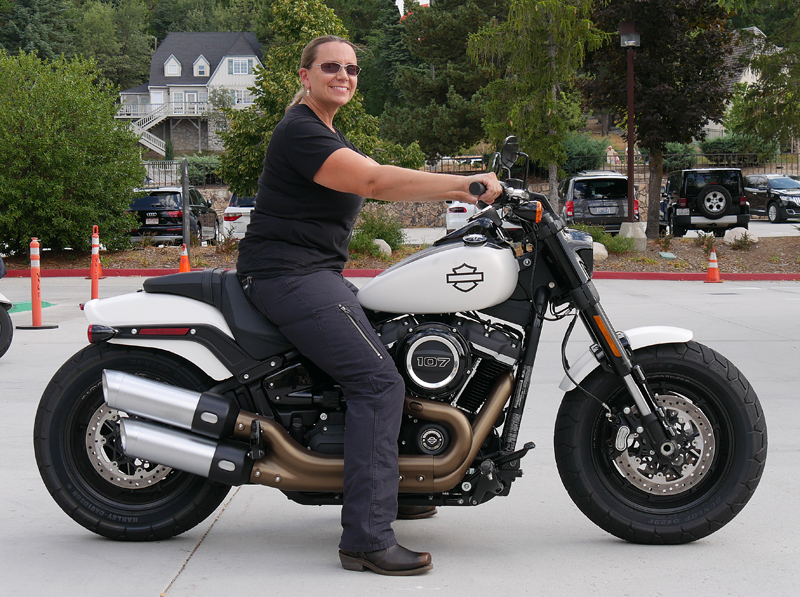 Harley engineers tell me the decision to fit the smaller, 3.6 gallon tank on the Fat Bob was to offer a full view of the Milwaukee-Eight powerplant. This was the one disappointment to me and other die-hard Fat Bob fanatics. This bike is supposed to be fat and the slim tank just doesn't work for me.
Fitting saddlebags to this bike is going to take a lot of innovation since there's no Genuine Harley Accessory way to do so yet. But this bike isn't set up for touring. The only Softail with an inverted front fork assembly, the Fat Bob was built for riders who want to ride hard and look cool doing it.
Specs at a Glance: Fat Bob FXFB/FXFBS
Engine size: 107 ci (1746cc); 114 ci (1868cc)
Seat height: 27.7 inches
Weight: 675 pounds
Fuel capacity: 3.6 gallons
Colors: 107 – Vivid Black, Black, Red Iron Denim, Bonneville Salt Denim; 114 – Vivid
Black, Black, Red Iron Denim, Industrial Gray Denim, Bonneville Salt Denim
Price: 107 – starts at $16,999 (ABS $795); 114 – starts at $18,699
Prettiest Softail – The Deluxe
The Softail Deluxe, one of the 10 most popular models women ride, is clearly meant to capture our hearts with its beauty. The Deluxe exudes classic Harley character and keeps all its best style attributes: wide pullback handlebar, floorboards, whitewall tires, chrome laced wheels and hub cover, chrome side cover, chrome fender trim, and vintage-style solo seat.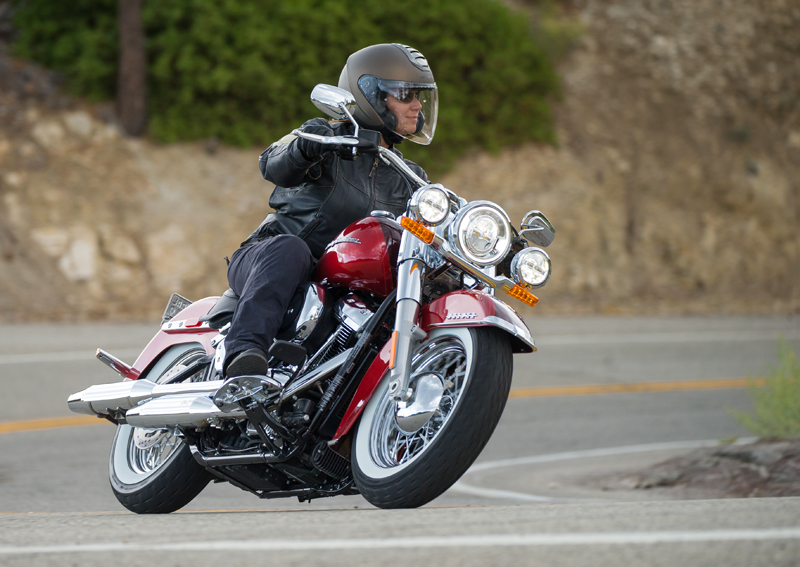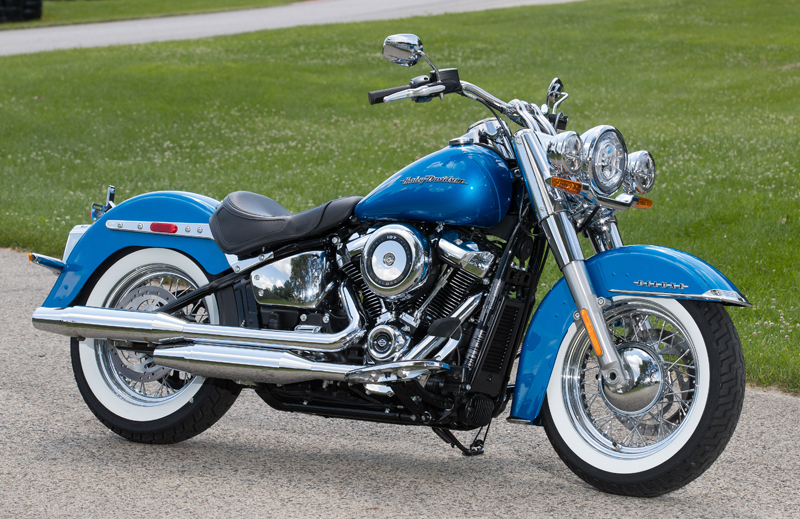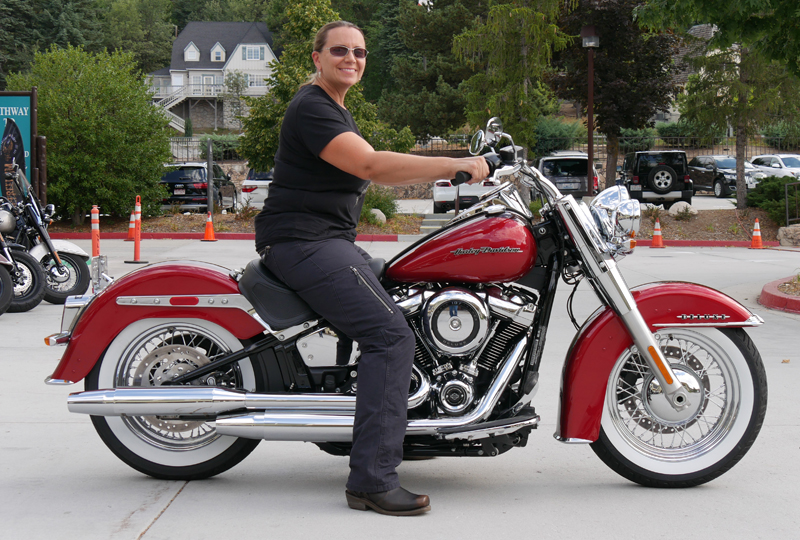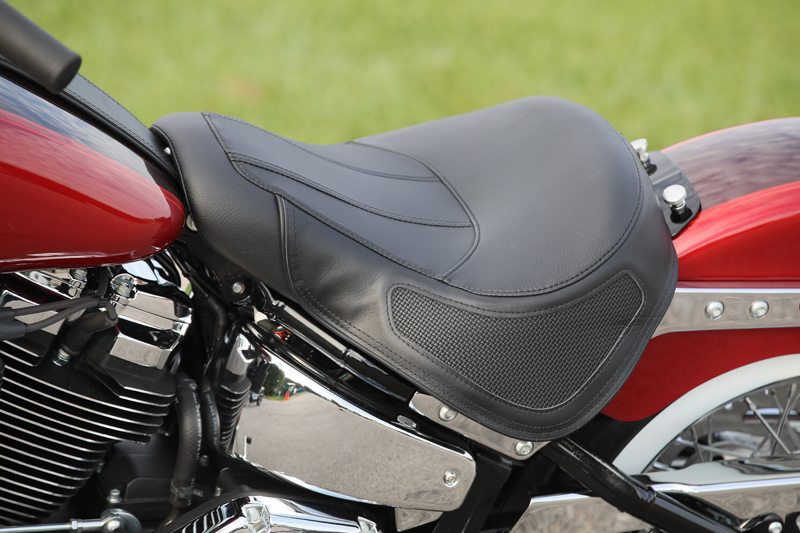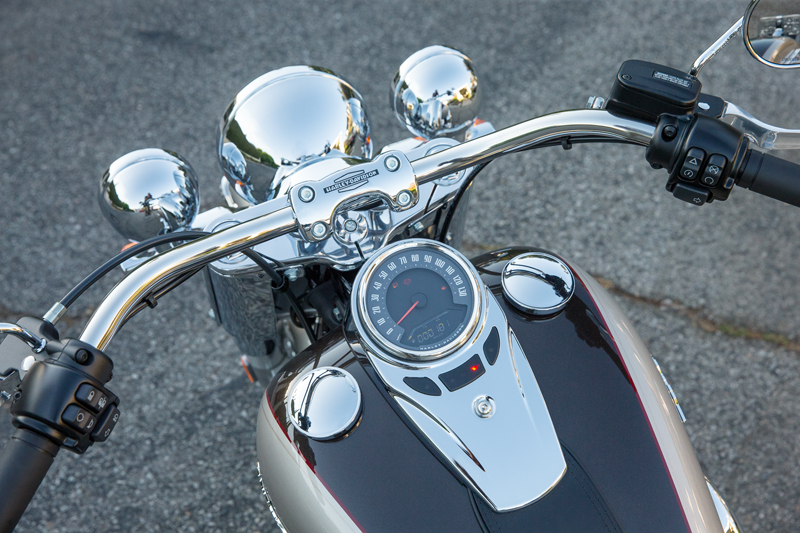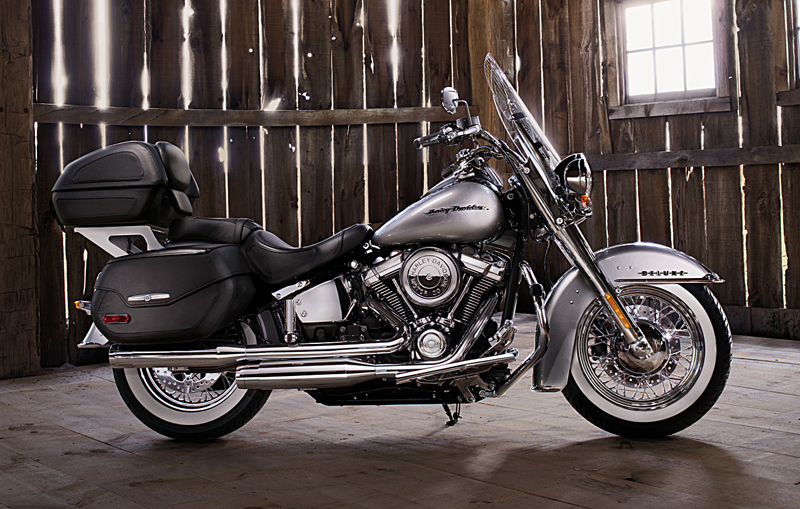 The Deluxe's LED headlight, lightbar, and turn signals are updated without losing the vintage flavor by using angular lines that remind me of 1950s hot rods and car hops.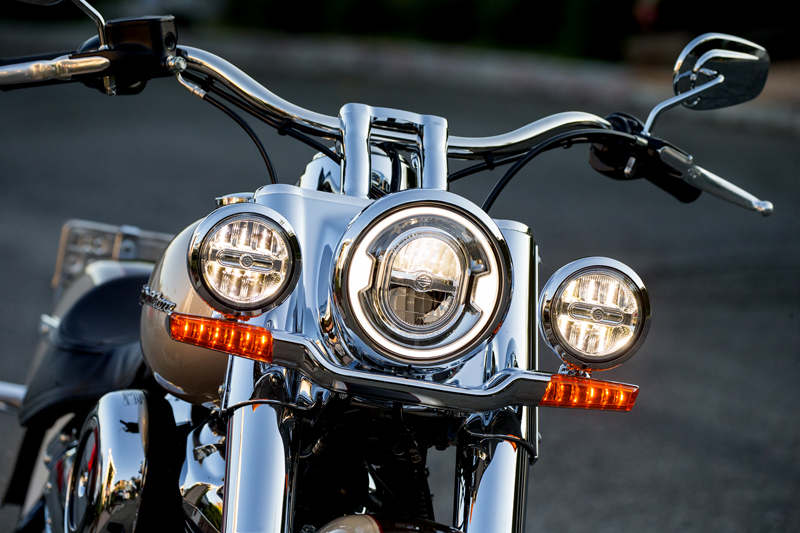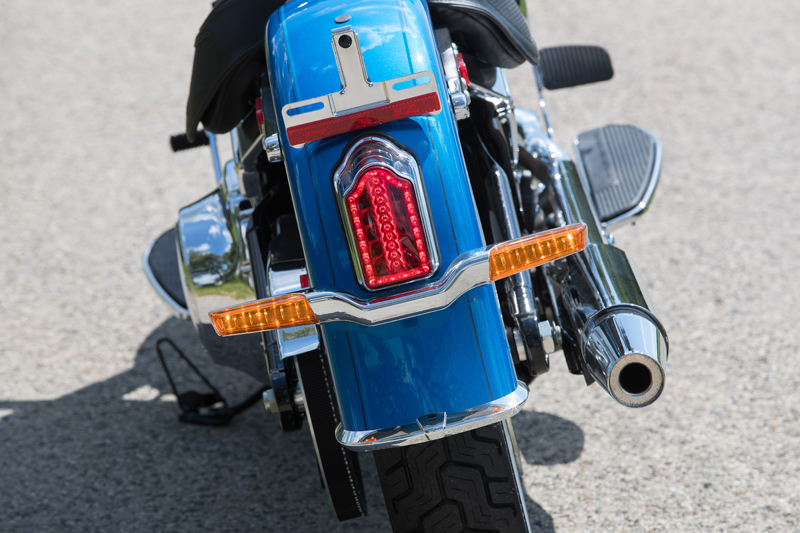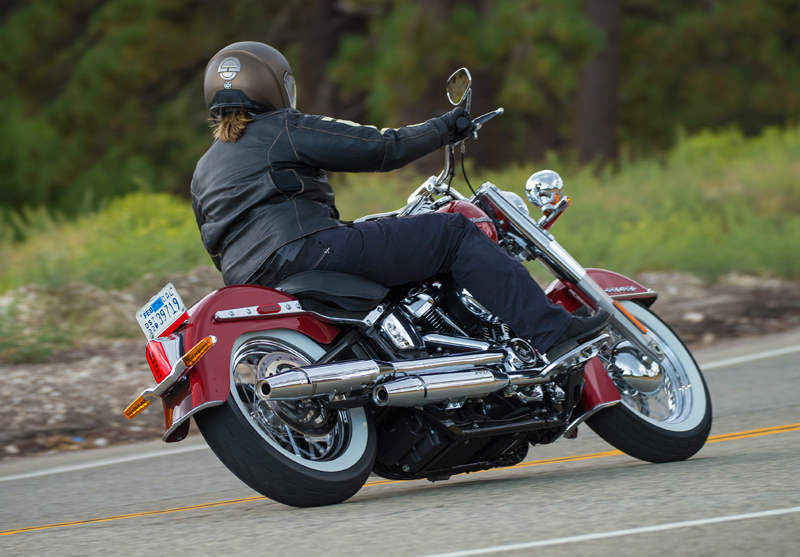 I thoroughly enjoyed cruising on the Deluxe and would have been happy riding it a lot more. This bike will surely continue to be a popular model for women, and I'm excited to see all the innovative ways new owners will customize the "prettiest Softail."
Specs at a Glance: Deluxe FLDE
Engine size: 107 ci (1746cc)
Seat height: 25.9 inches
Weight: 697 pounds
Fuel capacity: 5 gallons
Colors: Vivid Black, Electric Blue, Twisted Cherry, Silver Fortune/Sumatra Brown, Wicked Red/Twisted Cherry
Price: starts at $17,999
All-'Rounder – The Heritage Classic
As the only new Softail to come with saddlebags, a windshield, and cruise control, the Heritage Classic will be the natural bike of choice for riders who plan to ride long distances in comfort. The Heritage is one of the four Softails available with a Milwaukee-Eight 107 and 114 engine.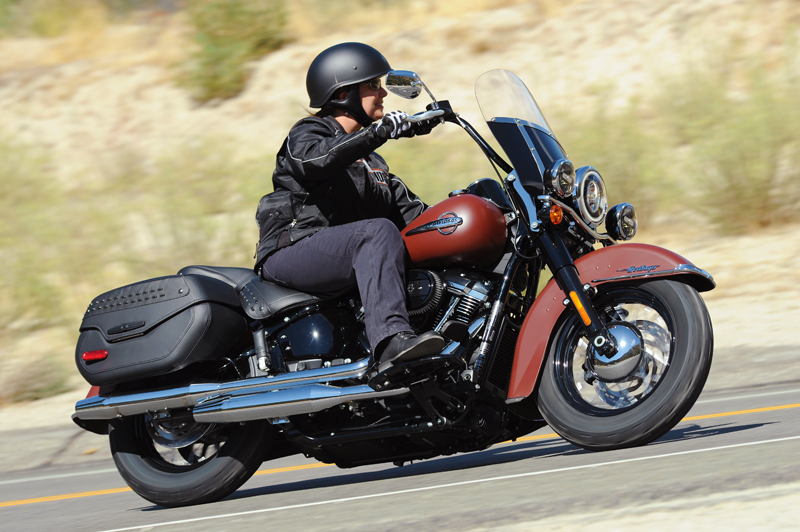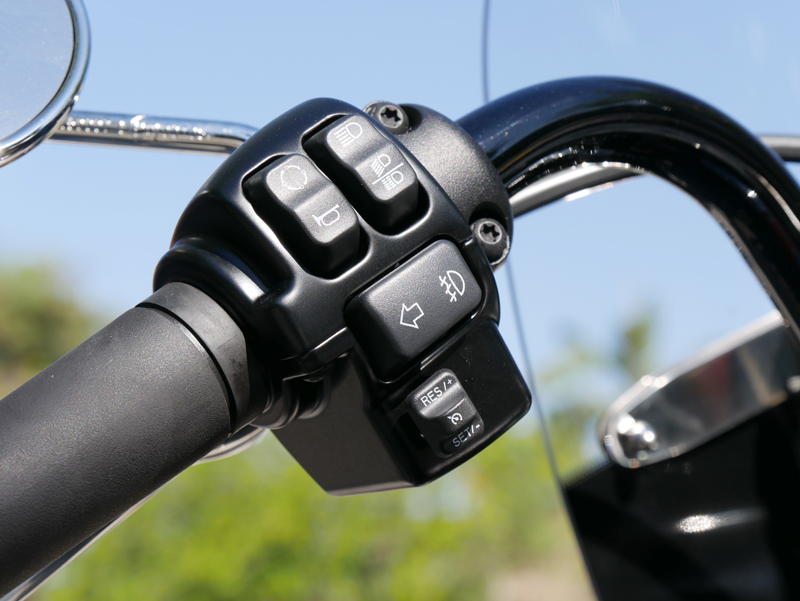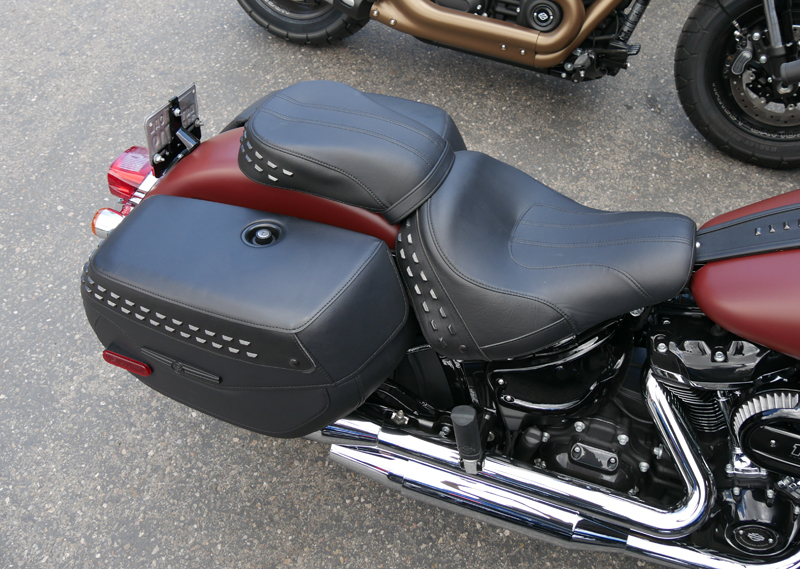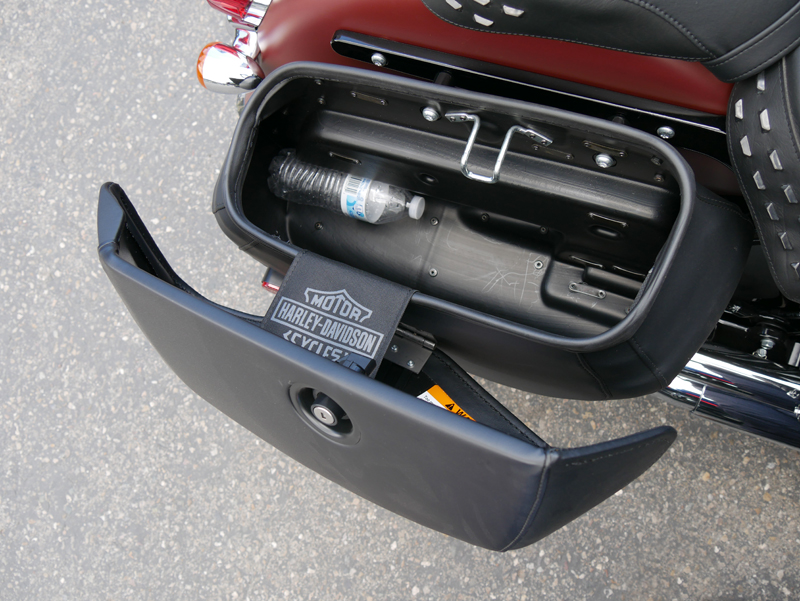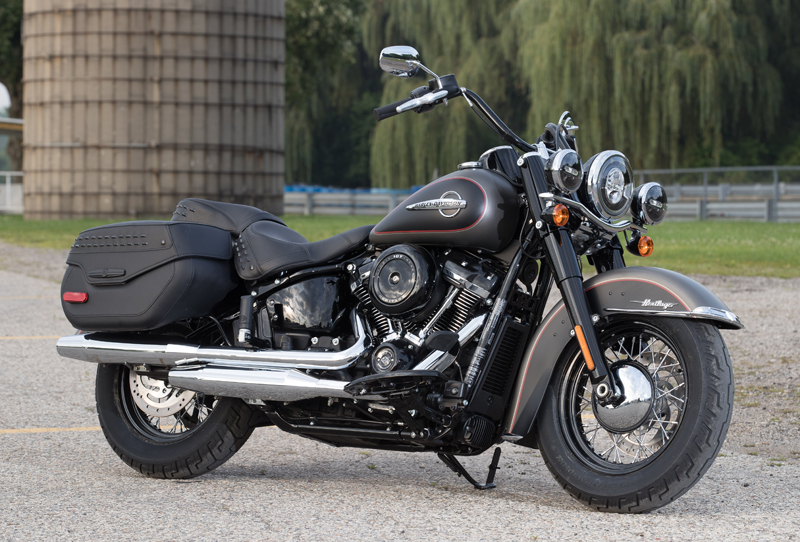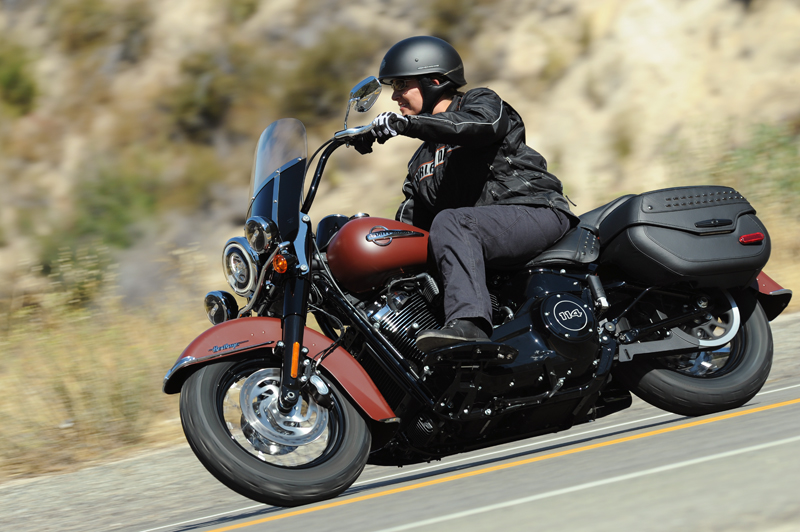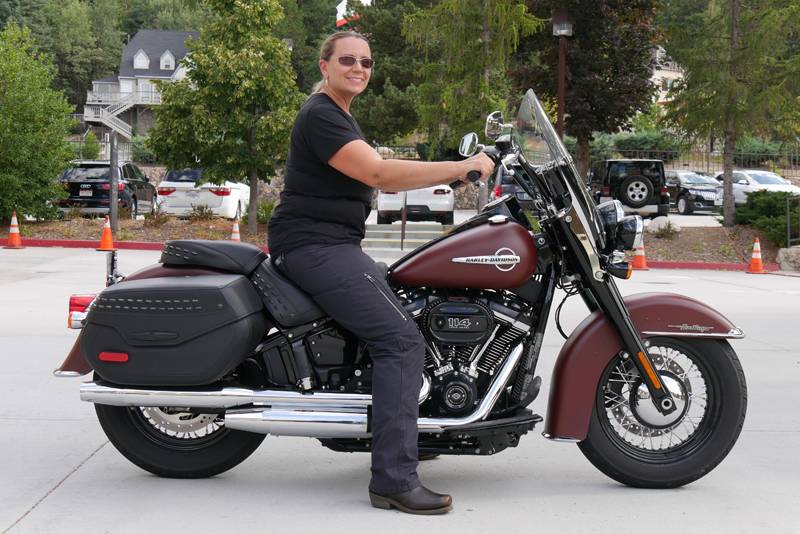 I was pleasantly surprised at how much fun I could have on a bike that looks fairly generic to me. Maybe it's the bland Red Iron Denim color that just doesn't grab me, but I wasn't expecting to enjoy this motorcycle as much as I did. Having wind protection, a 5-gallon fuel tank, and ergonomic comfort certainly plays into my favorable view of the Heritage, but riding through several series of tight twisties without dragging a floorboard and feeling very stable is what ultimately made me a true fan.
A motorcycle that can do-it-all very well, the Heritage Classic continues to be a great choice for women looking for a lightweight touring bike ready to go as is. However, the dark "muscle-y"styling of this particular motorcycle doesn't seem to be calling to women. I appreciate the classic style in the wide bars and fenders, laced wheels, and chrome wheel hubs, but I don't expect most lady riders to embrace all the black parts that used to be chrome.
Specs at a Glance: Heritage Classic FLHC/FLHCS/FLHCSANV
Engine size: 107 ci (1746cc); 114 ci (1868cc)
Seat height: 26.3 inches
Weight: 728 pounds
Fuel capacity: 5 gallons
Colors: 107 – Vivid Black, Twisted Cherry, Silver Fortune, Olive Gold/Black Tempest, Industrial Gray Denim/Black Denim; 114 – Vivid Black, Twisted Cherry, Silver Fortune, Olive Gold/Black Tempest, Industrial Gray Denim/Black Denim, Red Iron Denim; ANV – Legend Blue/Vivid Black
Price: 107 – starts at $18,999; 114 – starts at $20,299; ANV – $21,199
Barry White (Low and Mellow) – The Slim
Another very popular model that women enjoy, the Slim continues to boast the lowest seat height of all the Softails, and at 25.5 inches it shares the lowest seat height of all 2018 Harley-Davidsons with the Sportster SuperLow.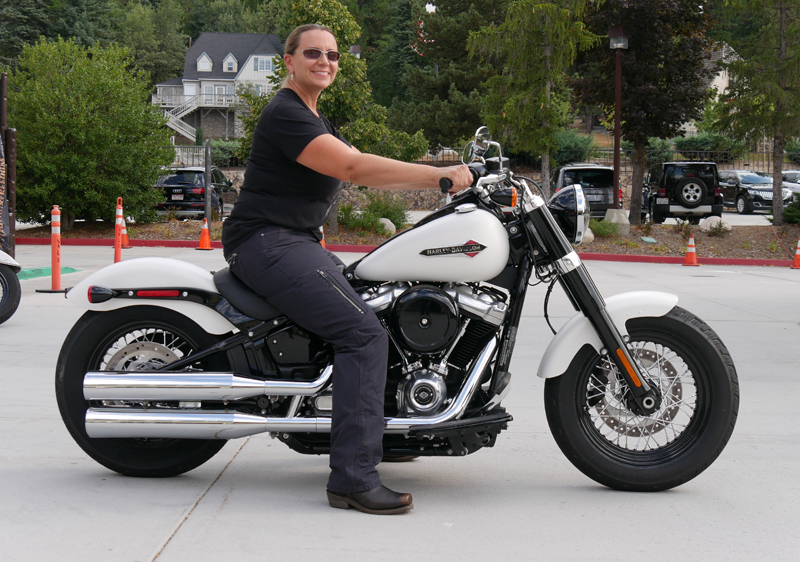 The Slim seems to have changed the least stylistically, maintaining its blacked-out vintage bobber theme with fat spoked wheels, short fenders, Hollywood handlebars, solo seat, fat fuel tank, and floorboards. I've nicknamed the Slim the "Barry White" Softail because it looks so good just cruising mellowly down the boulevard.
More power, better lean angle, and improved suspension is the common theme with all the new Softails, but the Slim was probably in the most desperate need of the latter two since the earlier generation Slim's suspension had a tendency to bottom out over mild bumps, and floorboards would grind easily during mild cornering.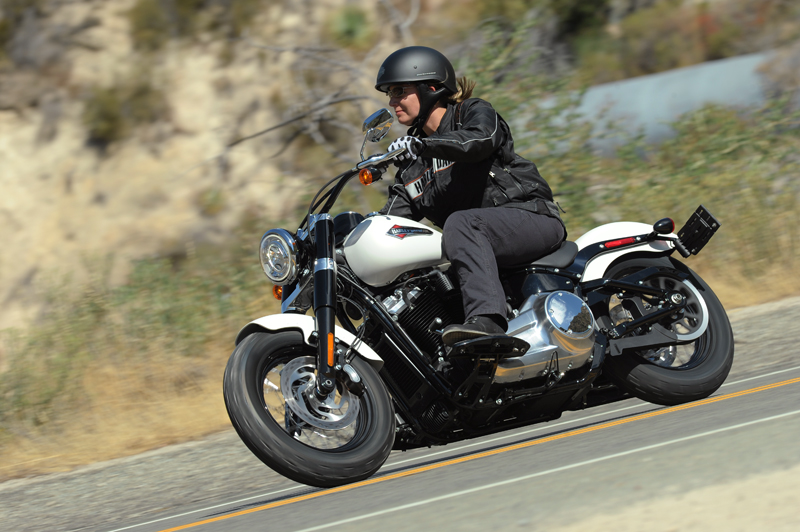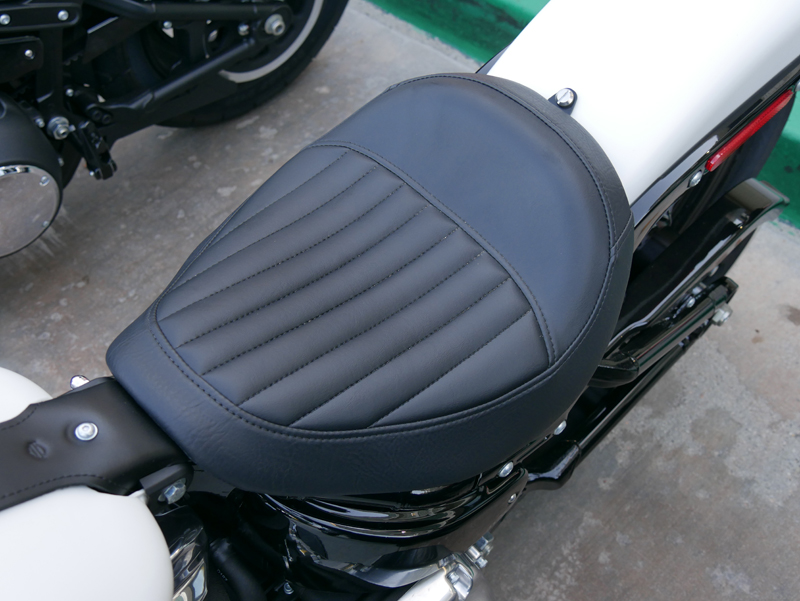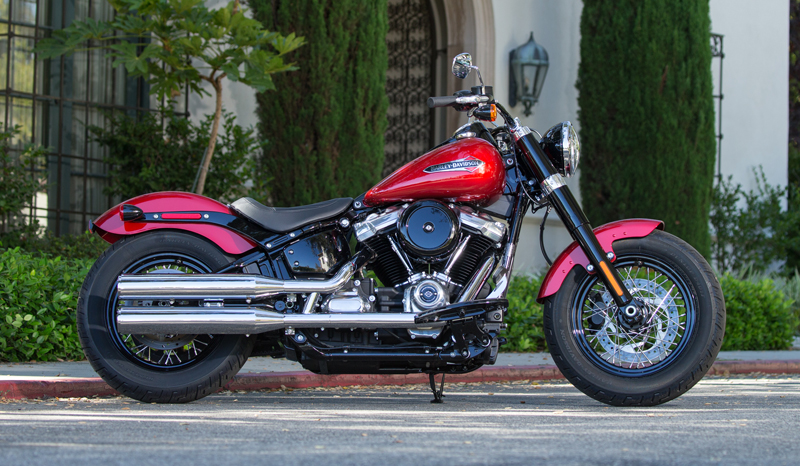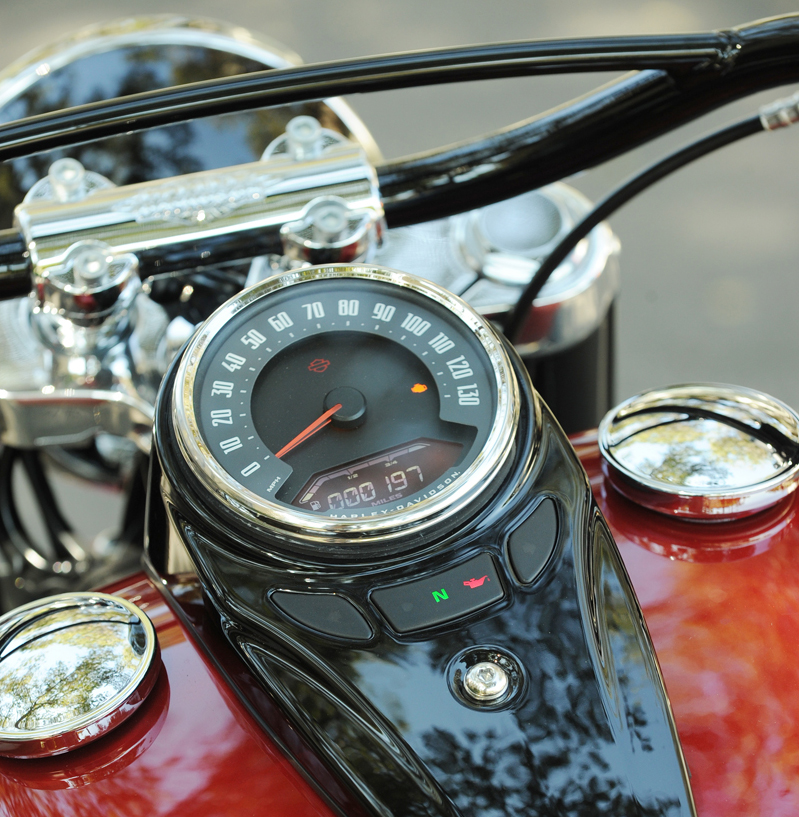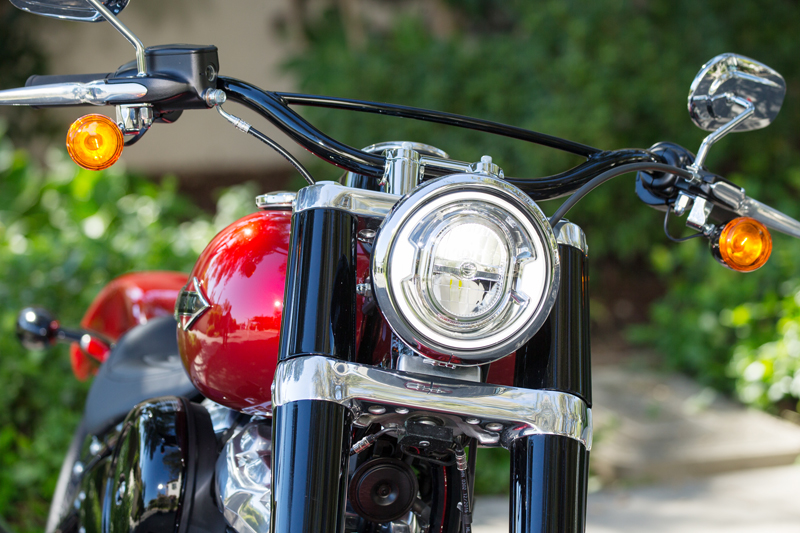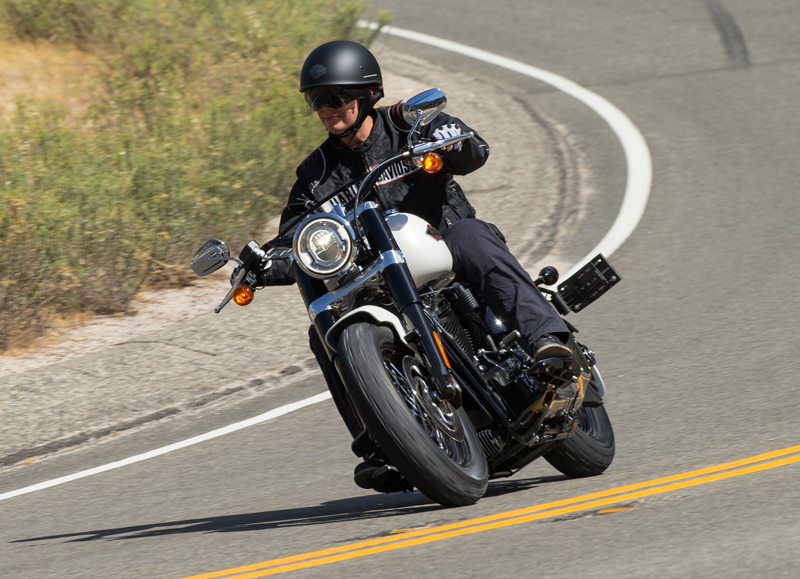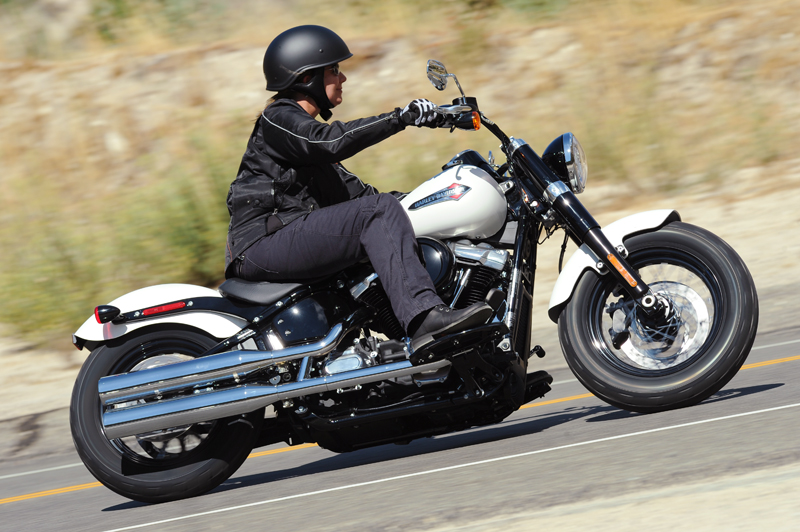 Specs at a Glance: Softail Slim FLSL
Engine size: 107 ci (1746cc)
Seat height: 25.5 inches
Weight: 671 pounds
Fuel capacity: 5 gallons
Colors: Vivid Black, Black Denim, Industrial Gray Denim, Wicked Red, Bonneville Salt Denim
Price: starts at $15,899 (ABS $795)
Easy Rider – The Low Rider
Inspired by the custom chopper era of the '70s and the iconic movie Easy Rider, the Low Rider is a good choice for women who ride a Sportster and are looking to graduate to the Softail line. Studying the new Low Rider, one might quickly forget this bike ever had exposed twin shocks, as its heritage is with the old Dyna family.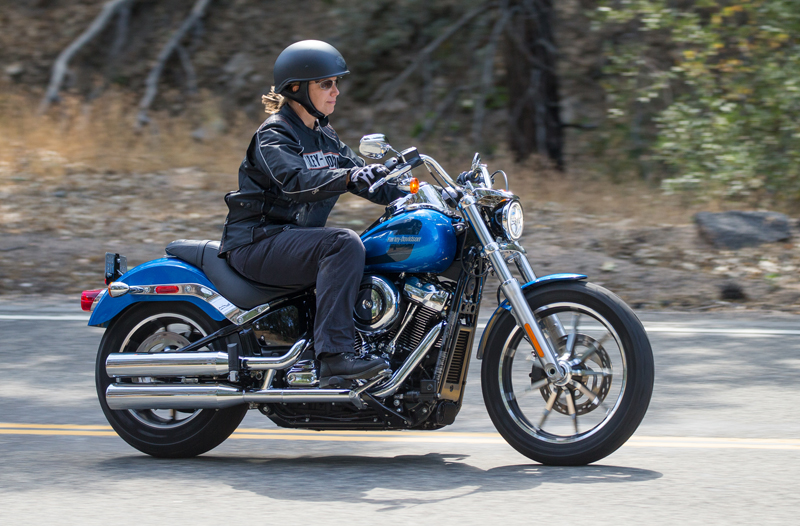 Once I got moving on the Low Rider, I very quickly learned its strengths. The light weight, easy turning, great lean angle, and of course, the Milwaukee-Eight power all comes together to deliver a very comfortable, fun, sporty ride.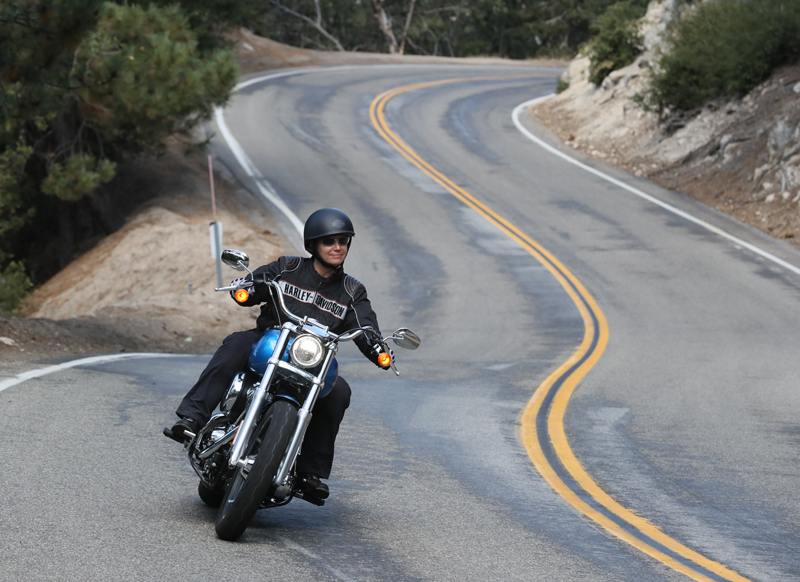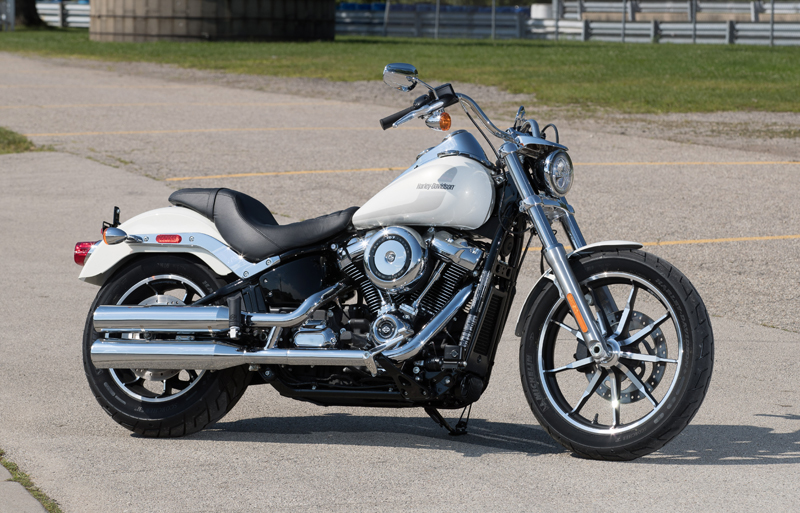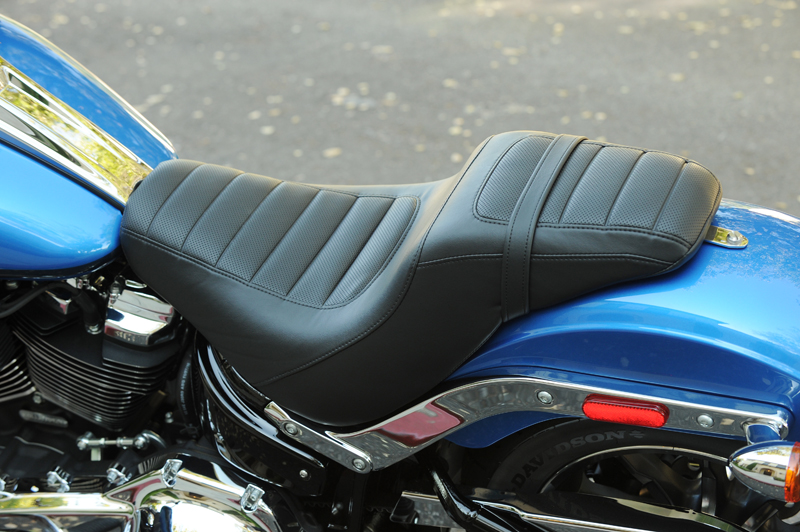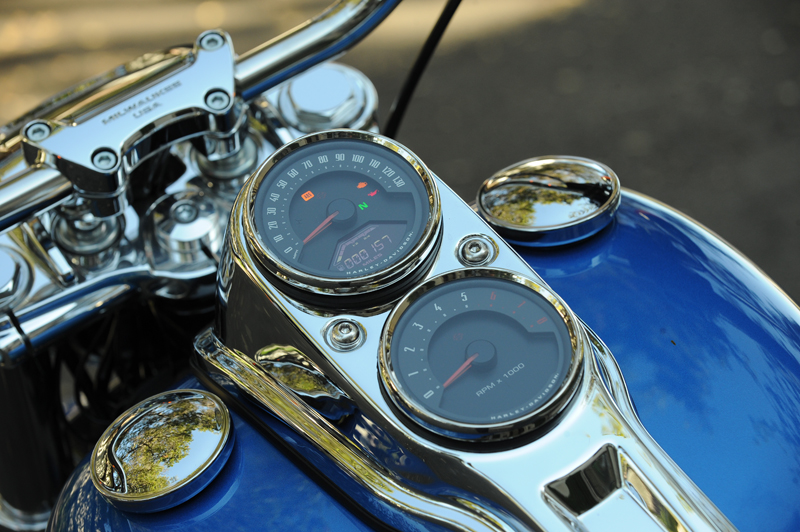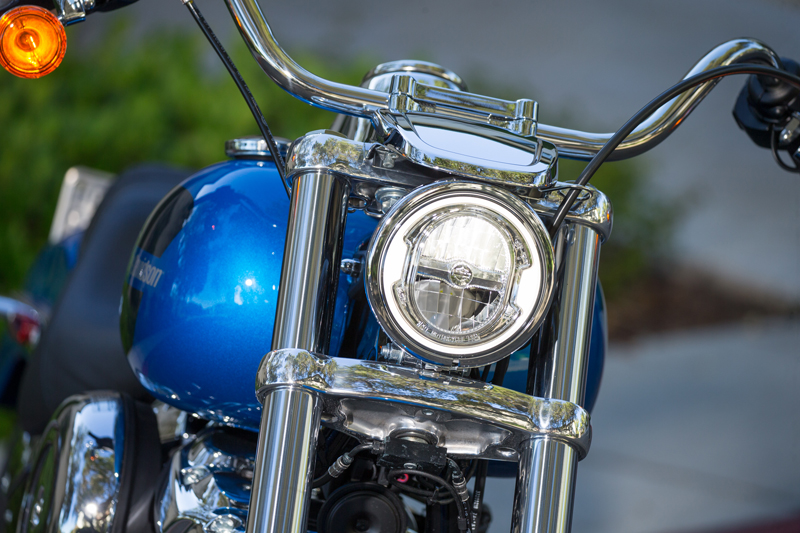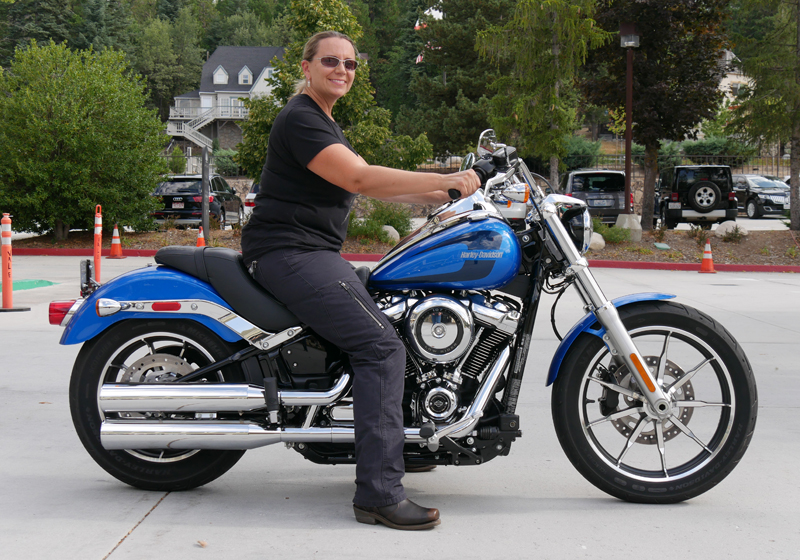 Lifting the Low Rider off its sidestand was super easy. At 661 pounds, it's the second lightest Softail in the lineup (the Street Bob is the lightest). It's easy to ride, but far from boring. The light, stiff frame coupled with the new suspension make this "easy rider" a fun motorcycle to push beyond your limitations or just relax and enjoy the wind in your hair.
Specs at a Glance: Low Rider FXLR
Engine size: 107 ci (1746cc)
Seat height: 26.2 inches
Weight: 661 pounds
Fuel capacity: 5 gallons
Colors: Vivid Black, Wicked Red, Electric Blue, Bonneville Salt Pearl
Price: starts at $14,999 (ABS $795)
Budget Bobber – The Street Bob
The lowest priced Softail in the lineup, the Street Bob is the bobber with attitude. Transformed from the Dyna line, the Street Bob retains its solo setup, mini-ape handlebars, wire wheels, bobbed fenders, and blacked-out matte finishes.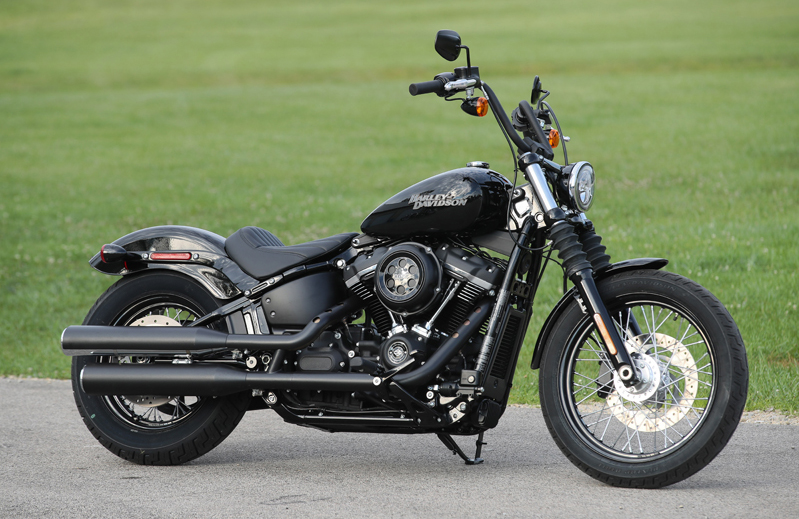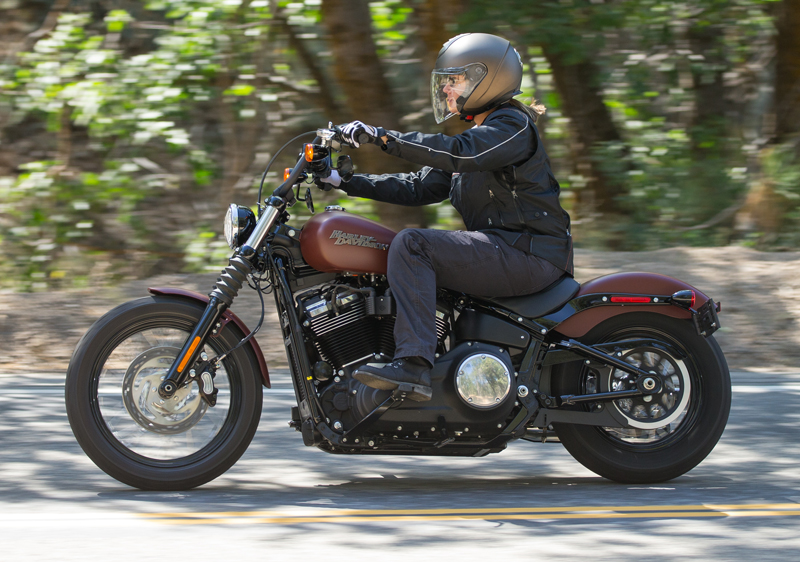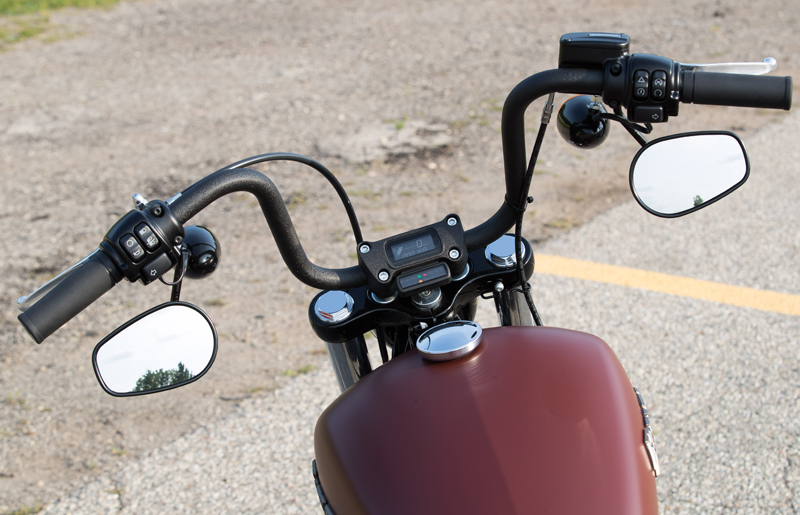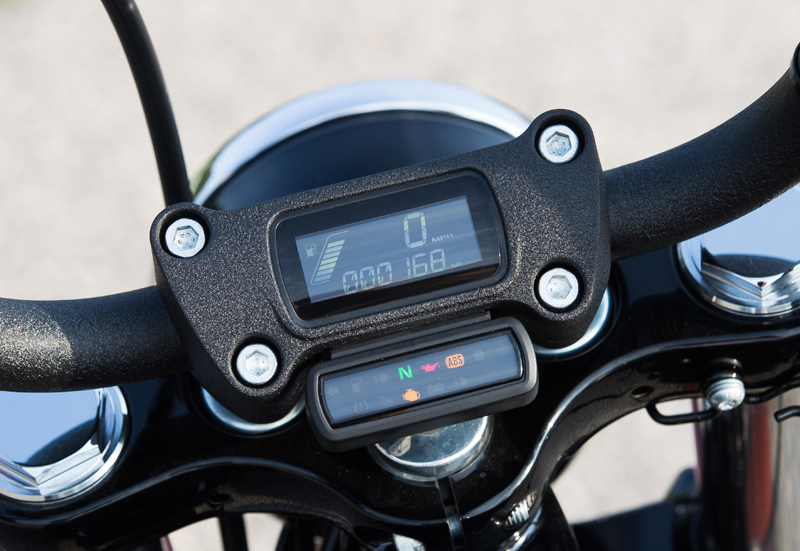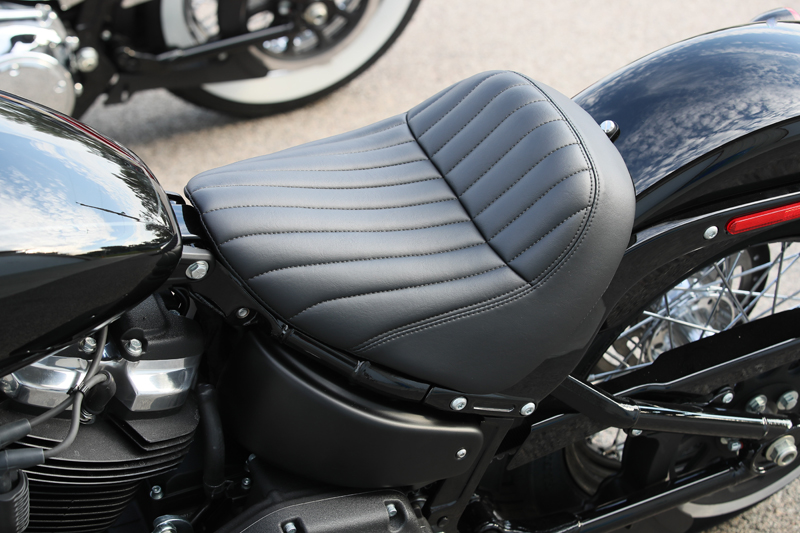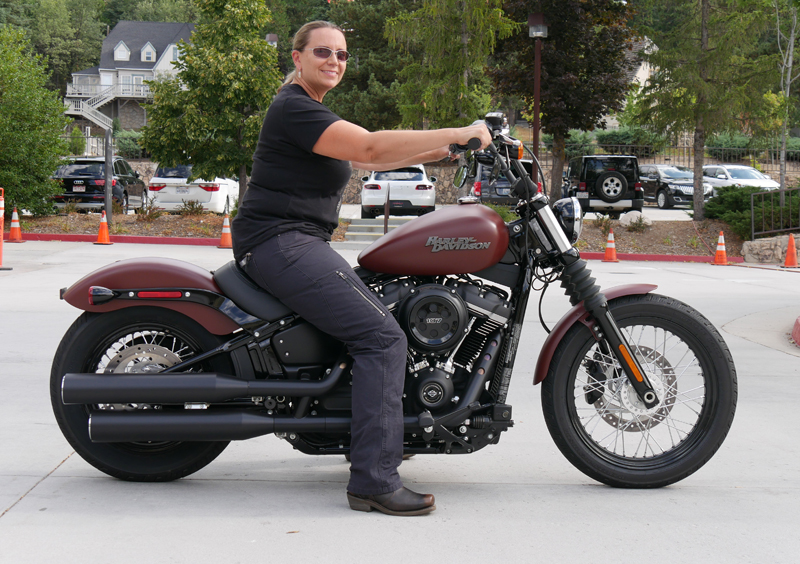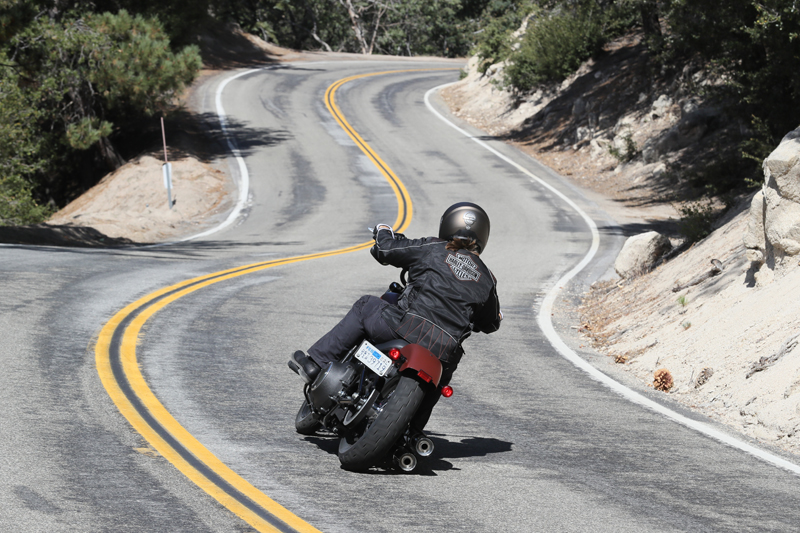 As the lowest priced and lightest Softail, the Street Bob is a good choice for anyone on a tight budget and who likes a bobber with a tough stance.
Specs at a Glance: Street Bob FXBB
Engine size: 107 ci (1746cc)
Seat height: 25.8 inches
Weight: 656 pounds
Fuel capacity: 3.5 gallons
Colors: Vivid Black, Olive Gold, Red Iron Denim, Wicked Red/Twisted Cherry, Industrial Gray Denim/Black Denim
Price: starts at $14,499 (ABS $795)
Boundary Pusher – The Breakout
The Breakout breaks the mold with its low, mean, dragster profile. The giant 240mm rear tire and raked out front end looks intimidating, and dares you to push your own boundaries. The 66.7-inch wheelbase is the longest of the Softails, and the most challenging to ride.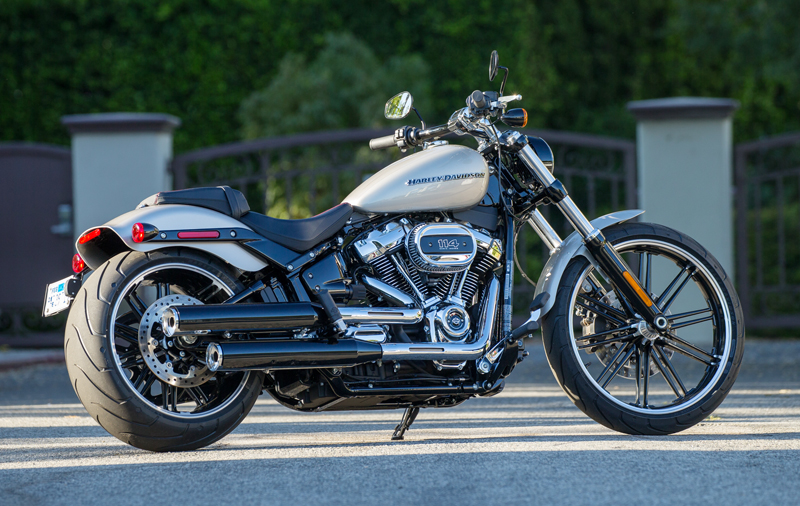 You may think it's rather difficult to get a motorcycle with a wide 240mm rear tire like this to turn. That's what I thought too, until I hopped on and tested it for myself. Taking corners and "turning" the motorcycle took a little getting used to, but the geometry engineered into this bike is impressive. Still, this motorcycle never stopped intimidating me, forcing me to break through some of my own boundaries.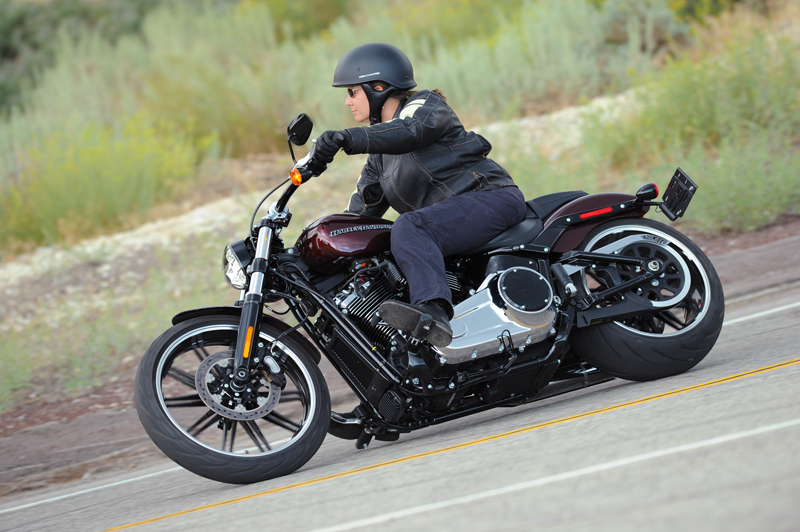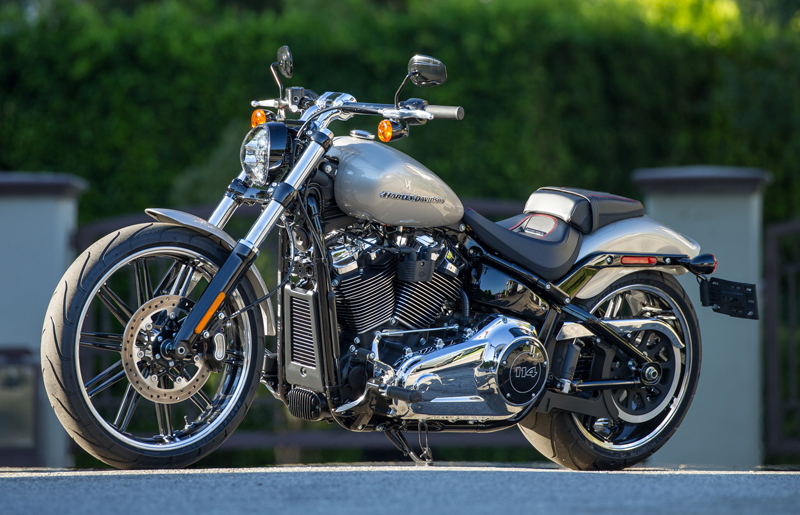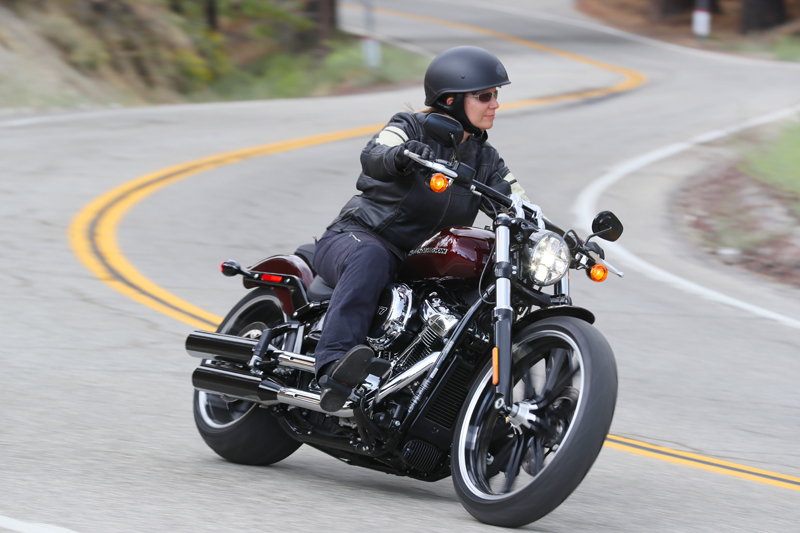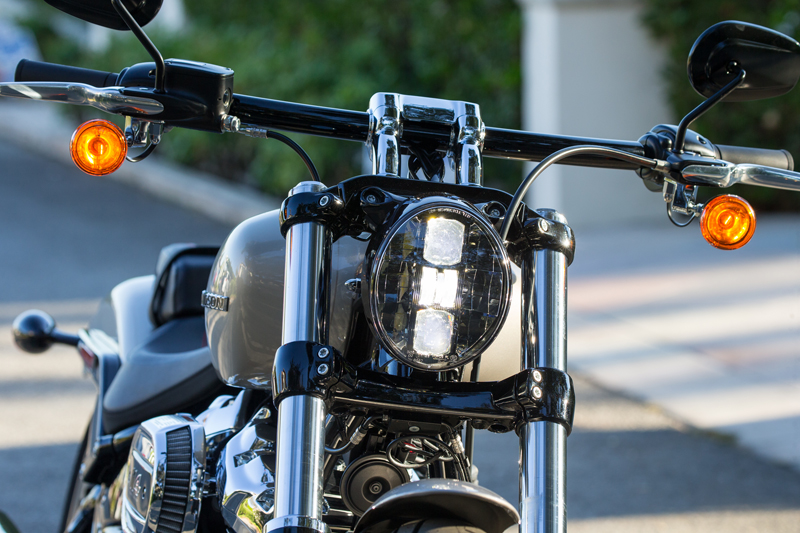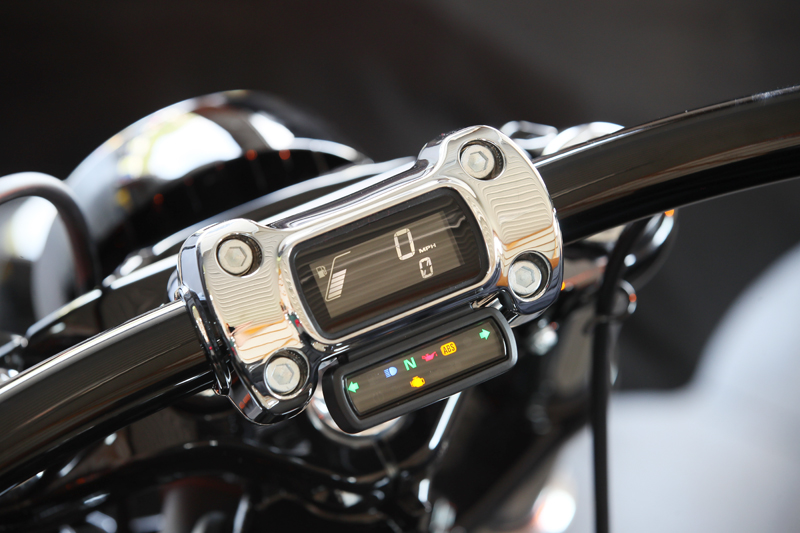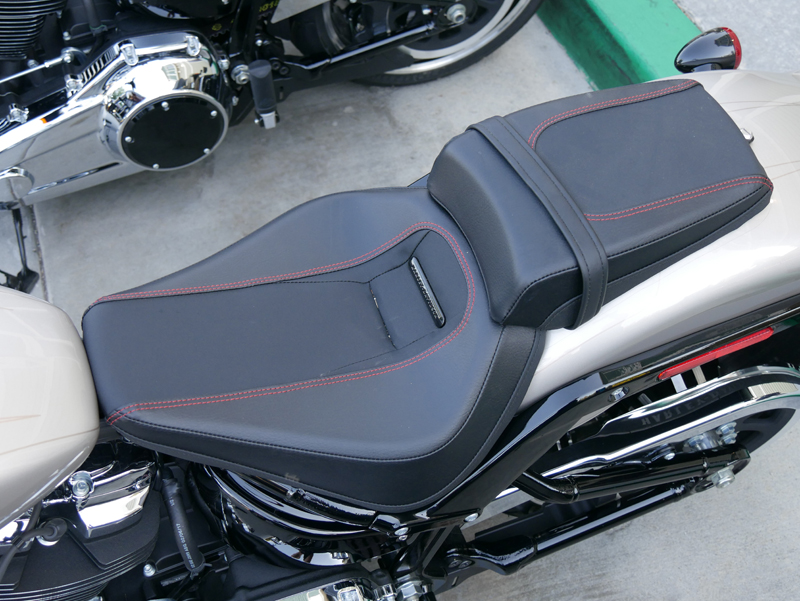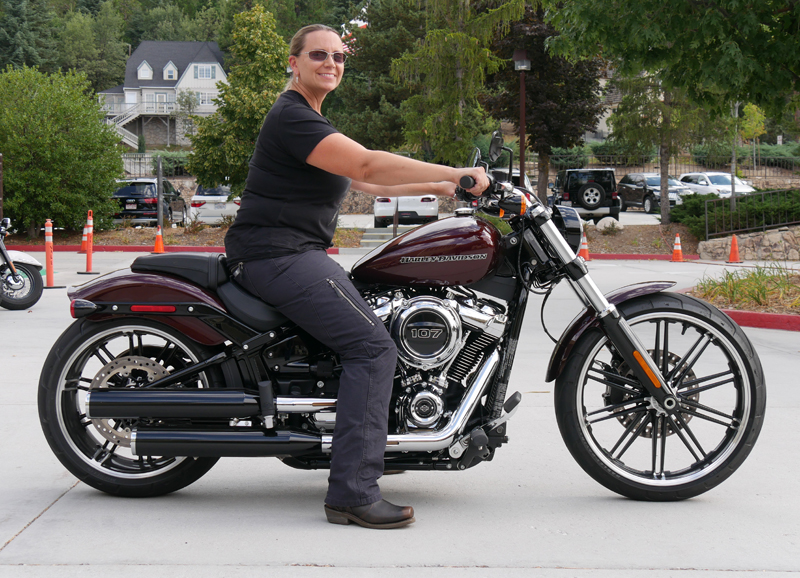 The Breakout was my last Softail to test. Frankly, I was dreading it based on that big fat tire, long wheelbase, and menacing look. I'd watched many other riders before me struggle trying to keep the big bike in line through some very tight turns.
I surprised myself and impressed all the guys when I kept right up and held my lines when I took off on the Breakout. I might even say that I enjoyed myself in pushing those boundaries.
But I know that most women don't ride hard like that, and it's certainly not sustainable for long periods of time. I was happy to have had the opportunity to have fun on this monster, but happier to trade for the other big fat-tired bike, the Fat Boy, for the final trek to the hotel.
Specs at a Glance: Breakout FXBR/FXBRS/FXBRSANX
Engine size: 107 ci (1746cc); 114 ci (1868cc)
Seat height: 25.6 inches
Weight: 672 pounds
Fuel capacity: 3.5 gallons
Colors: 107 – Vivid Black, Black Tempest, Twisted Cherry, Silver Fortune; 114 – Vivid Black, Black Tempest, Twisted Cherry, Silver Fortune; ANX – Legend Blue Denim
Price: starts at $18,999; ANX starts at $21,199
Iconic Thoroughbred – The Fat Boy
If ever there was an iconic motorcycle, it is the Fat Boy. The challenge for designers to recreate such a well-known superhero had to have been the most daunting task of this project. Maintaining the epochal Fat Boy look was mandatory in order to keep the faithful captivated.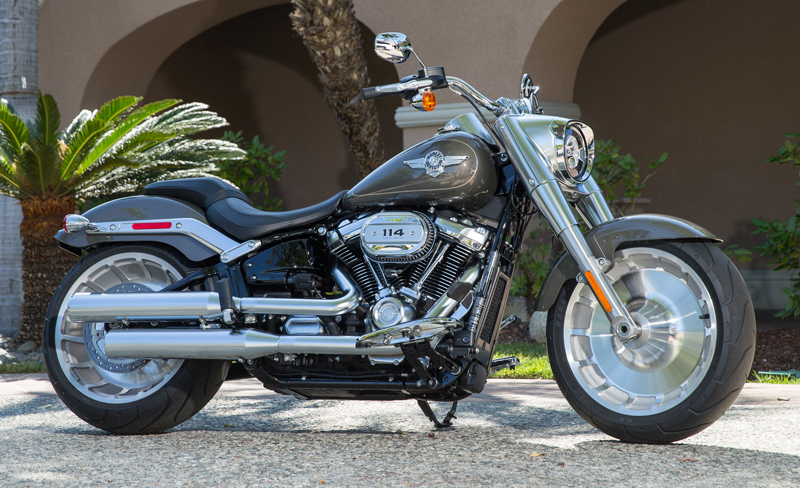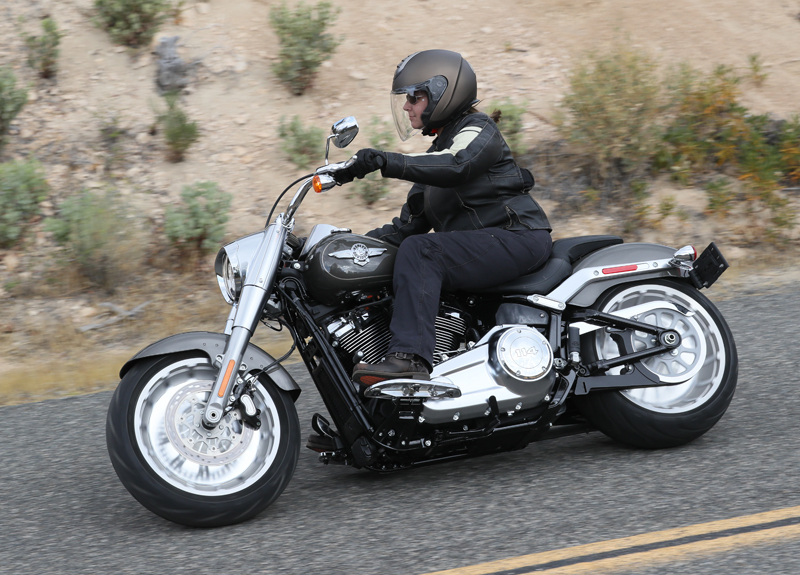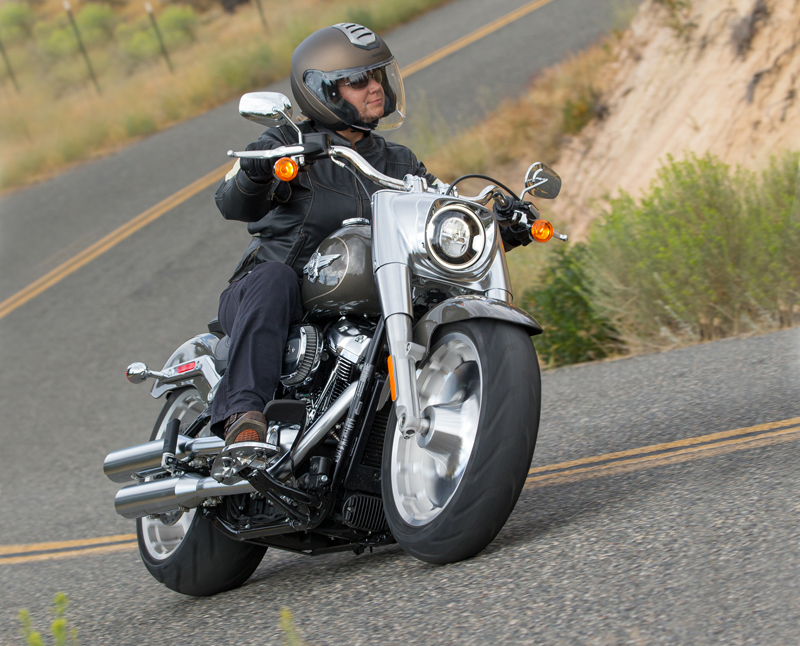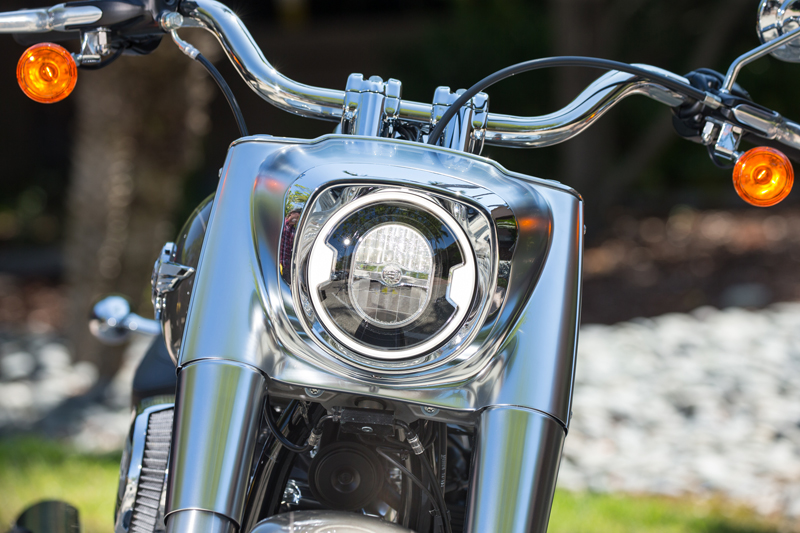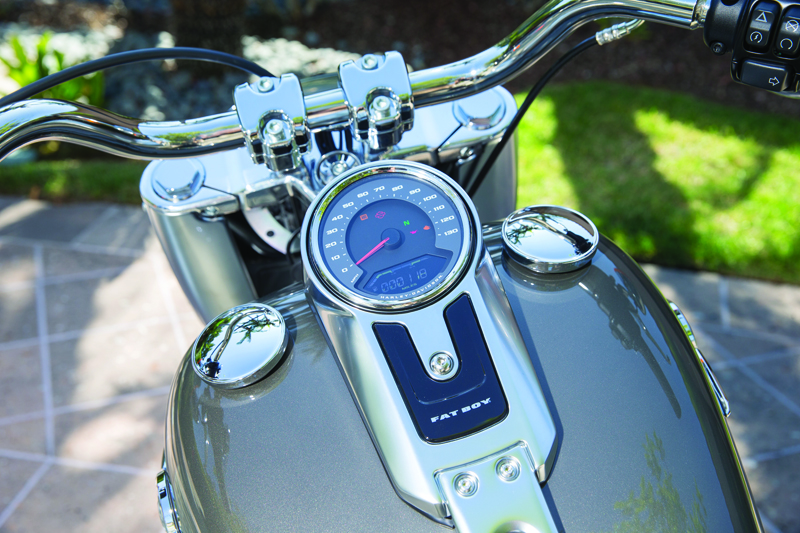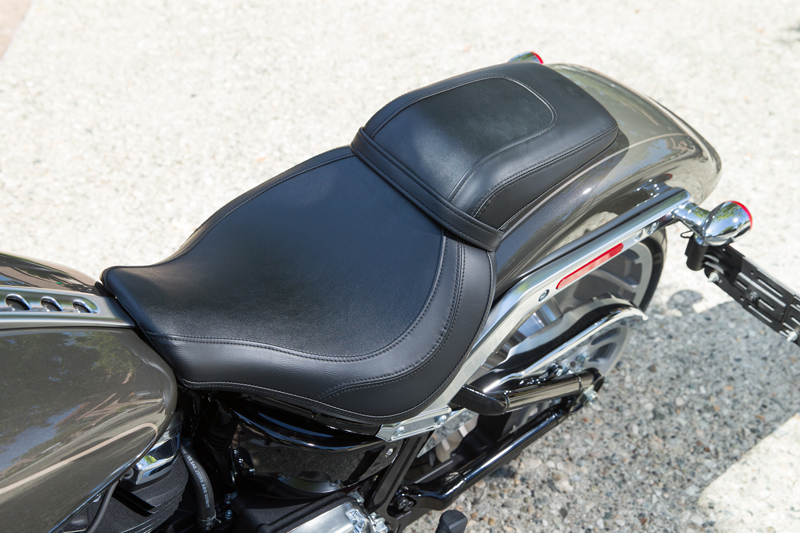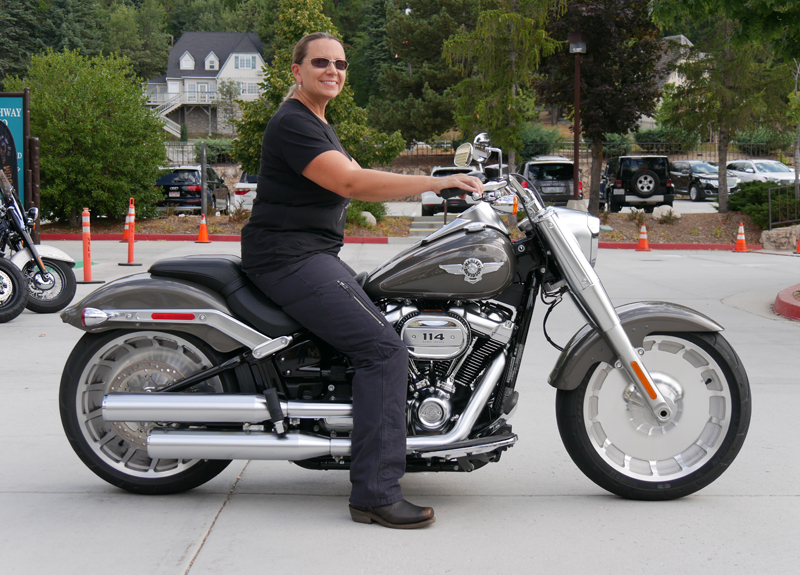 I hadn't spent too much time on the previous version of the Fat Boy because there were many aspects of the motorcycle that didn't appeal to me. The wide bars made me feel like a sail in the wind and I found the upright seat position uncomfortable. I didn't particularly care for the styling either. But this new Softail really surprised me. While it's still a sit-upright position, I feel less like I'm sitting "on" the bike, rather I'm a part of it.
Women who gravitate towards the Fat Boy will love the new power and suspension improvements. And they will certainly look super cool easily managing what looks like a beast of a bike that rides like a well-trained thoroughbred.
Specs at a Glance: Fat Boy FLFB/FLFBS/FLFBSANV
Engine size: 107 ci (746cc); 114 ci (1868cc)
Seat height: 25.9 inches
Weight: 699 pounds
Fuel capacity: 5 gallons
Colors: Vivid Black, Black Tempest, Industrial Gray, Bonneville Salt Pearl, Wicked Red/Twisted Cherry; ANV – Legend Blue Denim, Legend Blue/Vivid Black
Price: 107 starts at $18,999; 114 starts at $20,299; ANV starts at $21,199