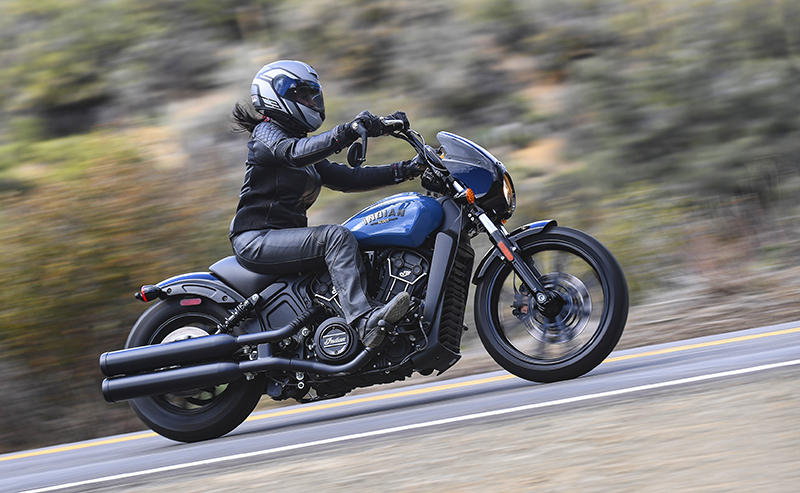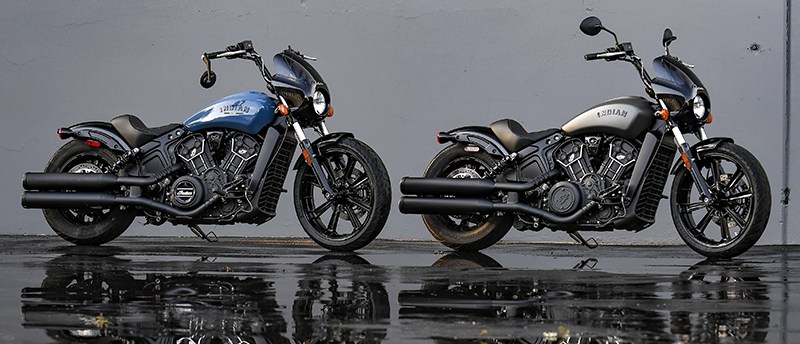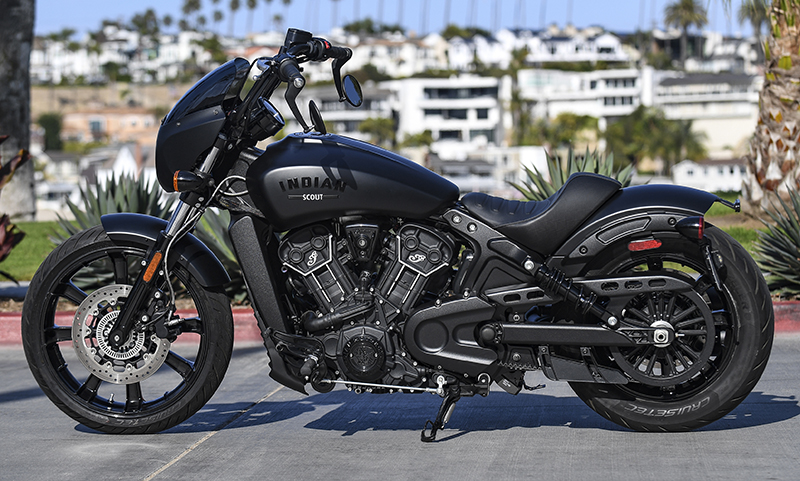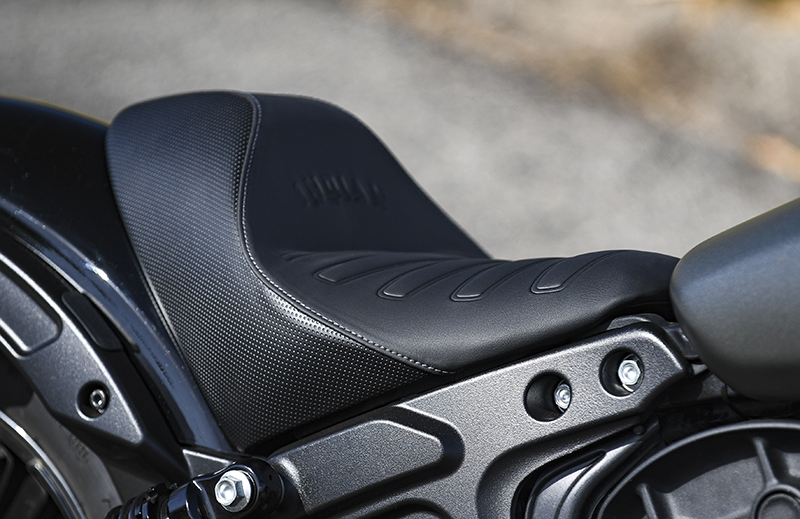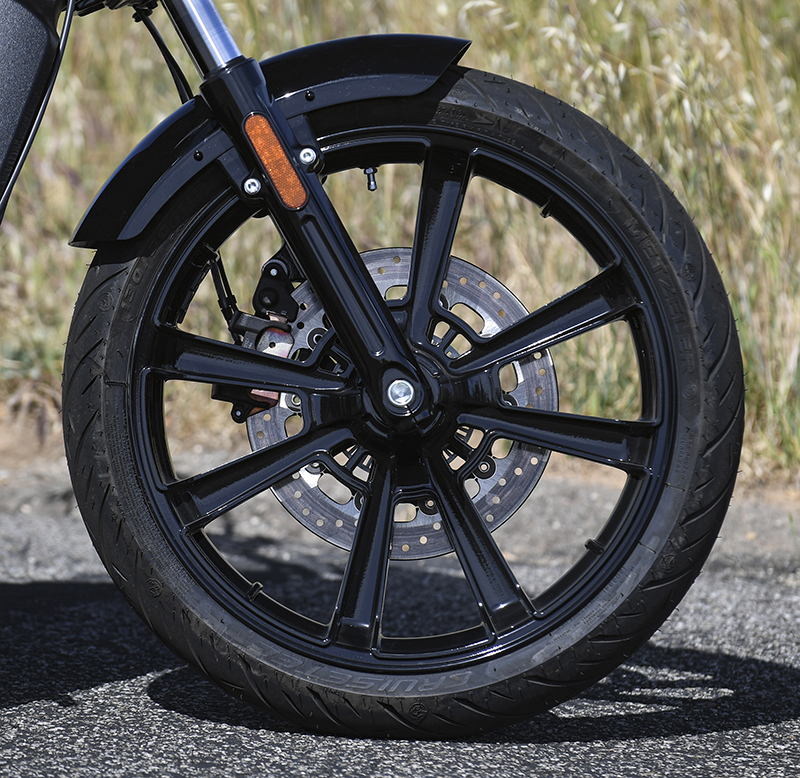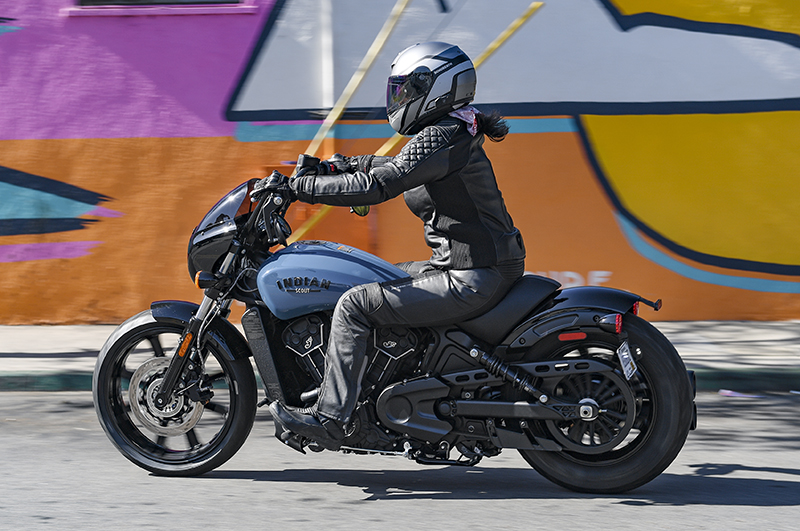 I recently had the pleasure of testing the Rogue and Rogue Sixty on the beautiful highways near Ojai, California. Riding through urban streets, long open straights, sweepers, and tight twisties offered a real-world riding impression. I'm a big fan of Indian's solid, modern-technology motors. The Scout wraps its liquid-cooled V-twin inside an edgy attractive package with the technical updates to make the ride fun and sporty, something I wasn't expecting from a low-slung middleweight cruiser.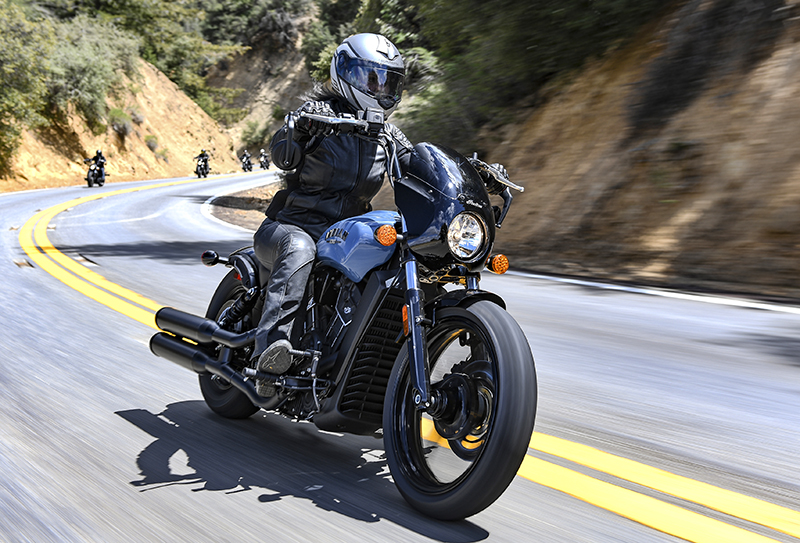 Both bikes perform well with consistent responsive power delivery throughout the range. This provides confident, usable throttle response whether cruising or wicking it up for spirited canyon carving.
The Scout Rogue boasts a class leading 100 hp and 6-speed transmission while the Rogue Sixty delivers 78 hp in a 5-speed package. Both bikes weigh in at 545 pounds so the main differences between the two siblings are the engine output and the price point. This relatively low weight combined with a low seat height make the bikes easy to lift off the side stand and control in low-speed maneuvers.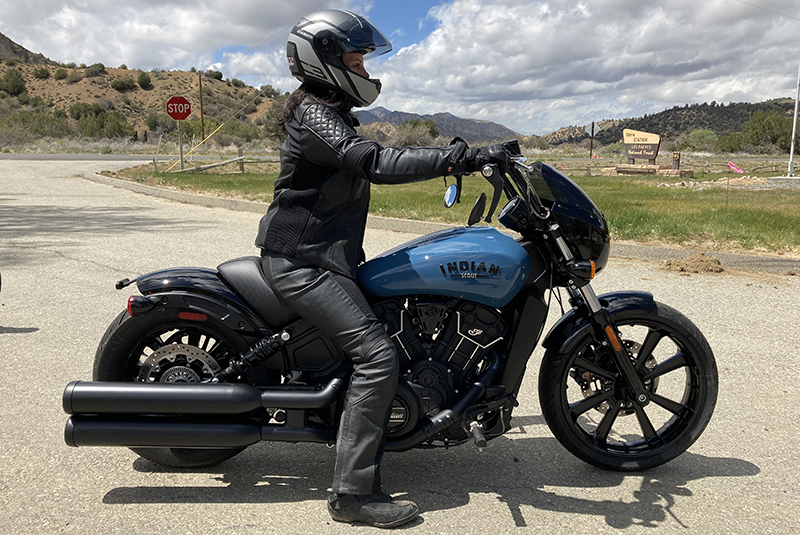 I was perfectly comfortable with the bike set up as it comes, but for shorter or taller riders, Indian offers accessories to customize the ergonomics: shorter and longer reach bars, footrest extenders, different seats, and adjustability options for levers.
I'm not a fan of bar end mirrors, especially drop mirrors as I find it more difficult to see. But the Scout Rogue's large stock mirrors provide adequate visibility. The rider also has the option to install them in the up position, making it even easier to see while maintaining the stylistic effect of bar end mirrors.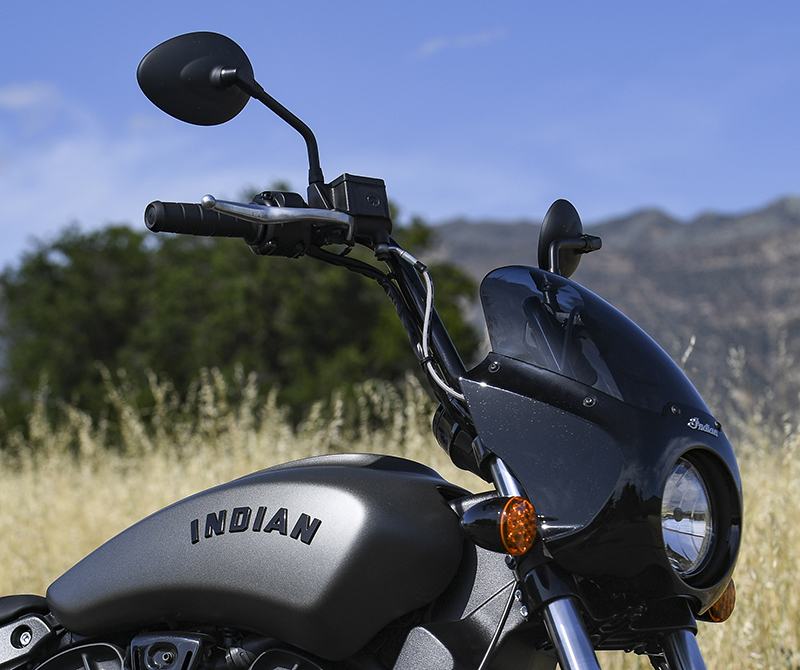 The Rogue's smooth manageable power and padded seat provide a comfortable ride in terms of position and maneuverability. The suspension is not adjustable and is limited to 2 inches of travel making it feel stiff, typical of bobber-style cruisers. An accessory "piggyback" shock is available allowing for adjustability in both dampening and rebound. It adds an additional inch of travel for those who want a sportier or more plush ride.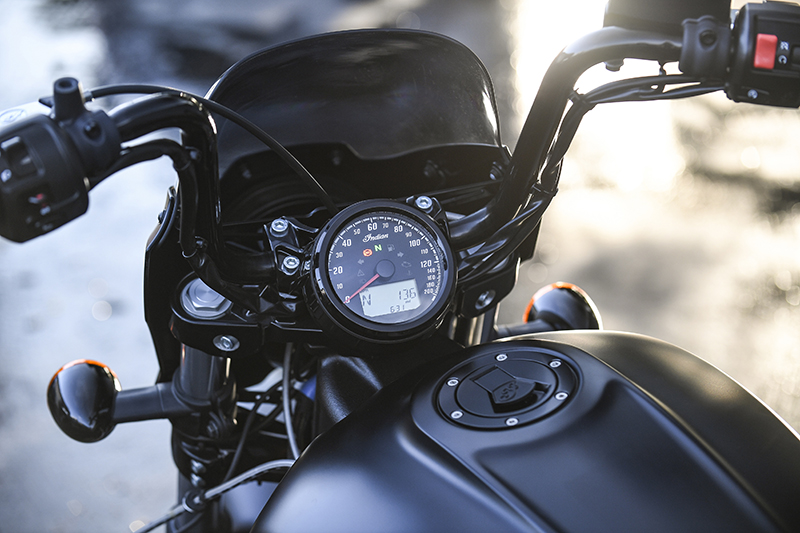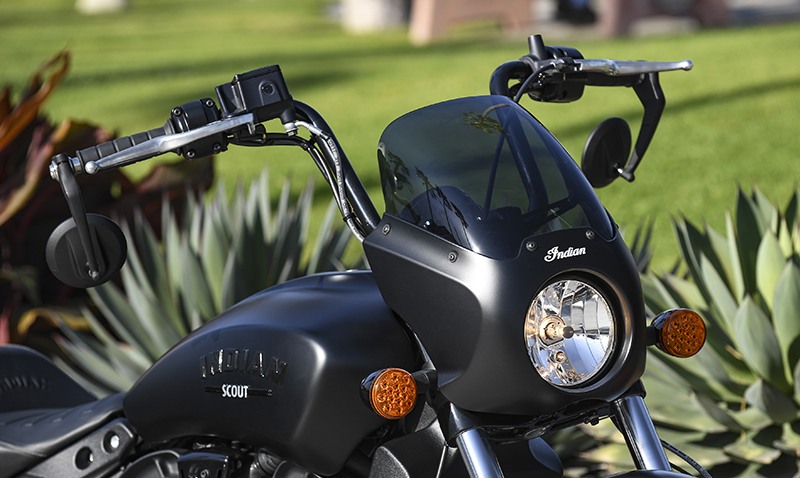 Indian also offers a selection of accessory luggage and comfort options. Riders can choose a tail rack and tail bag or single sided saddlebag with mount. Accessory extended reach foot rests are also available to maximize long-haul comfort.
More Accessories for Scout Rogue
Since the Rogue and Rogue Sixty are based on Scout platform, right off the bat there are almost 300 accessory and customizing options available to modify the style, comfort, or performance to exactly the way you want it. In addition to the existing accessories, Indian is launching a number of new products this year to compliment the Rogue siblings including the piggyback shocks, a twin seat (rider and passenger) with stubby backrest, an auxiliary tachometer with shift light, and adaptive headlights that light up the direction the bike is turning.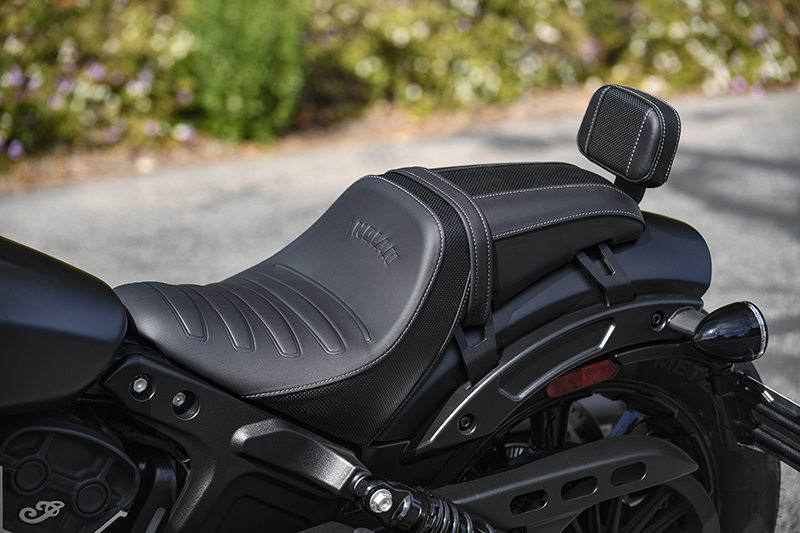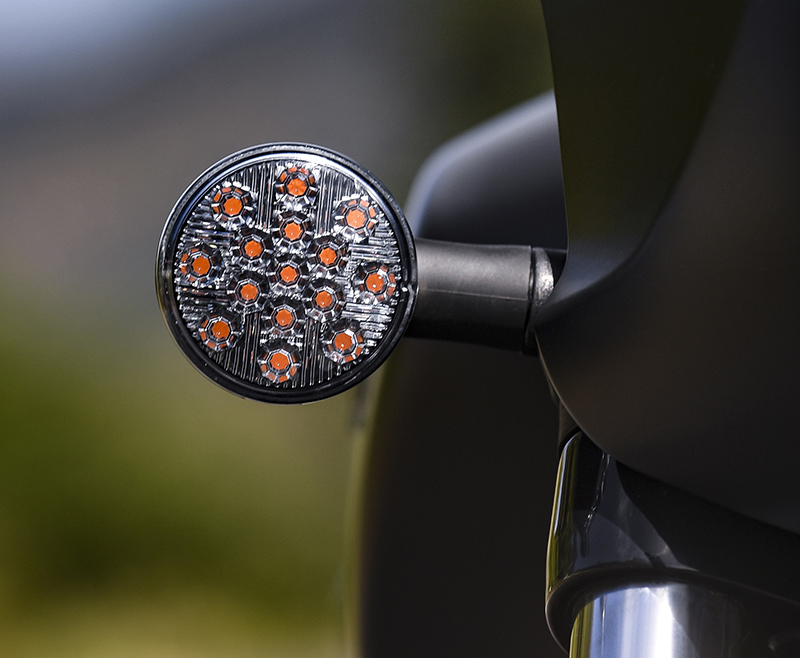 The Scout Rogue and Rogue Sixty are both great options for riders in the market for a mid-sized cruiser with usable, confident power and all-around performance. The smooth power delivery and simplicity of the controls makes these great options for newer riders as well. Shorter riders will love the super low seat height, but the riding position and options for customizing the fit make it comfortable for taller riders as well. If you are looking to save some money and don't plan long highway trips, you'll be plenty happy with the Rogue Sixty. But if you want a 6th gear and bigger engine with more horsepower, "go Rogue."
Specs at a Glance: 2022 Indian Scout Rogue
Engine Size: 69 cu in / 1133 cc 6-speed
Seat Height:  25.6 inches
Fuel Capacity: 3.3 gallons
Wet Weight: 545 pounds
Colors and MSRP: Black Metallic ($11,499); Black Metallic (ABS) ($12,399); Black Smoke (ABS) ($12,899); Sagebrush Smoke (ABS) ($12,899); Storm Blue (ABS) ($12,899); Stealth Gray (ABS) ($13,399)

Specs at a Glance: 2022 Indian Scout Rogue Sixty
Engine Size: 60 cu in / 999 cc 5-speed
Seat Height: 25.6 inches
Fuel Capacity: 3.3 gallons
Wet Weight: 545 pounds
Colors and MSRP: Black Metallic ($9,999); Black Metallic ABS ($10,899); Bronze Smoke ABS ($11,399); Titanium Smoke ABS ($11,399)