Indian Motorcycle has been supporting women in motorcycling for years by sponsoring female events, rides, racers, and media sources like WomenRidersNow.com (WRN). Since being purchased by American powersports manufacturer Polaris in 2011, Indian has been producing excellent quality motorcycles that female buyers have been gravitating toward, like the beloved Scout cruiser and the mile-chewing Challenger Porsche Taylor loved and bought after reviewing it here. And now some women like us are loving the FTR 1200.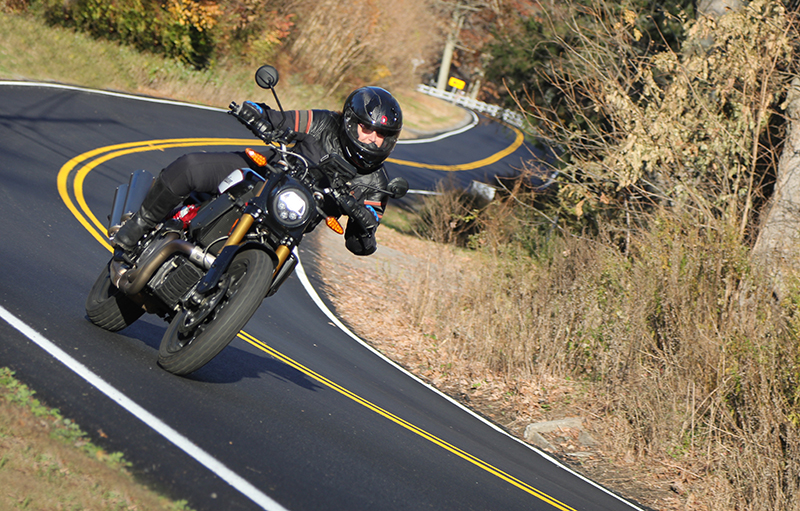 Indian has put a lot of effort into American Flat Track (AFT) racing and has dominated the series for the last several years with its "Wrecking Crew" team. Racers compete on Indian's Scout FTR 750 flat track race bike. In this kind of motorcycle racing, riders compete on a flat dirt oval track. The motorcycles are fast and lightweight, with tires that are good in dirt and wide handlebars that riders who sit upright grip while keeping a leg out for stability as they "power-slide" around corners.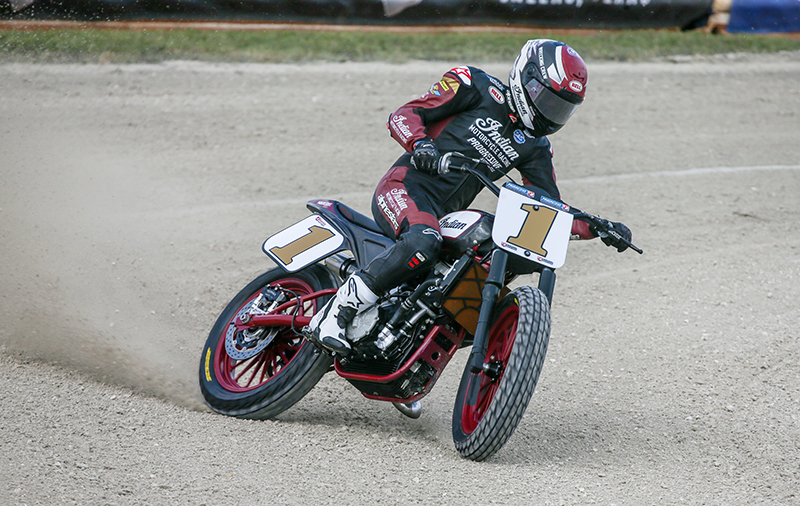 In 2019, Indian introduced the consumer street legal version, the 1203cc FTR. That bike is currently available in three versions: the base FTR 1200, the FTR 1200 S, and the FTR Rally. Built very specifically to mimic the 750cc dirt tracker, the big FTR will appeal to more experienced riders who like to sit up tall, grab hold of the wide handlebar grips, twist the throttle, and feel the throbby V-twin torque and power.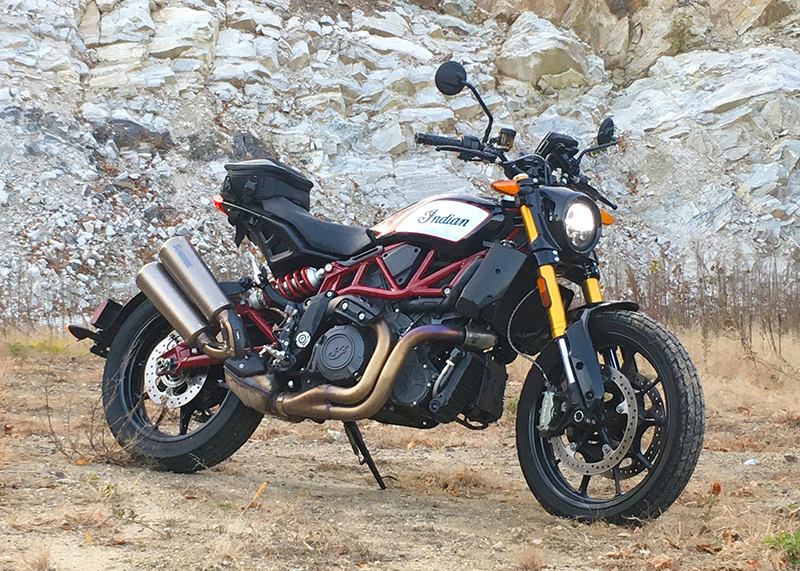 WRN's Sarah Schilke took possession of her favorite color (black and grey, which is called Titanium Metallic over Thunder Black Pearl) FTR 1200 S to ride around her home in Portland, Oregon, for the 2020 season while I scored my own S model in the red, black, and white "race replica" color scheme to test on the east coast. With no specific reason for getting two bikes to test other than we are both insanely attracted to the sporty flat track style of these motorcycles, we convinced our friends at Indian to let us use them as our regular rides for a season, then we'd compare our notes for a long term wrap up.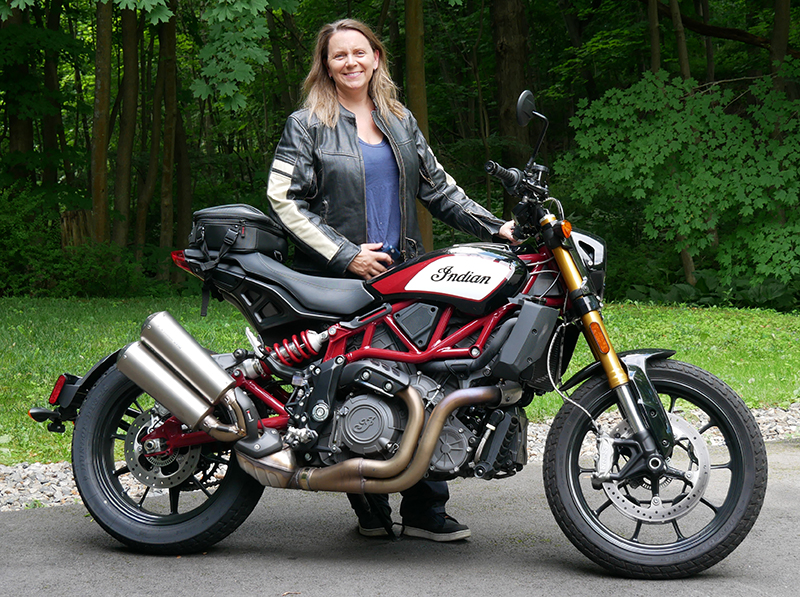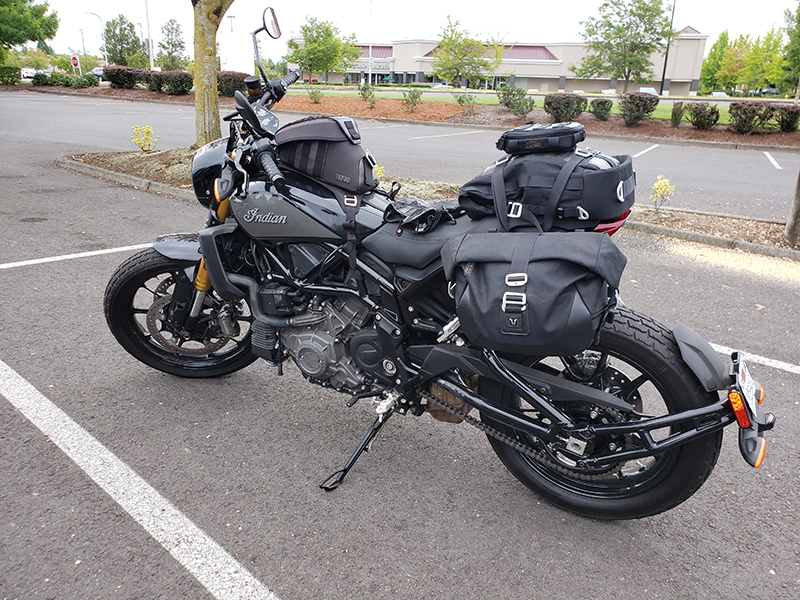 The FTR 1200 S, the model we both tested, is $4,000 more than the base model. For that additional money a buyer gets upgrades including an Akrapovic exhaust, fully adjustable suspension, three ride modes (sport, standard, rain), lean angle sensitive ABS, and a 4.3-inch LCD touchscreen with Indian's Ride Command and Bluetooth features that sync your smartphone to the bike for a host of useful features.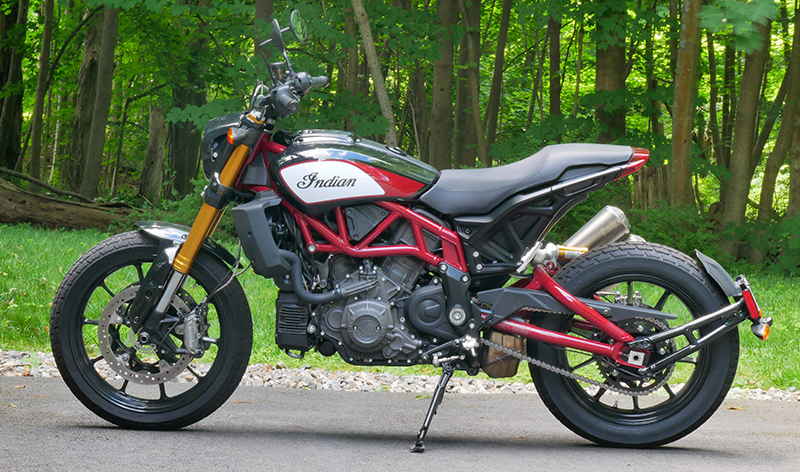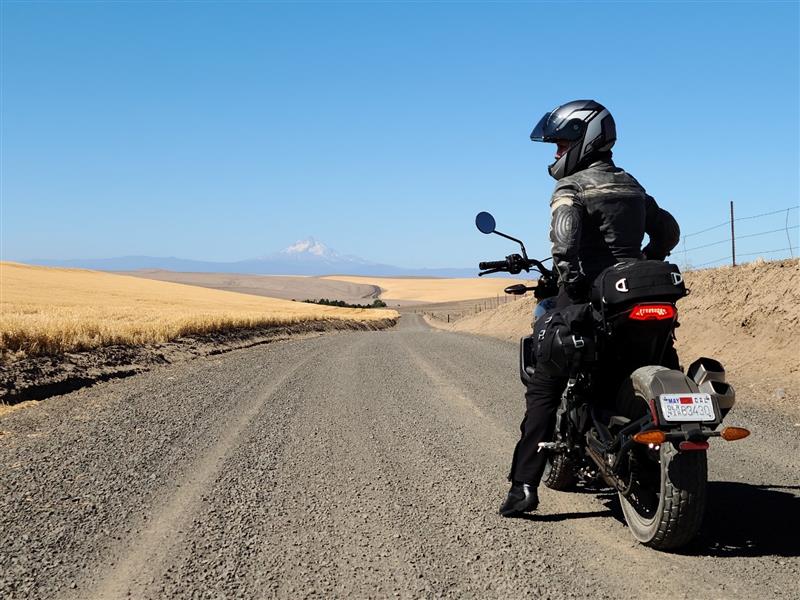 Again thanks to the bikes dirt track roots, Sarah finds the FTR handles well with great stability and control even in deep gravel roads. With its larger size wheels and chunky deep tread tires, the bike performed much better than a pure street bike off road.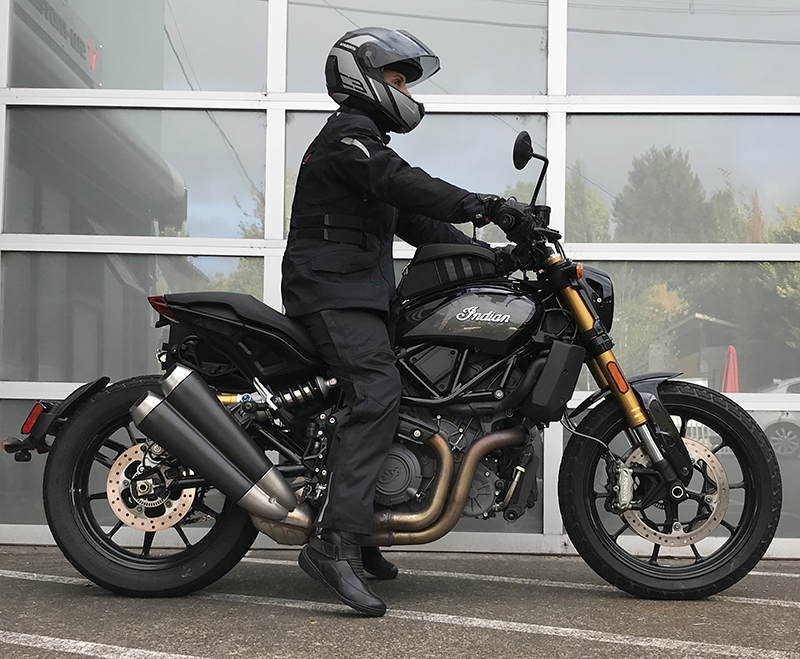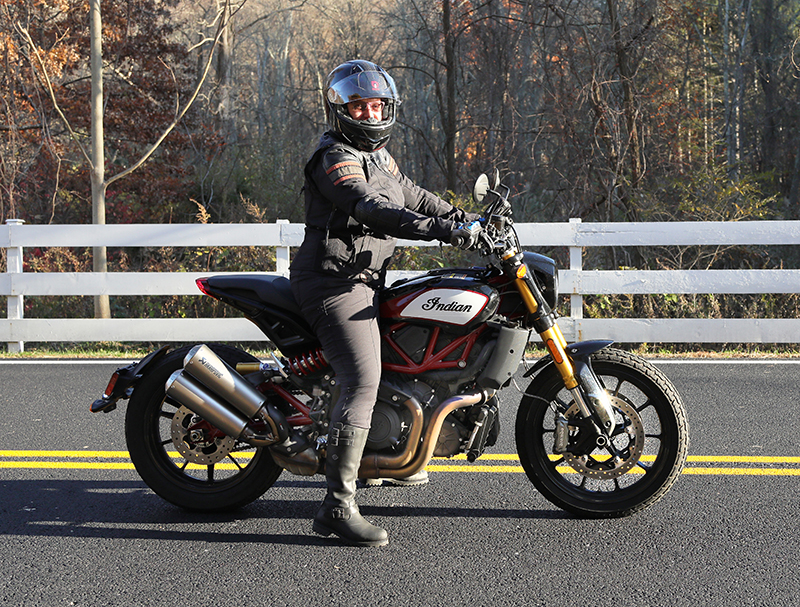 The FTR 1200 and 1200 S come with the Dunlop DT3-R flat track racing tires that were developed specifically for this bike. Made to resemble a retro look, the tires are mounted on alloy rims, and grip well in wet and dry street conditions and fair well off road too. The FTR Rally gets Pirelli Scorpion Rally tires mounted on spoke rims for a more classic look.
Braking feel and power is excellent—it's easy to stop very quickly on this bike with little effort. All the FTRs are equipped with ABS (anti-lock brake system) and the S gets traction control and lean sensitive ABS that adjusts the amount of braking and traction control at a given lean angle. This is helpful in cases when you might accidentally squeeze the brakes too hard and suddenly or if you lose traction while cornering. It's a smart system that luckily we didn't test out first hand!
Speaking of losing traction in a corner, in flat track racing the bikes power-slide around a flat circular dirt track, breaking traction in the rear wheel while the rider steers quickly around corners. Deactivating traction control and ABS is the only way to achieve this and can be done with the push of a button on the FTR while stopped. Most of us wont be flat track racing anytime soon, but experienced dirt bike riders know that modulated braking (which is what ABS does) on loose surfaces is a lot less efficient way to stop. So its best to turn off ABS and traction control before heading off on a dirt or gravel road.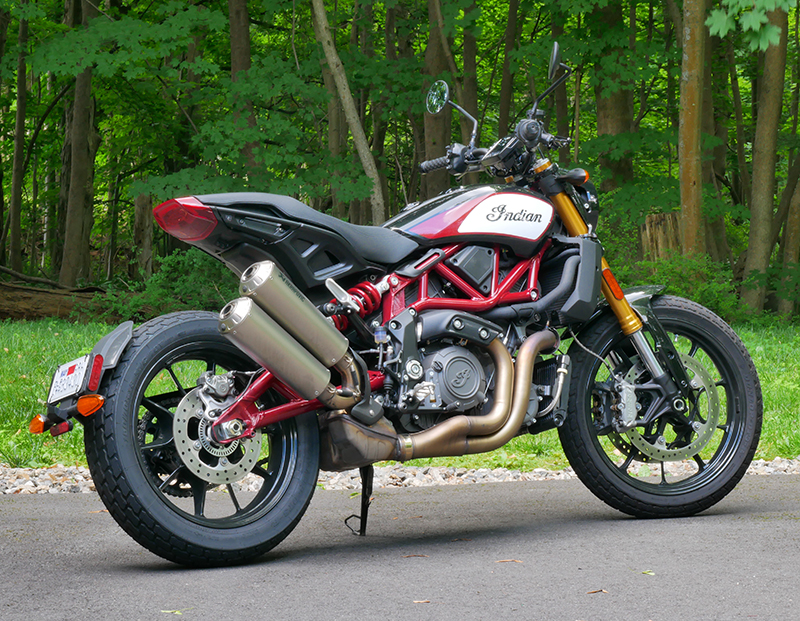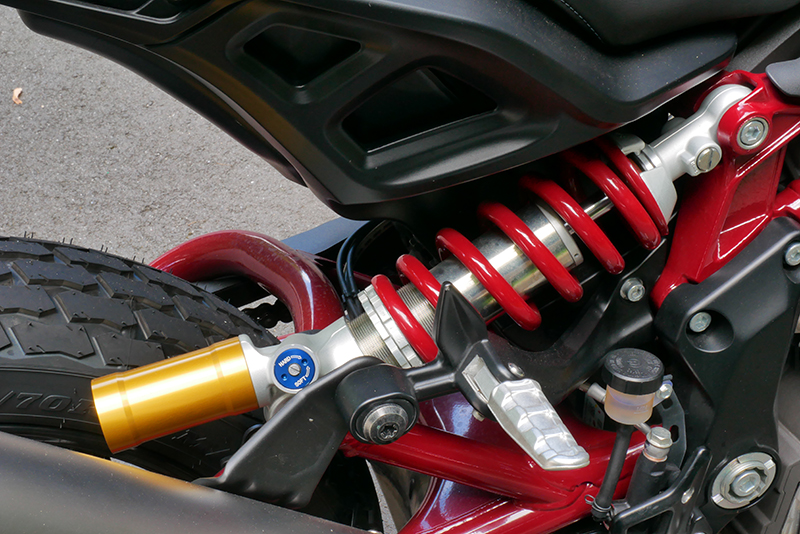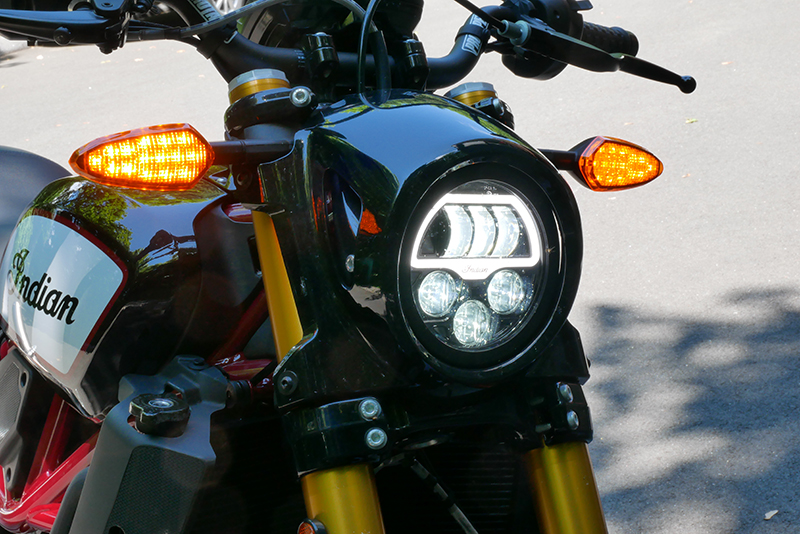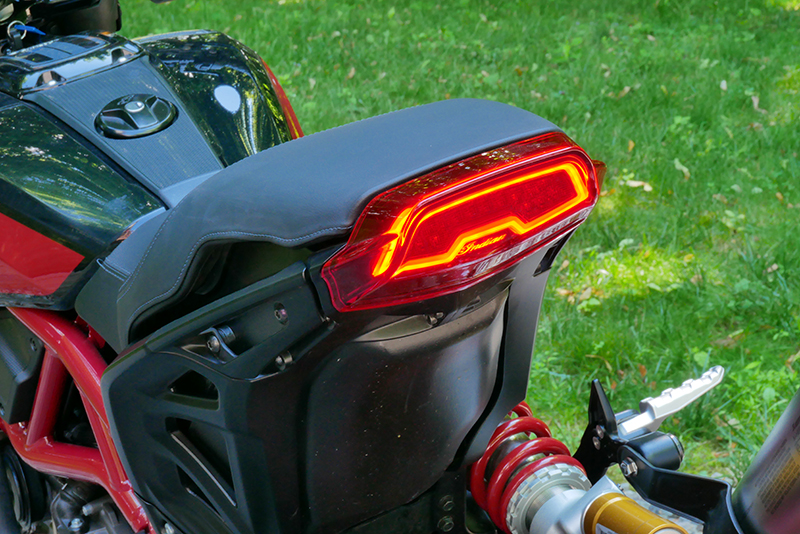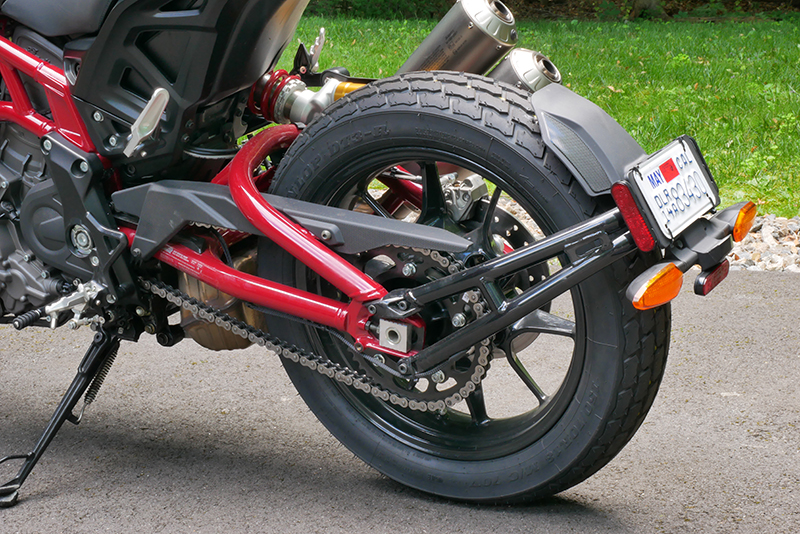 As previously mentioned, the FTR 1200 S has three ride modes: standard, sport, and rain. This is the same technology that is in some of Indian's other bikes, like the Challenger and Chieftain, but with customized throttle maps specifically for the FTR. Each mode adjusts the amount of power and torque translated from the throttle to the engine. Because the FTR is so torquey (the power is instantaneous when you roll on the throttle), finessing the FTR's clutch lever release with the amount of throttle roll on required a bit of practice in order to make smooth shifts. I found it helpful to be in rain mode while I got used to the bike's instant throttle input. Rain mode gives a little more "relaxed" rider input to prevent a quick wheel spin, perfect for wet roads or those times when you just want a more mellow ride.
After about a day riding and shifting in each of the FTRs six gears at varying speeds in rain and standard modes I was totally comfortable with timing the clutch release with the throttle roll on. For most riding situations, standard mode offers plenty of power and quick takeoffs. For track days and more adrenaline pumping rides, sport mode is there to offer even quicker takeoffs. The first time I engaged sport mode while I was rolling along in fourth gear, I wasn't quite ready for that extra torquey power. Luckily, when I upshifted and twisted the throttle I was holding on tightly when the bike shot forward!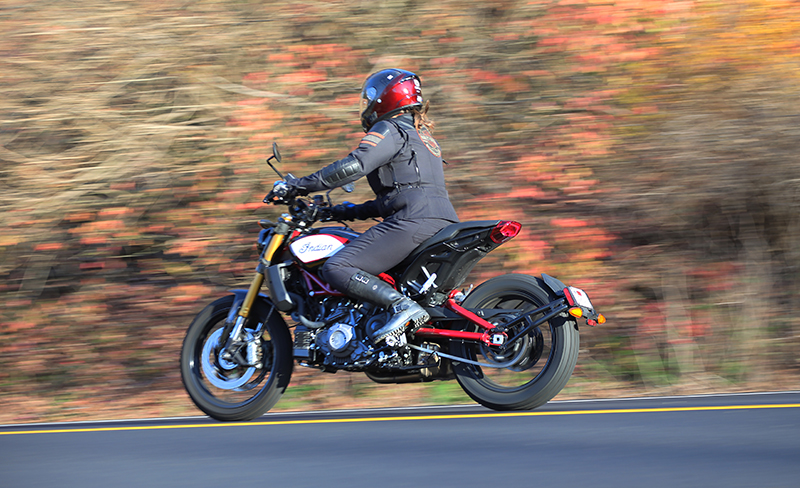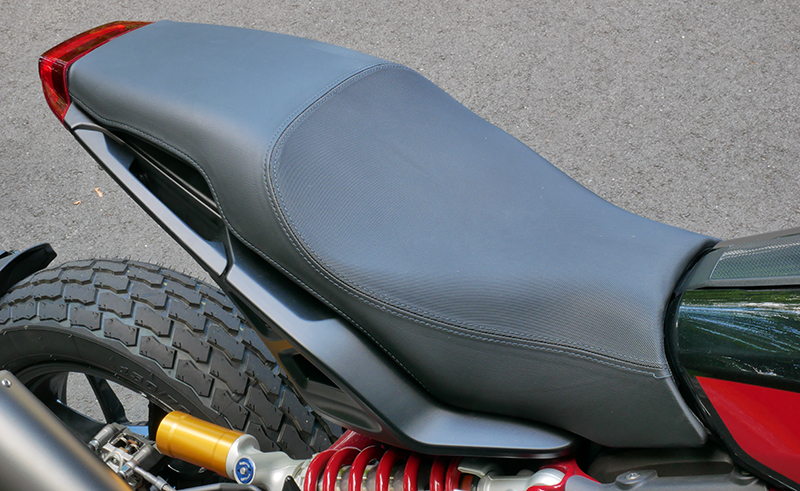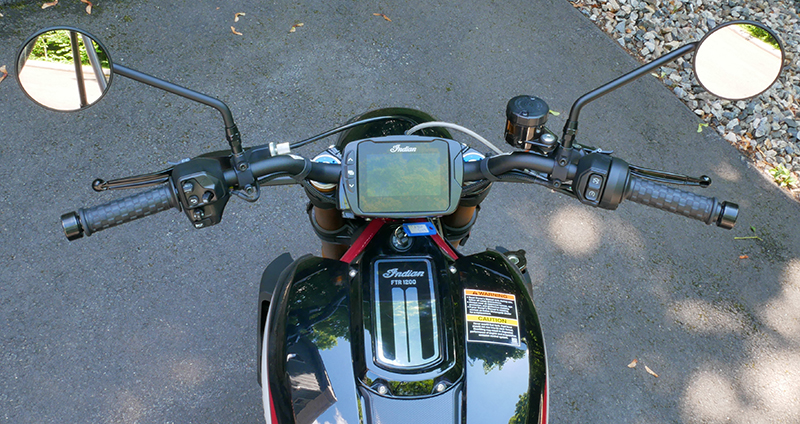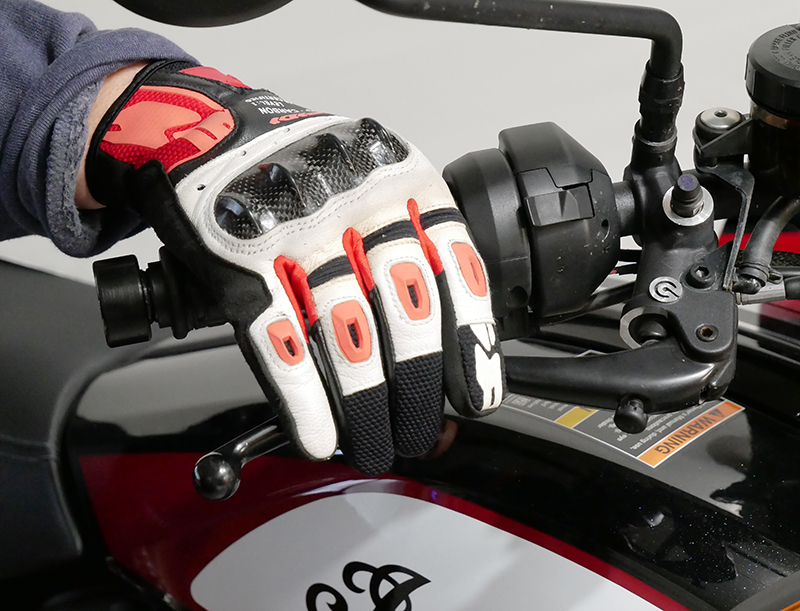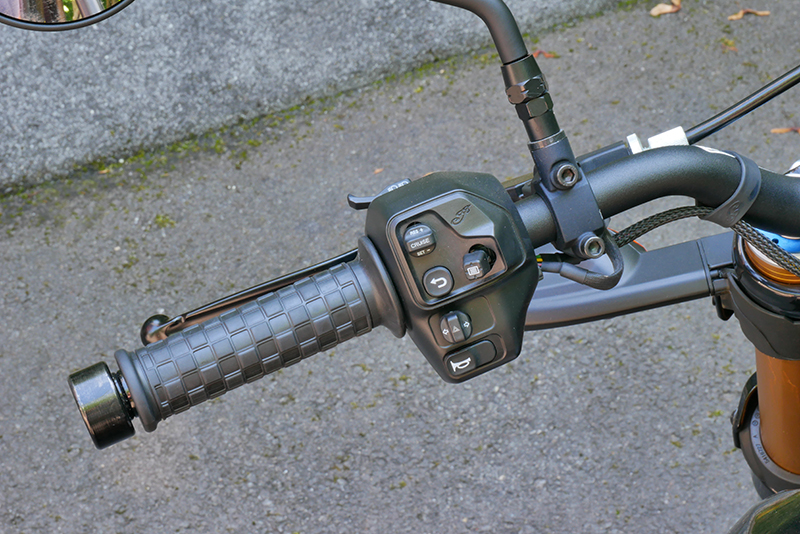 The FTR 1200 S has two different designs for the "main screens" that display the speed, RPM, gear, fuel level and miles to empty, ambient temperature, two tripmeters, odometer, time, as well as all the usual safety indicators (traction control, sidestand, high beam, turn signals, etc.) You can flip between these and the other display screens at will with the touchscreen or by using a pushbutton with your right forefinger or with the buttons up next to the display.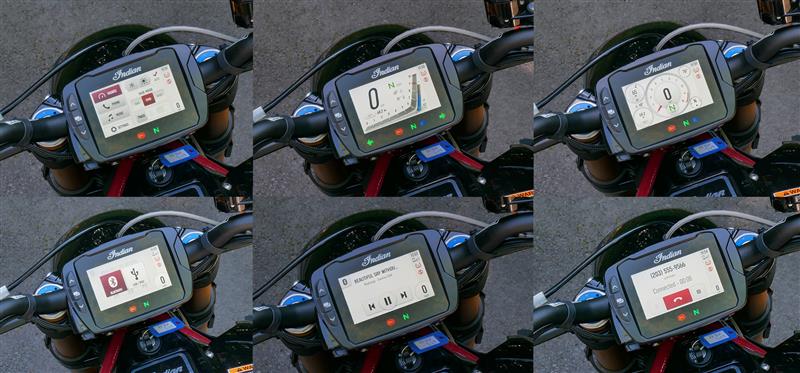 Indian's Ride Command app will sync your smartphone with the bike via Bluetooth so you can keep information like maintenance schedule and history, the owner's manual, warranty info and more handy. Additionally, you have some control of your phone using the touchscreen. For example, I like to ride with a Sena Bluetooth communication system. So, with my iPhone synced with my Sena 20S and the Indian FTR, I can play music and make and receive phone calls with the touchscreen display while keeping my phone safely stored away.
The only thing I am disappointed about regarding the touchscreen is that it doesn't have navigation or the ability to display a smartphone navigation app. To solve this for me, I added a mount to the handlebar for my GPS device and plug it into the USB port located under the FTRs display to keep it charged while riding. Incidentally, you can also play music from a properlly formatted (ex-FAT or FAT32) USB stick inserted in this port.
Sarah and I purposefully did not talk about our experiences with our separate FTRs until we had adequate time to ride them for a while and form our own opinions. When we did finally share, it was interesting that we both had the same exact things to say about these bikes—both the positives and the negatives.
Here's the short list of what we love and dislike about the FTR 1200 S:
What We Like
The motorcycle is super cool looking and in a class all its own. We like that the FTR fits respectably into any riding group, meaning capable of cruising, keeping up with sportbikes, and doing some off-roading.
V-twin torque and race based power offers a ton of ride character and "fun factor."
Seating position and ergonomics offer exceptional maneuverability. You can move around in the saddle when riding sportily, stand on the pegs when off road, or just relax and ride.
Easy to see and full featured touchscreen display.
Strong throaty sound that is loud enough to hear while riding but not so loud that you'll annoy all the neighbors.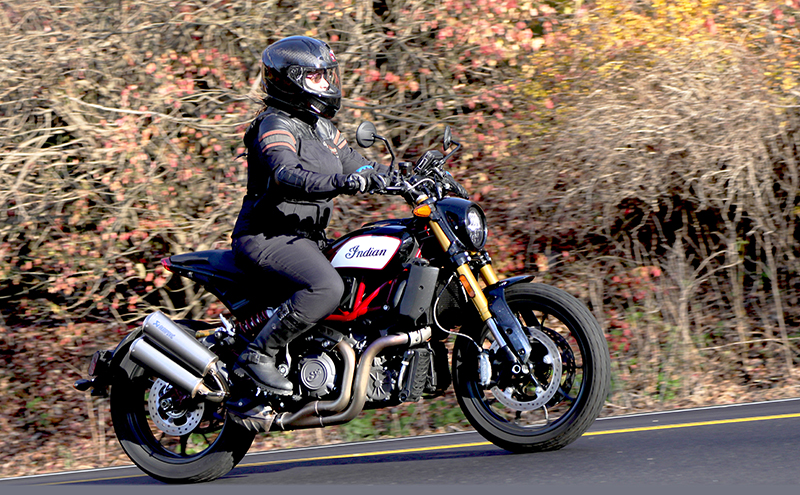 What Could Be Improved
The FTR is cold blooded, in other words, the fueling runs lean at start-up due to emissions regulations. It needs time to warm up to operating temperature for the first ride of the day no matter what the temperature is outside. If you take off too soon the engine will sputter and may stall. But once the bike's been ridden, it's good to go from start-up for the rest of the day.
The fuel filler position is awkwardly placed very close to the rider's crotch on what looks like the gas tank but is actually a plastic cover. The actual fuel tank is located under the seat. It takes a long time to fill up with a lot of stopping and starting the fuel pump while the gas makes its way down and settles into the Indian's tank. One of the benefits of the oddly placed fuel tank is that it makes for a lower center of gravity and easier handling which all riders can appreciate.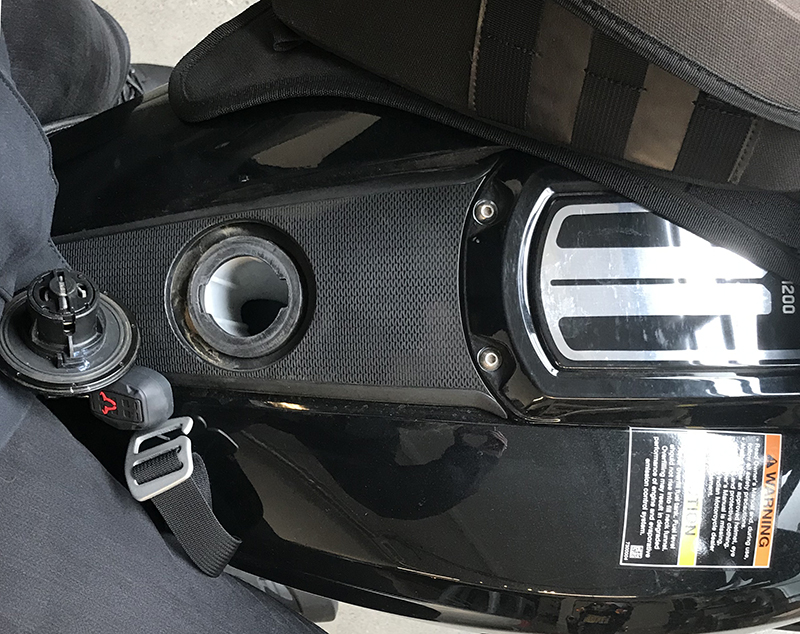 No heated grips are currently offered as an Indian Motorcycle option. Those of us that like to keep riding when the weather turns love heated grips.
The sidestand is placed where it is hard to find and deploy with a foot.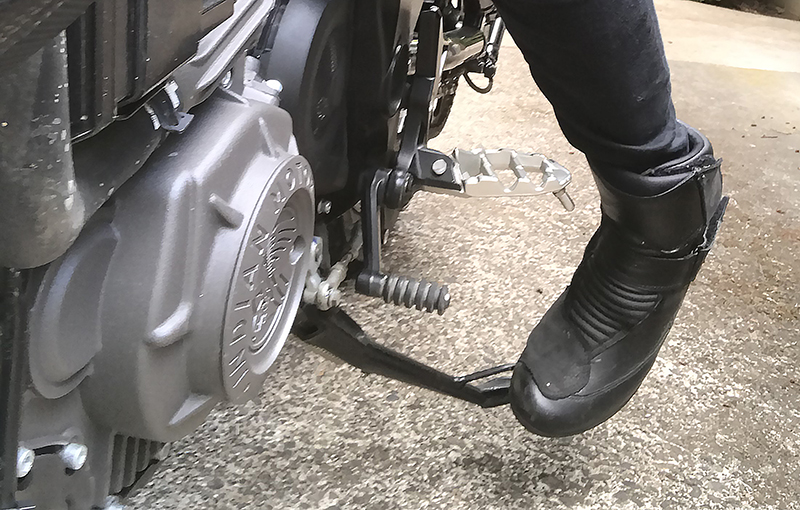 Our Collective Conclusion
Every once in a while, a special motorcycle comes along that breaks the mold—exactly what Indian did when it created the FTR 1200. It just so happens that this bike checks all the right boxes for both Sarah and me who enjoy responsive power, a sporty-standard riding position, and a V-twin pulse. One season with this motorcycle is just not long enough. A hot looking bike that is this much fun to ride is too hard to let go. Sarah has already purchased and accessorized her FTR 1200 S and I am hoping to buy mine by the time the snow melts in Connecticut.
Specs At A Glance: Indian FTR 1200 / Rally / 1200 S
Engine size: 1203cc
Seat height: 33.1 inches
Fuel capacity: 3.4 gallons
Wet weight: 508 pounds / 527 pounds (Rally) / 518 pounds (S)
Colors: Thunder Black (base) / Titanium Smoke (Rally) / Indian Motorcycle Red over Steel Gray; Titanium Metallic over Thunder Black Pearl; Race Replica (S)
MSRP: $11,499 / $13,499 / $15,499
WRN Recommendation:
The FTR 1200 is loaded with character and sounds as good as it looks. Experienced riders who can handle a taller bike and enjoy a sporty ride and the throb of a powerful V-twin engine will have loads of fun on it. It's ability to transition from the street to dirt and gravel roads works well due to its flat track roots. Because of limited packing options, no wind protection, and a fuel range that requires fill-ups every 130 or so miles, day rides on curvy back roads is where this bike really shines. You will want to outfit the FTR with some extras like luggage and a windshield if you plan to take this bike on a long adventure.
---
Related Articles
Indian Motorcycle Reviews
5 Tips for Shorter Riders Handling Tall and Big Motorcycles
Royal Enfield's Build. Train. Race. Program