Whether shopping for yourself or for your friends and family, motorcycle-themed books always make a great gift for motorheads and their kids. For some great gift ideas, check out Women Riders Now's (WRN) favorite books written by females featured in this article. In addition, here are some of our favorite newer releases (and one preorder) available this holiday season. Be sure to scroll to the end for links to order these and other great books.
For the Kids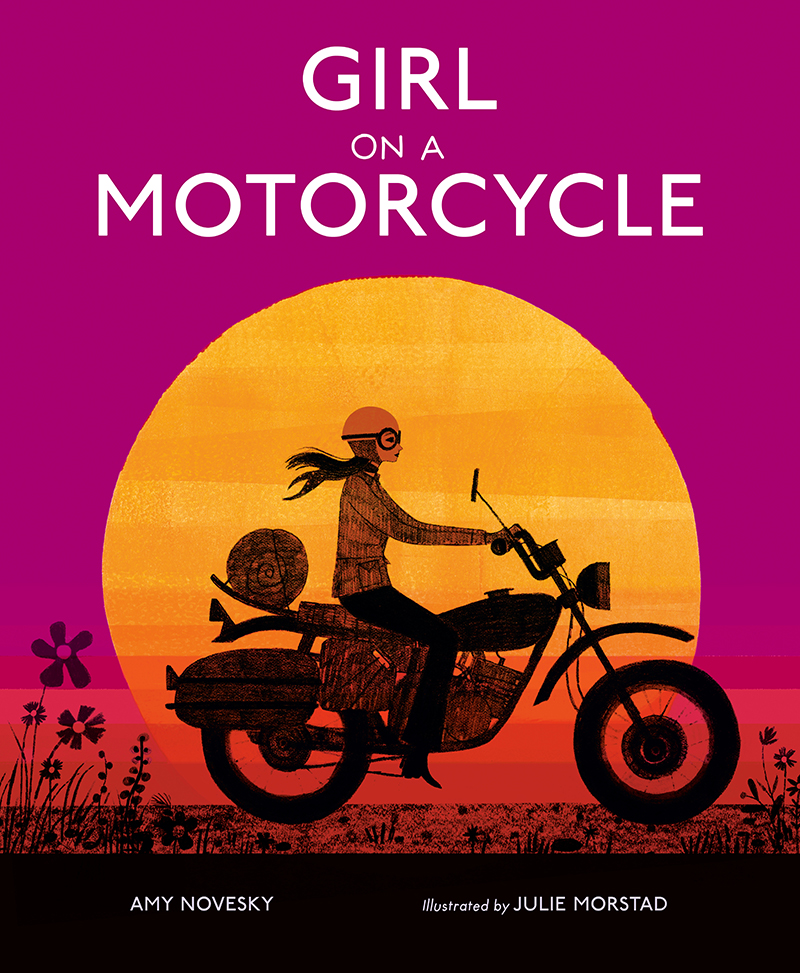 Girl on a Motorcycle
By Amy Novesky, Illustrated by Julie Morstad
Ages 5–9 | 48 pages | Hardcover, 9 x 11 inches | $17.99
One day, a girl gets on her motorcycle and rides away. She wants to wander the world. She wants to go…elsewhere. Each place has something to teach her. Each place is beautiful. And despite many flat tires and falls, she learns to always get back up and keep riding.
A spectacular celebration of girl power and resilience, Girl on a Motorcycle is a children's picture book biography by an award-winning team about Anne-France Dauthville, the French journalist credited as being the first woman to ride a motorcycle solo around the world in 1972. Driven by deep curiosity, Anne-France traveled the world to reflect and share deeply with perfect strangers she met along the way. This beautiful dreamy childrens book with pencil sketches saturated with matte ink in earthy pinks, purples, and subdued tones offers young people a glimpse into the girls life as she explores many foreign lands, meeting friendly people everywhere she goes.
Girl on a Motorcycle is whimsical and inspiring, and besides planting the idea in a young girls head that she can do anything she sets out to do, it offers a look into how there are good people willing to lend a hand and spread love all over the world. The book ends with three pages about the real life Anne-France and her drive to explore the world, with photos from her journey. This book is delightful for young readers and all of us who share the desire to explore the world around us.
---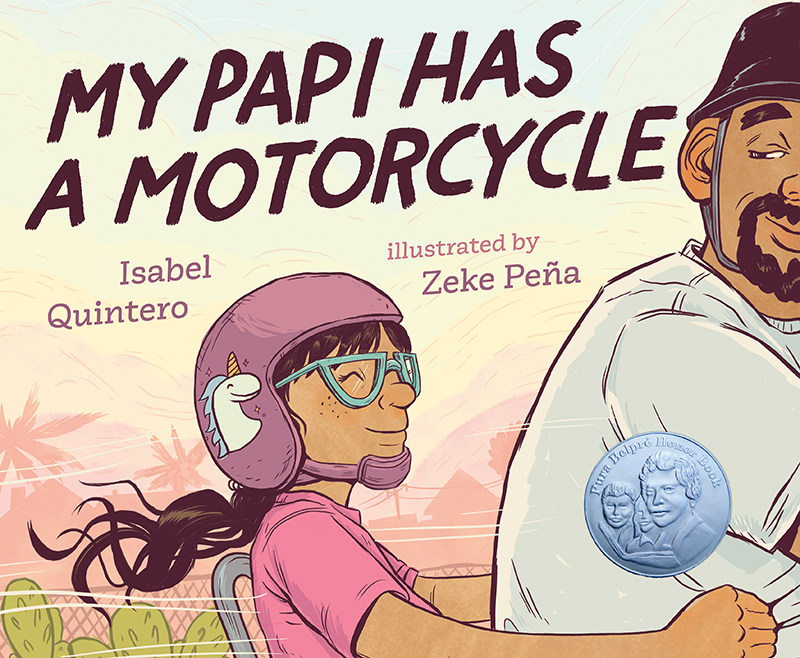 My Papi Has a Motorcycle
By Isabel Quintero, Illustrated by Zeke Peña
Ages 4–8 | 40 pages | Hardcover, 11 x 9 inches | $17.99
My Papi Has a Motorcycle is a celebration of the love between a father and daughter, and of a vibrant immigrant neighborhood by an award-winning author and illustrator duo.
When Daisy Ramona zooms around her neighborhood with her papi on his motorcycle, she sees the people and places she's always known. She also sees a community that is rapidly changing around her. But as the sun sets purple-blue-gold behind Daisy Ramona and her papi, she knows that the love she feels will always be there.
With vivid illustrations and text bursting with heart, My Papi Has a Motorcycle is a young girl's love letter to her hardworking dad and to memories of home that we hold close in the midst of change.
---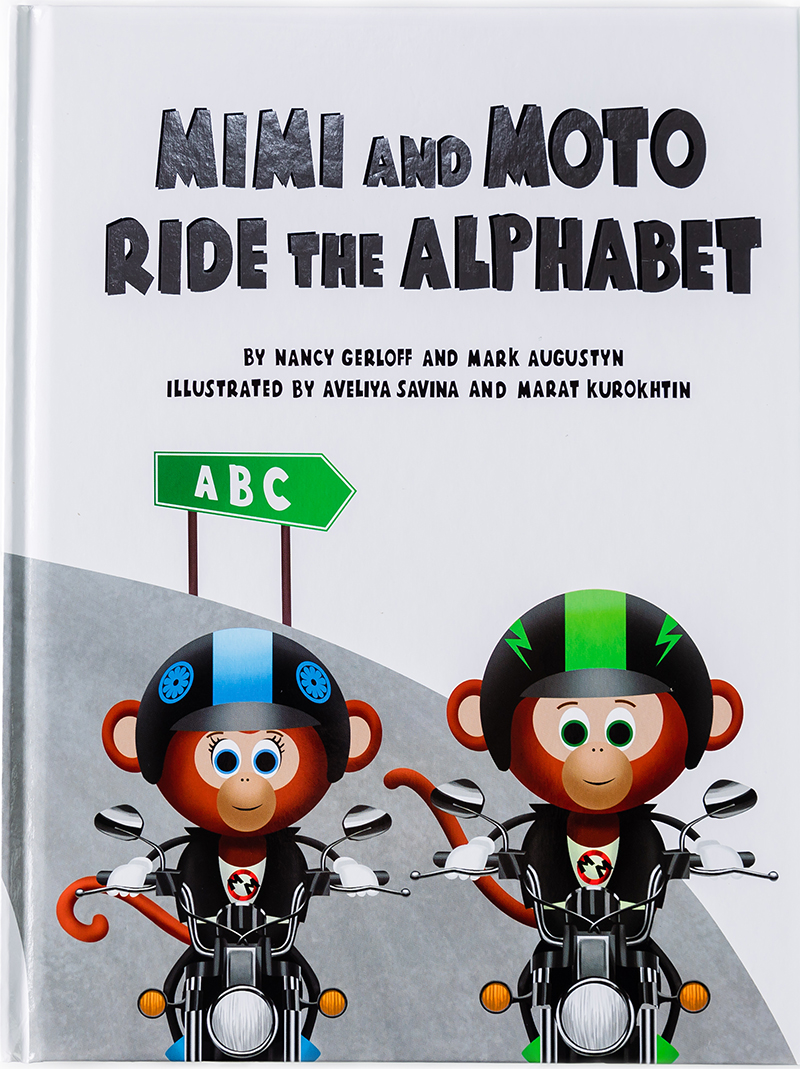 Mimi and Moto Ride the Alphabet
By Nancy Gerloff and Mark Augustyn, Illustrated by Aveliya Savina and Marat Kurokhtin
Ages 1 and up | 28 pages | Hardcover, 9.5 x 7.25 inches| $14.99
We love the motorcycle monkeys so much we just had to include these great childrens books again. Mimi and Moto Ride The Alphabet is an adorable way to get young children interested in motorcycling. Colorful illustrations of Mimi and Moto and their family and friends represent all aspects of motorcycling, covering hill climbs, motocross, choppers, dual-sports, vintage bikes, and so much more.
Each page features a letter of the alphabet, using it in several motorcycle-related terms and phrases in a fun easy-to-understand way. Educational and inspiring, Mimi and Moto Ride The Alphabet helps girls and boys learn to read while sparking their motorcycle imaginations. We particularly like how safety-conscious the duo is, as their wonderfully vibrant gear match their equally colorful motorcycles. Non-gender biased, both Mimi and Moto ride with both Mom and Dad's full support.
WRN highly recommends this book for all young people no matter what their interest—let's get our little ones excited about two-wheeled possibilities while learning to read!
Longtime supporters of WRN, creators Nancy Gerloff and Mark Augustyn are offering 20% off your next order. Read our complete review of both Mimi and Moto children's books here and be sure to use code WRN2020 to save 20% off your order before January 19, 2021.
---
For the Adults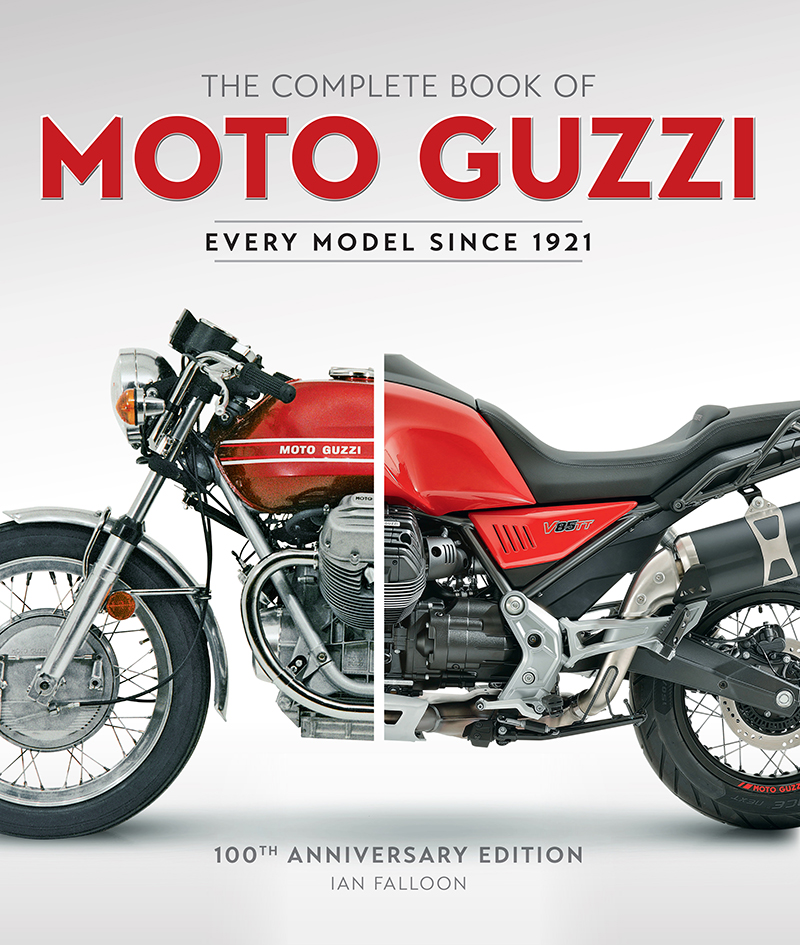 The Complete Book of Moto Guzzi: 100th Anniversary Edition Every Model Since 1921
By Ian Falloon272 pages | Hardcover, 10 x 12.25 inches | $60
The Complete Book of Moto Guzzi: 100th Anniversary Edition, Every Model Since 1921 offers enthusiasts a thorough review of Italian motorcycle maker Moto Guzzi's 100-year history via all its production models. The oldest European motorcycle manufacturer in continuous production, Moto Guzzi has built some of the most iconic motorcycles ever produced. This new edition of The Complete Book of Moto Guzzi includes a 100th anniversary introduction, new photography, and additional pages to cover the newest models from 2018 to 2020. All Moto Guzzi production models are covered in detail, including the groundbreaking Falcone, the V-8 Grand Prix racers, the V7 Sport, the Ambassador, the Eldorado, the Le Mans, the Daytona, right up to today's the complete range of modern bikes including the V7, Griso, Stelvio, and V9.
---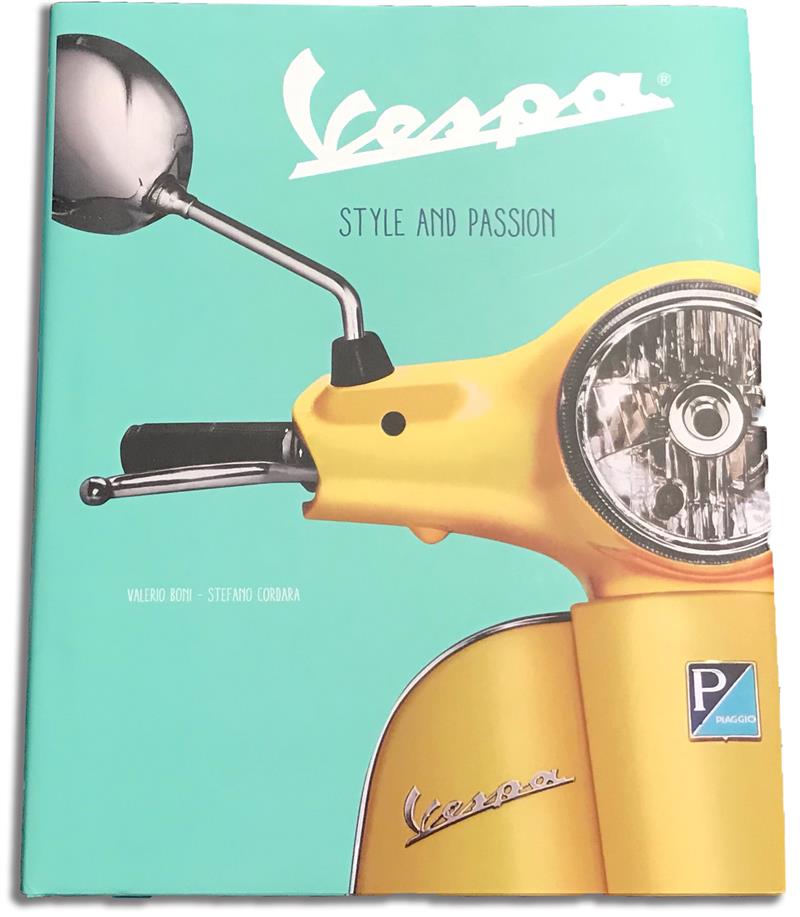 Vespa: Style and Passion
By Valerio Boni and Stefano Cordara
224 pages | Hardcover, 12 x 9.75 inches | $40
In celebration of Vespa's 75th anniversary, Vespa: Style and Passion is the lavishly illustrated official history of the legendary scooters and the culture theyve inspired. The Vespa scooter is considered by many to be perfect in its compactness, functionality, and widely imitated design; the Vespa scooter is not only a means of transport, but a true icon.
Readers will enjoy a stunning selection of visuals including dozens of studio images of the most significant models from throughout Vespa history—including classics like the 125, 150 GS, Super Sprint, Primavera, and Rally—as well as images from the factory, period advertisements from around the world, rare archival photographs, and images of Vespas in popular culture and motorsport. Mod culture, perhaps most responsible for spreading scooter culture, is also given its due with images of customized Vespas.
---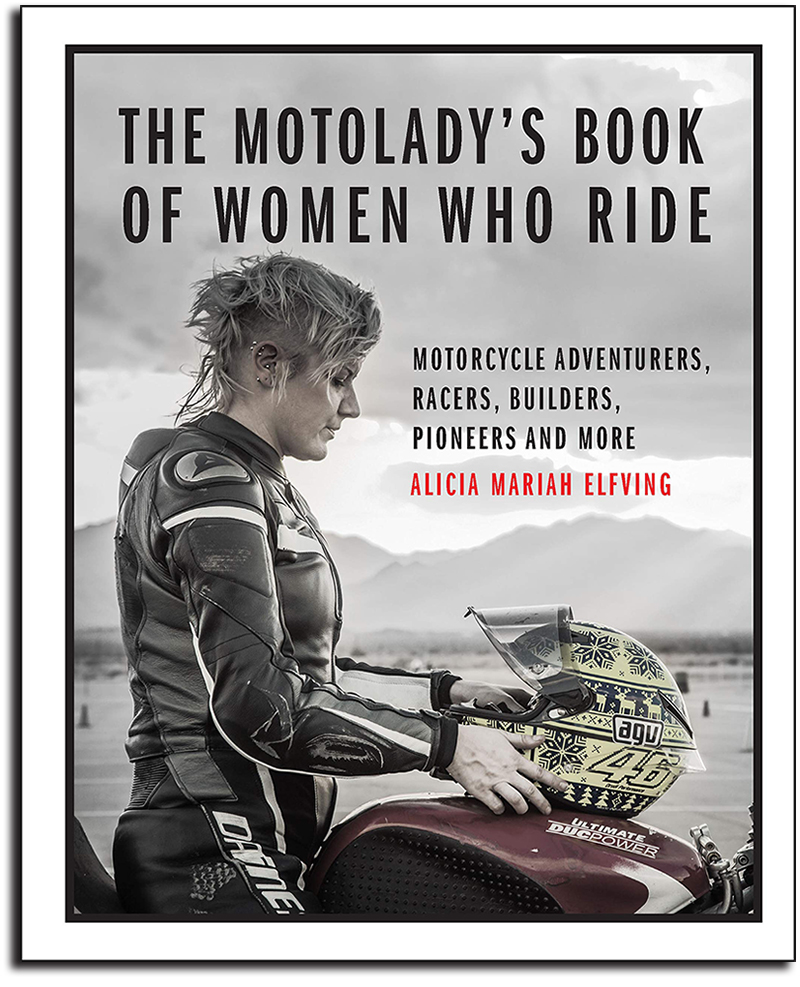 The MotoLadys Book of Women Who Ride: Motorcycle Adventurers, Racers, Builders, Pioneers amp; More
By Alicia Mariah Elfving (MotoLady)
Available for preorder (Release date: April 6, 2021)
184 pages | Hardcover, 7.25 x 9 inches | $30
Written and curated by Alicia Mariah Elfving, founder of TheMotoLady.com and the Women's Motorcycle Show, The MotoLadys Book of Women Who Ride offers the true stories of the women past and present who ride and wrench, proving indispensable to maintaining and growing a positive motorcycling culture. Illustrated with contemporary and historical photos, this book makes a great gift for collectors and motorcycle history buffs.
Historically, depictions of women in motorcycle culture tend to objectify—from the outlaw motorcycle club "biker babe" to cheesecake photography to posturing celebrities with motorcycles as props. The truth is much different. From the early days of motorcycle culture more than 100 years ago, women have played a central role in making the motorcycle a legitimate form of transportation, recreation, and motorsport.
Elfving presents more than 70 female pioneers in the motorcycle world, from the Americas to Europe and the Middle East and South Asia—stunt riders, racers, builders, customizers, organizers, and more. Elfving links today's female motorcyclists with those of the past and illustrates the freedom represented by two wheels, and how motorcycles allow women to transcend cultural expectations confidently. You'll meet riders such as:
WomenRidersNow's Erin Sills, 3x top speed Guinness World Record holder and evangelist for land speed motorcycle racing
Sofi Tsingos, who raises money for charities by building and auctioning motorcycles.
Safety ambassador Brittney Morrow, who found her calling after surviving a high-speed crash with no gear.
The Van Buren sisters, who in 1916 were among the first motorcyclists to ride coast to coast and the first women to ride to the summit of Pikes Peak.
African American Bessie Stringfield, who made eight solo cross-country trips during the 1930s and 1940s.
---
More Information and to Purchase
Girl on a Motorcycle, PenguinRandomHouse.com

My Papi Has a Motorcycle, PenguinRandomHouse.com

Mimi and Moto Ride the Alphabet, MimiandMoto.com

The Complete Book of Moto Guzzi: 100th Anniversary Edition Every Model Since 1921, QuartoKnows.com

Vespa: Style and Passion, QuartoKnows.com

The MotoLady's Book of Women Who Ride: Motorcycle Adventurers, Racers, Builders, Pioneers & More, Amazon.com (Currently only available for preorder.)
---
Related Articles
2020 Holiday Gift Guide for Your Favorite Motorcyclist
7 Books to Inspire Past, Present, and Future Motorcyclists
Pioneer Profiles
More Books and DVD Reviews