WRN 2020 HOLIDAY GIFT GUIDE
PRESENTED BY HELIBARS
---
Its time to start making and checking off your holiday gift list. Weve asked our friends and businesses that have supported women motorcycle riders throughout 2020 to roll out some special savings for our wonderful readers, and we are excited to share them with you now. Thank you for supporting those who support us!
We will be adding more deals as they come in, so keep checking back to see whats new. For easier navigation, you can click here to scroll down quickly to each offer:
• Helibars – Save 10%
• Brocks – 10% Off Lowering Components
• SportBike Chic – 30% Off
• Mimi amp; Moto – 20% Off
• Indian Motorcycle – Up to $75 Off Gear, Accessories, and Gifts
• Harley-Davidson Footwear – 25% Off Footwear
• MotoChic – $100 Off Jackets
• Lethal Angel – 15% Off
• British Motorcycle Gear – $100 Off Jackets
• Bohn Armor – 20% Off, Plus Free Helmet Liner
• Raven Rova – 20% Off Motorcycle Pants
• Hightail Hair – 50% Off Helmet Clips
• SW-MOTECH – 15% Off

HeliBars Let You Fit Your Motorcycle to You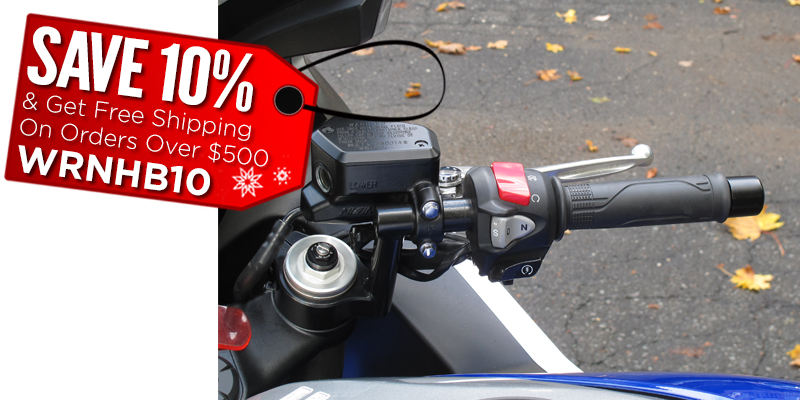 HeliBars knows that "one size does not fit all" when it comes to motorcycles. HeliBars motorcycle handlebars and risers provide the most comfortable riding position possible. For more than 25 years HeliBars has been helping motorcyclists find their elusive "comfort zone" for all day riding comfort. Precision built HeliBars transform and improve your bike's handling, performance, and comfort so you can "kick pain to the curb!" HeliBars are made in the USA and are 100 percent satisfaction guaranteed. Use code WRNHB10 to save 10% and get free shipping on orders more than $300.

Lowering Kits for Sportbikes and Harleys

Do you need your "tall boots" to go riding? Brock's Performance lowering components have you covered. Brock's lowering links, front end lowering kits, custom seats, and adjustable kickstands give riders a way to quickly and easily lower their motorcycle's seat height, allowing the vertically challenged rider to achieve positive ground contact. With more foot on the ground the rider will feel increased confidence, comfort, and control; no more tippy toes. Available for a wide variety of popular sport bikes and Harley-Davidson models. Use coupon code GETLOW at checkout for a 10% discount off any lowering components. Offer good through 12/31/2020.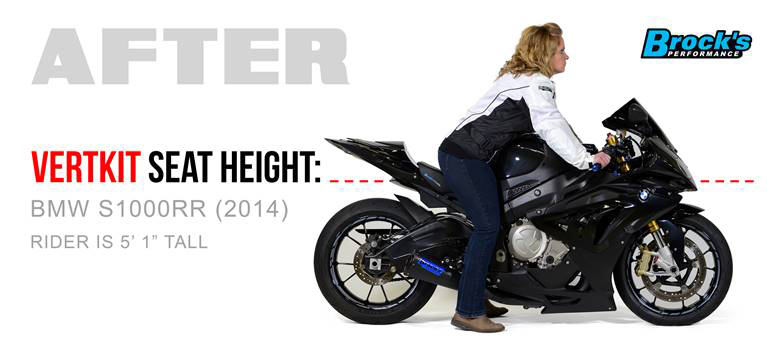 SportBike Chic Protective Riding Jeans and Tank Purses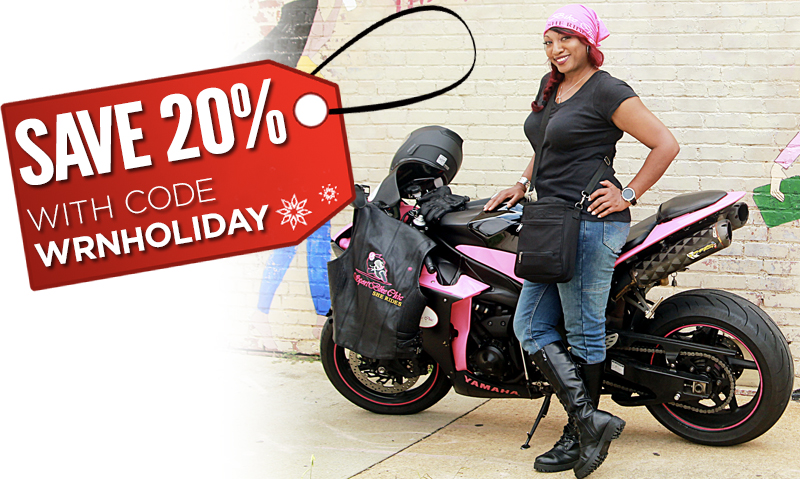 SportBike Chic protective motorcycle riding jeans are strong, durable, and stylish, and come in mid-rise, skinny fit, and plus sizes. Made with a thick but comfortable 11.5 ounce cotton with Spandex (allowing for stretch), the jeans are lined with DuPont Kevlar for abrasion protection. These women's riding jeans also have the extra lip in the rear to prevent unintended exposure while riding.
SportBike Chic Tank Purses are functional water-resistant purses with detachable straps that adhere to motorcycles via powerful magnets. With convenient access to important items, the purses contain compartments for phones, cards, and more. The newest model, Charlotte, is unique and sassy and boasts a clear outer pocket for easy visibility to maps. Order by December 31, 2020 and use code WRNHoliday to save 20%.


Make Motorcycles Fun for Kids!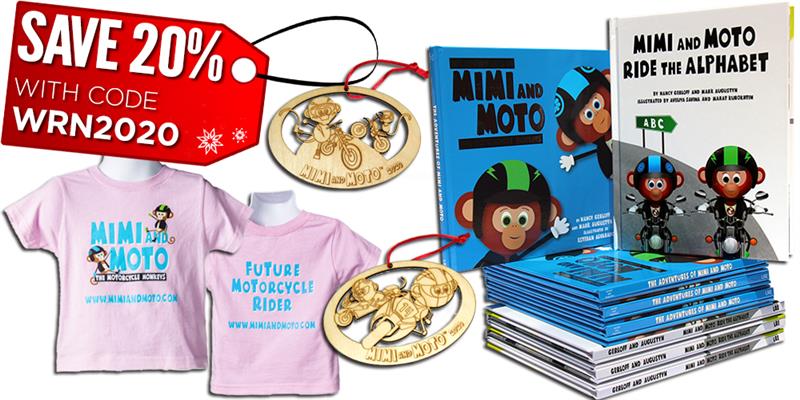 We at WRN just love this charming series of books and merchandise featuring Mimi and Moto, the Motorcycle Monkeys. Weve been big fans since we reviewed the first book in 2016, and were excited when women chose the second book as "Best Off-the-Bike Product in 2019. The Mimi and Moto books, T-shirts, and holiday ornaments make wonderful holiday gifts for children and parents who want to inspire young people to love motorcycles. Use code WRN2020 to receive an exclusive 20% discount. Offer good through January 19, 2021.

Save on Fashion, Gear, and Accessories for You and Your Indian Motorcycle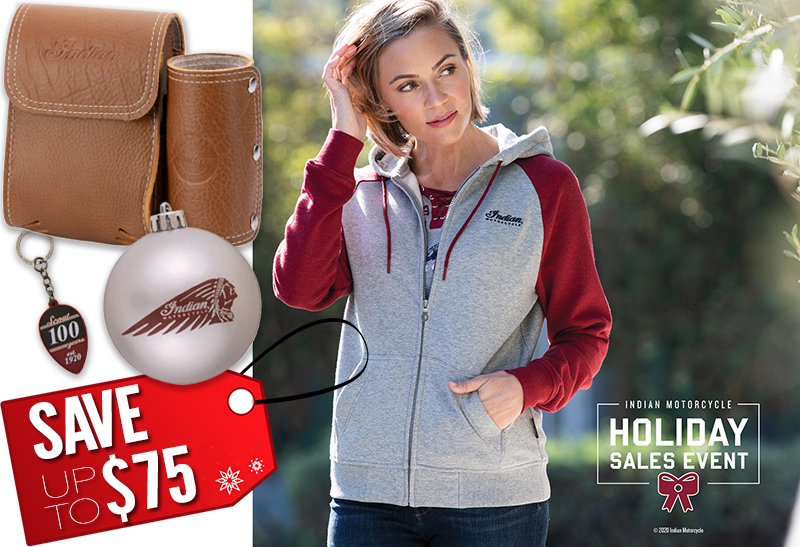 Now is the time to dress up you and your Indian Motorcycle! Fill your cart with goodies for you and all your riding friends. From hoodies to leather jackets and boots, collectible wall art, books, keychains, luggage racks, toolbags, windshields, and so much more. Save up to $75 on Indian Motorcycle apparel, accessories or parts for your Indian Motorcycle. The more you spend, the more you save. Get $5 off when you spend $50; $20 off when you spend $150; or $75 off your $500 order. See IndianMotorcycle.com or your dealer for details. Offer good through 12/31/2020.


$100 off MotoChic's New Line of Jackets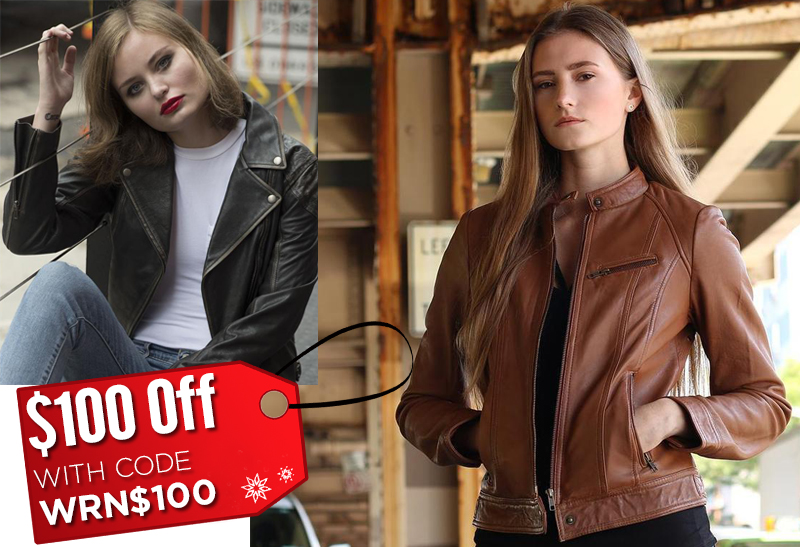 Check out the new, affordably-priced line of leather jackets brought to you by longtime WRN supporter, MotoChic. You may be familiar with this small woman-owned company's awesome stylish backpacks, and now you can sport these new fashionable jackets too. Save $100 with code WRN$100.

Boots that Take Charge, with Style that Makes a Statement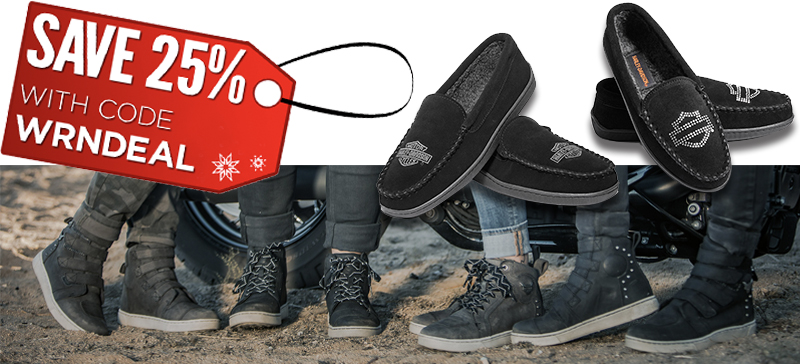 Riding boots built specifically for her
, versatile enough to wear day in, day out. From bada$$ riding boots and sneakers built for the bike and the ride, to sleek and sexy heels, casual shoes and slippers for before and after the ride, this collection of
Harley-Davidson footwear
has your back…and feet. Shop options such as full grain leather, slip- and oil-resistant rubber outsoles, ankle protection, waterproof, reflective, and much more.
Use code
WRNDEAL
at checkout to save 25%
off your entire order. Offer good through 12/15/2020.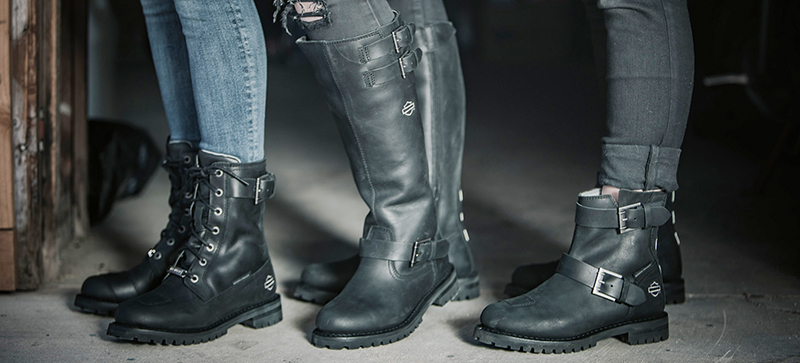 Lethal Angel: Apparel with Attitude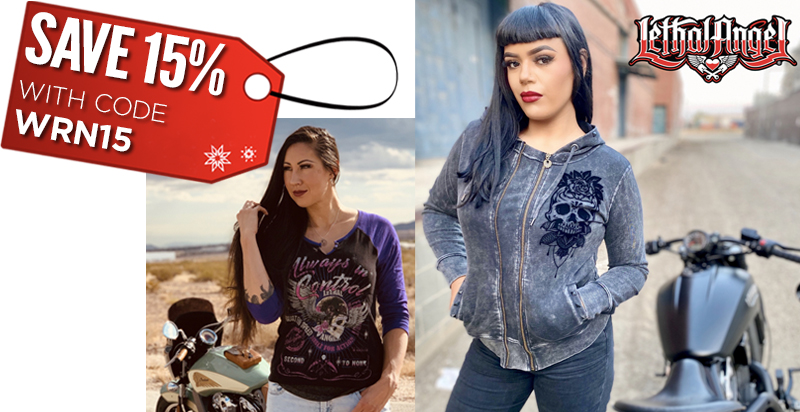 A Lethal Angel is a strong willed, independent gal who lives her life to the fullest. She revs that throttle and off she goes for another new memory and adventure. Lethal Angel is a brand of apparel dedicated to those who are wild at heart. Casual apparel depicting images and sayings that reflect the woman rider. Top quality, comfort, and style goes into all Lethal Angel garments. Use code WRN15 for 15% off your entire order. This offer is good through 12/25/2020, and applies also to the company's men's line, Lethal Threat.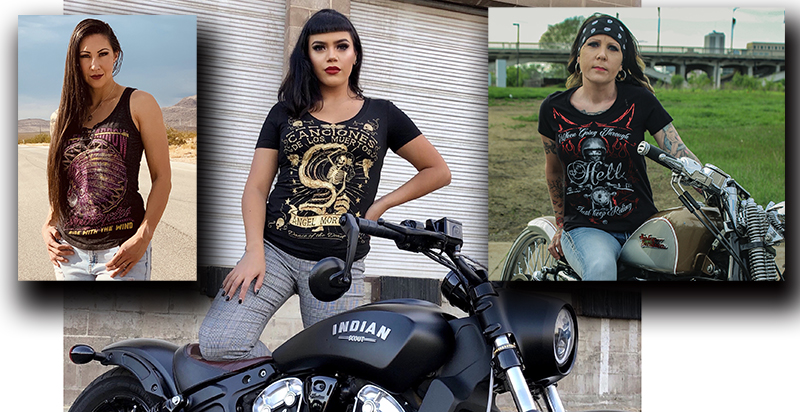 Timeless Euro Style and All-Weather Comfort
British Motorcycle Gear (BMG) offers a curated selection of British and European-inspired riding apparel and accessories for the motorcycle enthusiast offering value, comfort, durability, protection, and style.

The Belstaff Trialmaster Pro/Tourist Trophy is made of waxed cotton with incredible detailing and timeless style, stunning on and off the bike. The BMG Challenger is a 100 percent waterproof, all weather motorcycle jacket with a classic three-quarter length British cut that offers protection, comfort, value, and great looks.

Use code WRN100 for $100 off the BMG Challenger jacket or the Belstaff Classic Trialmaster jacket.

Armored Riding Protection for All Shapes and Sizes
Woman-owned and operated

Bohn Body Armor's armored motorcycle shirts, pants, and shorts are specifically designed to be cool, comfortable, and versatile on any ride, any time of year. Women love Bohn shirts and pants as they stretch to fit most body shapes and provide cool, breathable protection for any riding weather. Wear your own T-shirt and jeans or layer up on cooler days and add a jacket over your armored shirt. No matter how you wear Bohn shirts, pants, and shorts, you'll be protected from shoulders to shins. Use coupon code WRN2020 at checkout to save 20% AND get a FREE helmet liner! Available in sizes 2XS-4XS. Offer expires 12/14/20.

Protective and Fashionable Women's Riding Pants

No More Knots or Damaged Hair
Riders with long hair will appreciate this innovative product from a new woman-owned company called Hightail. The "pocket"

Bike Hair Protector

attaches to a motorcycle helmet and you simply tuck your hair into it where it is protected from being damaged and knotted from the wind and natural elements.

Check out our review of how easy it is to install and use here.

Order an extra set of helmet mounting clips so you can use it on multiple helmets. Be sure to

use code XMASGIFT to get 50% off clips

with each Bike Hair Protector ordered. This offer is valid until December 21, 2020.

15% Off EVO Tank and Tail Bags and More
| | |
| --- | --- |
| If you've had your eye on SW-MOTECH's luggage and accessories since reading our review of its Legend Gear Side Bag System or Leg Bag set, you won't want to miss this Boxing Day sale! Built with the same high level of quality, SW-MOTECH's EVO line of tank bags feature the "Click-Lock" tank ring technology eliminating the need for straps or magnets, so the bag won't touch or scratch your tank. Strap tank bags, tail bags, and many other parts including GPS mounts, crash bars, and engine guards are also included in the promotion. No code needed, just visit SW-MOTECH.us on December 26 to find the deals. | |