Once we tuck our motorcycles in for the night, it's fun to continue the ride with a good book. Women Riders Now (WRN) has put together a collection of some of our favorite moto-reads from the last few years. The best part—these books have been written by women motorcycle enthusiasts, with the exception of one, which was co-authored by a husband and wife duo. You may recall several of these talented authors from articles we have featured here on WRN.
All the books listed here can be purchased on Amazon.com unless otherwise noted.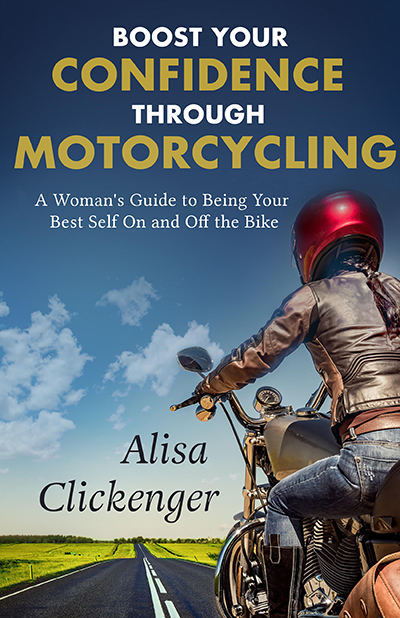 Boost Your Confidence Through Motorcycling: A Woman's Guide to Being Your Best Self On and Off the Bike
By Alisa Clickenger | Paperback, $14.99 | Kindle eBook, $4.99 | 74 pages
Alisa Clickenger knows first-hand that motorcycling can be a physical, mental, and spiritual journey for women. In her first book, Boost Your Confidence Through Motorcycling, Alisa uses examples from her own personal journey to explain how motorcycling and confidence are uniquely intertwined.
This self-help book provides confidence-building techniques and is aimed at new and seasoned riders alike. It's a great read for anyone considering experiencing the freedom and personal transformation two wheels can offer—which, in turn, will provide increased confidence in all areas of their lives.
Alisa Clickenger is a world traveler, author, professional experience maker, confidence coach, and founder of Women's Motorcycle Tours. A member of WRN's Leadership Board, Alisa has been pursuing a life of adventure and helping others to access their inner wisdom and be free to lead lives they are passionate about. She hopes that Boost Your Confidence Through Motorcycling not only helps female riders become more comfortable riding motorcycles but also draws many more women to the sport. You can order directly from Alisas website here.
---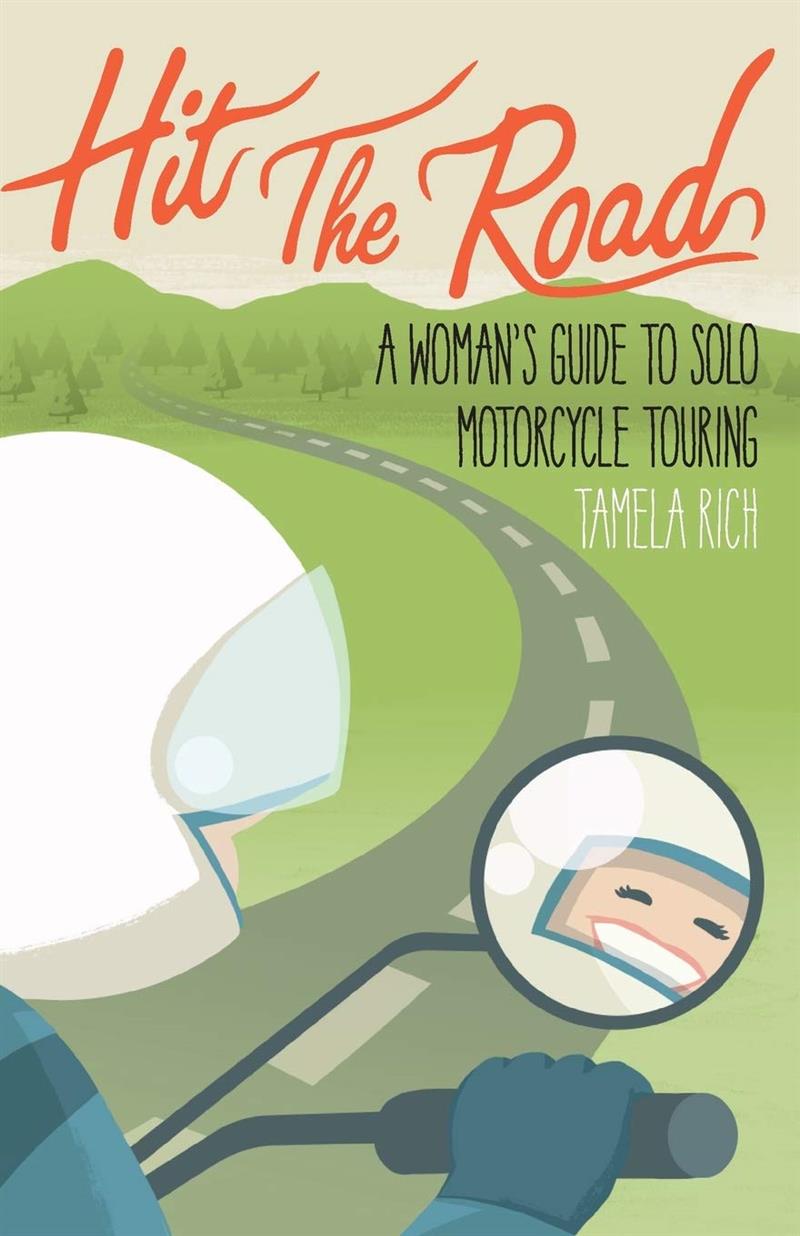 Hit The Road: A Woman's Guide to Solo Motorcycle Touring
By Tamela Rich | Paperback, $19.99 | Kindle eBook, $5.99 | 156 pages
Whether you are a new solo rider or wish you had more confidence hitting the road on your own, Hit The Road: A Woman's Guide to Solo Motorcycle Touring was written for you. Award winning author, Tamela Rich, is a television travel expert, Iron Butt member, and founder of Mountain amp; Music Motorcycle Tour series. WRN reviewed Tamela's first book, Live Full Throttle, here.
Tamela began her motorcycle riding career by taking a 19-state solo journey just three months after learning to ride a motorcycle. She undoubtedly learned a lot about what NOT to do, and this book is her way of sharing her knowledge so no one else has to learn from the "school of hard knocks."
This "guidebook" includes stories from Tamela's motorcycle travels and is chock full of useful checklists, resources, and tips for anyone who wants to get the best out of a two-wheeled adventure. With input from many motorcycle industry and travel experts, including yours truly, Tamela outlines how to identify your "traveler type," plan your perfect itinerary, understand and overcome fears, choose personal safety devices and strategies, learn money-saving tips, prepare with checklists and packing, making mechanical inspections, packing tools, how to handle emergencies, how to eat healthily on the road, and how to experience the joy of traveling solo without feeling lonely.
While Hit The Road specifically calls out to women travelers, men about to set out or thinking of riding solo will also find a ton of useful information in this great book. The book itself is such a great resource, you'll want to consider packing it in the saddlebag when you're ready to roll.
---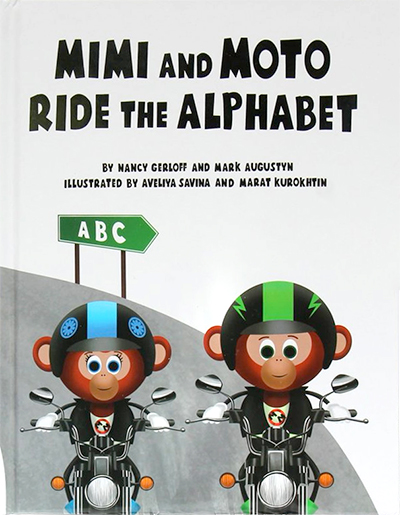 Mimi and Moto Ride The Alphabet
By Nancy Gerloff and Mark Augustyn, Illustrated by Aveliya Savina and Marat Kurokhtin | Hardcover, $14.99 | 28 pages
We first heard about Nancy and Mark's cute little monkeys in 2016 when we reviewed their first book, The Adventures of Mimi and Moto: The Motorcycle Monkeys.
Riding the success of the first book, they debuted their new release at the AIMExpo, winning WRN's award for "Best Off-The-Bike Product." Mimi and Moto Ride The Alphabet is just as adorable as the first book. Colorful illustrations of Mimi and Moto and their family and friends represent all aspects of motorcycling, covering hill climbs, motocross, choppers, dual-sports, vintage bikes, and so much more.
Each page features a letter of the alphabet, using it in several motorcycle-related terms and phrases in a fun easy-to-understand way. Educational and inspiring, Mimi and Moto Ride The Alphabet helps girls and boys learn to read while sparking their motorcycle imaginations. We particularly like how safety-conscious the duo is, as their wonderfully vibrant gear match their equally colorful motorcycles. Non-gender biased, both Mimi and Moto ride with both Mom and Dad's full support.
WRN highly recommends this book for all young people no matter what their interest—let's get our little ones excited about two-wheeled possibilities while learning to read!
---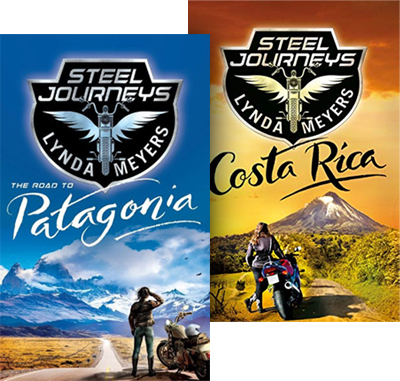 Steel Journeys: The Road to Patagonia
By Lynda Meyers | Paperback, $9.99 | Kindle eBook, $4.99 | 277 pages
"Fifteen years ago, Abby found the love of her life entangled in the arms of her best friend. Abby hit the road—for good!"
Join Abby Steel on a series of breathtaking international adventures with Steel Journeys, a women's motorcycle tour company where she calls all the shots. From huts to hotels, its never the same adventure twice. Take a ride with bad-ass women, big bikes, and far-flung adventure in the fictional series about women, motorcycles, and adventure.
Steel Journeys: The Road to Patagonia and the second book in the series, Steel Journeys: Costa Rica, is available for now. Find out how to order here.
---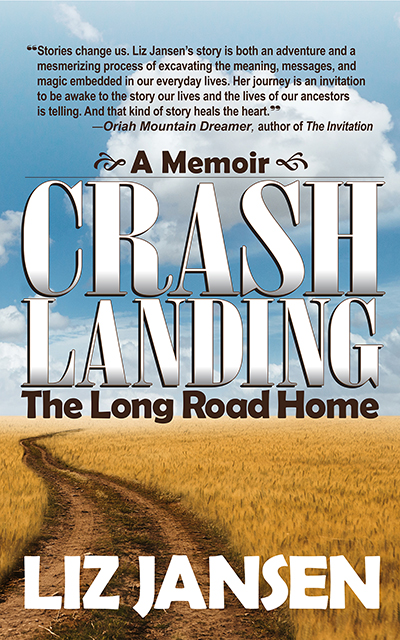 Crash Landing: The Long Road Home
By Liz Jansen | Paperback, $19.55 | Kindle eBook, $5.99 | 266 pages
From the author of Women, Motorcycles, and the Road to Empowerment and Life Lessons from Motorcycles, WRN contributor Liz Jansen has released her third book, a road trip through her own family ancestry. Crash Landing: The Long Road Home is a beautifully written memoir about how life's unexpected and potentially devastating detours lead to new roads, connections, and learning to follow the signs pointing home.
As Liz approached her sixtieth birthday, she was driven to understand how the experiences of her German Mennonite ancestors, who'd arrived in Canada as Russian refugees almost a century earlier, had shaped her. Seeking answers, she got on her motorcycle and set off across the country on what she dubbed "The Ancestor Trail"—the places they'd lived as they established themselves in a new land.
Three weeks into what she'd expected to be twelve to eighteen months on the road, she experienced a catastrophic crash that threatened to sideline her quest. Instead, the ensuing time of uncertainty and stillness led her deeper into her mission and an exploration of her cultural roots.
The stalwart faith and community that had sustained her ancestors through perilous times had terrorized and almost suffocated her, leading her into what she described as a life of mediocrity. Inherently, she knew that the answers to how those experiences had influenced her beliefs and life choices, lay in delving into her distant past. To move forward, she had to look back.
Crash Landing is a compelling, adventurous, and poignant personal narrative of healing, showing how the heart always knows the way home.
---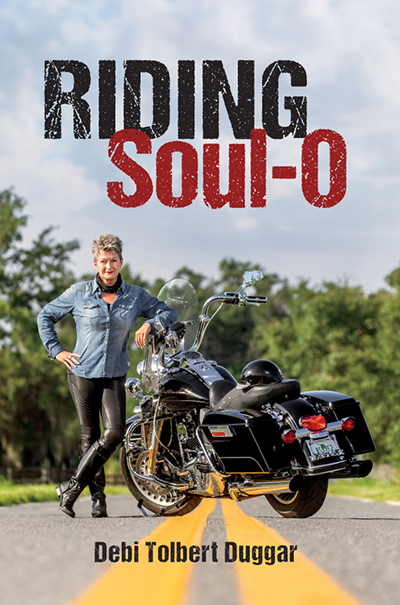 Riding Soul-O
By Debi Tolbert Duggar | Paperback, $24.81 | Kindle eBook, $9.99 | 550 pages
At 52, facing an empty nest, an empty occupation, an empty bank account, a quantifiably empty love life, and a bankrupt ideology of what comprised her purpose in life, Debi Tolbert Duggar was soul sick. She wondered, "Is this all there is?"
Debi's declaration of "I'm gettin' my own!" as she climbed off the back of yet another man's motorcycle became a metaphor for her life…on her own Harley-Davidson. Not only would she get her own motorcycle, but in the process, she excavated her own life from the dismal heap of circumstances that surrounded her.
This story may sound familiar. WRN shared Debi's story here, titled, "How Harley-Davidson Motorcycles Saved My Soul." Now you can read all about the ups and downs of her journey in the newly-released paperback, Riding Soul-O.
---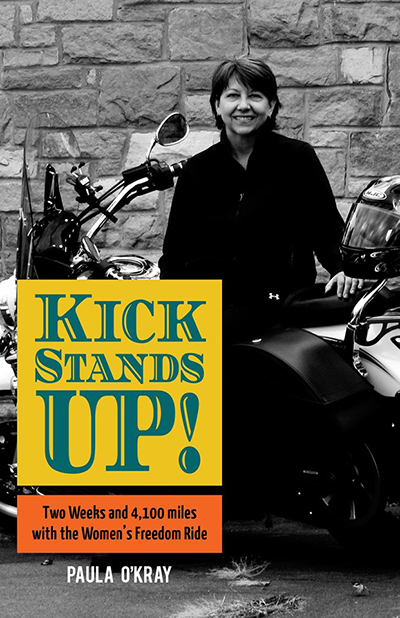 Kickstands Up! Two Weeks and 4,100 Miles with the Women's Freedom Ride
By Paula O'Kray | Paperback, $12.69 | 174 pages
Divorced, in her fifties and tired of watching other people living interesting lives, Paula O'Kray wanted to do something new. With almost no long distance riding experience, Paula made the decision to ride across the United States with the Women's Freedom Ride.
Kickstands Up is Paula's two week journey across the states, experiencing highs and lows, fun times and danger, sharing laughter, gifts, advice, and deep emotions in a learning curve that's more like a cliff. Read about the important bonds of new friendships and the support of readers, friends, and family that allowed Paula to sustain the harsh conditions she faced on and off the road.
Whether you're interested in motorcycle culture, thinking about starting to ride, a new rider, or been on more than just a few rides, you'll appreciate the story of Paula's determination, courage, and strength told with her natural, down-to-earth sense of humor and candor. This book also includes packing lists for reference when you're ready to hit the road.

For an autographed copy, contact the author directly at ladylovinherlife@gmail.com. Paula will sign and ship the book anywhere in the U.S. for $20.
Please share this list with your loved ones and riding partners and use the comments section below to write your own review of any of these books or suggest more great inspiring reads.
Related Articles
WRN Expands Leadership Board with Three Key Influencers
Book Review: Live Full Throttle
Book Review: The Adventures of Mimi and Moto: The Motorcycle Monkeys
Book Review: Women, Motorcycles, and the Road to Empowerment
Reader Story: How Harley-Davidson Motorcycles Saved My Soul
More Books and DVD Reviews