I recently had the opportunity to spend some seat time on the exciting new addition to the Indian Motorcycle Scout family, the Bobber, but the two hours I was limited to only whet my appetite for more. The moment I threw my leg over the compact sized motorcycle, I knew I was in for one fun ride.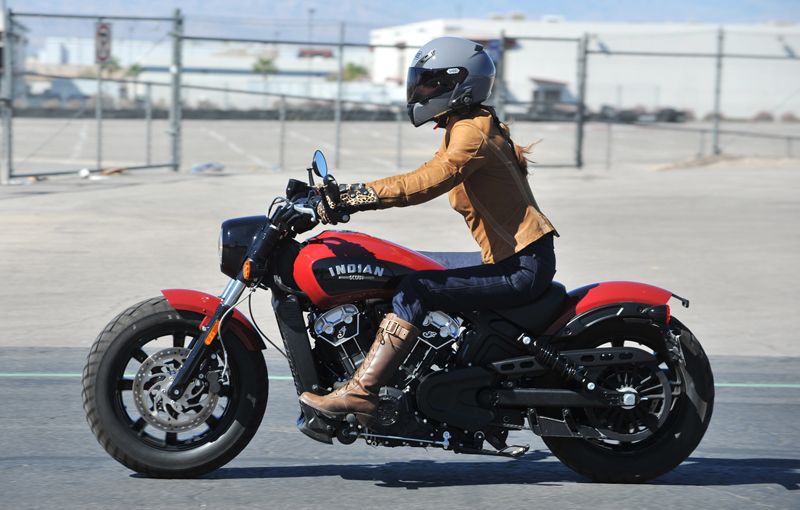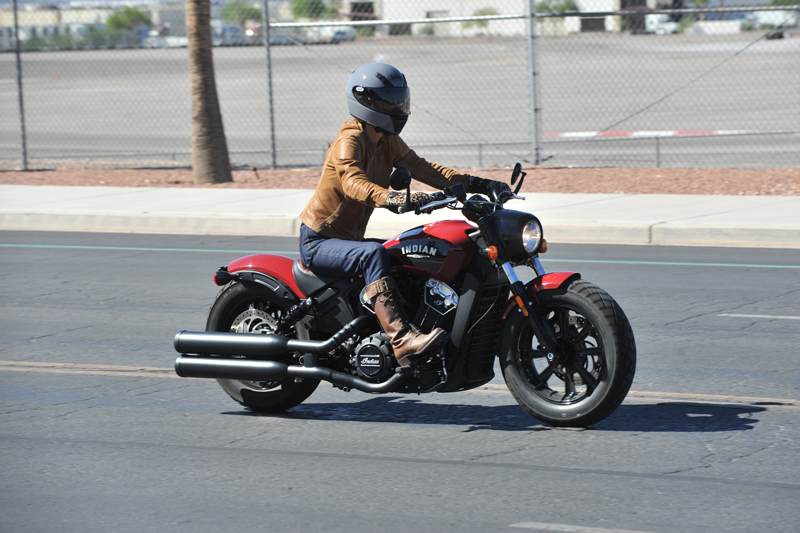 Coming from my regular ride of a large touring motorcycle, it's a breath of fresh air to straddle a motorcycle that not only is super low, super light, and super narrow, but pulsates with 1100cc of "command-the-roadway" power. You see, usually when a motorcycle features these qualities—super low, super light, and super narrow—it's some version of a beginner motorcycle. The cool thing about the Bobber is that while it possesses all those confidence-inspiring physical attributes of being low, light, and easy to handle, it performs like nothing less than a capable strong middleweight cruiser. The Bobber, therefore, opens up a world of possibilities for riders, mainly women, who want a bike that's easy to maneuver in all situations without sacrificing power.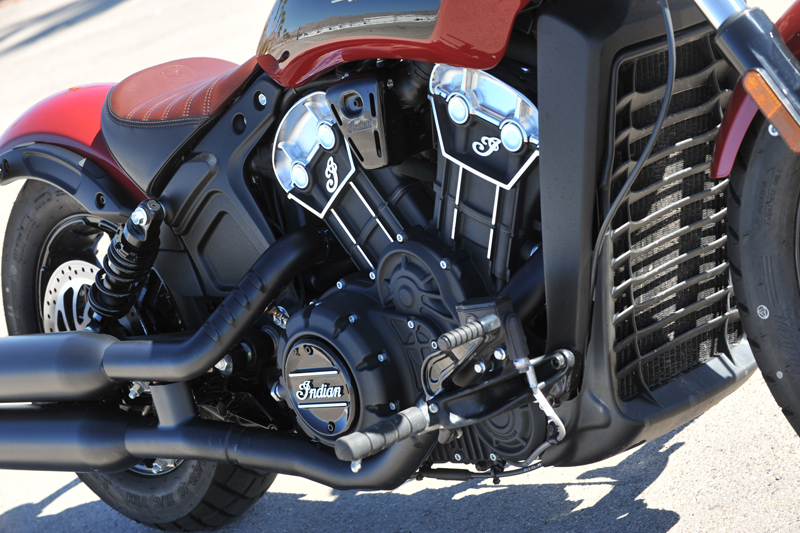 Here's an example of what I mean. A rider learns on a 250cc beginner motorcycle. She loves how she's become comfortable on the motorcycle's size and is now confident in all situations handling the motorcycle. The only drawback as she sharpens her riding abilities is that the bike is now "too slow" for her. Time to upgrade.
A lot of riders in this scenario would like to simply drop a bigger engine into their beginner bike and continue on their way still comfortable with the motorcycle's small-ish size. Unfortunately, in our two-wheeled world, the only way to a more powerful engine means getting a physically bigger motorcycle.
The Bobber, however, is the answer for those riders who want a still-small-ish size motorcycle, but with bigtime motorcycle riding power.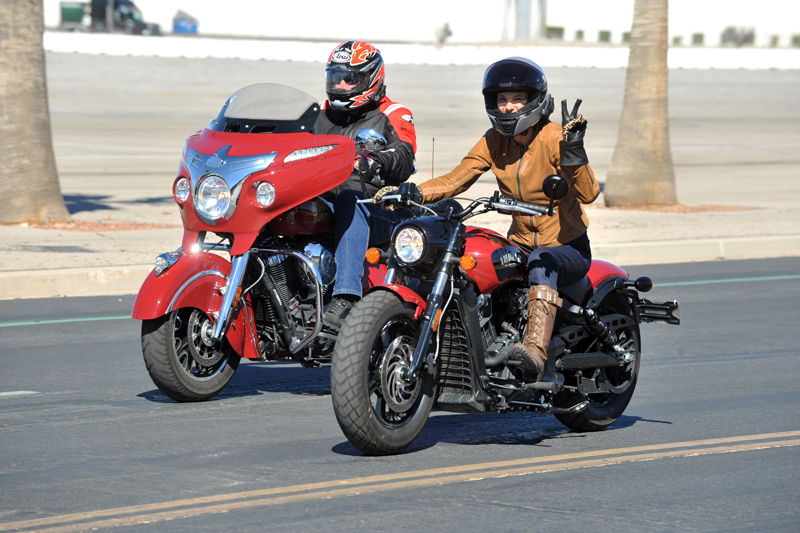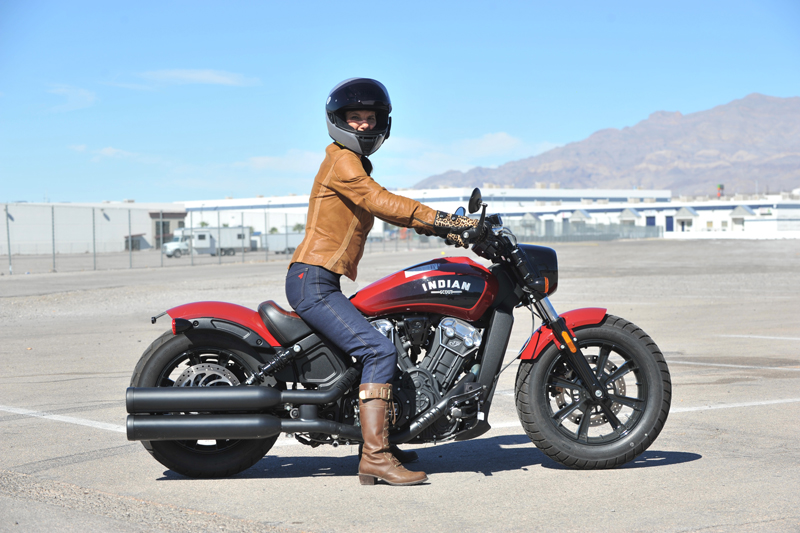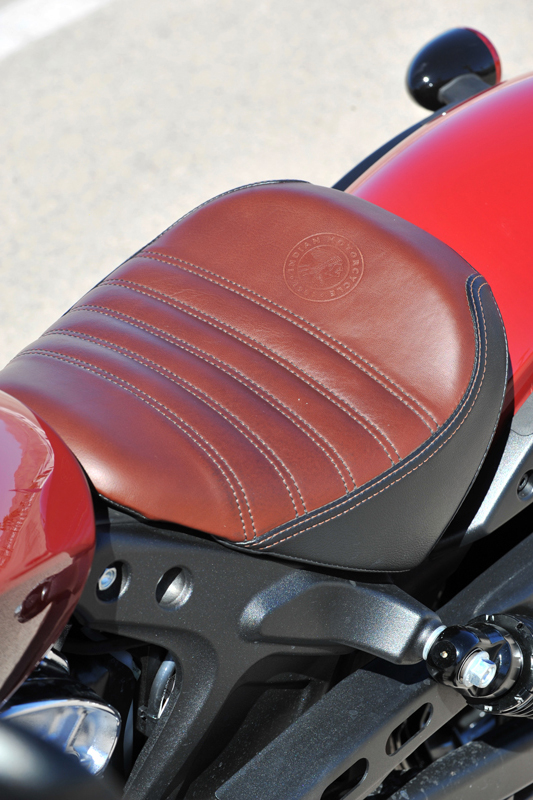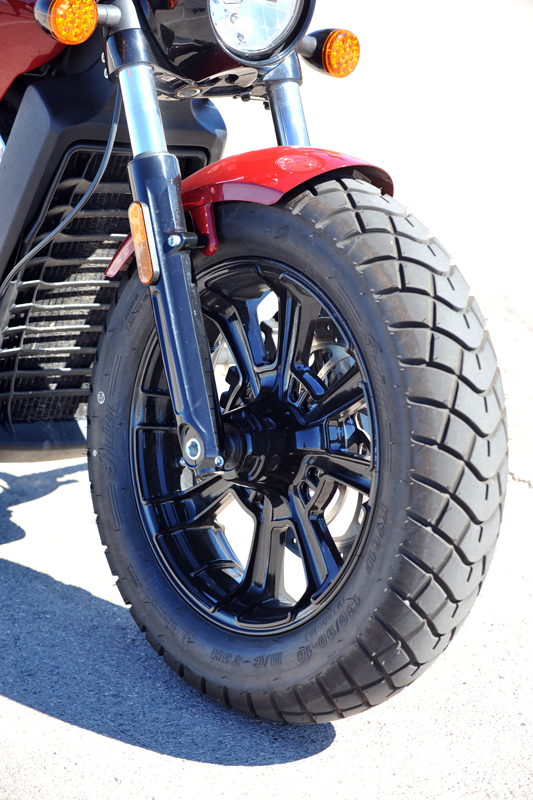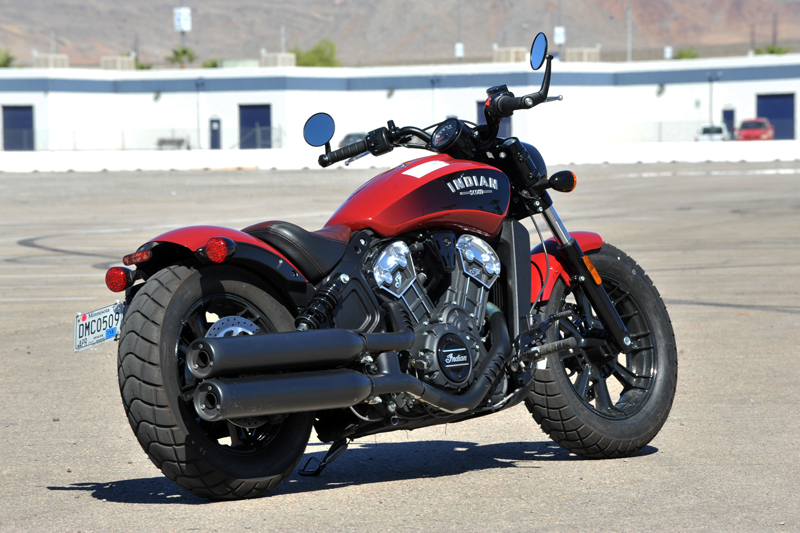 In the photo above I'm also wearing some older pieces of riding gear from my motorcycle closet including: Alpinestars Paddock jacket reviewed here on WRN, Icon Catwalk gloves reviewed here, and Red Wing boots.
The only thing I'm not a fan of that I think other riders may also be considering as a downside is the aggressive legs forward, arms flat-out-in-front riding position. Here's what I'll say about it. I gladly will put up with this aggressive stance as this bike is such a blast to ride. Plus, since the reach of the controls is within my comfort zone, I'm OK to ride like this.
This minimalist motorcycle makes a great starting point for customization. Fortunately, Indian has thought of just about everything you might need to take this motorcycle on longer jaunts including an aftermarket windshield and saddlebags. Take a look at my story 5 Must Have Accessories for Your Indian Motorcycle.
Hopefully, my mini-review of the Bobber is enough to encourage you to get out and test ride one. Beginner riders looking to trade up owe it to themselves to try one out. Even riders downsizing from their big monstrosity of a motorcycle may very well end up wanting a Bobber after taking a spin on one. I know I do.
Specs At A Glance: 2018 Indian Motorcycle Scout Bobber
Engine Size: 69ci (1130cc)
Seat height: 25.6 inches
Weight: 554 pounds
Fuel capacity: 3.3 gallons
Colors: Thunder Black, Star Silver Smoke, Bronze Smoke, Indian Motorcycle Red, Thunder Black Smoke (ABS)
Price: starts at $11,499
Related Articles
5 Must Have Accessories for Your Indian Motorcycle
Less Is More With Indian Scout Bobber
Review: 2016/2017 Indian Motorcycle Scout Sixty
Review: 2015 Indian Motorcycle Scout