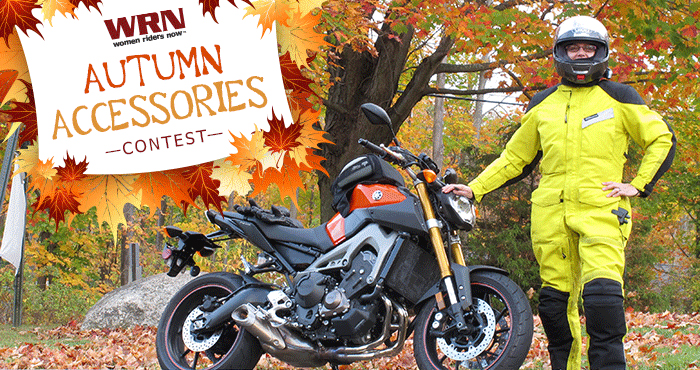 Fall. Its coming (for some of us, its already here). Mother Natures gifts include the changing leaves and pumpkin spice everything, but for motorcyclists, fall can be a bit tricky (and not just around Halloween!). The air becomes a bit crispier, the ground a tad slicker, the visor a bit foggier. Theres one more thing the fall always brings… Autumn Accessories!
We need YOUR help in making our next "must-have" list.
How to enter
50 – 100 words on your favorite autumn motorcycling accessory (clothes, gloves, bags, motorcycle gear, you name it!)

1 or more clear photos of the accessory (preferably in use)Must be originals that you can give permission to use. No copying from another website.

Permission to use your words and photos if you win.

Contest ends on November 5 at midnight Pacific Time.

One entry per item. Unlimited entries per person. That means you can let us in on ALL your cold-weather-combating secrets for more chances to win.
Whats in it for you?
Fame – winners get full credit for their contributions on Women Riders Now website and social media.

Prizes – include Go-Pro Helmet camera, $100 gift certificate to MotoChic Gear. More prizes coming in every day.
Judges:
Heading up the contest is Brittany Morrow, internationally knownadvocate for motorcycle gear and safety. Other judges areKatie McKay, Publisher and Editor of Modern Moto Magazine andfrom WRN, Genevieve Schmitt, Founder, and Tricia Szulewski, Assistant Editor.
Rules:
Judges have the right to exclude any entry. Decision of the judges is final.
Now, throw yourself into this contest like its a big pile of leaves (or candy corn, whichever you prefer). Good Luck!