I bought a new motorcycle in 2008. This past summer was my second season riding my custom painted 2008 Harley-Davidson Street Glide. Having a new motorcycle with a specific color paint job re-inspired me to jazz up my riding gear so it complements my bike and my personal style. So before I headed out on my 3,000-mile motorcycle journey this past summer I went about choosing gear that would accent my motorcycles custom paint of matte chocolate brown with barn red flames.
If youre struggling with how to get a jazzy style going with you and your motorcycle, take a few cues from me and see that you dont have to match things exactly, rather subtle accents often do the trick.
All-Purpose Touring Jacket
I needed a waterproof all-purpose jacket for touring. I found the Harley-Davidson Wicked 3-in-1 Nylon jacket. While its mostly black, it has brown accents that match my motorcycle. Click on photos to make larger and see detailing.
| | |
| --- | --- |
| Simple, understated yet classy. The Wicked jacket is made of lightweight waterproof nylon with black suede trim on shoulders and waist. See the reflective piping from the camera#39;s flash. Two hand warmer pockets and the two vertical vents on the chest are features you#39;d expect on a quality jacket like this. | Inside, the mesh lining is ideal for dispersing heat on hot days. I was disappointed this jacket didn#39;t come with a full removable liner for cooler days. I got creative and wore one from another jacket I own. |
| The brown threaded logo and brown waist gussets are accents that match my bike. Adjustible straps on either side of the waist accommodate a tighter or looser fit. Two vertical zippered vents let hot air escape out the back. | A zipper inside the main zipper keeps air and water out. You can also see the gusseted zipper wrist closures, again with brown accents. |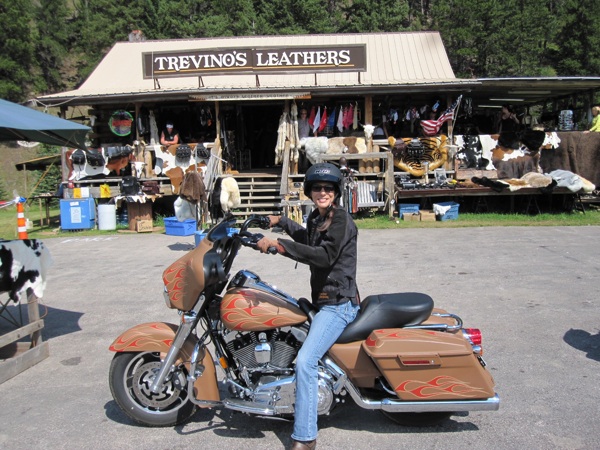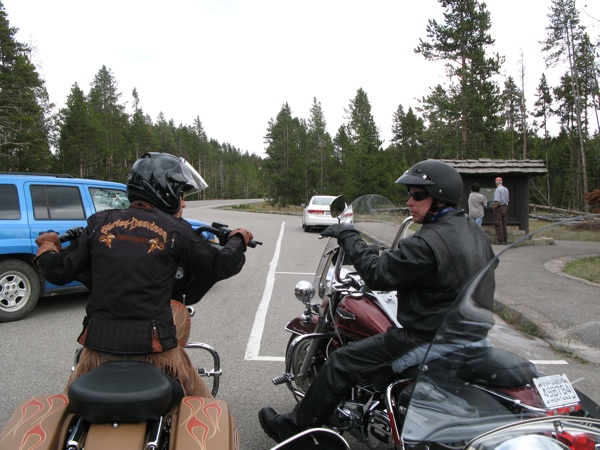 The Wicked 3-in-1 Jacket cost $250; its a limited edition so supplies are running out. It can still be found at some dealerships and online retailers at a discount now. Part number is 97484-09VW. If you cant find it, might I suggest the Barchetta 3-in-1 Leather Jacket part number 97169-10VW, found at Harley-Davidson.com.
Everyday Riding Jacket Thats Stylish AND Protective
When I first ran a story on this Alpinestars Paddock jacket, I knew I had to have it because it matches my motorcycle and my style to a T. Itd be ideal for riding when the weather is clear and warm. Its hard to find a quality brown leather motorcycle jacket, especially one with armor like this one.
| | |
| --- | --- |
| The Alpinestars Paddock Leather Jacket is made of high quality Italian leather that#39;s ultra soft and supple. I love that it looks great and protects with CE-approved armor in the shoulders and elbows. | I love the lines of the jacket. Very feminine. The waist flap protects my lower back when I reach for the bars. |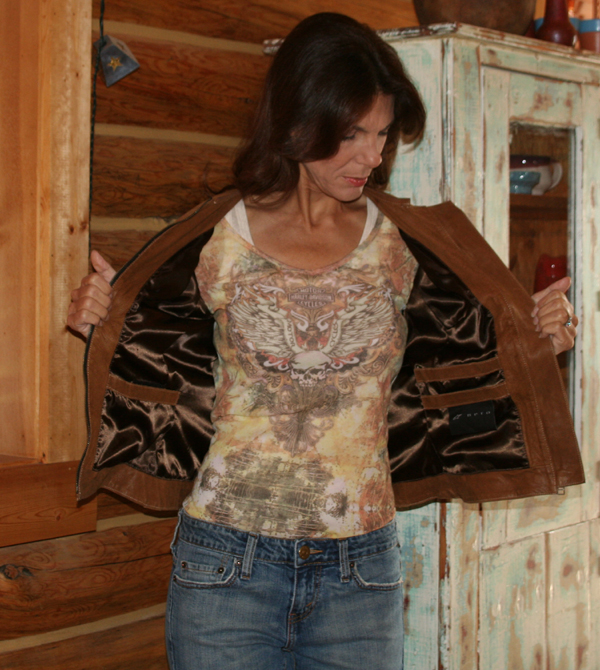 | | |
| --- | --- |
| The sleeves have a zippered closure. | I#39;m pointing to the subtle Alpinestars graphic and the lighter colored brown suede accents throughout that follow the lines of the jacket. |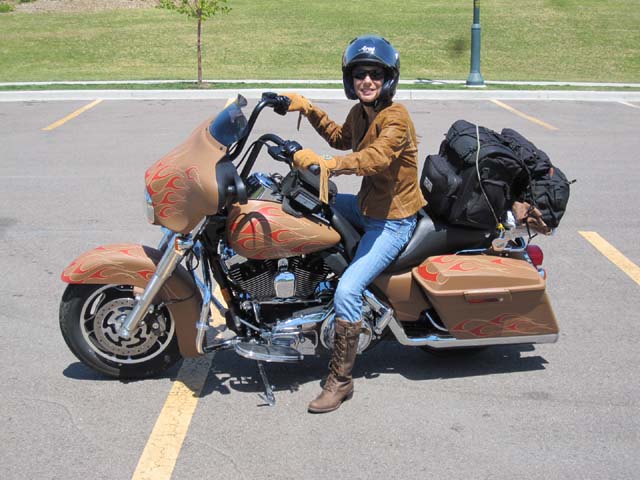 The Paddock Jacket is not cheap at $750, but if youre like me when you find a jacket (or any piece of clothing for that matter) that is unique and matches your personal style and your motorcycle exactly, money is no object. At that price, youre not likely to run into other riders with the same jacket like I did with the Harley Wicked up above. Visit Alpinestars.com or call 310.891.0222. Alpinestars is a brand not worn by many cruiser riders as its roots are in the sport market, but the company has been expanding its collection for women and now offers an impressive variety of stylish and protective jackets. Be sure to check it out.
Socks
Im very particular about what socks I wear as Im in them all day. Socks equate to nearly 50 percent of the comfort of my feet the other 50 percent being my shoes. These CoolMax socks from Girl Gear Apparel are the perfect thickness to wear in a motorcycle boot with just enough cush and padding to increase comfort in the toes and balls of your feet – the part that takes the most beating.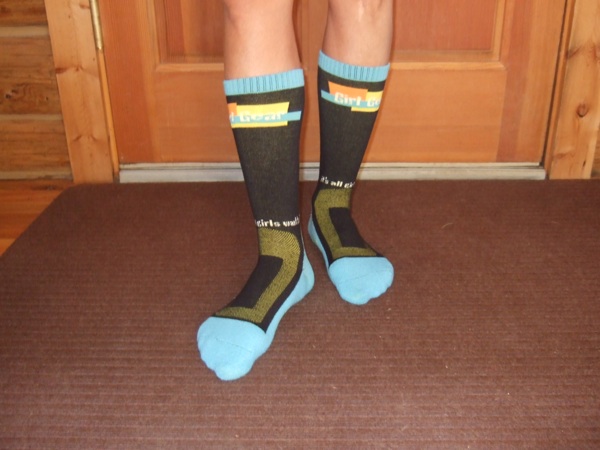 The midcalf height works for me especially when Im wearing high motorcycle boots like my lace-up Red Wings. The wicking material keeps my feet from sweating and stinking. I can get by with wearing these two days in a row without washing. Yea, theyre $15, but they work and for that Ill pay extra. Visit GirlGearApparel.com.
Fun Shirts
Ive found that I gravitate to Harley-Davidson when looking for a good quality shirt thats different than the normal biker T-shirt. Here are two I wore from the summer collection.
| | |
| --- | --- |
| This sheer mesh top from Harley is the perfect layering shirt when I get a chill and want to cover my arms. It#39;s so sheer I wear it over a tank top. | This stretchy polyester mesh is comfy and stylish I wear it a lot when I#39;m not riding. |
| This embellished rib knit tank top from Harley has black rhinestones embedded into the tribal Harley logo on front and back. I like the shirt because it#39;s brown of course! | I don#39;t traditionally wear shirts with logos, but this tank is so comfortable and stylish, I didn#39;t mind the blingy Harley logo gracing the back and front. |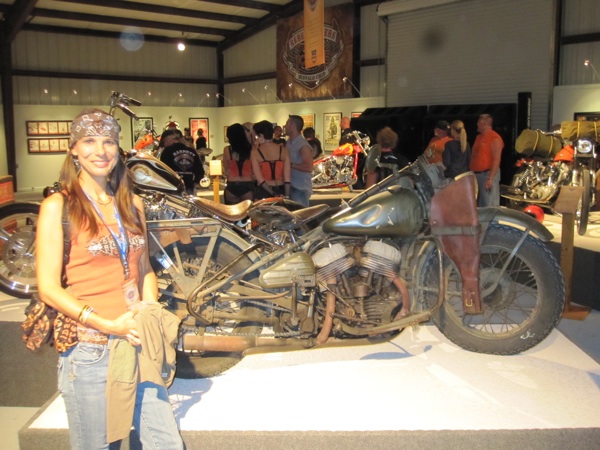 You might still be able to find this brown tank, part number 96197-09VW, on sale from its retail of $40. A similar embellished tank was just introduced in black, and brick red. Visit Harley-Davidson.com to check it out online.
The mesh shirt I got, part number 96202-09VW, sells for $45, but again, you might find it on sale. A similar one is also available in a different pattern, part of the H-D Ink Collection. Check it out here on Harley-Davidsons Web site.
Lastly, visit TeamDiva.com, or click here to learn more about embellished bandanas and hats.