Women Making Motorcycle Racing History
Since women are increasingly interested in both sports and motorcycle riding, it is no surprise that women have become increasingly interested in racing motorcycles. Women are taking part in all flavors of motorcycle competition. You'll find women competing in roadracing, motocross, dirt track, drag racing, trials, (where the goal is to gracefully pirouette over obstacles without putting a foot down), and land speed records at Bonneville, where WomenRidersNow.com (WRN)'s Erin Sills has made history with speeds that most of us would never dream of attempting. For those who like classic bikes, there is a thriving vintage racing scene. If you are looking for a challenge, there is one to fit your interests, abilities and budget.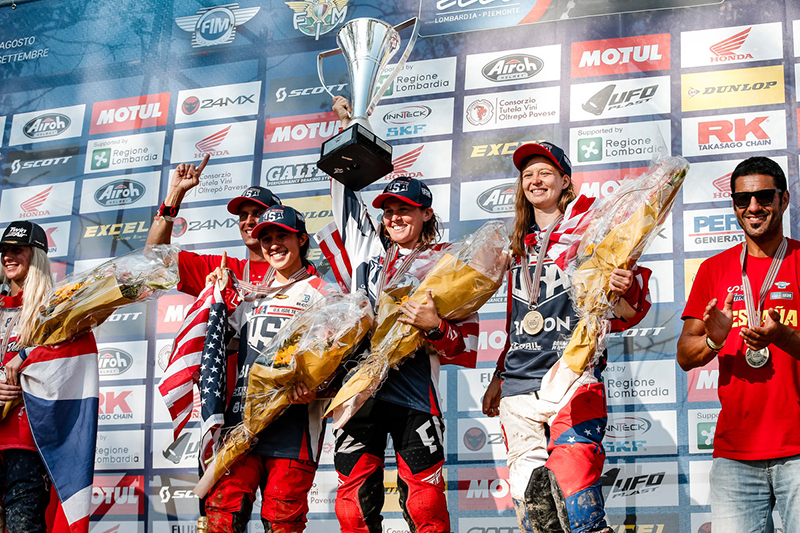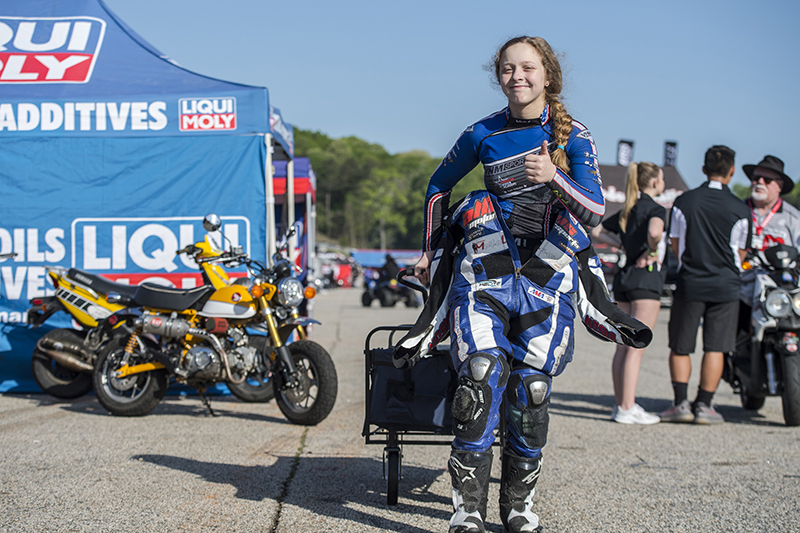 General Racing and Motorcycling Organizations
American Motorcyclist Association (AMA) serves as the rule-making and sanctioning body for most types of racing in the U.S. You can find the AMA's listing of its races and events at AmericanMotorcyclist.com, which can be sorted by city, state, and type of racing.
The World Federation of Motorcycling (FIM) was founded in 1904 and is the world sanctioning body for motorcycle sports as well as an international organization that works to defend the rights and interests of motorcyclists, the sport, and the global industry. The FIM's Commission of Women in Motorcycling's mission is to create and enhance egalitarian opportunities and to promote equal treatment for women involved in activities related to motorcycling. Check out and download the FIM's Dream Big Book here to find out about some of the world's most influential women racers and inspirers.
The American Historic Racing Motorcycle Association (AHRMA) focuses on all kinds of vintage motorcycle racing. From road racing to enduro, there's nothing quite like watching antique machines fly by. You can find out about how to get involved and find a vintage motorcycle race at AHRMA.org.
The Western Eastern Roadracing Association (WERA) is one of the oldest national motorcycle racing organizations and is partnered with the AMA in its focus on roadracing. Many amateur racers participate in this series with hopes of growing into the AMA series. WRN profiled a roadracing hopeful, Sarah Irvin here.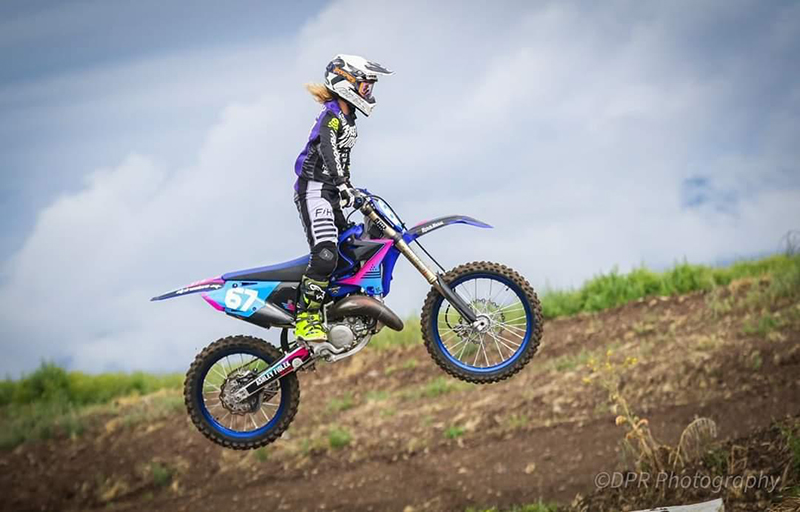 Off-Road Motorcycle Racing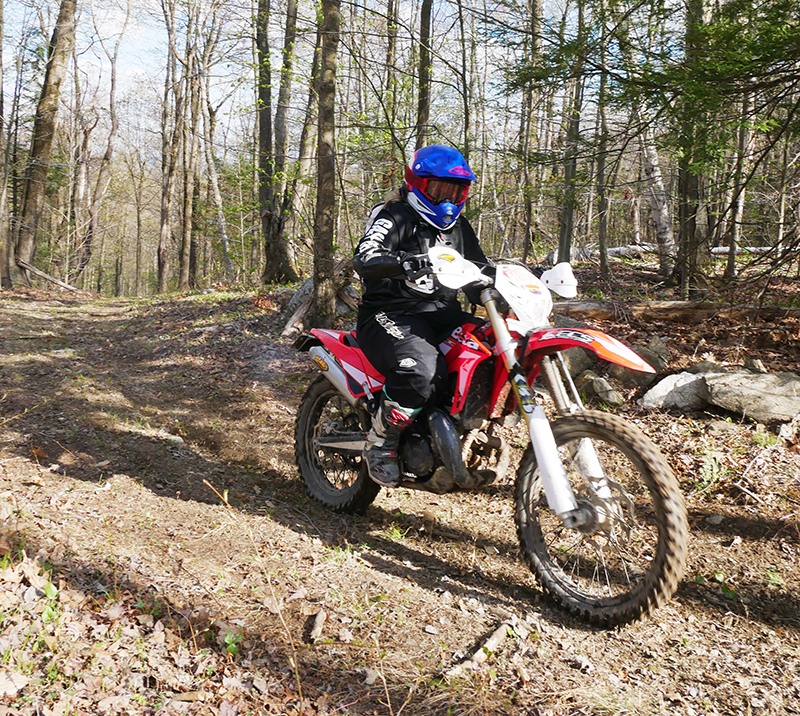 American Honda has classes that offer an introduction to off-road riding in several different U.S. locations. There are also many competition schools, some of which cater specifically to women.
MX racer Greg "Frenchie" Pamart owns and run GPMX training schools for all skill levels including women-only classes. Together with his long-time partner, Marika Krejci, the duo regularly holds women-only dirt bike riding classes called "Dirty Girls." Their women-only Ruts To Racelines weekend event offers training and riding both on and off the road.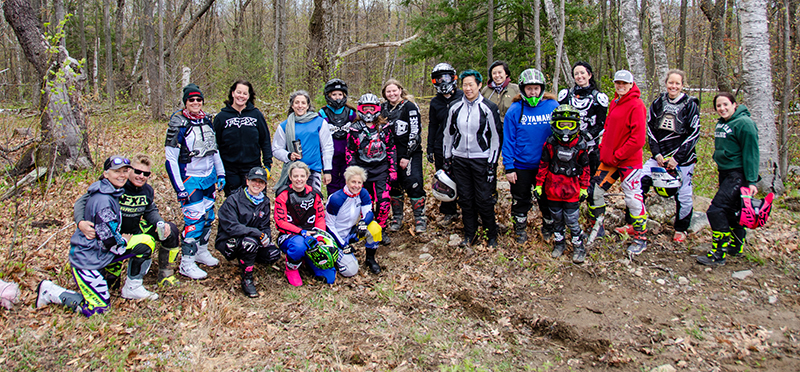 Debbie Matthews and Heather Majcherek's Women's School of Motocross (WSMX) offers MX instruction for pros, beginners, and every level in-between. With 27 years of pro racing experience, this school will help you become a better, faster, more confident rider on the track, in the desert, or on the trails. Debbie Matthews even helped WRN's own Sarah Schilke get into amateur motocross racing.
Another former pro motocross racer, Pat Jaques, offers women's motocross, ADV riding, and fitness training through her ADV Woman schools.
The Babes in the Dirt and Over and Out Moto weekend camping events such as the one WRN's Maggie McNally reviewed here is another fun way to hone off-road skills and bond with other like-minded women.
Looking for a coach in your area? You can easily find a USMCA (United States Motorcycle Coaching Association) coach for individual training and check out their bios at MotorcycleCoaching.org. For example, Ashley Fiolek, four-time AMA women's motocross national champion, X-Games gold medalist, and stunt performer, is available in the Salt Lake City, Utah, area.
Other Off-Road Motorcycle Competition
Enduro competition involves getting from point A to point B over a set course while finishing each section of the course within a specific window of time—no faster and no slower. Many women have been inspired by the U.S. Women's International FIM International Six Day Enduro team, which won the Women's World Championship in 2021. Follow the national enduro series here. Some of the many women racing the dirt are Rachel Gutish and Tara Gieger.
Motocross is racing in the dirt around an outdoor loop course and includes big jumps. While enduros generally follow along a natural trail course, motocross is held in a park with a course that is created by the park owner. A top woman in this sport is Jordan Jarvis.
Supercross, a similar racing style to motocross, also features a dirt loop course but is held in a stadium where the course with much bigger jumps is completely man-made.
Trials competition is a common sport in England and Europe, but is less known in the U.S. and involves a short super slow speed obstacle course where riders bounce around from object to object without dabbing a foot down. Follow the U.S. national series here and root for Madeline Hoover, the current U.S. women's champion. 
As a result of the popularity of enduro and motocross, several promoters have invented hybrids of traditional competition forms with the aim to make them more spectator-friendly. The World Off-Road Championship Series (WORCS) is one of the most popular, and consists of a combination of cross-country and motocross. Find the WORCS schedule here and follow Brandy Richards, the team captain of the world championship-winning 2021 ISDE team, who has been cleaning up in this series.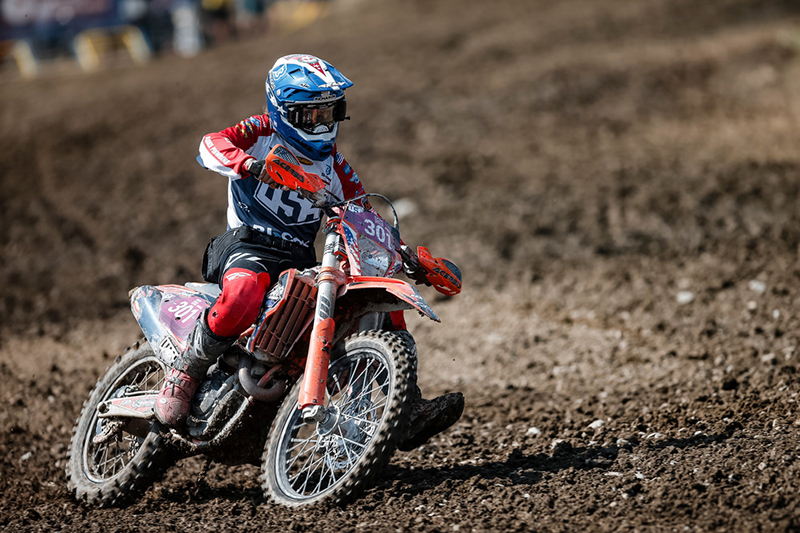 EnduroCross, another popular race series, takes place indoors, in stadiums on a dirt loop course with logs, boulders, and other enduro sections between motocross style bermed turns. Find info about this series here. Shelby Turner won the women's division in 2021 and now offers training for riders at Shelby Turner Racing.
Flat Track Motorcycle Racing
Quite a bit different from the board track racing featured in Cris Sommer Simmons' story about the Sons of Speed races at Daytona Bike Week, American Flat Track (AFT) racing has grown in popularity and has seen more female competitors in recent years. The current national star is 31-year-old Shayna Texter-Baumann from Willow Street, Pennsylvania.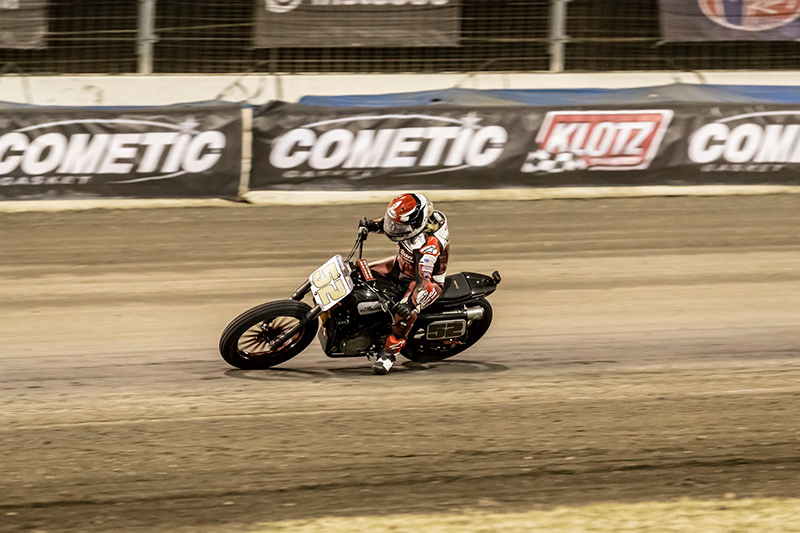 Build. Train. Race. is Royal Enfield's annual opportunity for women who aspire to either road racing or flat track honors. Like WRN's story here outlines, since 2020, the Build. Train. Race. program has been selecting a group of women to be given a new Royal Enfield who are then mentored to build their bike into a racer. Once the bike is complete, they are trained on how to get around a track, and then compete in national venues.
Want to try flat track racing? Royal Enfield followed the launch of its Build. Train. Race. program with its Slide School which operates in conjunction with MotoAnatomy, training aspiring flat trackers.
Motorcycle Drag Racing and Land Speed Racing
Drag races blast off on a measured quarter mile, with national racing under the National Hot Rod Association (NHRA) umbrella. There are arguably more women at the top of this sport than any other type of two wheeled competition. At the time of this writing, three women are in the top ten 2022 Pro Stock standings, with 3x winner Angelle Sampey from Luling, Louisiana, in the lead. Karen Stoffer is in 6th place and has 11 career wins to her credit while Angie Smith from Winston-Salem, North Carolina, is closely following from 7th place.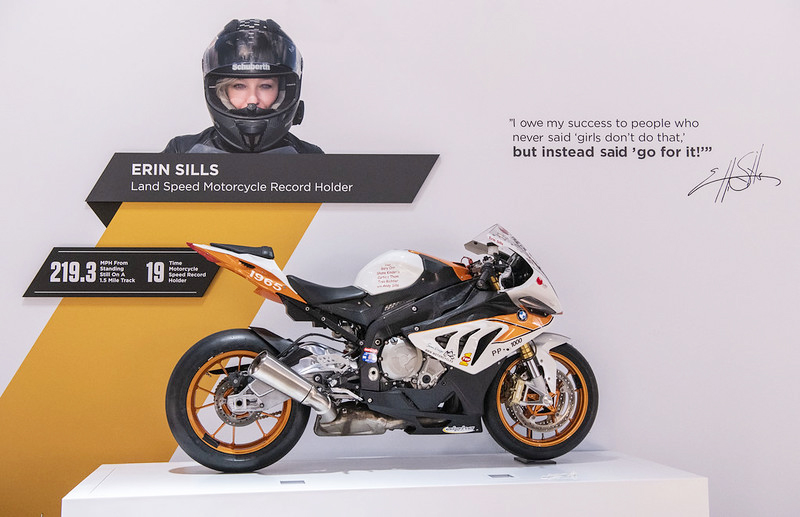 Women do very well in land speed racing also, and it is one of the rare forms of motorcycle racing where men and women compete equally against one another with no distinction for gender. Some of the top women racing the Bonneville Salt Flats are Erin Okenek, Kim Krebs, and Erin Sills, each of whom have set world and national records well over 200 miles per hour.
Land speed racing also sees plenty of vintage racers, and Stacie B. London is out there setting records on a 1967 250 cc Aermacchi. There have even been several short films made about Stacie's efforts. If you would like to try land speed racing, the Bonneville Motorcycle Speed Trials offer a "Run Watcha Brung" opportunity to find the top speed of your own motorcycle (and self!).
Do you dream of Daytona, Isle of Man, Imola and ducking under the checkered flag before thousands of screaming fans? 14-year old Kayla Yaakov from Pennsylvania recently made history as the first female rider to win an event in the U.S. National Road Racing series at MotoAmerica! Check out these organizations which host women-only track days, where you can improve your skills in a supportive atmosphere.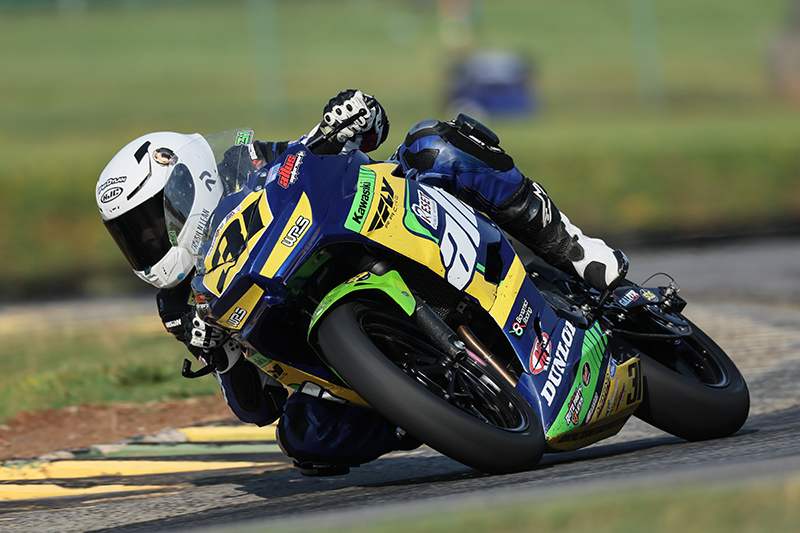 SportBikeTrackGirl is a branch of Sportbike Track Time, and is dedicated to promoting and involving women in motorcycle riding and racing through all-female track days, mainly in the midwest and southern area of the U.S.
The MotoGirlGT ladies track days and camps was founded by Angela Izzo-Sinkare and is a feature of Evolve GT that allows women to experience the track comfortably by helping them fit into the scheme of things at the track in a fun and learning environment.
Woman-led FHO Racing is the fresh new Motorsport brand owned by Faye Ho.
After being involved in the sport with rider and team sponsorship for more than five years, securing a huge amount of success accomplishing TT wins, Macau wins and more, Faye decided to pursue her dream of being a team owner of a professional motorcycle race team. Though not a woman-only racing organization, FHO Racing features its female competitors in its yearly "Girl Squad."
More Women's Motorcycling Events
For more events for women motorcyclists and those who ride with them, be sure to check out WRN's Calendar of Events here. If you know of any women-specific racing events or training programs, please send the details to info@womenridersnow.com.
Author's note: This article would not have been possible without help from Bree Poland/Royal Enfield, Tom Moen/KTM, Indian Motorcycle, the MotoAmerica media team, and especially Debbie Matthews from Women's School of Motocross (WMX) who really went above and beyond. A tip of the helmet to all!