You've got your bike, you've taken the MSF dirt bike course and you're all geared up—now what? Well, if your goal with dirt bike riding is to race, then its time to get started. Here are the steps you should take and the information you need to get your adrenaline pumping out on the track.
Resources & Racing Events
Your best resources for information on your local race scene are your local motorcycle dealer and the calendar of events in Cycle News online magazine. You can also do a search online for races and events in your area.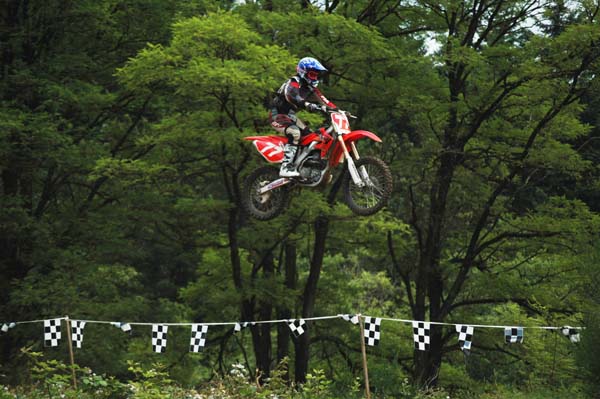 There's nothing like the rush of starting on the line with a group of racers—except maybe flying through the air during a jump, as author Miki Keller is seen doing here.
There are a variety of events you can participate in, including hare scrambles, GNCCs,motocross races, and enduro and other off-road desert or woods races. Most events offer different classes for you to race in based on your experience. The classes are usually broken down by skill level—the beginner level is D, novice is C, intermediate is B, expert is A. Other classes will be broken down by engine displacement—80cc, 125cc, 250cc, etc.
In addition, the classes are sometimes broken down further by age and gender. When you are first starting out, don't worry too much about finding a women's class —not all events offer them. You can race a beginner class, or if you are older, you can also race whats called a "vet class," though these are often open classes, meaning they include all skill levels and engine displacements.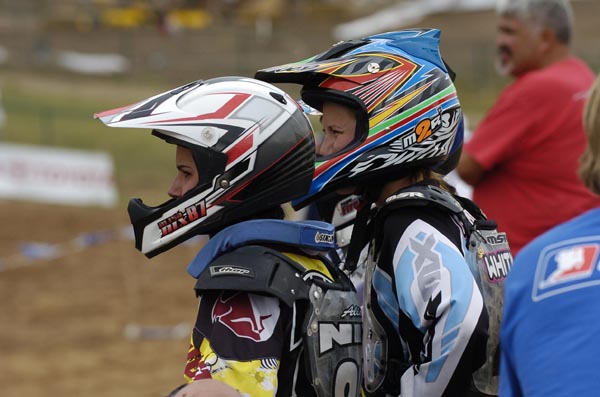 Some women's classes accept all skill levels and displacements, but participating is the best way to ensure that more women's classes are offered at future racing events.
You can race more than one class at a race depending on the event rules, but if the event offers a women's class, you should definitely race it. Always support the women's classes, even if they are open, as this is the only way women are going to get more options for competing against one another.
Races are usually held on weekends. In motocross, the race consists of one practice and two races, called "motos." Points from each race determine the overall finish for the day. Trophies are given out after the second moto. Usually, trophies are given out at a ratio of 3:1 (for every three racers in the class, one trophy is awarded). Some organizations hold a series where points are accumulated from each weekend and you have an overall finish for the series.
Motocross is one of the few motorcycle racing disciplines that has a women's organization, called the Women's Motocross Association (WMA). In 2009, the WMA was acquired by MX Sports. There are eight rounds of the Professional Women's Motocross Championship, held during the regular motocross races. See MXSports.com for a schedule. For amateur racers, the Loretta Lynn qualifiers is the place to start.
For the best racing experience, try to ride the track or the course prior to race day. On the morning of the race, leave plenty of driving time to be sure you get to the track or course early. You want to be sure to arrive in time for registration and practice. A lot of local events offer overnight camping so that riders can get there the night before. Most of the events have registration in the morning, although many are moving toward preregistration that can be completed online. Make sure to find out when the registration cut-off day is.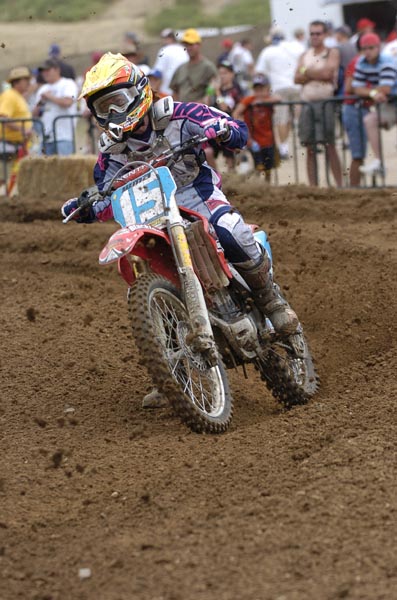 When you get to the track, check the race schedule and find out your practice time (this applies to motocross only, as desert races don't have practice). You should also find out the race order and when the riders meeting will be held. Every track and organizer will have a different schedule, which you can find ahead of time by visiting the tracks or the organizations Web site or by calling the hotline prior to race day.
Also be sure to read the rules before signing up. For instance, you need to have a race number on your front number plate and side panels, and sometimes you'll need specific colors for your background and number. Most of the time it is white backgrounds with black numbers (pro women racers run blue backgrounds with white numbers, and the amateurs run red backgrounds with white numbers). You can get numbers and backgrounds at your local motorcycle shop. Do this a few weeks ahead of time to be sure they have the items in stock. Most racers run the last three digits of their AMA number, their earned number or a number that has some significance to them. Don't run the number one unless you're looking for trouble.
Racing Costs
Most fees will be listed on the flyer or Web site for the event, but here are some general fees you should expect to pay for each race.
Membership

: Some races are club races, meaning you'll need to become a member of the club or organization. A lot of motocross races around the U.S. are American Motorcycle Association (AMA) sanctioned. An AMA license can be purchased prior to race day by visiting AmericanMotorcyclist.com. They can also usually be purchased at the track during sign up. I would recommend joining prior to race day, however, as this gives you one less thing to worry about on the morning of your racing debut.
Gate Fee: Some promoters charge a gate fee to get in, which usually ranges from about $5 to $20 per person.
Race Entry Fee: Entry fees typically run from $35 to $50 per class entered.
Camping and Parking Fees: Some event promoters charge separate fees for parking and camping, so be sure to plan ahead.
Preparing Your Bike
You want your bike to be as race-ready as you are, so its best to do all the necessary preparation to your bike before you get to the track. Go over this brief checklist before you leave home.
Check and/or change the oil and radiator fluid.
Check and/or clean your air filter.
Check and/or tighten the spokes.
Check the tire air pressure.
Check the brake pads.
Adjust and lube the chain.
Last, but definitely not least, gas up!
You will also want to make sure you have all your gear packed and ready to go the night before the race so you're not running out the door at the last minute.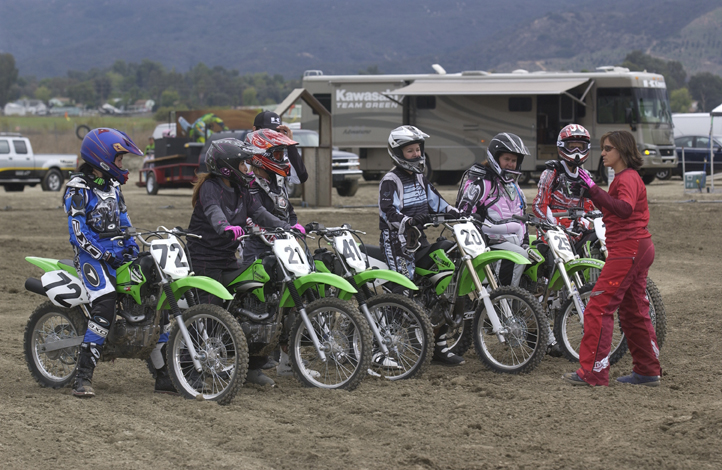 An instructor teaching a group of women.
Race Day Preparation
Here is what you should do to ensure you have the best race day experience possible.
Fuel your body

: Be sure to stay well hydrated and fuel your body with plenty of good food.

Walk the track

: The morning of race day, walk the track and make sure you are familiar with it.

Watch the start procedure

: Watch a few of the other races to see how the start procedure works.

Stretch:

Be sure to stretch and warm up before your race.
If you are concerned about your readiness for racing, there are motocross race schools that will teach you about starts, race strategy and riding technique.Just remember not to put too much pressure on yourself. Racing should be fun. Dont worry about what position you are in at the finish line—just go to learn and enjoy. It is a real rush to start on the line with a bunch of other racers. Youll love the camaraderie racing offers, especially if you compete against other women.

Miki Keller is the founder of the Women's Motocross Association (WMA).
------------------
Looking for more information about dirt bikes? Return to the Sportbike & Dirt Bikes section of the WRN Beginner's Guide.

Related Articles
So You Want to Ride a Dirt Bike
How to Choose a Dirt Bike
What to Wear While Riding a Dirt Bike
Off the Beaten Path: Trail Riding