When youre first venturing into dirt bike riding, figuring out what riding gear to invest in can be overwhelming. Fortunately, there are only a few staples youll need to get started. As you delve more into the sport, you may want to begin to accessorize and add more gear, but below weve listed just the essential items youll need to get out in the dirt.
Helmet
The helmet is the most important piece of gear for off-road riding. Although you can find good deals on used riding gear, dont wear a used helmet. The helmet may seem fine on the outside, but the inner shell may be damaged from a crash or from being dropped, which causes the helmet to lose its strength and protection. Many helmets are unisex, but women-specific helmets can be found in sizes and colors that appeal to female buyers.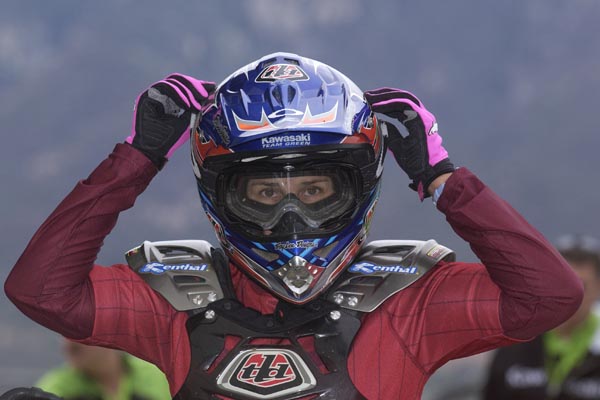 Go for fit and quality first. Shop around and try on as many different helmets as you need to until you find the one that fits best. The helmet should be snug, without pressure points. It is always important to choose a helmet designed and tested for dirt bike riding. The helmet should be SNELL approved (and DOT approved as well if youll be using it for on-road riding). Higher-end helmets will use some of the same materials as the lower-end ones, but higher-end helmets are designed to better absorb impact so that your brain doesnt have to. There are a lot of options for helmets, but this is unquestionably the most important safety equipment you will need while riding, so dont skimp. Helmet prices can range anywhere from $169 to $599.
Brands to check out:
Arai: AraiAmericas.com
Z1R Helmets: Z1RHelmets.com
Thor Helmets: Thormx.com
Shoei: Shoei.com
M2R: M2rHelmets.com
Troy Lee Designs: Troyleedesigns.com
Fox: Foxracing.com
Boots amp; Socks
Boots: Boots are the second most important item to consider when choosing your gear, and good ankle support and protection are the most important features to look for. Your boots should be snug but not uncomfortably tight. While standing, you shouldnt be able to lift your ankle much. Also keep in mind that this type of boot wont break in much, so be sure you have room for your toes.
Alpinestars is one of the market leaders for off-road motorcycle boots. They are also one of the few companies that make a boot designed specifically for women. The Alpinestars Tech 6 Stella is a popular choice, as it has a lower overall height and a calf circumference designed to suit the shape of a womens leg. Alpinestars Tech 8 and Tech 10 boots are also popular with female off-road riders. Many other brands come only in mens sizes, in which case you should be sure to go down a size or two from your normal womens shoe size. Boot prices typically range from $99 to $349.
Socks: Motocross-specific socks are worth the price. They wont slip down into your boots and cause pressure points, plus they are made to wick moisture away from your skin. Socks run approximately $14 a pair.
Brands to check out:
Alpinestars: Alpinestars.com
Thor: Thormx.com
Fox: FoxRacing.com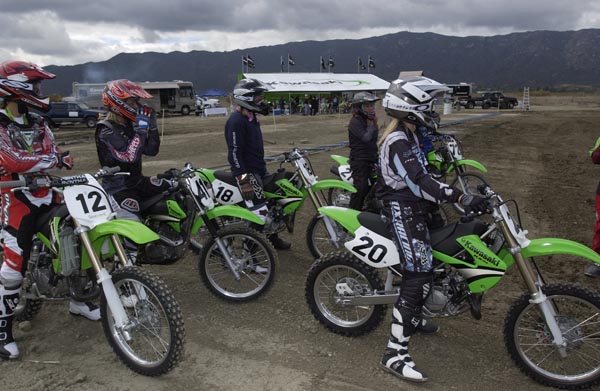 Pants, Jerseys amp; Gloves
You can get away with wearing a long-sleeved shirt and some type of loose, heavy jeans while dirt bike riding, but the extra comfort and added protection of specific motocross/dirt bike gear is preferable. Riding clothes are designed to stretch and are manufactured with materials that have specific purposes, such as withstanding crashes (to some degree) and protecting your legs from being burnt by the pipe. Up until recently, no manufactures were making women-specific gear. Now, thanks largely to the visibility of women pro-racers, there are a number of companies making womens gear.
Riding pants are designed and contoured to fit properly on the female body. The jerseys have shorter sleeve lengths, and the gloves are smaller, with shorter fingers, and not as wide across the palm. Some women riders still prefer the way mens gear fits (or like the colors better), and thats perfectly acceptable for riding. Gear hasnt changed much in the last few years, so you can get away with buying used gear at a discount at your local motocross shop.
One last thing to consider is the choice of over-the-boot pants versus race pants, which get tucked into the boots. Most casual trail riders prefer the feel of over-the-boot pants, while most racers prefer the function of the in-the-boot pants. However, the two are interchangeable. If you buy over-the-boot pants, just make sure they have reinforced inner knees to keep them from burning on your pipe. Sick Racing makes some great performance over-the-boot, freestyle pants. A set of new gear (pants and jersey) will usually range from $140 to $199. Gloves range from $19 to $29.
Brands to check out:
Thor: Thormx.com
Fox: FoxrRacing.com
MSR, MSRmx.com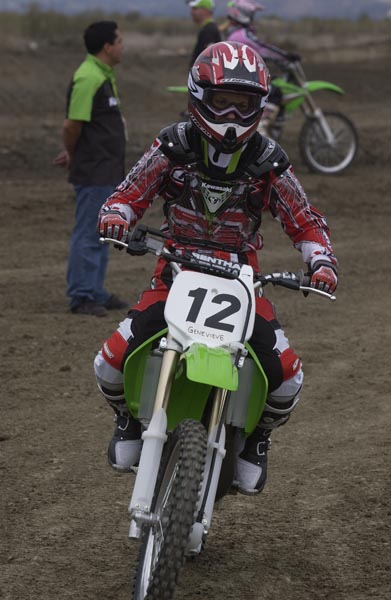 Protective Gear: Chest Protectors, Knee and Elbow Pads, amp; Knee Braces
Chest Protectors: There are two types of chest protectors: under the jersey and over the jersey. Both are designed to protect you from rocks and roost from other bikes. They also offer some protection if you crash. Thor makes a variety of good chest protectors. The Thor Sentenial is a super-light, comfortable and durable unisex chest protector. Acerbis is a company that makes a women-specific chest protector designed with a curve in the plastic at the bust line. Try on a few different styles for the best fit. Prices for an under-the-jersey chest protector range from $39 to $69, while over-the-jersey chest protectors with shoulder pads range from $99 to $129.
Knee and Elbow Pads: When you are first learning to ride, you may lay the bike down on its side more often than you would like, and the first point of contact is going to be your arms, elbows or knees. Knee and elbow pads are an inexpensive way to prevent unwanted scrapes and bruises. Because most of these are unisex, women riders might consider trying on youth sizes. Youth-sized knee pads will be shorter down your leg and fit easier and more comfortably into your boots. Thor makes a good variety of pads, as does EVS (see links below). Prices range from $17 to $49.
Knee Braces: If you need the support of a knee brace instead of just a knee pad, then consider CTI and Asterisk, the leaders in knee braces for dirt bike riding. Prices range from $149 to $550 per brace.
Brands to check out:
Thor: ThorMX.com
Acerbis: Acerbis.com
Asterisk: Asterisk.com
EVS: EVS-Sports.com
Goggles
Goggles not only keep dust and dirt out of your eyes, they also protect your eyes from low-hanging branches and flying rocks and roost. There are a number of different brands of goggles, most of which are very similar to one another. However, each brand does have a unique fit, so be sure to try on the pair you're considering with your helmet to be sure they fit inside your helmet's eyeport. And obviously, they should also fit your face comfortably. If you wear eyeglasses, look for goggles designed to fit over them, such as the Scott Voltage X OTG.
For muddy conditions, you have two options: tear-offs or roll-offs. A tear-off is the full size of your goggle lens, with tabs off to the side of your goggle for easy access. When you can't see out of your goggles, you can simply remove one of your tear-off layers and have a clear view again. If it is raining, you might want to opt for the roll-off system, which involves pulling a tab that rolls across your goggles, giving you a line of clear vision about an inch wide across. You will also want to get a mud flap for your goggles so that water and mud don't get between your tear-offs or roll-offs and the goggles lenses. Prices for roll-off systems are around $39, while tear-offs are around $5 for a six-pack or $9 for a pack of 20. Goggle prices typically range from $35 to $60.
There are different lenses designed for varying riding conditions. Here are some examples of lens types:
Amp Rose: improved depth perception in all weather conditions
Amp Blue: visual clarity with increased contrast in most light conditions
Yellow: increased depth of field and clarity in overcast weather conditions
Clear: maximum light; great for all weather and light conditions
Clear Anti-stick: prevents tear-offs/roll-offs from sticking to the lens; awesome for wet and muddy conditions
Light Sensitive: changes tint in seconds; suited for all riding conditions, but especially great when riding in and out of shaded areas
Lenses are inexpensive—about $5 each—and easy to replace, so try a few out and see what you like best.
Brands to check out:
Scott: ScottUSA.com
Thor: ThorMX.com
Oakley: Oakley.com

Miki Keller is the founder of the Women's Motocross Association (WMA).
——————
Looking for more information about dirt bikes? Return to the Sportbike & Dirt Bikes section of the WRN Beginner's Guide.

Related Articles
So You Want to Ride a Dirt Bike
How to Choose a Dirt Bike
How to Start Racing With a Dirt Bike
Off the Beaten Path: Trail Riding