Thinking of Three Wheel Riding?
Have you ever considered riding a motorcycle but are concerned about balancing? Maybe you struggle with the thought of shifting gears, using a clutch, or coordinating too many controls. With the Can-Am Ryker, you don't have to worry about these hurdles. Can-Am can get you started on the path to experience the joys of the open road with its three wheel riding machines.
Can-Am offers some semi-automatic options, such as the Spyder RT Limited WRN reviewed here that still require shifting (clutchless.) If you're just getting into riding for the first time you can opt to start with a fully automatic Can-Am Ryker. And let me tell you, these three-wheelers are a blast!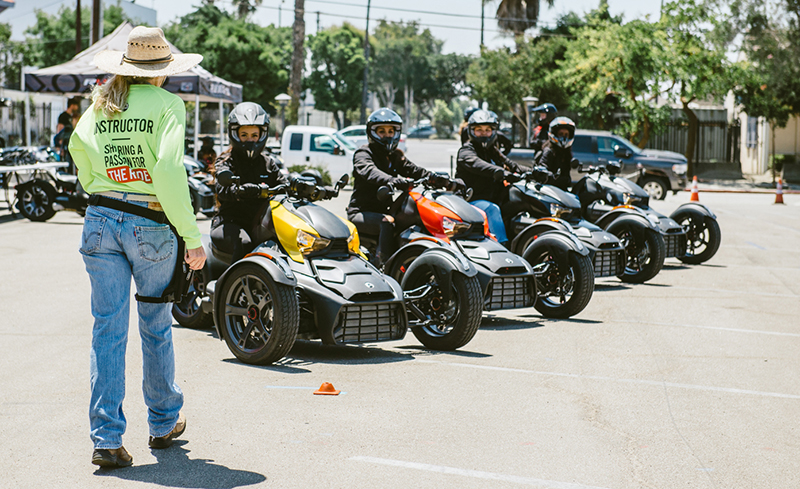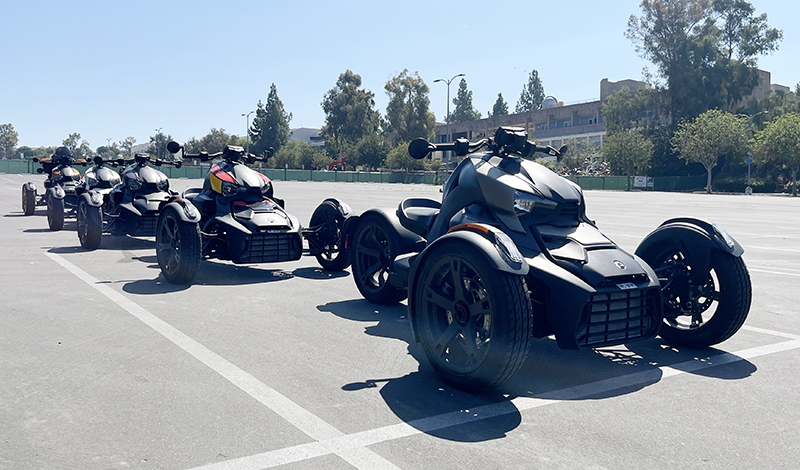 Three Wheel Riding Clinic
For just  $50, you can take the 4-hour Total Control 3-Wheel Riding Clinic like the one I participated in. All skill levels are welcome and no prior riding experience is necessary. In our small class of only 6 students, I was a first time three-wheel rider, one woman took the course as a refresher, another woman who had never ridden before, and another student rode his own three-wheeler to the course. With a small class size like this, everyone has the chance to fully engage in both the pre-ride discussion and riding exercises.
The course is divided into two segments; a one-hour classroom presentation and discussion followed by a three-hour on-bike training. The in-class training works well to get you in the right mindset to ride. Participants are encouraged to ask questions and engage with and learn from each other.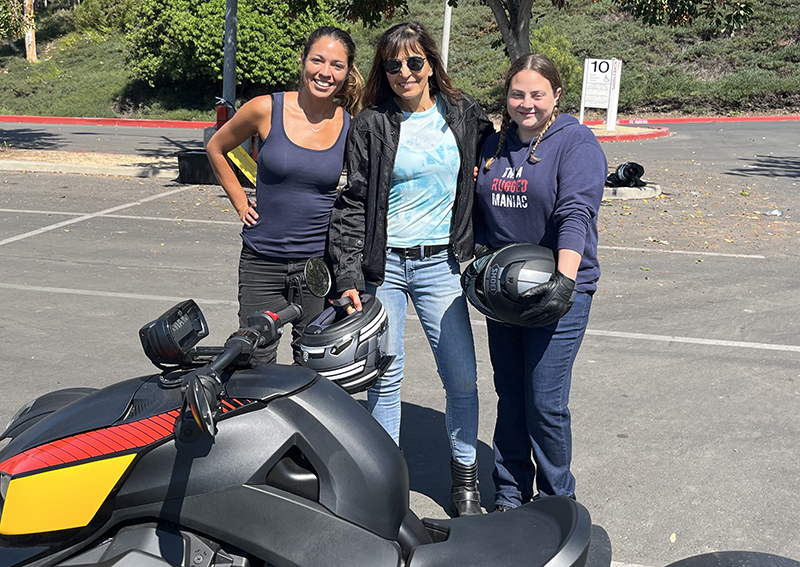 The coaches at Saddleback Rider Training are incredibly receptive to students' inquiries and are happy to dive deeper into any topics that may need further clarification along the way. My coach, Glen, even offered professional feedback on our riding jackets on their quality and protection. Very cool!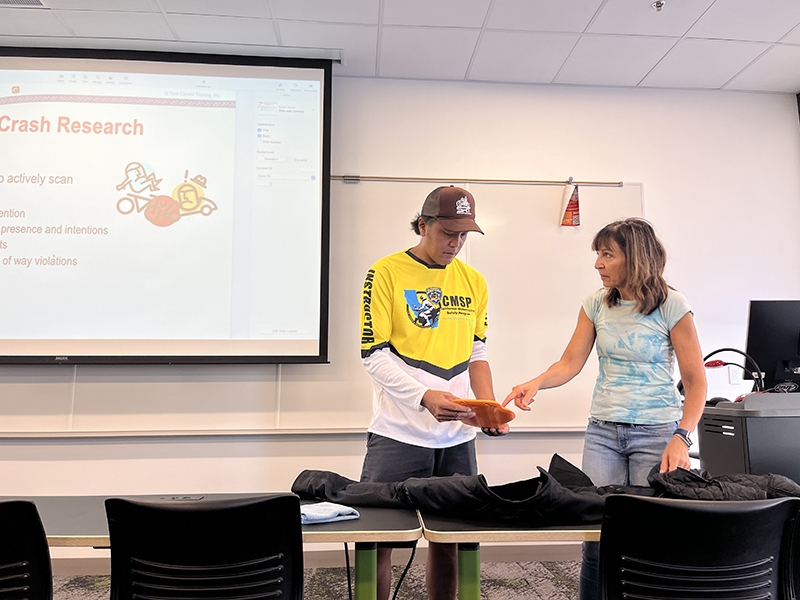 Motorcycle safety gear is one topic covered heavily during the classroom portion of the course. The Saddleback Rider Training team is well equipped with extra protective gear for students who need it.
After the gear overview, the presentation covers the details of riding, with topics spanning from mental readiness to confident cornering. Techniques are discussed such as SPAT (speed, position, aim, turn) for leaning into turns and best practices for things such as achieving maximum braking power. This is a beginner course, so all the basics are covered and everyone is welcome to ask questions along the way.
Before heading outside we get an overview of the Can-Am Ryker. Glen notes how incredibly beginner-friendly Can-Ams are, noting that, "The hardest part when riding these bikes is figuring out how to turn them on." Funny enough, it is a little tricky when you're first getting started because there's a multi-step process to get the Ryker running. But it is covered multiple times during training, so we quickly get the hang of it.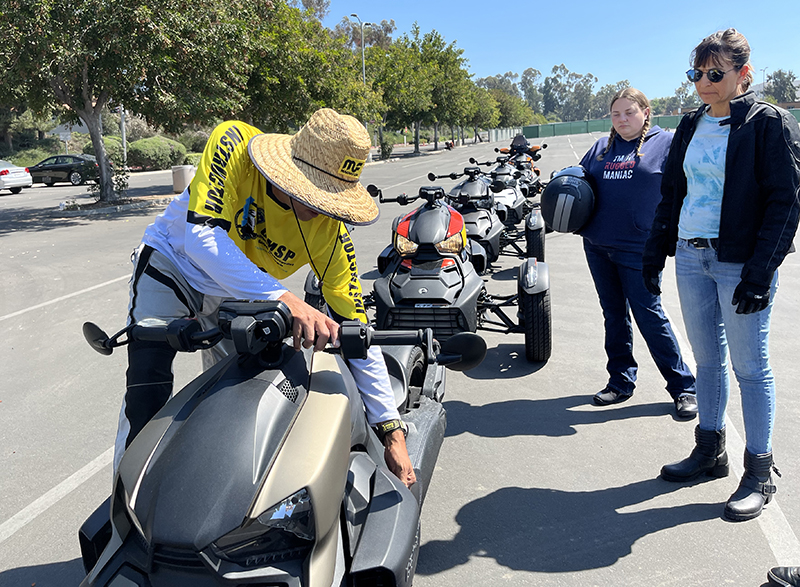 Ready for Three Wheel Riding
With the classroom completed, we are ready and excited to start riding. Once outside, Glen sits on one of the Rykers, going through all the controls with us. We learn how to make ergonomic adjustments to the Ryker, such as adjusting the foot pegs and the handlebars. Can-Am has made it incredibly easy to adjust the riding position—great for those of us who are a bit shorter.
The three wheel riding clinic exercises start out slowly, simply practicing accelerating and stopping smoothly in a straight line from one cone to another. Everyone is given ample time and space to practice. With the straight line down, students practice the nuances of cornering. Glen explains line of sight, body positioning, adjusting speed before entering and exiting the turn, and riding input. All topics were previously covered in the classroom as well.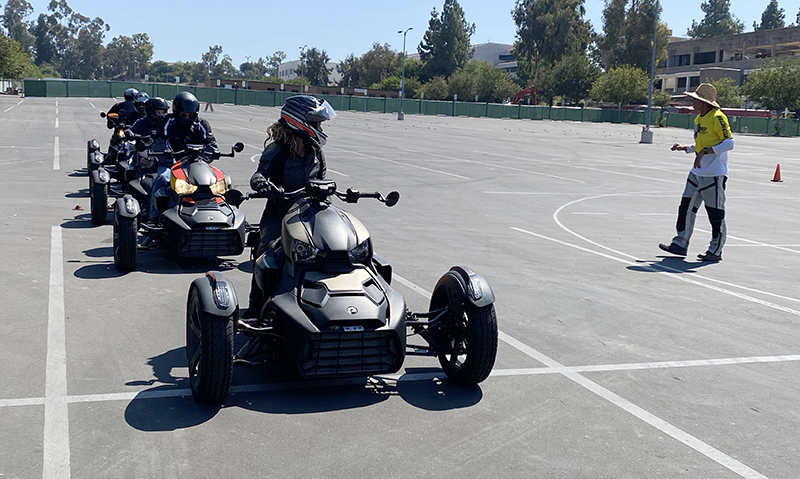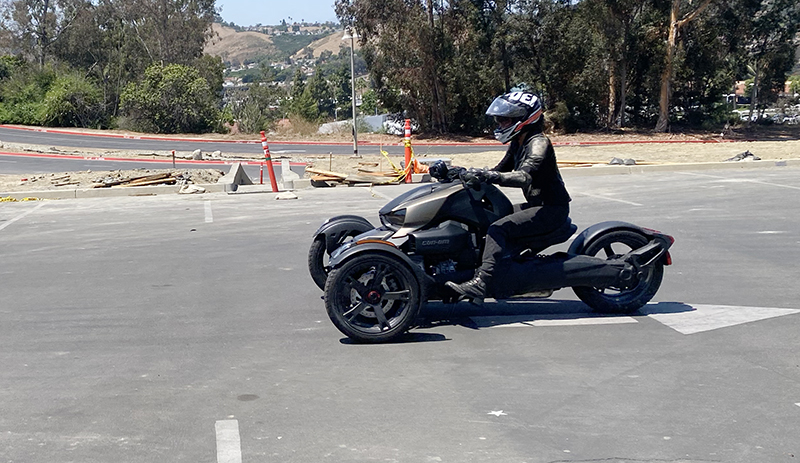 All riders begin turning by riding continuously in an oval in the same direction, practicing left hand turning. Then everyone is directed to practice right hand turns. Glen makes sure our eyes stay up and continue to look through the turns. He offers helpful feedback throughout the process.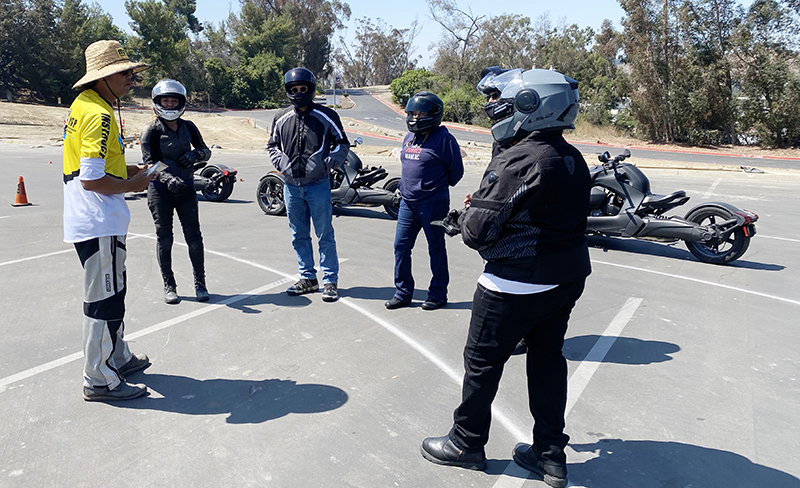 Preparing for the Real World
Coach Glen introduces us to the third exercise by saying, "Now we are going to have a little fun." We are instructed to accelerate rapidly and then slam on the foot brake (the Ryker's brakes are linked to a single foot brake) which engages the Ryker's ABS (Anti Lock Braking System). ABS essentially stabilizes the bike and prevents a skid in the event of a sudden stop. ABS is standard on all Can-Am three-wheelers. 
Prior to letting us "have at it," Glen goes over hand positioning on the throttle and how to best gradually increase speed input when taking off.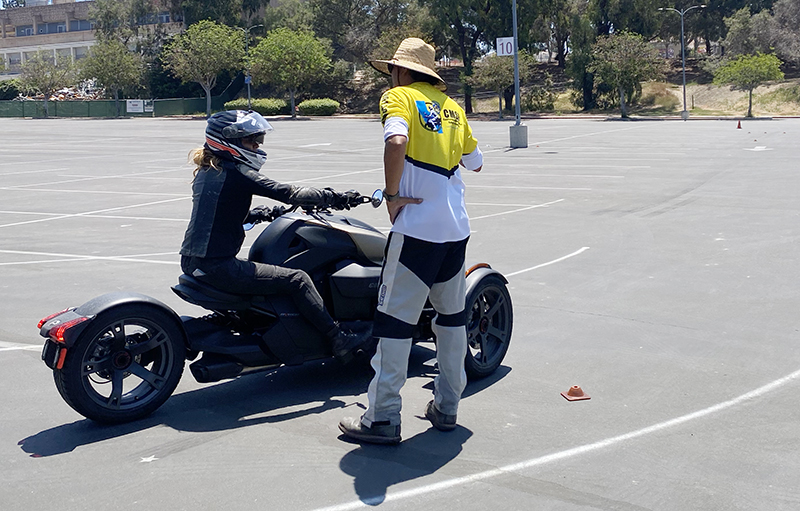 The first time we are encouraged to speed up, many of us don't realize how much torque these Can-Am's are packing. A few of us leave a few tire marks on the pavement when taking off. Man, this exercise is fun! The riders are encouraged to explore both the powerful acceleration and impressive stopping capabilities of the Can-Am Ryker. 
The course concludes with swerving practice. We learn the importance of body positioning and maintaining steering control when maneuvering a swerve on the three-wheeler. This exercise really demonstrates how planted and stable these Can-Ams are. When swerving quickly from left to right the Ryker never loses traction.
Three-wheelers open up a whole new world when it comes to making riding fun, easy, accessible, and approachable. The Can-Am Rykers are about inclusivity and are confidence-inspiring. You can start the day with zero experience on a bike and by the end of this course have all the skills you need to start your three-wheeled motorcycle journey. 
To find more information on Can-Am three-wheeled courses visit Can-Am.BRP.com.