When outdoor temperatures drop, not all riders are ready to put their bikes away for the winter. One way to extend the motorcycle riding season is to wear heated motorcycle clothing that keeps you cozy with electrical currents of warmth. California Heat offers such apparel and grabbed the attention of women riders at this year's AIMExpo and winning WRN's "best cold-weather gear" category.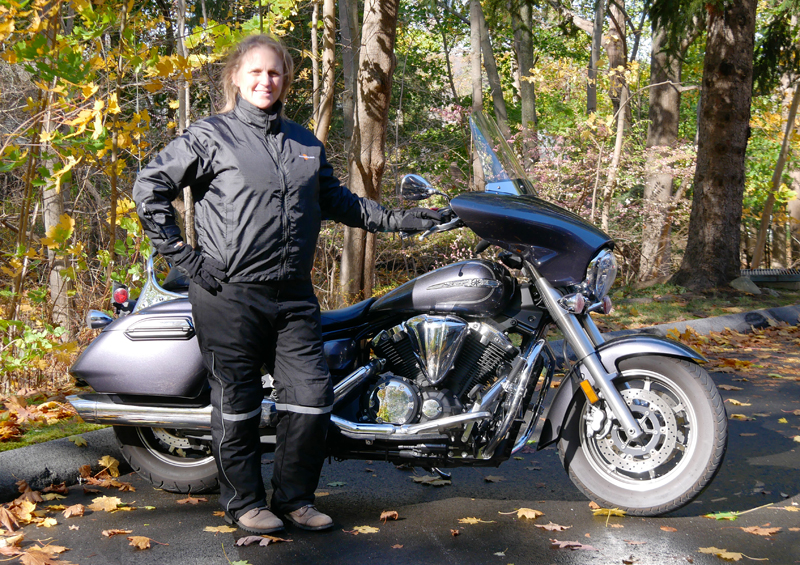 Three California Heat products were chosen for our review: the Jacket liner ($220), the StreetRider outer pants ($300), and the SportFlexx gloves ($120). All three pieces are 12 volt and plug into a temperature controller that plugs into a wiring harness that we installed to the motorcycle's battery. Some other types of heated gear are rechargeable, operated by portable batteries that can leave you cold when the charge wanes. The beauty of plugging into 12V gear is that it will keep you toasty warm for as long as your bike is running.
The temperature of all three garments is controlled with a California Heat dual dial 12V temperature controller ($100) that gets its power from the 15 amp fused California Heat wiring harness. The company offers several other options for regulating the temperatures, including a digital unit, single dial unit, and a wireless remote that controls the digital controller.
The most popular option is the dual dial controller I'm testing. It has two adjustable knobs that are easy to use even when wearing bulky gloves, and each have 20 variable temperature stages. The knobs control the temperature of the three clothing items—one knob controls the liner and the other controls the gloves and pants. The three pieces draw up to 13.4 amps, which is within the 15-amp limit of the dedicated battery wire harness.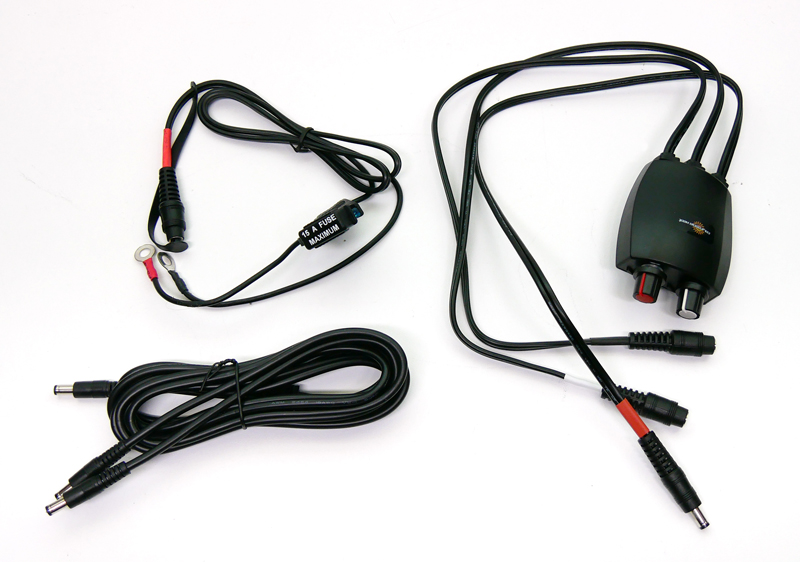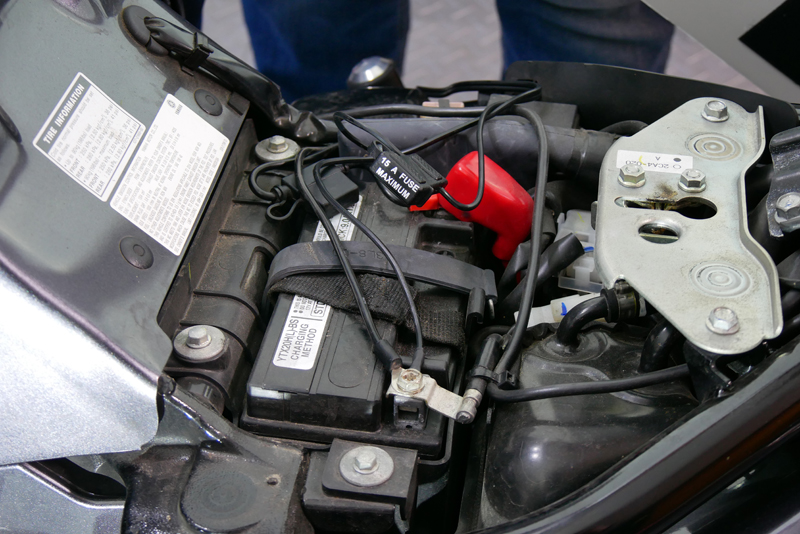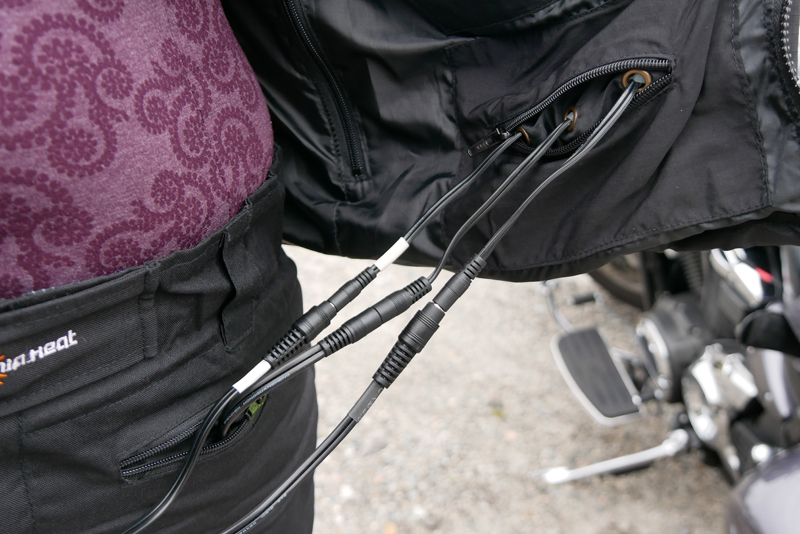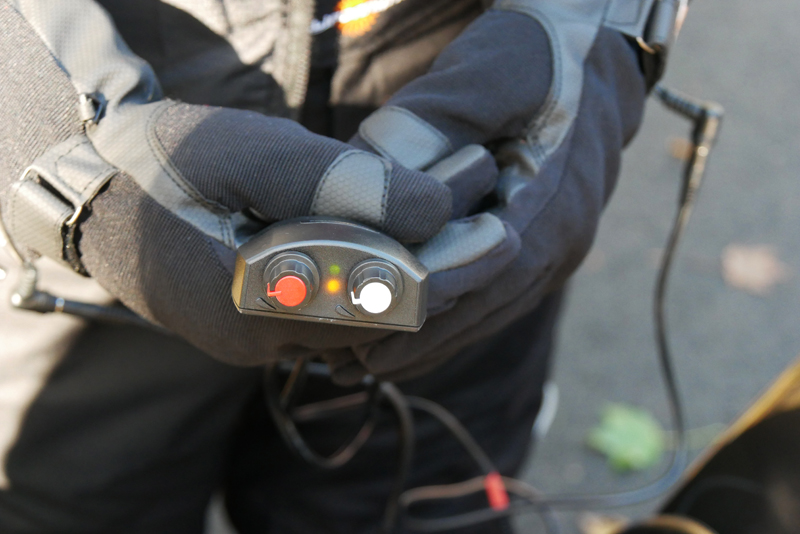 To order, I used the sizing chart on California Heat's website and the sizing was accurate. Each article fit well, even for this girl, who does not like to purchase pants without trying them on first! After testing the gear while riding, Id wished for the pants to be a little longer to cover the bottom of my pant leg. The regular pant sizes all come with a 32-inch inseam, but the size large I ordered (with the regular 32-inch inseam) are a little short for my 5-foot 7-inch frame when bent in a riding position. California Heat offers a "tall" option with a 34-inch inseam that I wish Id ordered.
Once all the pieces are connected, it's easy to mount the motorcycle, start the engine, then connect the dual dial 12V temperature controller to the battery wiring harness. It takes some getting used to being careful to disconnect the controller from the wiring harness before shutting the engine down and dismounting.
Some thought needs to be given as to where to place the temperature controller so you can make adjustments while riding as conditions change. California Heat offers a leather case ($12) with a belt clip which would be handy. But without one, I found that looping the controller through the waist strap on my Olympia jacket works fairly well.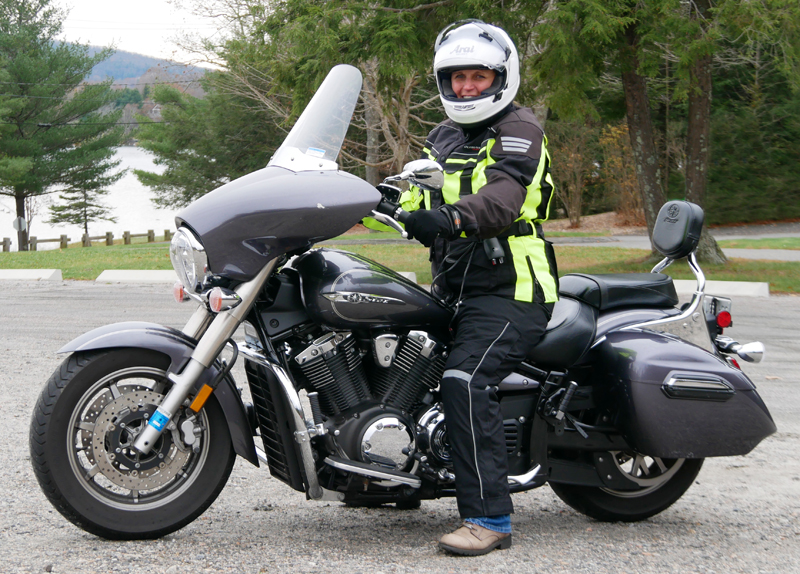 Jacket Liner
The 12V jacket liner is designed to be worn under a motorcycle jacket, therefore doesn't contain any real technical features like armor or abrasion resistant qualities. However, the nylon material is wind resistant which helps keep the cold out. You want to choose a size that is as small as comfortably possible so that the heated wiring stays as close to your body as possible.
The jacket liner is water repellent, very lightweight, and highly compressible, which allows me to pack it neatly in my saddlebag without taking up much space. The zippered pockets in the sleeves and left side interior keep the plugs stored safely when not in use.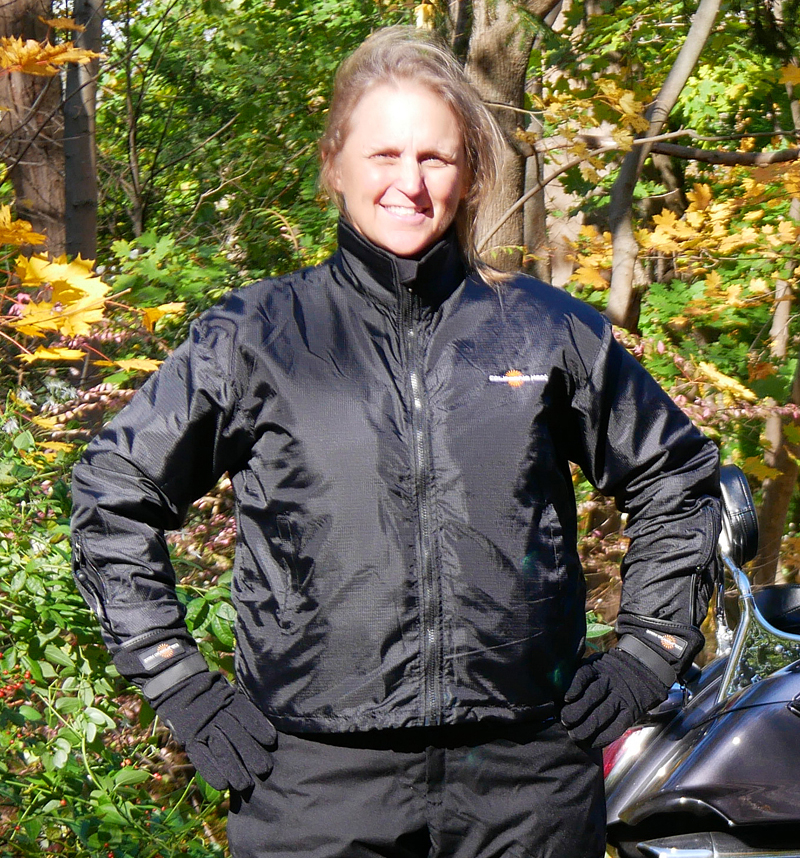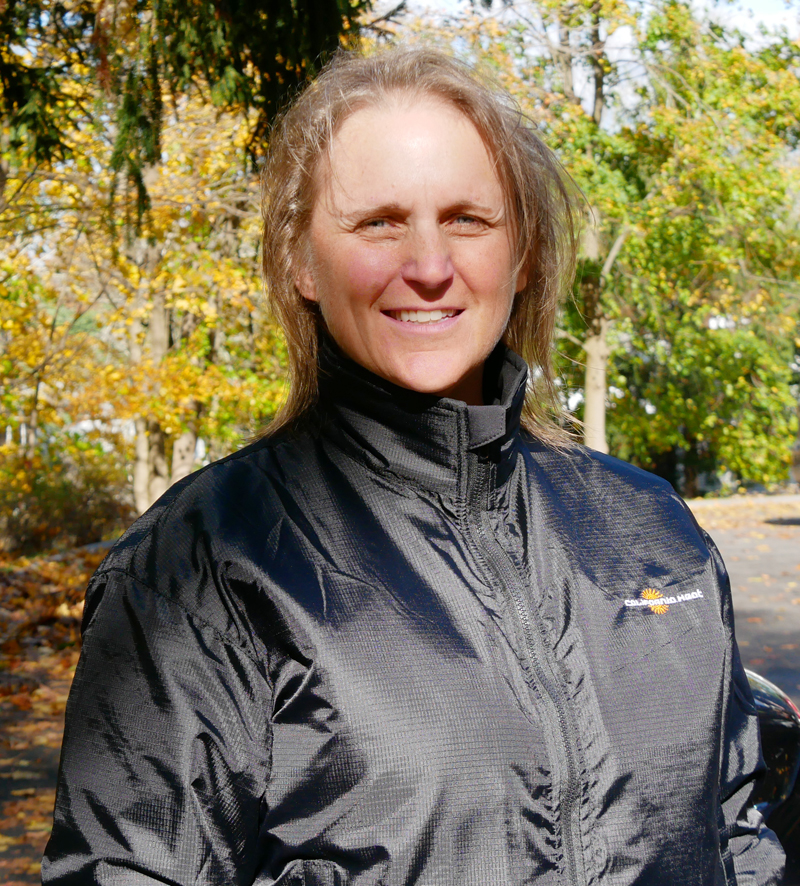 Offered in sizes 2XS to 5XL, California Heat's sizing chart is very helpful in finding just the right fit. I usually wear a size medium-large, so I ordered the jacket liner in a size ML Standard. At first, I was a little unsure whether the liner was possibly one size too large, but I didn't want the arms to be any shorter than they are, so I stuck with this size. It turned out to be perfect, and once under my Olympia textile jacket, it worked perfectly.
The jacket liner's heating elements are located in the chest, back, collar, and sleeves. I feel the heat in the arms, chest, and back almost immediately when plugged in and dialed up, which is phenomenal in the cold weather. I do not feel any hot spots (or cold spots!) or poking wires.
California Heat's "Finewire" heating elements are composed of interwoven highly conductive microfibers that have a heavy duty coating applied creating a durable product that heats up quickly. At its highest setting, the heat was plenty warm enough for the upper 20- to 30-degree Fahrenheit temperatures that I have tested the gear in so far. Honestly, I hope to never ride in any temperatures lower than this!
StreetRider Pants
The StreetRider Pants are constructed of a durable and abrasion resistant Cordura exterior and can be worn over jeans, leggings, or long johns. They are windproof with flexible Thinsulate insulation, along with a breathable HiPora membrane for waterproofing. The side zippers and Velcro run up three-quarters the length of each leg for easy wear and removal. Another few inches up would make it even easier to get the pants on and off while wearing boots.
The pants have an elastic waistband with belt loops and a Velcro strap for an adjustable, comfortable fit. They are lightweight, weighing less than 4 pounds. Overall, they are easy to use and quite comfortable.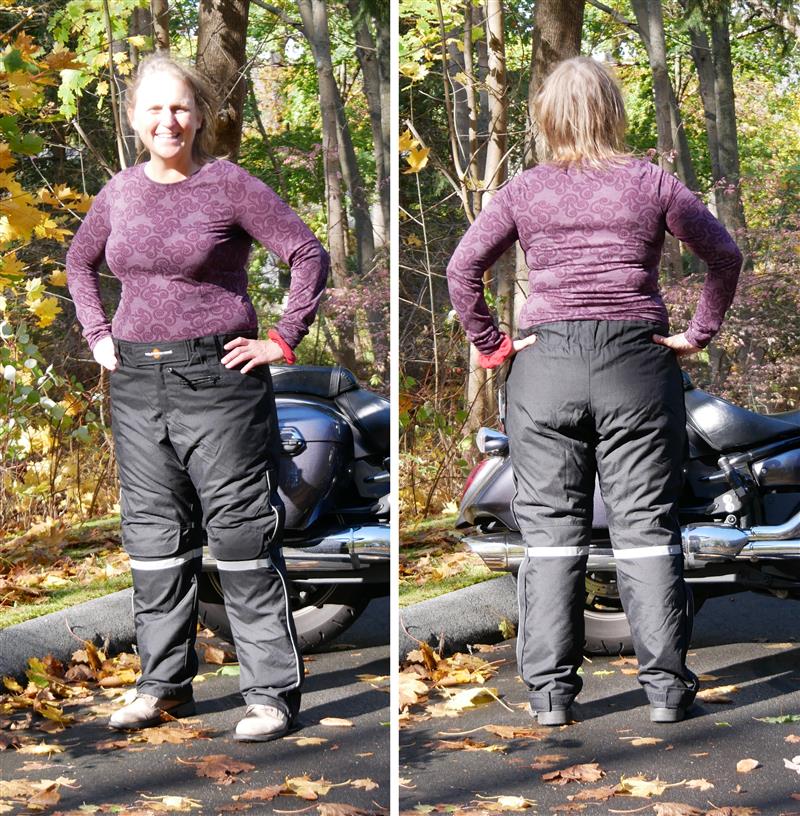 The pants have a male plug in the top left pocket to connect directly to a controller or to your heated jacket. There are also sock plug pockets at the bottom of each leg of the pants to easily connect heated sock liners or insoles. The heating elements in the pants run throughout the hip area and down the front of both legs. I feel the heat within seconds of turning the temperature controller up.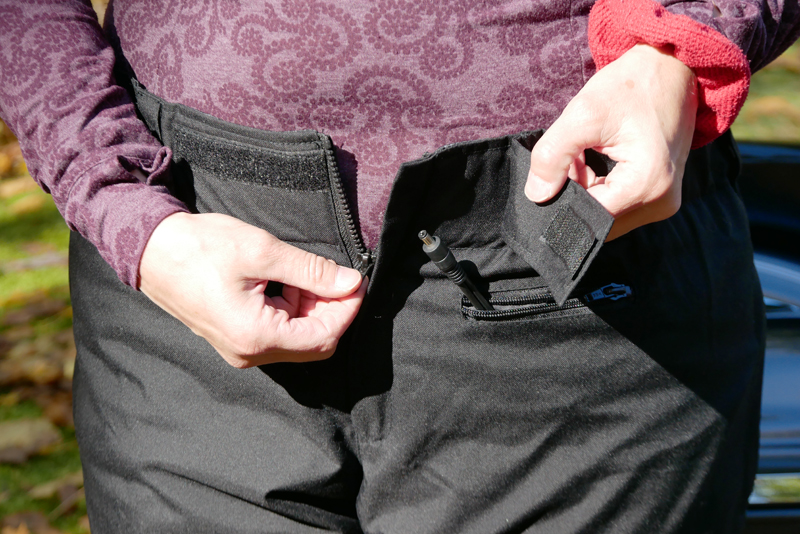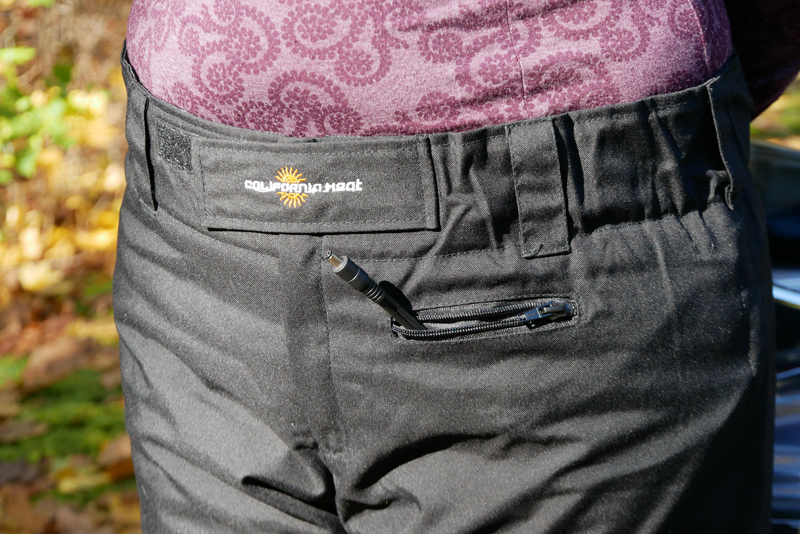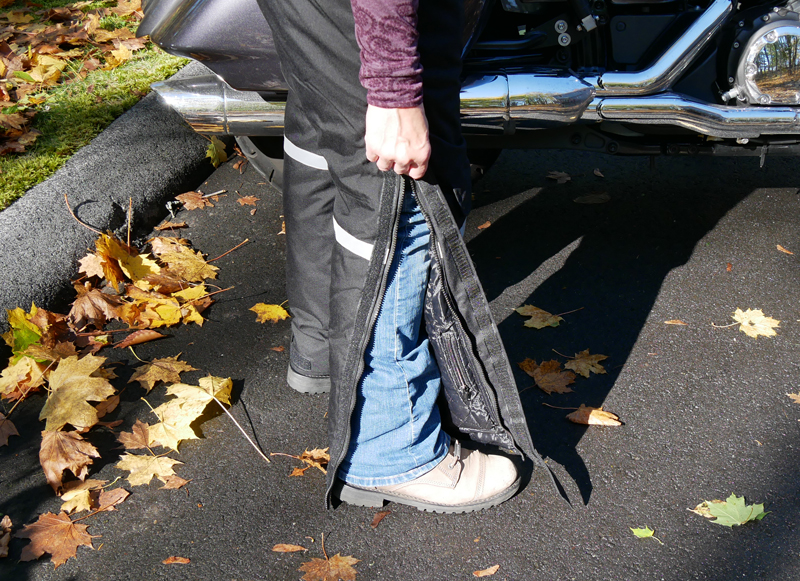 The StreetRiders have removable level 1 armor in the knees, but when my knees are bent in a riding position I can feel the wires behind the knee armor (not a hot spot, just the physical bump from the wire on my knees). The knee armor is generously large, but has a tendency to shift partially toward the inside of the knees. Even with these minor discomforts, I preferred to keep the armor in the pants for its added protection.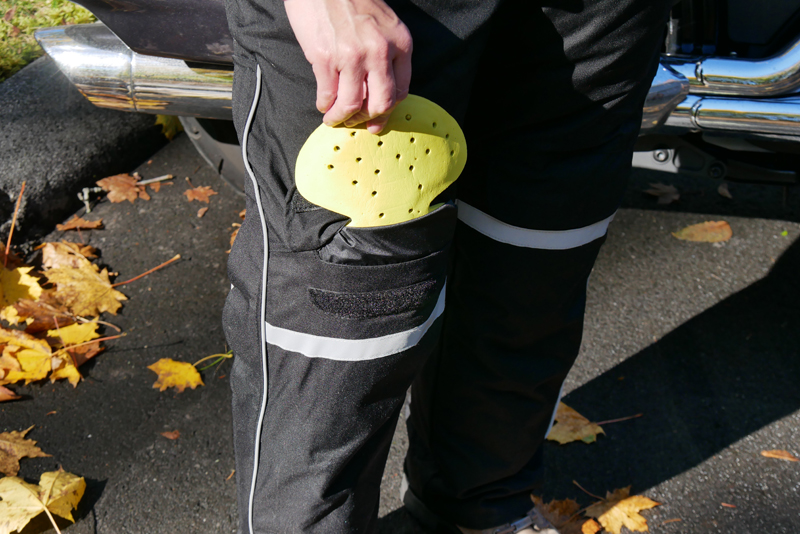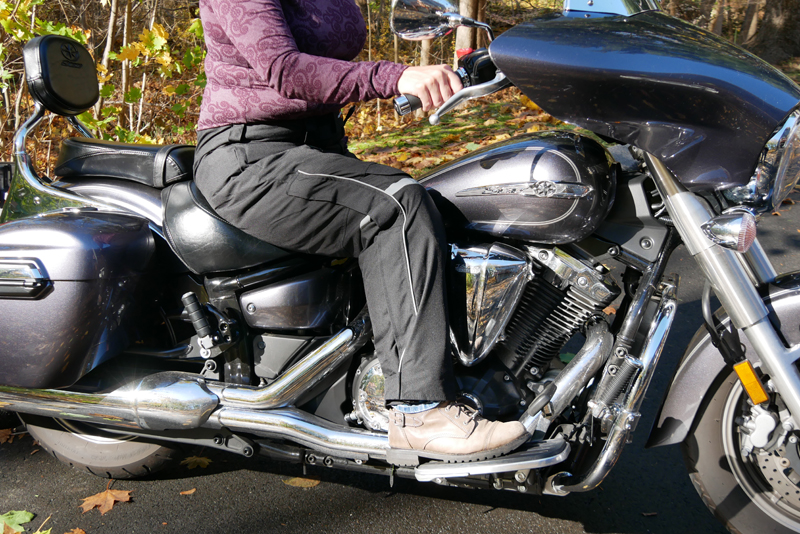 SportFlexx Gloves
California Heat's SportFlexx gloves appealed to me over the company's other gloves because of their less bulky appearance (also why they were a hit with women who voted California Heat 2019 AIMExpo winners). I was told that these gloves are well suited to motorcyclists who don't intend on riding in temperatures below 35 degrees F. No problem with me! I don't plan to go out in sub-zero temps anyway. Riders who need more heat should look into California Heat's other (bulkier) glove options.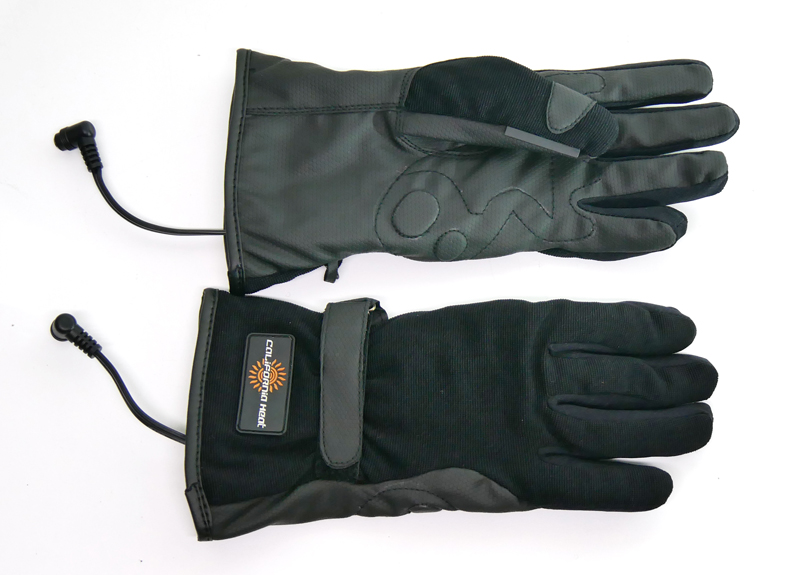 The windproof, waterproof gloves feature HiPora material that is breathable. They have Thinsulate insulation and adjustable Velcro wrist straps for a snug, warm fit without a lot of bulk. There's synthetic suede built into the palm and a quality polyester fabric on the back. The SportFlexx gloves are very comfortable and flexible making them easy to operate the motorcycle controls.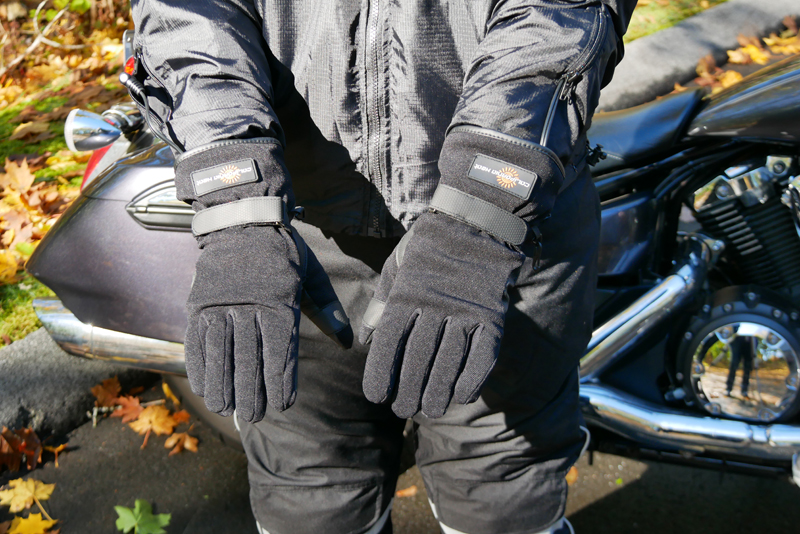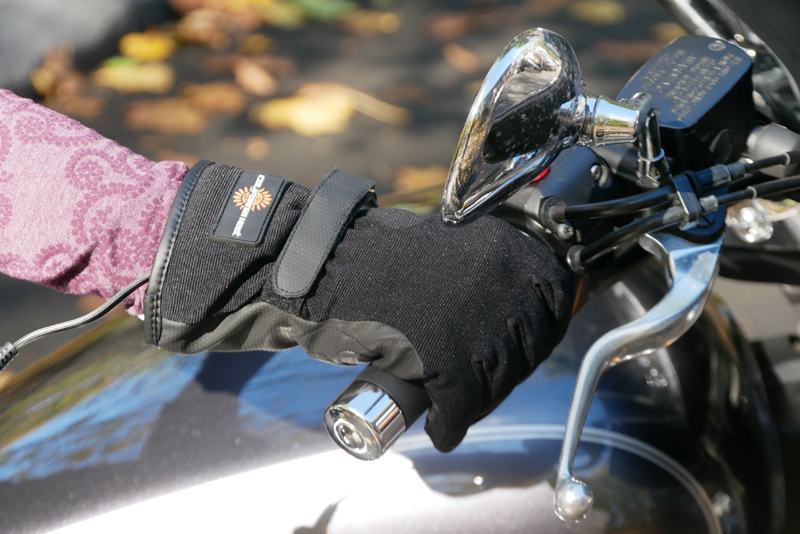 California Heat describes the heating elements as located on the top and bottom of the hand, starting at the wrists, wrapping around the fingertips. I personally feel the heat on my fingertips and the tops of my hands, but not on the palms. I may invest in heated grips to remedy this.
---
PROS
Jacket Liner
Adequate warmth at the max dial setting on the controller
StreetRider Pants
Reflective tape and piping for visibility
Overpants—can wear over my regular street pants and remove when at destination
Connectors for 12V heated socks
Side zippers and Velcro on pant legs
Strong Velcro tabs around ankles to tighten pant legs
Quilted lining
SportFlexx Gloves
Very flexible as heated gloves go
Less bulk, more comfortable
---
CONS
Jacket Liner
StreetRider Pants
Knee armor is generously large, but has a tendency to shift
Can feel the wiring behind the knee armor
Would like to feel more heat at max dial setting
SportFlexx Gloves
Not warm enough for below-freezing temperatures
---
The 12V jacket liner costs $220 and is available in black, sizes 2XS-5XL Regular and 2XS-XL Tall. The 12V StreetRider pants are $300 and are available in black, in sizes S-4XL Regular and S-4XL Tall. The 12V SportFlexx gloves cost $120 and are available in black, sizes XS-3XL. There is a lifetime warranty on the Finewire heating elements and plugs in each California Heat product. For more information and to order online visit California-Heat.com.
Related Articles
8 Steps to Prep Your Motorcycle for Winter
Heated Gear Reviews
Olympia Expedition Jacket and Pant Review
Gloves for Warm and Cold Motorcycle Riding