Touring across the continent through all kinds of weather and stretching the season to the extremes, I ask a lot from my riding gloves. They have to protect me from the road and what it throws at me, allow flexibility and dexterity in managing my motorcycle, and keep my hands comfortable in heat, cold and rain. I depend on my hands working properly to operate the motorcycle, and when I'm not riding, they perform a whole lot of other important functions.
As with all of my motorcycle riding gear choices, my goal is to get the most function from the fewest pieces. The ProSummer and ProWinter gloves from BMW meet my high standards, and I had the opportunity to review both this last riding season.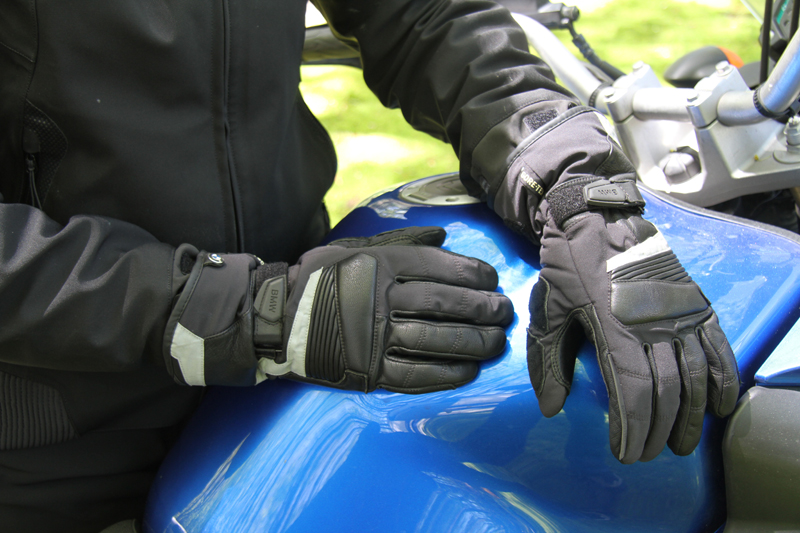 The liner on the ProSummer is soft and comfortable and stays with the glove making it easy to pull on and off even when the exterior is wet. In hot weather, hands perspire—because it's hot with or without gloves. The lining wicks the moisture away, cooling and keeping your hands comfortable as it does.
The soft padding across the knuckles on the back of your hand and fingers offers protection without restricting movement. Additional reinforcement protects areas of your hands that are most likely to contact the ground in the event of a fall. Substantial reflective inserts add conspicuity, and the index-finger rubber wiper comes in handy to wipe rain and mist off your helmet face shield.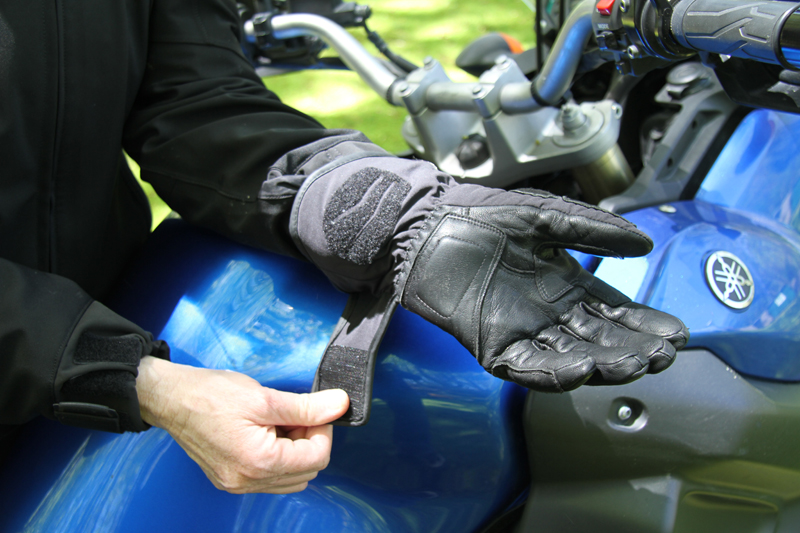 Additional protection is designed into the palm, while keeping it crease-free. Padding at the heel is placed right where it needs to be to protect you from the road. An additional leather layer between thumb and index finger adds comfort for gripping handlebars and operating controls in all day riding.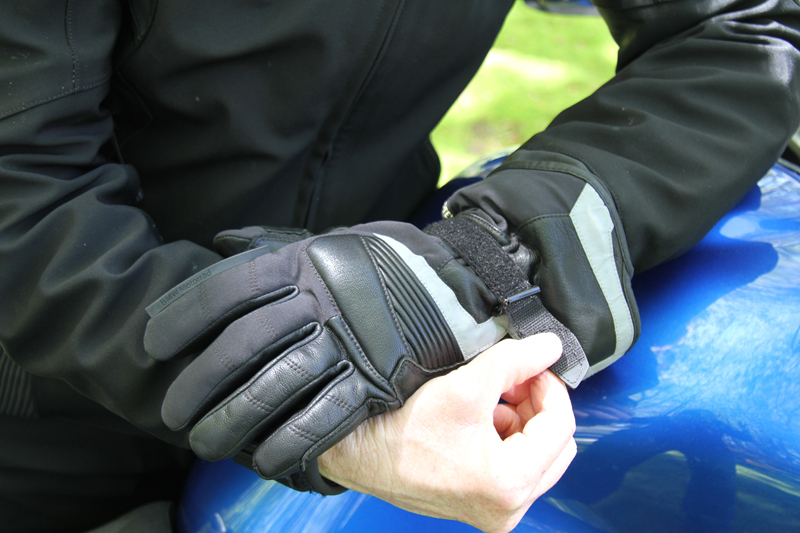 The ProSummer gloves are guaranteed to be wind and waterproof and I tested that extensively several times. After riding in all-day rain, my hands stayed completely dry. These gloves were comfortable in weather from hot to the low 50s, when it was time for me to switch to the ProWinter gloves.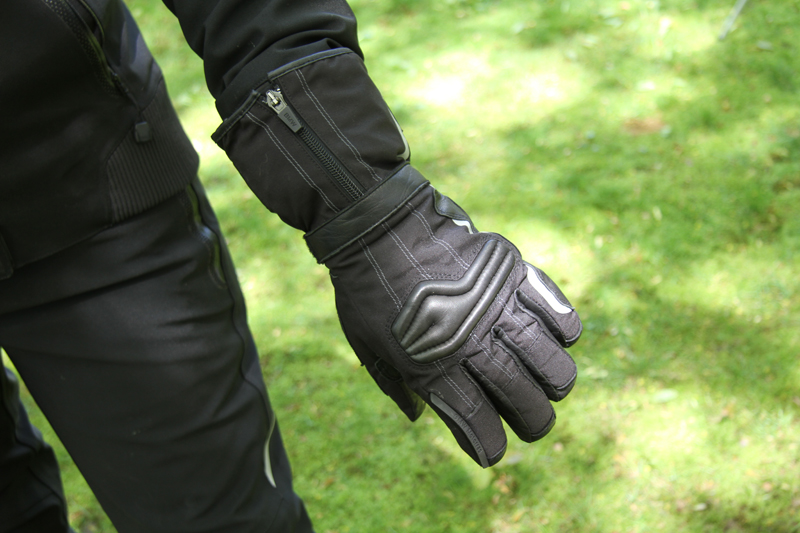 The ProWinter gloves come only in unisex sizes, but a 7-7 ½ fit was fine for me. Padding across the knuckles is stitched to enhance dexterity so you don't even know it's there. Extra reinforcement is sewn onto places most likely to contact the ground in the event of a fall. It's got nice looking lines for a slim, streamlined look and feel.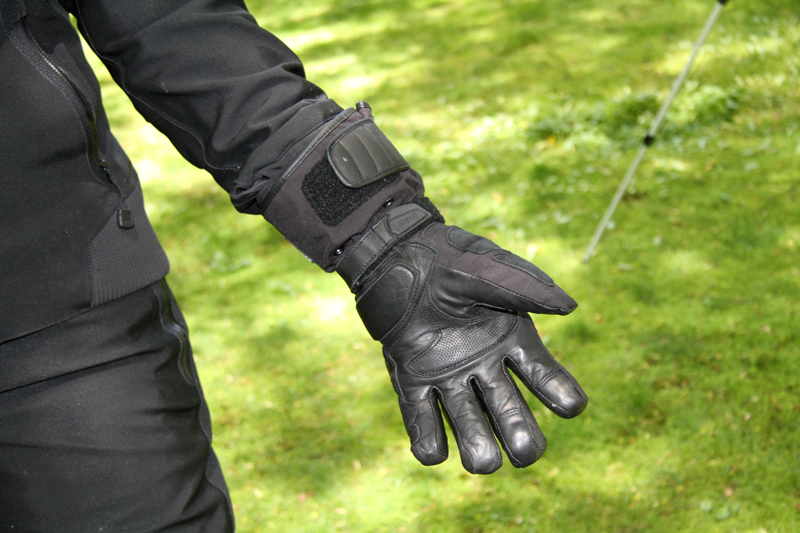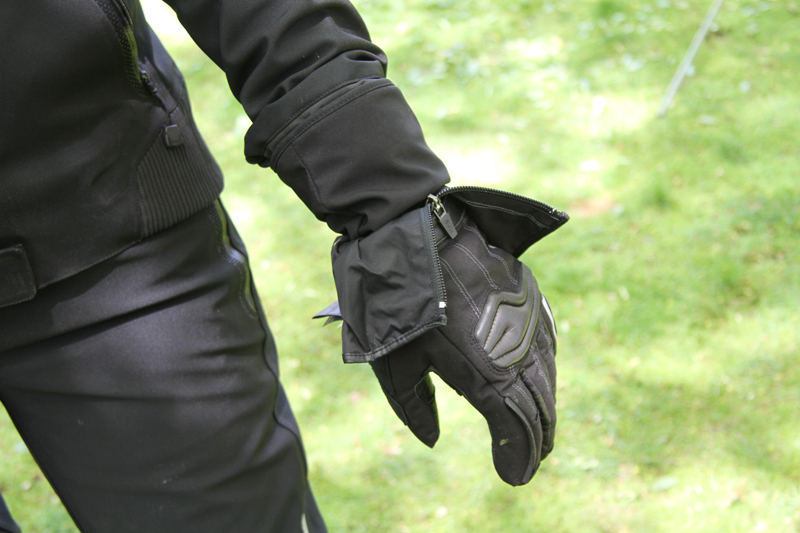 The same cozy fleece lining in the ProSummer gloves is also found in the ProWinter gloves. It stays in place when taking off the gloves. A rubber wiper on the index finger, and two small suede patches on the thumb do an excellent job of keeping your visor clear in wet weather.
I wore these gloves through extended periods of cold and rain and was comfortable and dry in close to freezing temperatures. I reluctantly switched to heated gloves at that point, but have since purchased Powerlet's glove liners, which fit easily into either of these pairs of gloves. I'm now good to ride in temperatures well below freezing. These gloves are so water tight and comfortable, that I found this combination is a far better choice than my "waterproof" heated gloves, which keep my hands warm, but not dry, and take up valuable storage space.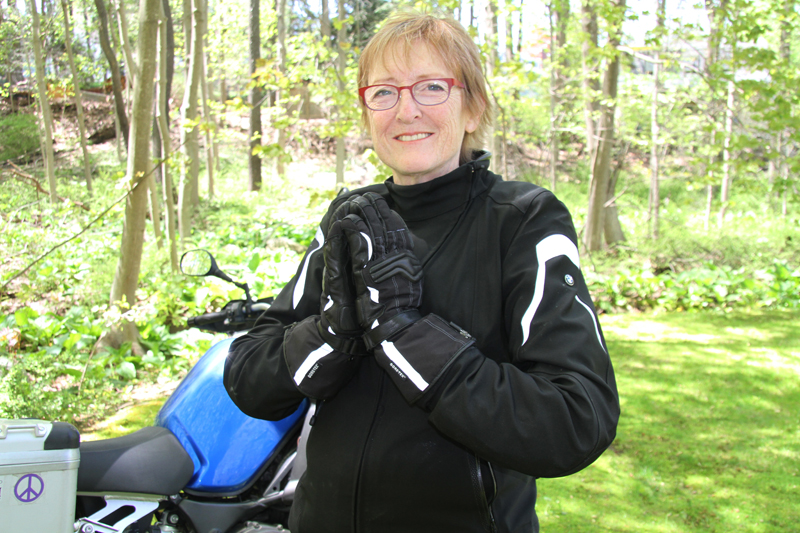 Both the ProSummer and ProWinter gloves have well thought out designs and finely crafted seams which you don't notice unless you think about them. At $129 and $149 respectively, these are premium products that pack value and function into every stitch. I can replace my heated gloves with the very thin Powerlet heated liners and with these two pairs of gloves I'm good to go for the season. Bring on the weather! For more information and to find a retailer near you, visit BMWmotorcycles.com for a list of dealers near you.
If you liked this story and want to be notified when new stories post on Women Riders Now, please sign up for our monthly newsletter here.
Related Articles
Review: Waterproof Cool Weather Riding Gloves
Review: BMW TourShell Riding Jacket and Pants
All WRN Glove Reviews