The concept of getting plugged in with heated gear can be daunting for some folks—all those wires attached to the rider and the battery, not to mention the drain on one's battery. It may just seem too complicated to some. However, it doesn't have to be that complicated thanks to battery-powered heated riding gear.
Harley-Davidson now offers battery-powered heated riding gear. The product has been out for a year now, and I have been testing it over all four seasons along with WRN editor Genevieve Schmitt, whom I convinced to get a pair of battery-heated gloves when she borrowed mine during a very cold mountain ride last year. It's basically warmth without wires—no more having to remember to "unplug" yourself when you get off your bike, or to walk around with wires dangling from your sleeves or jacket liner.
That toasty, cozy feeling comes courtesy of rechargeable lithium batteries that generate the clothing's heat. Harley-Davidson offers a selection of battery-operated heated clothing—gloves in both men's and women's sizes, and a vest liner available only in men's sizes. Gerbing's, a popular and respected name in heated motorcycle gear, manufactures the garments for Harley-Davidson, and these items use Gerbing's Nanowire Technology. This proprietary system spreads heat evenly throughout the garment while eliminating "hot spots" from the wires. Wearing it is akin to riding a motorcycle with an electric blanket wrapped around you.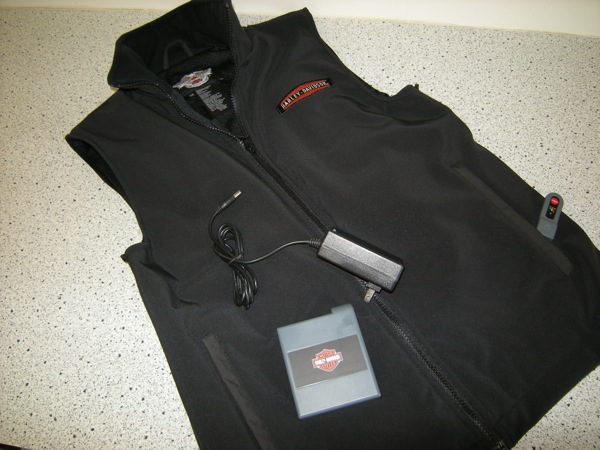 A trade-off exists, however. While you do away with dangling wires and connections, you now wear battery packs on your person. The vest liner has an interior pocket in which the battery (approximate size, 3 by 3.5 by 1 inches; weight, 10 ounces) sits. You simply connect the battery to the temperature controller connected to the garment's heating system, press the controller's "on" button, select one of three temperature levels and feel the warmth spread over you in less than 30 seconds. An LED indicator on the controller indicates the chosen temperature level—low (86 degrees), medium (104 degrees), and high (122 degrees). The LED indicator sits in the left-front hand warmer pocket—handy to reach when you first put on the vest, but not so convenient while wearing a jacket over it and riding. I suggest (and so do the instructions) turning on the heat a few minutes before you ride away to gauge the warmth level you really need.
The vest uses smooth, satiny-feeling polyester for its body, and lines the high collar with fleece on the inside. Though women's sizes aren't available, I tested a men's size extra-small vest and found it to fit fine. The vest also comes with wiring in case you want to power it from your motorcycle. Genevieve, who wears a women's size medium jacket, found the extra small to be a little big in the chest area, and too long hanging from below the jacket waist. She'll be happy when the women-sized vests are released.
The black leather and suede gauntlet-type gloves work great as cold-weather riding gloves, even without the heat. They feature a padded palm, DuPont Thermolite active insulation for warmth and breathability, an Aquatex waterproof and breathable liner, and a long fleece cuff underneath the gauntlet that really prevents cold air from sneaking up your sleeve. I found the women's size extra small to fit my hands well, but their bulk does somewhat hinder dexterity and easy reach to the hand controls. Genevieve really likes her size medium gloves and now uses these as her cold-weather gloves all the time. Knowing she can turn on the battery for extra warmth makes these the ideal cold-weather glove.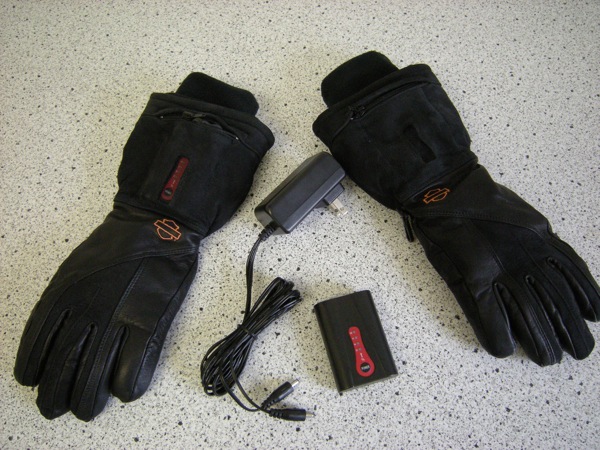 The battery for each glove (approximate size, 2.6 by 1.75 by 0.75 inches; weight, 4 ounces) hides in a zippered pocket in each gauntlet cuff. Plug them into the connector, press the "on" button (located on the battery), choose one of four temperature settings, and soon the soothing heat travels to each finger and thumb as well as to the top of the hand. A mesh-material window lets you see the power button and temperature levels selected (indicated by LED lights). You can more easily change the temperature of the gloves while riding than you can the jacket, although it's not recommended because doing so takes your focus off the road. Genevieve found she needed to take off the gloves and press the button with her fingernail. At their hottest setting, the gloves can reach 135 degrees at an ambient air temperature of 70 degrees. Think of them as a portable pair of heated grips.
I really appreciate the convenience and portability of the battery-powered heated gear, especially because simultaneously using my auxiliary lights, GPS, and heated clothing really taxes my bike's charging system (don't ask how I found out). So the battery-powered gear offers a solution.
However, it has limitations, namely battery life. According to the instructions, the vest battery will last for only about three hours on the lowest setting, and only one hour on the high setting. The gloves will heat for about four hours on the lowest setting, and one hour on the highest. So you can't figure on daylong warmth while traveling when using these items as you could if your motorcycle provided the power. However, they should work fine for afternoon jaunts on cold days and shorter rides.
Also, one must remember to keep the batteries charged, and when traveling, to take along the battery chargers. The gloves come with a charger that will simultaneously charge both batteries. The jacket comes with its own charger. Neither item includes the batteries—you purchase those separately.
The men's gloves (part #98356-09VM) come in sizes S-XXXL and retail for $170. The women's gloves (part #98349-09VW) come in sizes XS-XL and retail for $170. The batteries for the gloves (part #98538-09V) cost $40 each. The vest liner (part #98355-09VM) comes only in black in men's sizes XS-XL and retails for $195. The battery pack for the vest (part #98547-09V) costs $75.
While these prices might seem expensive, non-battery-powered heated garments cost roughly the same, and you have to purchase controllers and other connections for them as well. In the end, the price for battery-powered versus non-battery-powered is comparable. Visit Harley-Davidson.com to buy online, or visit your local Harley dealer.