The iconic Aerostich Roadcrafter Classic one piece textile motorcycle riding suit provokes images of rugged, dirty, international adventure riders. Since 1983, the company (then Aero Design and Manufacturing) has been pumping out these innovative, coverall-inspired suits. The fact that we've seen them in use on every continent in every type of riding situation is a testament to their durability and popularity among diehard riders.
Roadcrafter one and two-piece riding suits have a huge following among men, but among the women who love this all-over motorcycle riding protection, they have been relegated to wearing the men's cut all these years. Finally, we theresa women's version.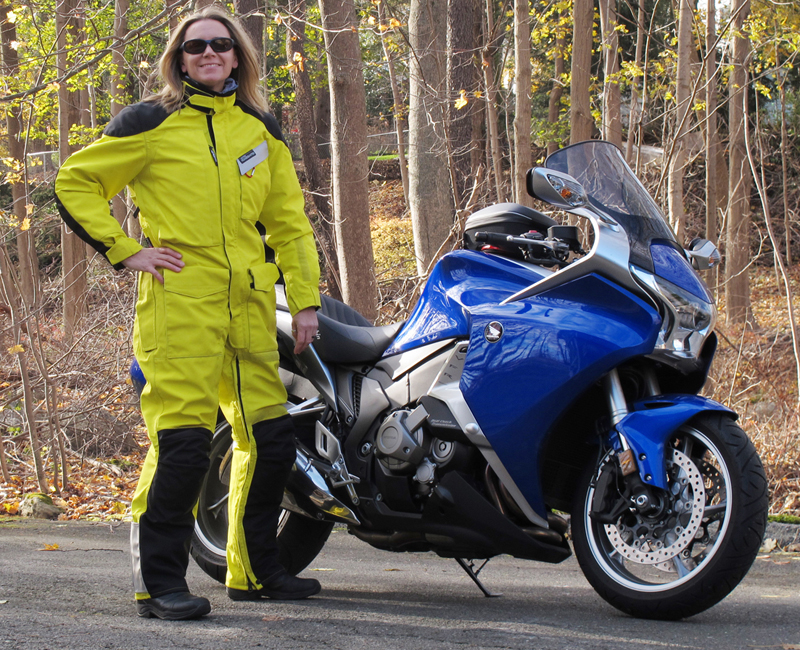 I know many of you will skip right to the price tag of just over a grand and are probably blowing a raspberry while rolling your eyes toward the sky. But stay with me. When you break it down, there's justifiable value in spending this kind of money on quality, made-in-America protective gear.
First, you'll notice that the women's Roadcrafter does not accentuate the female form very well. Aerostich's founder, Andy Goldfine, admits, "The Roadcrafter is a boxy garment. It's always been and always will be, regardless of patterning specifics for male and female fittings." This suit is more about the durability, versatility, and features that will withstand many hours of riding in all kinds of conditions.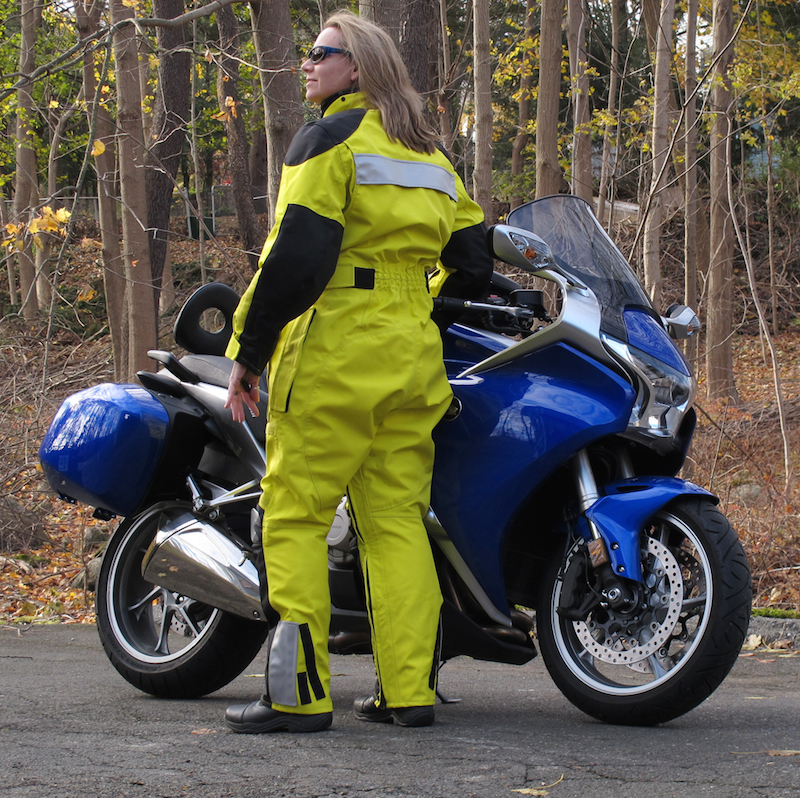 The Roadcrafter's outer shell is 500 Denier Cordura Gore-Tex while the inside is fully lined with soft Supernyl lining fabric. The Ballistics, heavy duty abrasion resistant 1050 Denier Nylon fabric on the shoulders, forearms, and shins, are placed right where you'd need them most in an accident. The Ballistics are available in complementary colors to the suit's main color. I chose black.
| | | |
| --- | --- | --- |
| The 1050 Denier Nylon TF armor is cushioned with 5/8-inch thick energy-absorbing material that feels like memory foam. | It feels soft and molds to your form for comfort, but is viscoelastic, meaning that the harder it's struck, the more it resists impact. | Non-adjustable pockets in the Roadcrafter's liner at the shoulders, elbows, and knees hold the extra-large removable armor pieces in position. |
Safety is what Aerostich is all about. Ever hear of Ride To Work Day? Goldfine inspired the campaign that promotes motorcyclist awareness with his "Ride To Work, Work To Ride" materials back in 1989. Commuters who need to wear dress clothes to work certainly can appreciate the convenience factor of how quickly you can put this suit on over dressy clothes and, in fact was the original Roadcrafter's purpose. No matter what you're wearing as a base layer, with boots on or off, you put your right leg in, right arm in, zip the right leg down, and zip the torso zipper up or down and your suit is on in a matter of seconds.
A large tag in the Roadcrafter warns that the textile suit is "no substitution for competition grade leathers," and goes on to state that the suit's materials start to burn at about 450 degreses Fahrenheit, and a base layer of street clothing can act as a layer of insulation against possible burns.
I'm not quite sure how fast one needs to be flying down a stretch of pavement before reaching that temperature, but I do know that the suit's ballistic armor will help me walk away from a crash
.
The women's Roadcrafter pattern differs from the men's classic style mainly in the following areas:
•

a slightly shorter torso with a curve at the waist
•

more room at the bust and hips
•

l

egs and arms are a little longer in comparison to the torso length.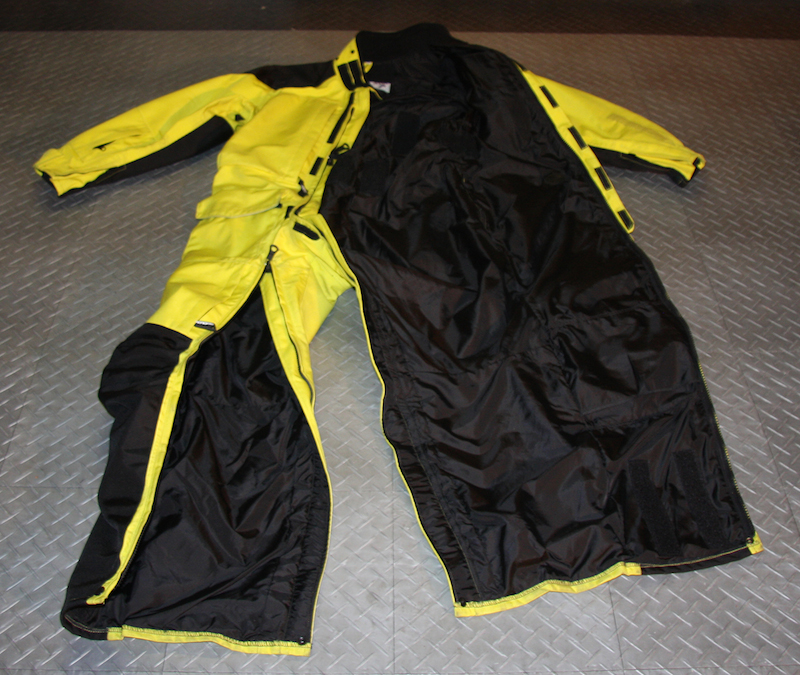 Getting the right size is key. Aerostich customer service representatives are extremely helpful and knowledgeable when you're ready to order online or by phone. Once received, try the suit on with all the armor in place and sitting on your motorcycle in the riding position. Also, if you plan to wear heated or thick liners under the suit, be sure to try the suit with them on.
My solution is to remove the shoulder armor when I ride sporty motorcycles that cause this issue but, of course this defeats the main purpose of the suit. Alterations are an added option with Aerostich suits, and one that separates the company from its competitors. While it's best to provide alteration info at the time of the original order, you can, in most cases, send the suit back for alterations or crash repair. Altering the torso length is not an option, but changing the arms and legs is.
While the arm length is spot on, there's an excessive amount of material in the Roadcrafter's butt and triceps areas for me, which may be welcomed by women with larger hips and arms.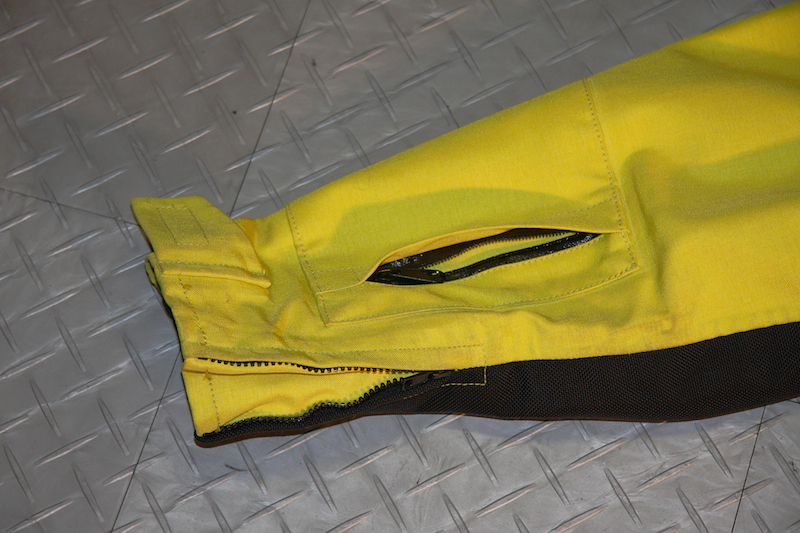 Customizing the suit by choosing from a wide range of colors is half the fun of ordering. While part of me wanted to match my motorcycle, the motorcycle safety instructor in me won out when I ordered the Hi-Viz Lime Yellow with black ballistics.
My main intent for wearing this suit is exactly what it was originally designed for: commuting. This includes a good portion of the year when it's dark well before I leave the office.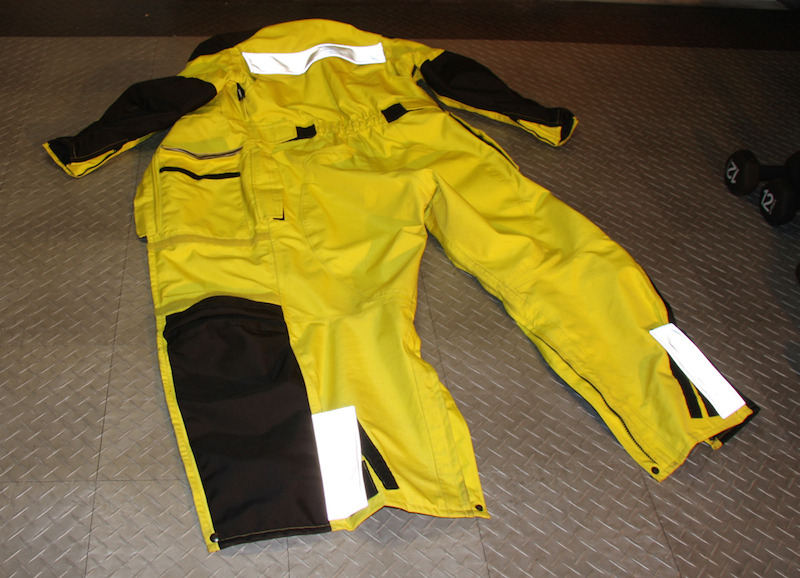 Breaking in an Aerostich Roadcrafter takes a lot more time than your average gear. Because the material is so durable, it's quite stiff for the first thousand miles or so. But once it's broken in and has been washed a few times it will get softer and much more softer and much more comfortable.
The nine huge external pockets offer more storage than my motorcycle has, but I found some of them too awkward and bulky when filled. For example, when I put my iPhone in the hip pocket it would sometimes trigger Siri to ask me to repeat myself when the bend in my leg pushed the home button. This pocket, while most convenient, is the worst one to put things in because of the leg bend. Instead, there are huge, zippered chest pockets that are better suited for stiff items like wallets and phones. The coolest pocket though is the zippered one on the right forearm. It's perfect for a gas card or cash, so you don't have to go digging when you're at the pump.
While the suit itself won't keep you warm in winter, like I mentioned earlier, the ability to wear lots of layers and heated gear underneath is where the Roadcrafter excels.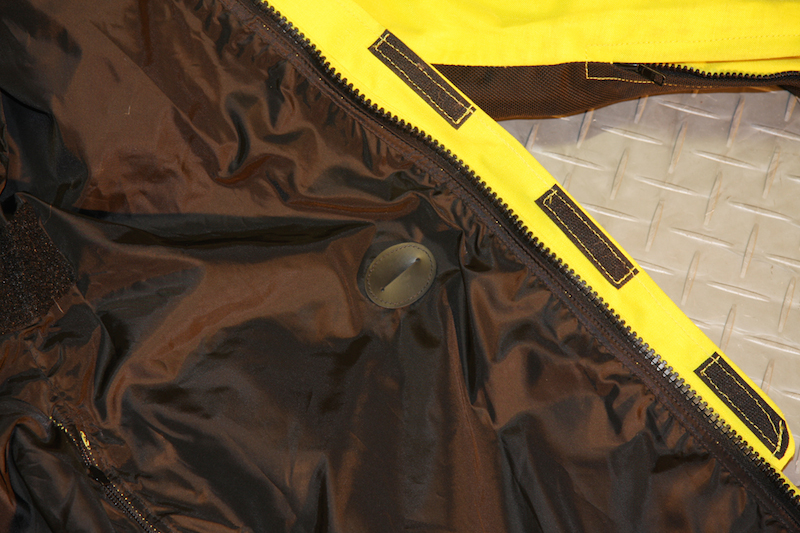 In hot weather, the minimally vented suit may not be your first choice, but a zippered underarm and back vent help. I found myself unzipping the torso to let some air in on the most unbearable days.

You'd think that this bright yellow suit would be ideal in the rain. That's what I thought, too, until I discovered the crotch seam was leaking. When I questioned customer service about this, they recommended washing the suit with Nikwax TX, which restores the textile's waterproofing qualities.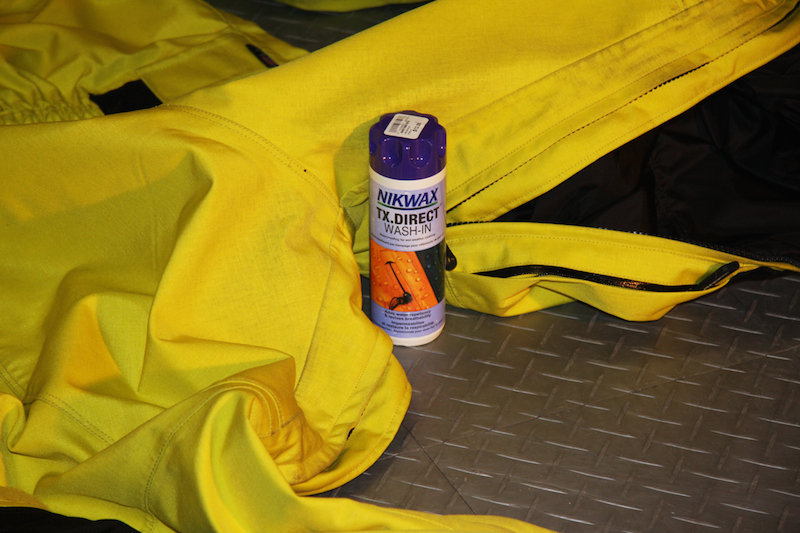 Women's sizes range from 2 to 20, with short, regular and long lengths. The sizing chart has all the measurement details. Available colors are black, blue, gray, hi-viz, red, and tan.
Riding with the best safety features available in an easy-to-don suit makes it my gear of choice for commuting. For riding trips however, unless I am going to ride every day and the climate won't be too hot, I leave it at home. It requires a huge amount of space to stow away on the bike, and sometimes I just want to wear a jacket.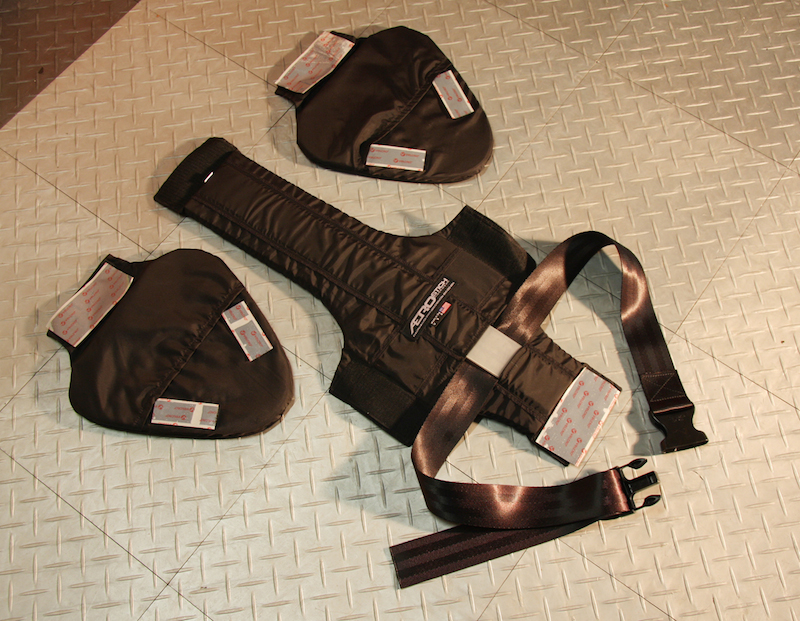 Overall, I am pleased with the Roadcrafter and get why it's become such an iconic piece of gear for hard-core riders. And unless you crash and ruin it, the $1,127 suit should last a long long time. V
isit Aerostich.com for more information and to order.

Related Articles
Review: BMW TourShell Riding Suit
Review: REV'IT! Levante Textile Jacket
Review: Ruuka Armiina Riding Suit