"It wakes me up, gets me thinking and moving. It puts me in a good mood."
Jean Goldsborough, New London, New Hampshire
"I arrive with a big smile on my face, having had fun for 30 minutes or so!"
Anke Conzelmann, Jamaica Plain, Massachusetts
"By the time I get there, I have a permanent smile on my face."
Diana Wallace, San Franciso, California
Believe it or not, these women are going to work! Commuting on two wheels turns the usual miserable slog into quality time and adds a little happiness to the week. Although many people who own motorcycles consider them a recreational vehicle to be used only on weekends, a significant minority rides their bike to get to work and run errands.
These women are among the many whove found that riding to work increases the fun factor in their lives. Women who ride to work have a problem that men dont face: the skirt question. Skirted suits, pumps and nylons are not functional on a bike. The women we spoke with all have technical or managerial jobs at companies where the office uniform is "corporate casual." This look lends itself to quick changes into and out of motorcycle gear.
Dressing for Success
Diana Wallace keeps a jumper, skirt and shoes at work and wears a nice blouse and tights under her leathers. She can go from leather-clad biker to "work ready" in less than a minute.
| | |
| --- | --- |
| Diana Wallace rides her BMW R 1200 C to work nearly every day in San Francisco. | She goes from road-worthy to office-ready in less than 60 seconds. |
| | |
| --- | --- |
| Blouse and tights are worn under her leathers; the loose jumper slips over her riding pants, which unzips easily. | Quick change of shoes and she#39;s off to work. |
Amanda Alegado of San Francisco, is the finance manager at a unit of a major corporation. She keeps flats at work, but wears her leather riding pants around the office without comment from fellow managers. "I wore suits for years. Ive done enough suits."
Marina Cohen of San Diego carries wrinkle resistant dress slacks and changes in the ladies room. Marina programs computers and sometimes teaches college. "Most of my co-workers enjoy the idea of me riding a motorcycle. There are a few who have negative opinions of anyone who rides, or women who ride. Many people make any number of assumptions about me because I choose to ride a motorcycle. Most of these assumptions carry negative connotations. I find that younger people dont tend towards such prejudices."
Anke Conzelmann has gotten different reactions. "Most think its cool, some think its dangerous. Some probably think I am crazy, but dont say so. Everyone thinks my K 1200 RS BMW is beautiful!"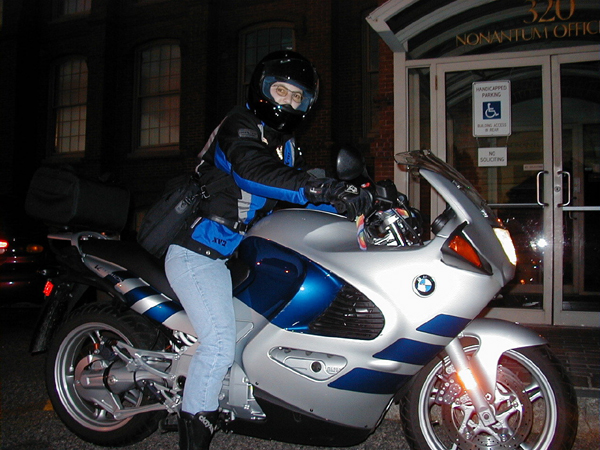 Diana has worked with the same people for more than 10 years as a computer programmer in San Francisco. When she started riding two years ago, her co-workers were all very concerned and a bit fearful. Now, "They see the great fun I am having and are glad I am having a good time. When I go on trips, I usually call one or two of them periodically to say that everything is fine."
Cool Commute
Most of the women we spoke with ride about 10 miles to work. "Ten miles if I go the direct route, 20 miles if I take my time and add some twisties and less trafficky roads," smiles Anke. A brave soul, she has been riding almost every day through the Massachusetts winter, unless there is hard rain or snow on the road. "I like doing this! It starts my day off doing what I love to do. There is no comparison to just going to work."
Marina Cohen lives in the opposite corner of the country: San Diego, California. She resorts to four wheels when it rains. "Southern California drivers just dont get the whole concept of diminished traction. I can stay upright, even on snow covered roads, but the car drivers make it dangerous."
Jean Goldsborough rides 30 miles each way. "Unfortunately, it is almost entirely highway beautiful highway because I live in rural New Hampshire. But only once in a blue moon do I have time to take the back roads to work." She rides almost every day during spring, summer and early fall and is planning to buy electric gloves so she can extend her riding season.24
Safety Gear
Women who ride to work believe in wearing safe riding gear. All of the ones we spoke with wear full-face helmets, leather jackets, leather riding boots and gauntlet gloves. "Leather, leather and more leather!" says Diana. Anke and Amanda wear jeans on warmer days, but Jean will only wear jeans if it is really hot and humid. Wearing leather and a full-face helmet is easier in the early morning before the air has time to heat up.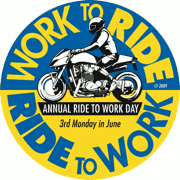 To ride to work without worrying, you must arrange secure parking for your motorcycle. If you plan to ride to work on a regular basis, and your regular ride is desirable to thieves, Andy Goldfine of Ride To Work, Inc., a nonprofit organization supporting riding motorcycles as every day transport, suggests buying a second "beater" bike that is mechanically perfect, but cosmetically challenged.
There are other options. Amanda works in a gated industrial park, and simply parks her Buell in front. "I like to see my bike out of the window." Jean parks outside the main doors of the health and sports club where she works as a department manager. "All I do to prevent theft is lock the steering welcome to New Hampshire!" Diana, who works swing shift one night a week, has found an indoor garage near her job in San Francisco that charges $3.00 a day. This is about a quarter of what it would cost to park a car in the city.
Health Benefits
Andy Goldfine explains that riding to work can improve your life. "Its fun. Its also awakening, enlivening, energizing, economical and efficient. If you hate going off to work every day, riding to work changes that. Riding to work can produce wonderful changes which affect your psychological and social perspectives in ways that are both positive and useful."
Andy also believes that riding to work is beneficial for the environment. "As a group, motorcycle commuters reduce parking problems, traffic congestion, energy consumption and wear on transportation infrastructure."
Marina lists other plusses of riding to work. "I get to work faster, and spend less time stuck in traffic because lane splitting [riding between two lanes] is legal in California. I tend to experience fewer colds than my co-workers, which I attribute to the healthier lifestyle of spending more time outdoors. I compare the difference between riding a motorcycle to work and driving a car to be the same as the difference between taking a walk and sitting on the couch."
"Riding is such a thrill to me," says Jean. "Not only is riding my passion, but it is a fun and economical way to commute."
Visit RideToWork.org for more information.
Related Articles
News: Ride to Work Day is Monday June 15