Do you have a story to share?Please send it to us, but followthese submission guidelines.
My motorcycling experience started as a joke. It was my 40th birthday and I was asked what would I like. I replied, "I want to hop on a Harley-Davidson with nothing but a toothbrush in one pocket and a change of knickers in the other."
Ten years passed. I was older, wiser, beefier, and worn around the edges. When my husband, Tim, asked me if I still wanted a motorcycle I responded with, "No, I'm over it."
Women Riders Now E-Newsletter
Stay up-to-date on all things motorcycle! Latest gear, bikes and products reviews. Travel ideas, great product giveaways, and more.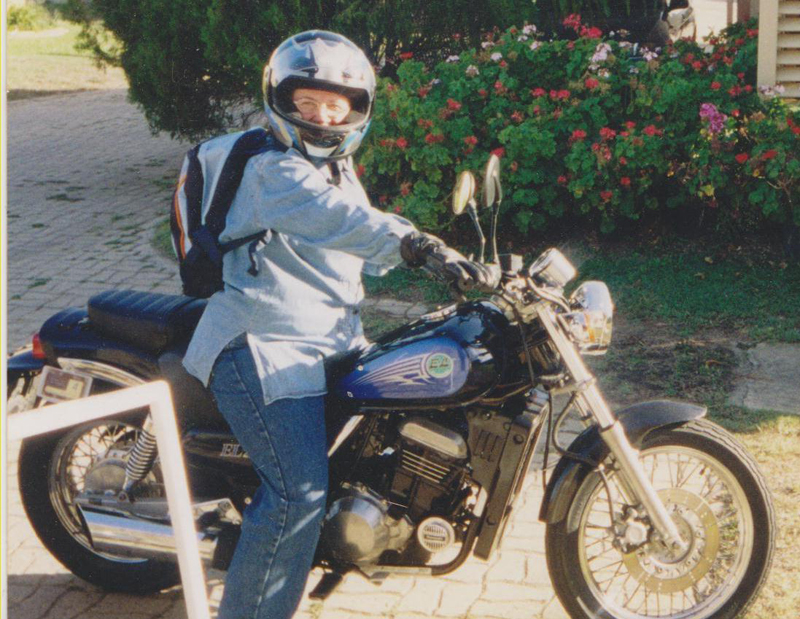 I had no idea how to ride. I didnt know that you have to go down through the gears when stopping so you can get it into first gear before taking off again. I thought there was something wrong with the Kawasaki!
After a month, I signed up for a new rider course. I chose a private lesson as I was unsure of myself and didn't want to stand out as a silly old fool. Along with all the useful things my instructor taught me, such as maneuvering and managing my machine, he said something to me that stuck with me ever since. "You looked very confident coming in this morning. How long have you been riding?"
I've clung onto those words.
My friends said I'd get a bigger bike. I said I wouldn't. They were right. I was wrong.
Two years later, I upgraded my license and bought a Honda Shadow 750. I immediately began to plan my first big ride. It was all a dream though until one day I was watching a TV show about Gabby Kennard, an Australian aviatrix who flew across the world in a single-engine jet. It occurred to me that I only wanted to ride from one end of my country to the other. No big deal. So I set a date and seriously planned the big ride.
I live in Townsville, Queensland [in Australia – Editor]. It takes three days to ride out of the state. My plan was to go to Melbourne and back in a loop that took in the midwestern country as well as the coast. I zigged and zagged up and down multi-lane highways as well as back roads. I got myself stuck in difficult places like a steep, narrow cliff-lined track with a flowing creek ahead.
Onward I went, doing a three-point turn in the stone-filled watercourse, heart pumping, legs like jelly, but I was determined. I stopped at villages that you wouldnt bother to visit in a car.
One time, a pilot in a crop duster waved the wings of his plane at me as he lined up to spray a paddock giving me the OK sign to ride through. He held off until I was out of the way. I was the only vehicle on the road for miles. A lot of the roads I took were like that. It was as if someone had rolled out that long liquorice strap just for me to conquer.
I talked to truckies and old timers in caravans as well as fellow motorcyclists. It was as though we were all on the same team. I never came across one negative person. I remember wondering on my first days how far I'd go. Chatting with a fellow biker, I commented, "I'm not sure if I'll get as far as I want." He replied, "Why not?"
When things were tough I played those words over in my head: "Why not?" and "I look confident!"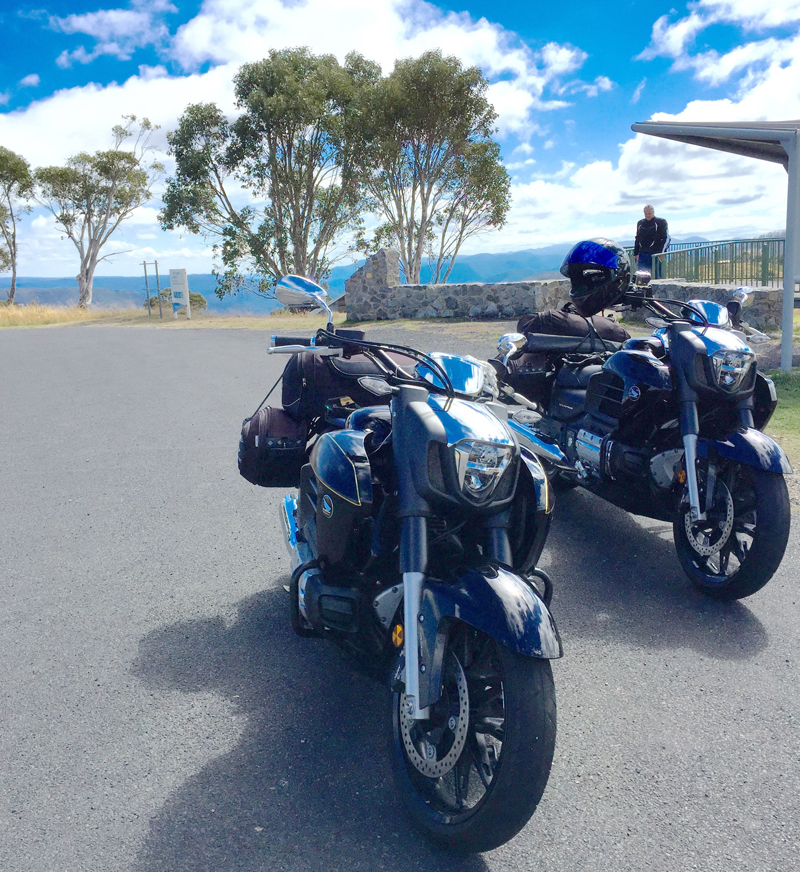 Not long before I began my first two-wheeled adventure, a friend said to me, "You have no experience. Do you know what you're doing? Riding all that way on your own is dangerous." She was only stating the obvious, but I had a different view at the end of 7,000 kilometers.
My husband never liked bikes; motorcycling was my hobby. However, when he retired he decided that if he didn't join me he might be spending a lot of time alone so he got his license, too.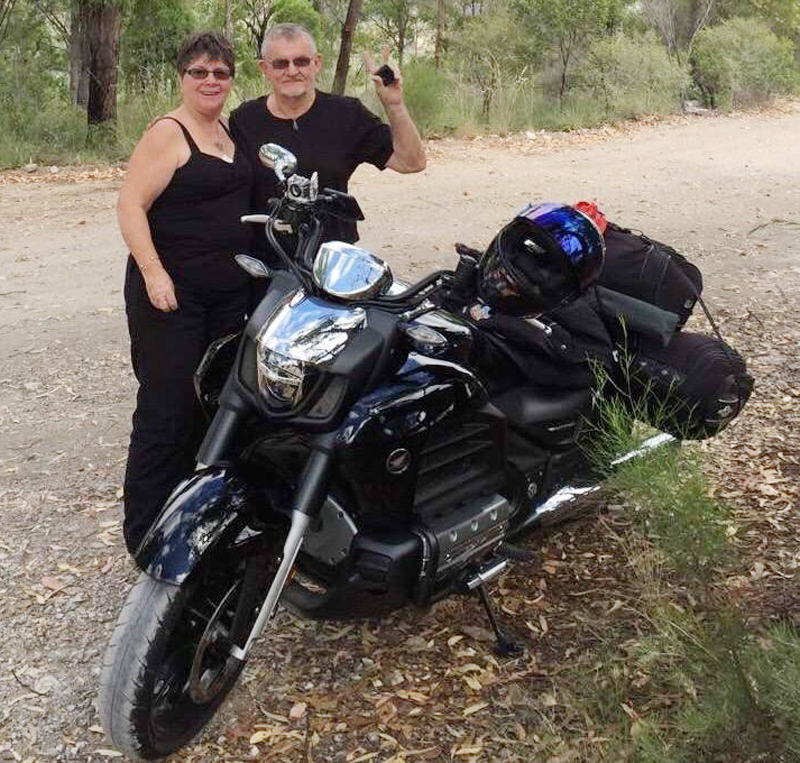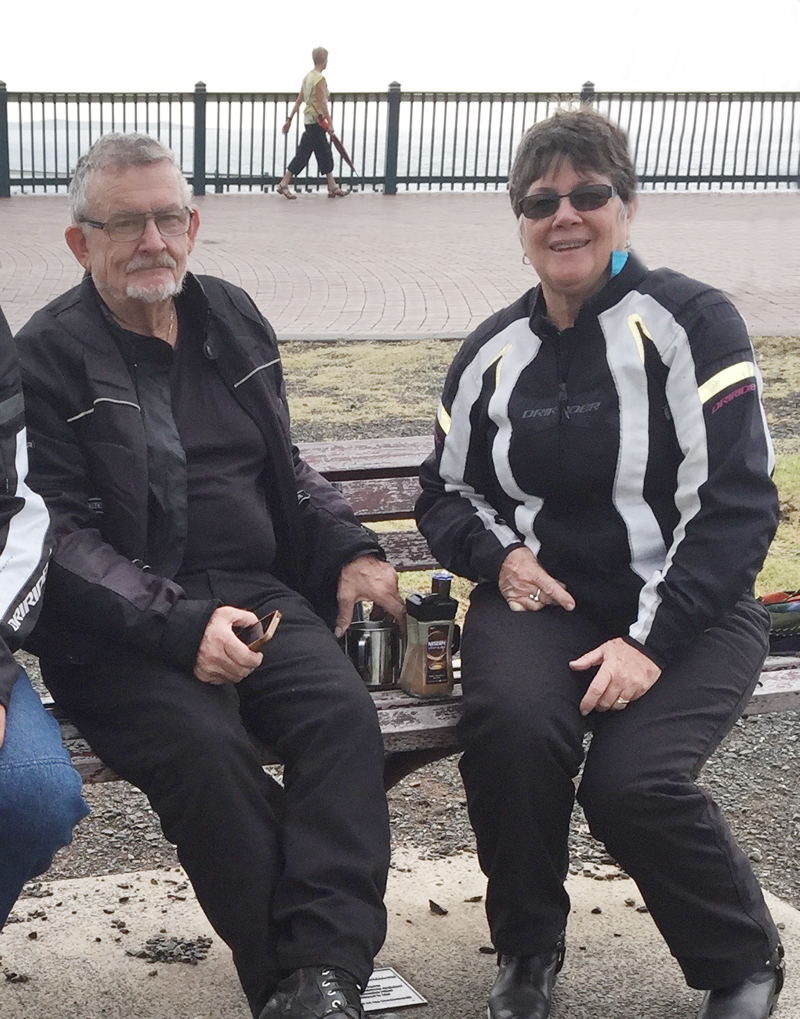 In February, we rode to Tasmania. We've been to Alice Springs via Great Ocean Road on the best roads Australia has to offer. Mountain tracks, the highest town in the country, the hottest and lowest desert roads.
Tim and I joined a motorcycle club and I have learned a lot from our fellow riders. Most members have ridden for years. We may never have their experience, but we will have as much fun as we can untill we fall off our perch. Who knows, I might end up being the oldest nana on a bike!
Do you have a story to share? Please send it to us, but follow these submission guidelines.
Related Articles
Beginners Guide: Motorcycle Training Classes for New Riders
Making Her Dream of Riding a Motorcycle Come True
A New Rider's First Overnight Solo Motorcycle Trip
10 Tips to Reduce Risk to Your Personal Safety on a Solo Motorcycle Trip