The 30th annual Biketoberfest kicks off October 13, despite Hurricane Ian's best attempts to stop the festivities. Continuing through to October 16, the city of Daytona officials have declared that Biketoberfest is a go. "This isn't our first rodeo," was the most popular response to the question if the rally was a go or no. Daytona is ready for Biketoberfest. The community is ready and looking forward to the festival. The community needs Biketoberfest to happen. If you were already planning to attend, go! If you find that you are able to go, but had not planned the trip, go! It is suggested that you check with your hotel if you have reservations. Some hotels and businesses were flooded and/or damaged, but many gave assurance that they would be ready. Some roads, including Main Street were flooded, but that has all dried up and the roads are cleared and ready for the bikers. Annual events are scheduled to continue.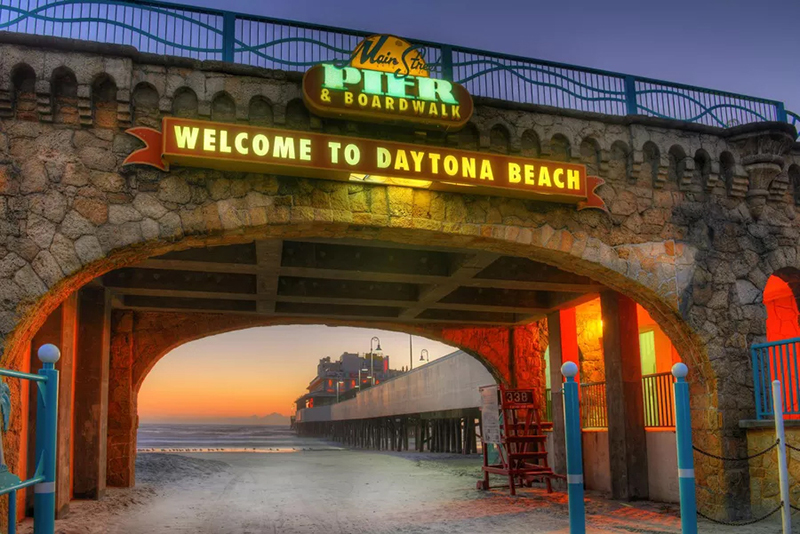 Once again in long-standing tradition, The Official Biketoberfest Welcome Center is sponsored by Geico. Located in Victory Circle at ONE DAYTONA directly across from Daytona International Speedway, visitors can also enjoy retail, dining and entertainment while stopping in to pick up their FREE poster, pin, poker chip, and helmet sticker. Also available is the Official Biketoberfest guide featuring the best information on the festival and events. Look for the white tent with the official 2022 Biketoberfest logo. There is ample bike parking with limited vehicle parking. All parking is free.
Here are some recommendations by the WRN crew:
Jasmine Cain in Concert
October 13, 7 p.m.
Dirty Harry's Pub, 705 Main Street, Daytona Beach
October 14 and 15, 8 p.m.
Full Moon Saloon Outdoor Stage, 705 Main Street, Daytona Beach
You won't want to miss the favorite sweetheart of Biketoberfest, Jasmine Cain. She returns to Biketoberfest venues, both Dirty Harry's Outback and the Full Moon Saloon to rock the festival with her professional stadium quality high-energy performance that will no doubt leave you an avid Jasmin fan after just one concert. A native of Sturgis, South Dakota, Jasmine is a multi-award-winning artist who covers multiple genres to include modern rock to metal. The event is free, but get there early or you might not get in. She is truly a woman's performer. Merchandise will be available after the concerts.
Rachel Stump and Sass
October 14, 1 p.m.
Full Moon Saloon Outdoor Stage, 705 Main Street, Daytona Beach
Rachel's professional singing experience ranges from live theatrical stage shows to lead vocals. She has performed background harmonies for numerous professional bands and artists. If you are a Janis Joplin fan, you will love Rachel whose sound and style is very reminiscent of the late American rock, soul and blues singer.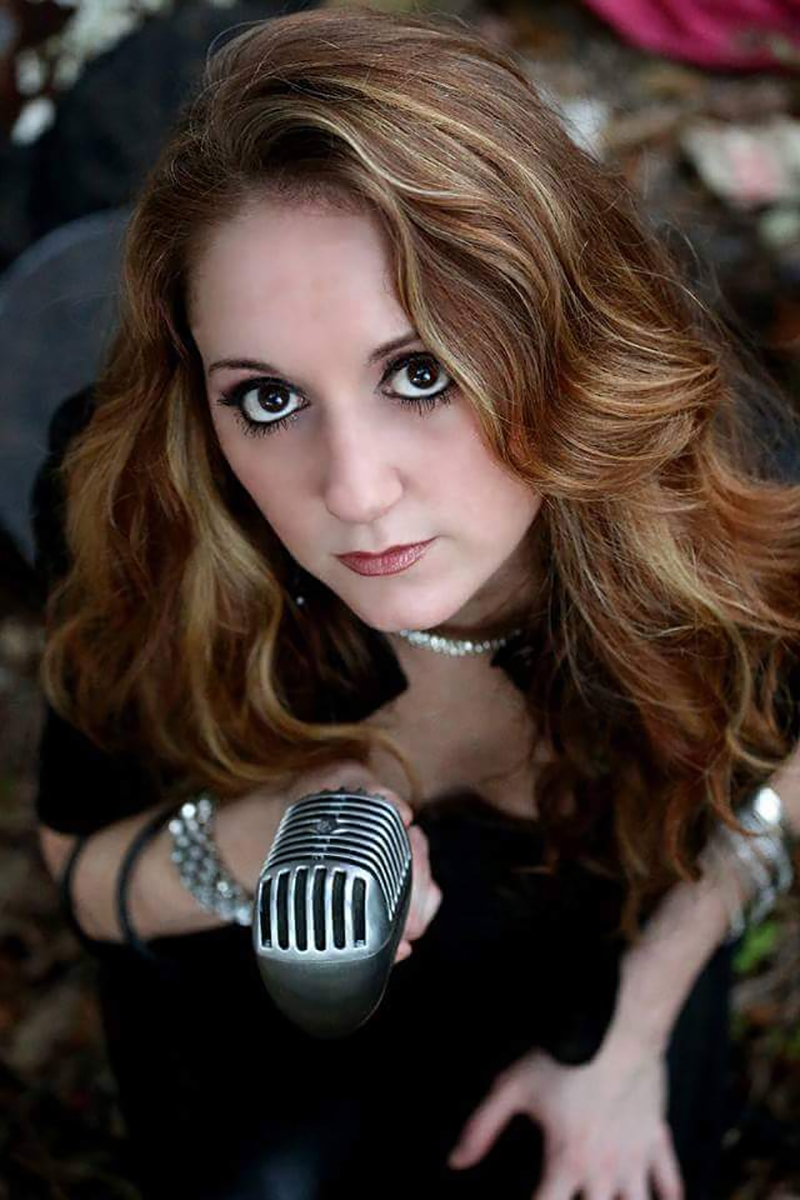 Ashley Young
Bank & Blues Club, 701 Main Street Bridge, Daytona
October 16 – 17, 5 p.m. - 8:30 p.m.
Singer Ashley Young kicks off Biketoberfest at The Bank & Blues Club. Singer, songwriter, performer extraordinaire, Ashely hails from Vegas. You will be thoroughly entertained by Ashley's style from pop to classic rock, as she covers artists like Alanis Morisette, Johnny Cash, and Fleetwood Mac. This is one of Daytona's best venues that you will enjoy as much as the entertainment. The Bank & Blues Club, located in the 700 block of Main Street, is a historic bank built in the early 1920s. It has been converted to a beautiful nightclub, featuring live rock and blues bands. It is located just a short walk from the Ocean Center and Peabody Auditorium, making it conveniently located to the heart of Daytona Beach.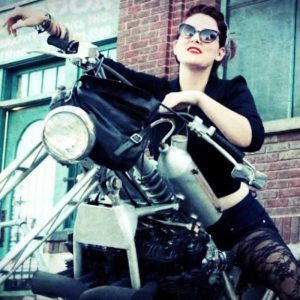 Indian Motorcycles of Daytona Beach Events
Indian Motorcycle Demo Rides
October 13 – 17, 10 a.m. - 6 p.m.
290 N. Beach St. Daytona Beach
Come to the largest Indian Motorcycle dealership in the world. Take a free demo ride on the all-new 2022 Scout Rogue and Indian Pursuit. Throw your leg over any of the new Indian Motorcycle models such as the Chief, Scout Bobber, Chieftain, Indian Vintage, Indian Springfield, and Roadmaster, featuring the industry-leading Indian Motorcycle Ride Command system.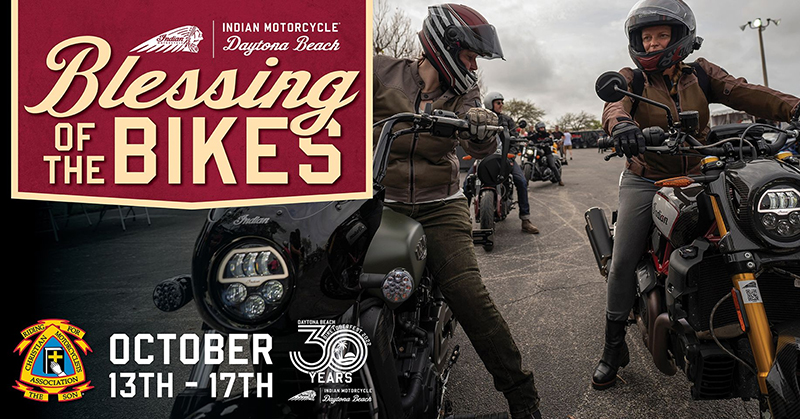 Bike Blessings
October 13 – 17 (All day event)
The Christian Motorcycle Association will be on-site at the Indian Motorcycle dealership during the time of Biketoberfest offering Bike Blessings. Ask them to pray over your current ride or the new one you ride from the dealership to keep you safe for your upcoming travels.
Polaris Slingshot Demo Rides
October 13 – 17, 10 a.m. - 6 p.m.
The most fun you have on three wheels, Slingshot is a unique on-road sensation that reignites your love for driving. With its open-air cockpit placing you 5 inches off the ground, Slingshot delivers a one-of-a-kind, 360-degree visceral experience of the world around you with the rush of the pavement going by under your seat.
IMRG Biketoberfest Ride (IMRG Chapter #1949)
October 15, 8:30 a.m. - 4:00 p.m.
Meet at Indian Motorcycle Daytona Beach at 8:30 am for refreshments and to sign ride waivers.
You are cordially invited to take a break from the Biketoberfest chaos and tag along with IMRG Chapter #1949 for a ride through Florida's natural beauty, up the coast to St. Augustine. A delicious lunch stop is planned at Sunset Grill.
Harley-Davidson Destination Daytona Motorcycle Dealer Events
Bruce Rossmeyer's Destination Daytona
October 13 – 15, Open daily at 9 a.m.
1635 N. US Hwy 1, Ormond Beach,
Bruce Rossmeyer's Destination Daytona will be your official Harley-Davidson H.O.G. pin stop. While you are there, take a demo ride and hang out for the bands which start performing at 11 a.m.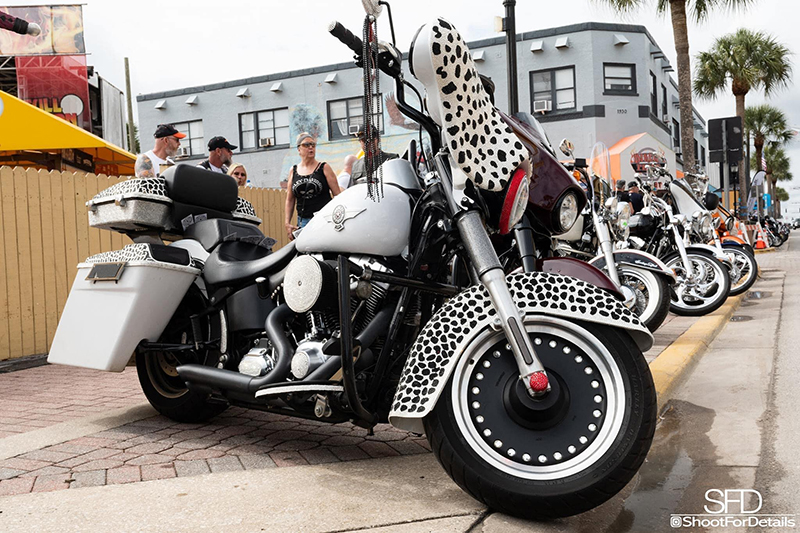 Jim Lynch Bike Show Mafia Ladies Ride-In
October 13, Registration 10 a.m. – 1 p.m. Awards at 4 p.m.
Bruce Rossmeyer's Harley-Davidson Destination Daytona Pavilion
This fantastic ladies-only bike show for breast cancer awareness is back making its way into an annual event. Check out the 10 classes, live music, a 50/50 drawing, and much more. Big money for winners. No admission fees. Entry fee for the bike show starts at $30. Register in person.
Hardcore Cycle Performance Motorcycle Show
October 14, 12 p.m. - 2 p.m. Awards 4 p.m.
Arm Melter Arm Wrestling In The Pavilion
October 15, Weigh-in and registration 8 a.m. - 11 a.m.
Biketoberfest Survivor Party
October 16, Saints & Sinners Pub
Bruce Rossmeyer's Daytona H-D "Main Street" Biketoberfest Hours
October 12 – 16 , Wednesday 10 a.m. – 5 p.m.; Thursday - Saturday 10 a.m. - 10 p.m.
Sunday 10 a.m. - 5 p.m.
Women Riders MeetUps and Events
Stilettos on Steel Meet and Greet
October 15, 12 p.m. - 2 p.m.
World Famous Iron Horse Saloon, 1068 N. US Highway 1, Ormond Beach
The World-Famous Iron Horse Saloon is where you will want to be on Saturday, October 12. Stilettos on Steel will host its annual meet and greet. This event is open to all women riders on any motorcycle and all skill levels. Bring your friends and meet this exciting group of lady riders. Making a special appearance is the founder and president of Stilettos on Steel, Anne Zube. Meet the woman who started it all. Join in the 50/50 raffle, smiles, laughs, and tons of fun. You won't be disappointed.
Stilettos on Steel, LLC Female Riders Group is a women's motorcycle riding group for feminine motorcycle enthusiasts who have a "craving for acceleration" running through their veins. Welcoming riders of all experience levels, women who have the itch to ride are invited to join. Stilettos are committed to helping women overcome their fears about riding a motorcycle and encourage each other to be stronger, safer riders. Stilettos are united by a passion for glistening chrome, the roar of the engine, and the feel of the wind as it brushes their faces. Whether you ride a Harley, Honda, Ducati, or anything else, Stilettos welcome positive, beautiful women who embrace the bugs in their lipstick all in the name of a great motorcycle ride.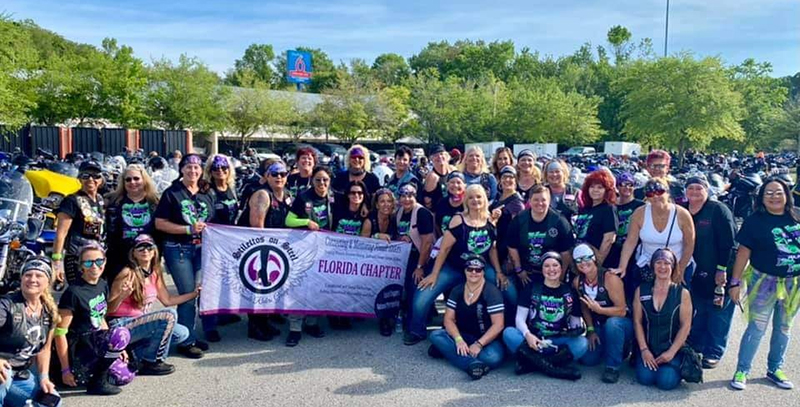 Big Wheel Women Present Rumble Night
October 15, 1 p.m. - midnight
Hard Rock Hotel, 918 North Atlantic Ave., Daytona Beach
Big Wheel Women present Biketoberfest Rumble Night 2022. They are looking for the real kings and queens to rumble. Come out for the rumble, cash prizes, and the coveted Big Wheel Women Boxing Gloves. Bring your A-Game, good vibes, and a competitive spirit. There will be food, entertainment, a DJ, and more. Admission is $30.
Big Wheel Women (BWW) is a woman owned and operated business centered around creating motorcycle events for Custom Motorcycle build enthusiasts, as well as seminars by women riding motorcycles with a 32-inch wheel. BWW are motorcycle enthusiasts dedicated to providing support through our products, encouragement, and positive representation of what women riders can be.
Book your room at the Hard Rock Hotel Daytona Beach and use the discount code RUMBLE2022.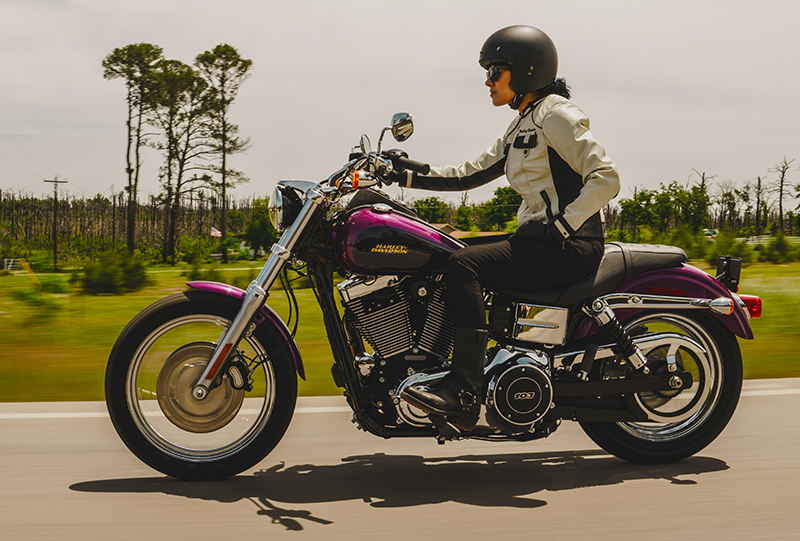 This is the best riding weather Florida offers. The temps are just right, not too cool and not too hot. Little to no rain is in the forecast, but remember while Florida is the "Sunshine State," always be prepared for an afternoon shower.
Florida does not have a helmet law, but there are restrictions. Riders and/or passengers under 21 years old must wear a helmet and eye protection. All riders and passengers are required to wear eye protection. Riders over 21 years old are not required to wear a helmet providing that the rider is covered by an insurance policy with a minimum of $10,000 in medical benefits for injuries incurred as a result of a motorcycle crash. We prefer to see all riders wearing protective gear; however, Florida leaves that as a personal decision. Please ride safely.
The following rides have been offered as the top area rides. Enjoy.