Editor's Note: Congratulations to WomenRidersNow.com reader Deborah Brunetti, whose story submission about how she conquered her fear of riding a motorcycle captured the win in our Harley-Davidson Hamock Seat Giveaway contest. Now, Deborah will enjoy wind therapy on her Heritage Classic in luxurious comfort on the $688 seat with driver's backrest. Read on to learn about her experience.
As a nurse for 25 years, the past two years have been mentally and physically draining. On top of my normal job of oncology research nurse and trying to find clinical trials for cancer patients, I also treat Covid positive patients with IV antibody therapy. Every day brings new challenges.
Many people say that riding motorcycles is "wind therapy," but when you treat medical patients, your wind therapy takes on a whole new meaning. I ride my Harley to work in my scrubs and get many beeps and "thumbs ups" from other motorists, but little do they know what I do for a living.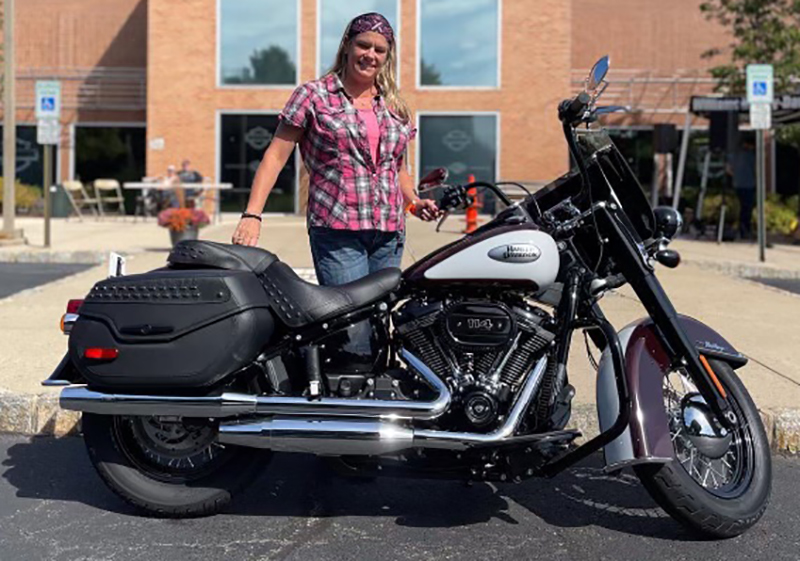 My motorcycle days started when I was young, admiring them from afar. When I met my husband, Dan, he had a motorcycle that he would take me out on. I loved looking over his shoulder, watching the gauges, feeling the engine, pretending to shift as if I was in control of the bike. 
In 2004, I took and passed the MSF Basic RiderCourse with flying colors and was excited to ride my own. I would ride Dan's Suzuki Katana 600 up and down the street for practice. Once, giving it too much front brake, I dumped it. Crying as I picked it up, I rode it back up the street with a broken clutch lever and mirror and fear in my bones and said I would never ride again. Then, I found out I was pregnant with twins, so I chose to put my days of trying to learn on hold.
A few years later, my husband surprised me by purchasing me a Harley-Davidson Sportster. Well, I only rode that bike about three times. It wasn't for me. It had too much power and torque for my new rider skills. I would stall it constantly, struggling with coordinating the clutch and throttle. Then one day, accelerating from a stop sign, I took the turn too wide and crashed, hitting a bed of gravel. I hadn't yet developed shifting and clutch use well. Again, I stopped riding.
When I visited my Harley dealership in 2015, I spotted a new 2016 Harley-Davidson Freewheeler trike. Riding it around the building, I knew I would be able to learn to ride without falling over on this three-wheeled motorcycle. I bought it and rode it for six years and 10,000 miles, but my dream was still to get my wind therapy on two wheels.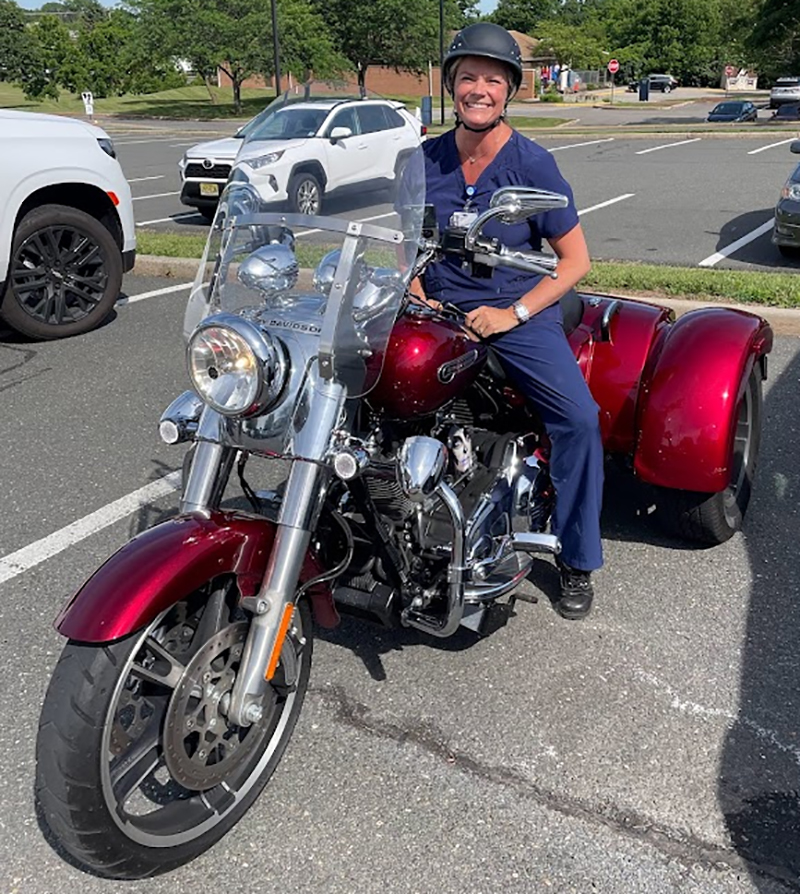 Making the Two-Wheeled Dream Come True
I went back to the Harley-Davidson dealer in Autumn 2021 to try to ride a Sportster again. I knew instantly that it was not for me. I was accustomed to the floorboards and the relaxed seating position of my Tri-Glide. I didn't care for the Sportster's aggressive style or the seating position with mid-placed foot pegs.
Disappointed but not ready to give up, I sat on a beautiful 2021 Heritage Classic in Midnight Crimson/Stone Washed White Pearl. I fell in love with the look, but my nerves were tingling about riding this big touring bike. Was I ready for this motorcycle?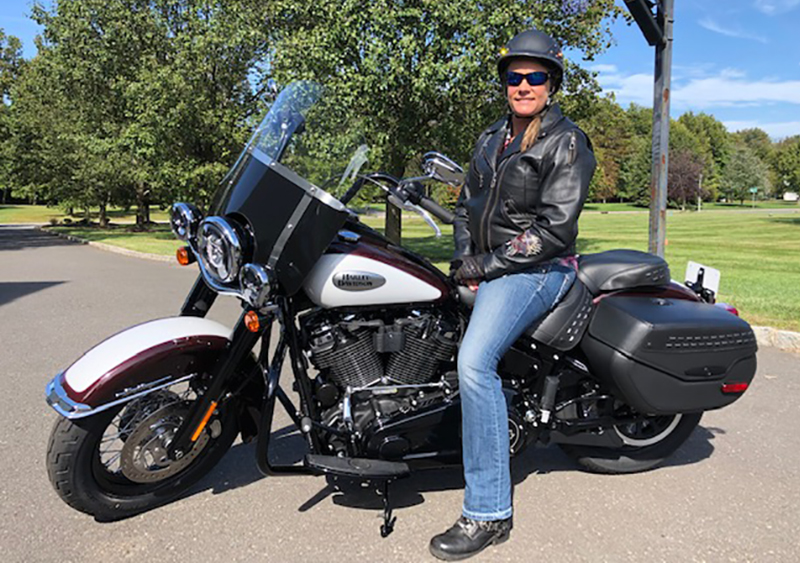 I test-rode the Heritage, which confirmed my love for it, so I bought it. Perseverance allowed me to conquer my fear and reach my dream of being able to ride my own two-wheeled motorcycle with my husband!
While riding, my wind therapy is thinking about who I am, what I do, and all the people's lives that I help. This brings immediate self-focus to me, to protect myself mentally and physically. I am in control of my bike, my life, and my career. My Harley-Davidson Heritage helps me realize that.