Careers expert Jan Plessner offers advice on how to get the salary and promotion you want. Scroll to the bottom to see this month's hottest motorcycle industry job listings. Sign up for the monthly WRN newsletter here to be the first to learn about the latest Hot Jobs!
Our first article on this topic, salary negotiations and prepping for the interview is just the initial step to getting that promotion you're after. Here, we dive into how to determine your professional worth. Understanding how this calculation is made before you sit down at the negotiation table can make a monumental difference on your future paycheck.
There are a half dozen factors that go into determining your professional worth at any given point in your career. For most of us, the number starts low and ideally, grows exponentially throughout your career. It doesn't always happen in a perfectly linear way, but in general terms, your value to the right company should be significantly more today than it was 10 or 20 years ago.
The easiest way to begin is to use an online resource that provides unlimited access to compensation studies by submitting an anonymous review of your own. Try  Glassdoor.com, PayScale.com, indeed.com, ZipRecruiter.com, or the U.S. Bureau of Labor Statistics.
You can also reach out to a colleague or mentor who is well-connected in the industry to gain insight on how compensation plans are structured.
Last but not least, you can always call a recruiter in your industry and simply ask.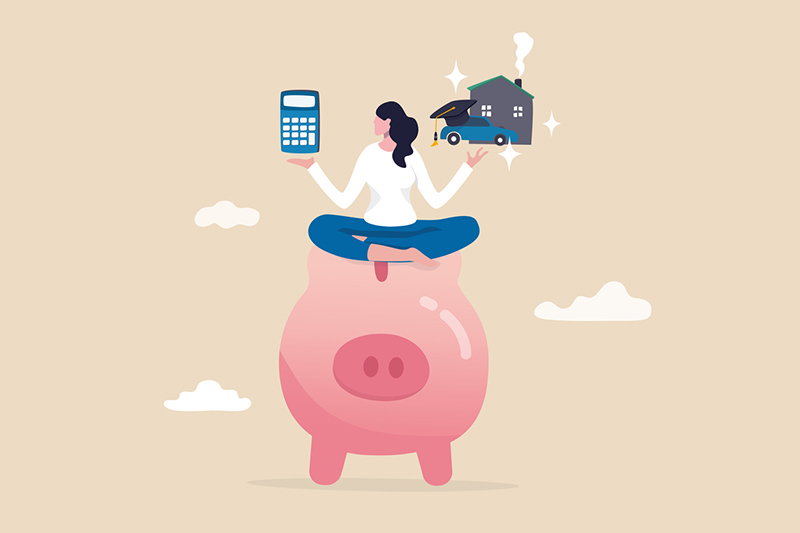 Step 2: Calculate Your Cost of Living
To determine your professional value in differing locations, you need to first determine your individual cost of living (COL) and compare that to COL in the city or region where you desire to work.
To calculate your personal COL, add up your current fixed expenses such as your rent or mortgage payment, insurance, dues, car payment, etc. Then tally up the costs of your groceries, fuel, and all the other variable expenses in your day-to-day life.
Once you know what you need to stay financially afloat, look at some market-to-market comparisons and see how they relate to the national average. You can check out on-line freebies like NerdWallet, Bankrate.com, CNN Money and SmartAsset.com.
My personal favorite is Bestplaces.net. You input where you live now, where you are considering living, and your annual earnings. In less than 10 seconds you learn how your current location and compensation stacks up against a possible new location. It provides the information in several categories including: salary, median home sale pricing, housing, utilities, transportation, food/groceries, and healthcare. It's not a perfect calculation, but my experience shows the figures are fairly accurate.
The folks at Bankrate.com go even deeper with head-to-head comparisons of things like rent, tire balances, gas prices, doctor and dentist visits, pizzas, detergent, beer, wine, and other specific costs of a long list of consumables.
Step 3: Refine the Number
Years working in the industry, individual contributions, leadership roles, and how many people you have managed throughout your career will also play into your worth. Hiring managers consider education level, career level, applicable skills to the role you are applying for, and the depth and size of your professional network.
You don't want to forget about less obvious elements of your experience. Licenses, training classes, certificates, and special rare experiences within a specific industry are important considerations. For example, did you participate at board meetings or coordinate special events? Did you serve on a board or spend time as a volunteer? Did you have access to mentors, industry insiders or public figures? Have you gained perspectives not available to most, or see information or statistics not commonly shared?
Search the phrase "preparing for salary negotiations" online and you'll see about 5 million results. It wouldn't hurt to review some of the top 10 lists out there.
Some suggestions include knowing the industry's salary trends, factor in perks and benefits, stay positive, practice your delivery, be confident, don't sound overconfident, ask for the top of your range, and start with what you have to offer.
Before you walk away from what feels like a soft offer, have you considered all the elements of the total package?
In addition to base pay, think about things like performance bonuses, health insurance, employer-paid life insurance, short or long-term disability, flexible spending accounts, and/or commuter benefits. What about vacation time, paid holidays, holiday events, flexible work week options, hybrid vs. on-site requirements, and the opportunity to travel.
Additional perks like employee pricing for parts, services, or vehicles can be worth their weight in gold.
And lastly, does this group offer ownership stake in the company?
Step 6: Jan's Top Suggestions
First and foremost, you need to be realistic, flexible, and open minded. Is this a once in a lifetime dream job? My first gig at Kawasaki was just that. I would have taken half of what they offered, but you never want to share that! Just keep in mind that this opportunity may come just once in a lifetime. Consider the long game. High performers find upward mobility. If it checks most or all the other boxes, it might be time to take a little financial haircut.
Be authentic and genuine. That means you show up as the absolute best version of yourself.
If you are heading for a salary negotiation, your foot  may already be in the door. Don't just tell them why you are a good fit, tell them how you would operate and make a difference.
Don't be afraid to ask questions. Most importantly, share some of your impressive and applicable needle movers (which should have been listed on your resume)! Talk about specific examples from your past success stories. Show them how these great results may be transferable and recreated for them in your new role.
Finance Manager, Harley-Davidson
Texas | $80k - $110k+ based on performance
Harley-Davidson dealership is looking for a confident, outgoing, customer-service and sales driven finance manager for its busy year-round operation outside of Dallas. The ideal candidate has prior motorcycle and/or automotive industry F&I/Business Manager experience. The benefits package includes health insurance, relocation assistance, and room for advancement.
Sales Manager, Harley-Davidson
Great Lakes Region | 100,000+
If you have a minimum of 5 years sales associate experience and at least two years in the ASM role, this might be the perfect opportunity for you. Harley-Davidson in the Great Lakes Region has an immediate opening for a Sales Manager who is comfortable working in a high-volume environment. Comp package includes relocation and benefits.
Service Advisors and Writers, Powersports Group
Georgia | $60,000 - $75,000+
Multi-line metric dealership group in Georgia is looking for several experienced service advisors for its busy stores. If you have a minimum of one year experience writing service in the powersports, automotive, or similar industry, love to help people and are a motorcycle or powersports enthusiast, this may be the right gig for you. Benefits package includes relocation assistance and health benefits.
Controller, Harley-Davidson
Eastern Mid-Atlantic Seaboard | $100,000+
Thriving Harley-Davidson dealership is looking for an experienced Controller. This position is responsible for supervising the accounting team and their use of the DMS, preparing financial and statistical reports, and supervising the preparation of budgets. Controller roles are complex and require accounting theory, principles and procedures, and the ability to apply that knowledge to a well-defined standard system custom tailored for the dealership. A four-year college degree with a major in accounting is preferred.
For more information on these or other ACTION Recruiting career opportunities, please contact Jan Plessner at Jan@WomenRidersNow.com.