Like many riders, I found my way into motorcycling by first being a passenger on someone else's bike. Riding on the second seat is a great way to share the experience of motorcycling with a friend or partner. And, if you choose to take an active role, two-up motorcycling as a passenger can be as exhilarating as having the controls in your hands. 
For more than a year I rode as a passenger with my husband, Andy. In that year, he told me everything he did on the bike and why he was doing it. I learned so much as a passenger that I then launched onto my own bike with a tremendous amount of knowledge and confidence.
In 2011 Andy and I combined our passion for land speed racing with our joy of riding together as we became Guinness World Records' fastest couple simultaneously on a motorcycle. We recorded an average speed over two miles of 181.426 mph on the Bonneville Salt Flats. An important part of the two-up motorcycle record was that it wasn't just the woman always riding in the back. For the first required pass Andy was the rider and I was the pillion, and for the second pass we switched it up so I was the rider and he was the pillion.

Here are some tips for passengers and riders who are taking passengers.
The Bike—Is It Ready For A Passenger?
Motorcycles vary considerably in their geometry and design. Some are built for long distance travel with loungy armrests, cup holders, and comfy passenger seats. Others are meant for the track, with not much more consideration for a passenger than a scant place to sit and minimal footpegs.
Before you ride as a passenger, consider how the bike might be adjusted to be better for you. Many contemporary bikes have ways to make it a more comfortable ride for two people. The suspension, for example, may have settings for the extra weight a passenger and added luggage requires that can smooth out the ride for both of you. Does the bike have a backrest or could a top case be added to offer some support?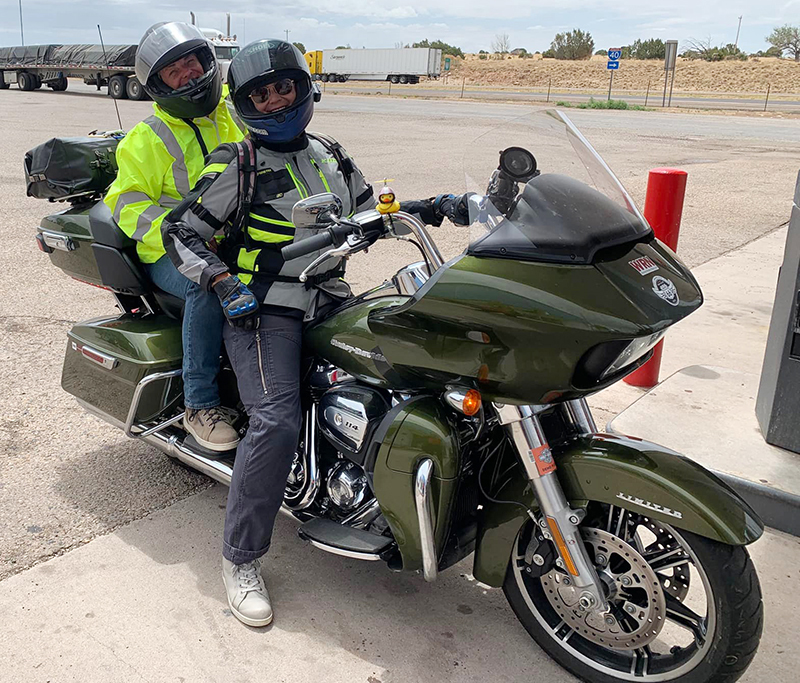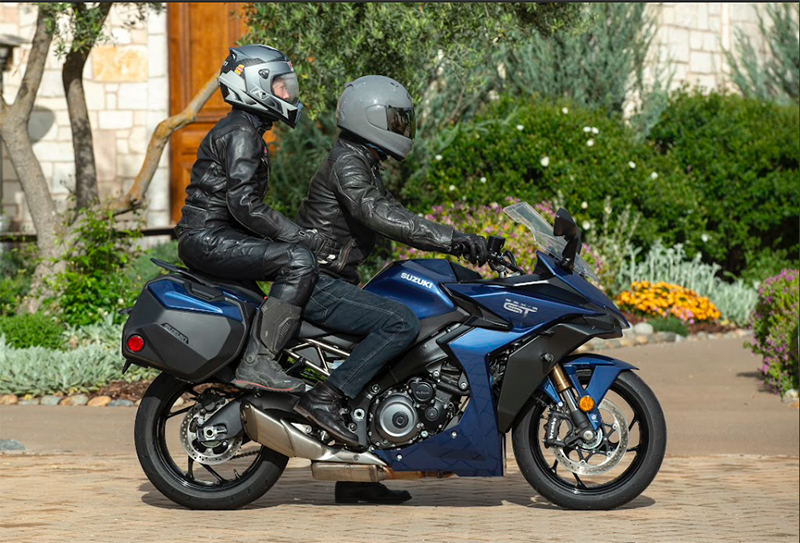 Passengers need to know how to get on and off the motorcycle properly. Bikes are basically big gyroscopes and are incredibly stable when moving but not so much when at a standstill. Preferences vary based on bike and passenger, so talk to your pilot before you approach the bike to ensure the two of you have a plan for mounting and dismounting. 
You can use the passenger peg to mount the bike as long as it is on a sturdy sidestand and the rider is comfortable lifting the bike once you're on. If not, don't use the passenger peg as a step because you're heavily weighting one side of the bike which can easily cause a tip-over. It can be easier for the pilot to maintain balance on the bike if the passenger swings a leg over the passenger seat first. Similarly, you should dismount only once the rider says they are ready for you to, and you should agree on what approach you are taking.
Another method is for the passenger to mount the motorcycle while on its sidestand just like the rider would, on the front seat. Then scoot back to the passenger seat and allow the rider to mount.
Communicating effectively makes it not only more fun; it also makes it much safer for you both. Four eyes are better than two.  You should be as alert as the rider to spot danger ahead. Establish how you're going to communicate before you get on the bike.
Does a helmet communication system make sense for you? Keep in mind that once helmets are on, you may not hear one another effectively without a communication system, so don't rely on just your voices. Some couples choose to use "hand signals" to communicate.  For example, a passenger who's serving as navigator may tap on the right shoulder to indicate a right turn ahead; tap on the left shoulder means turn left.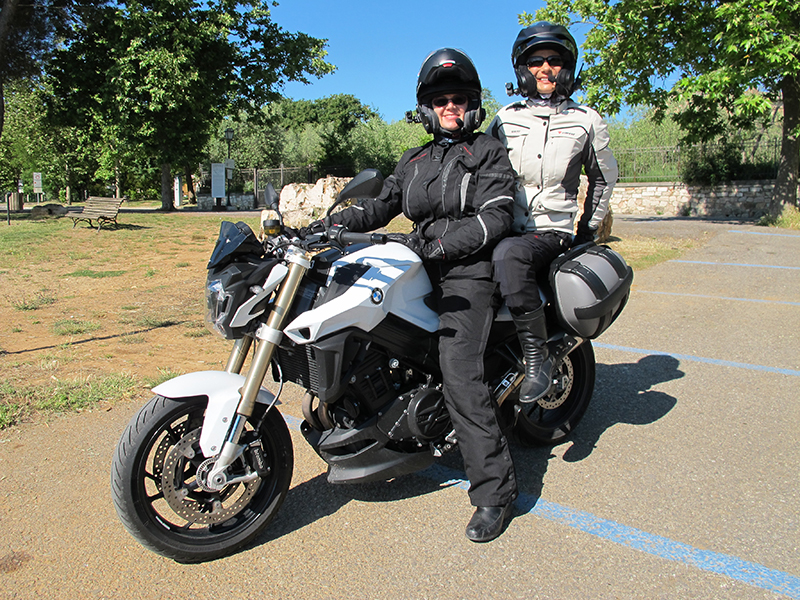 You're NOT The Rider (Driver)
Even though you are communicating with the rider who is controlling the motorcycle, you don't actually know what she or he is going to do. Don't presume she or he is turning in one direction, accelerating, braking, etc. You need to be prepared for whatever happens. There may be an obstacle you don't see, or she may make a decision that is different than what you expect. If you're the pillion, you give up the control and trust the rider with your life—literally—so be ready for anything.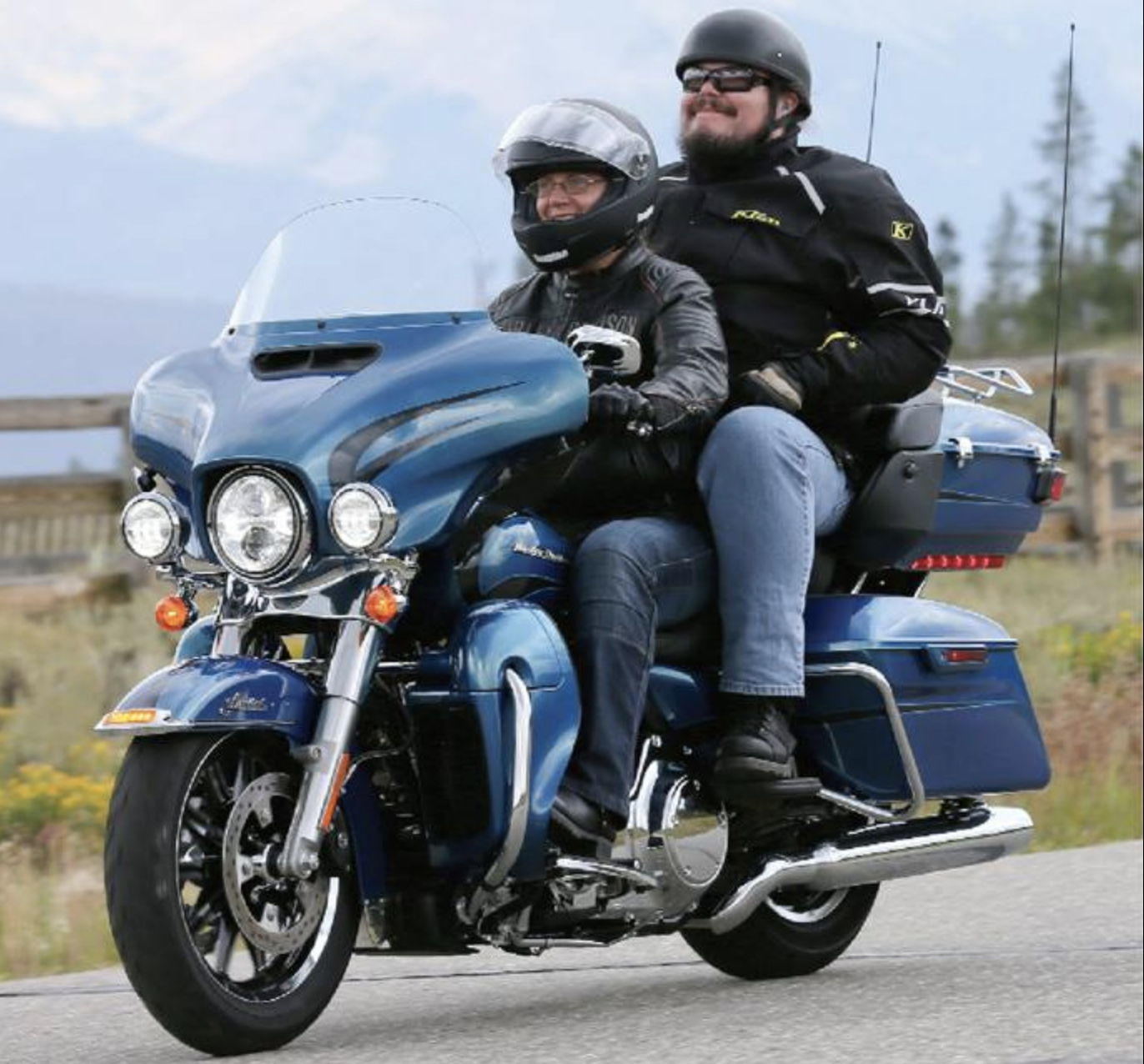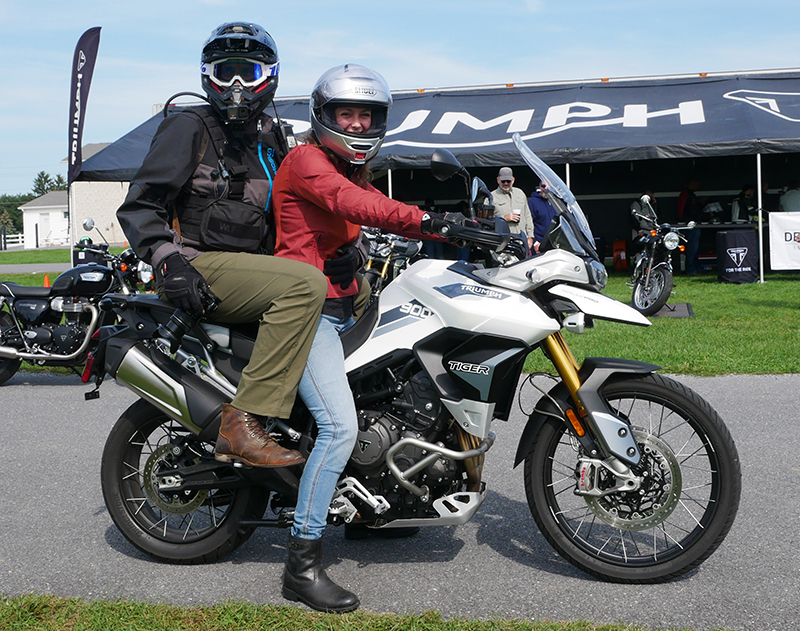 You and your rider will enjoy the whole experience more—and will be safer—if you understand the basic mechanics of how the motorcycle is ridden. Take the time to learn what the hand and foot controls do, how the bike responds under different conditions, such as in the rain, at slow speeds, etc. 
There are many different types of motorcycles and styles of riding. Understanding these aspects can be a fun way to enjoy the experience of going to a dealership, touring, and attending events together.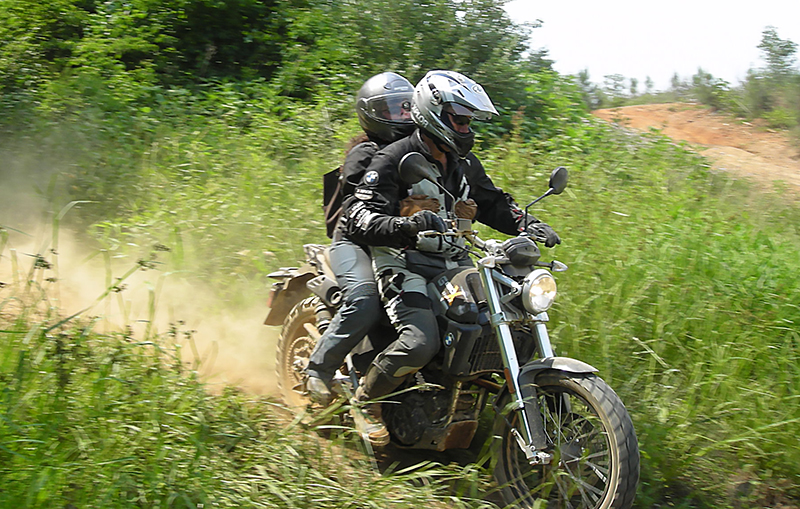 Whether you're along to enjoy the scenery or aspire to race a track two-up, how you move affects the motorcycle and therefore the driver's response. Keep your weight in the middle of the bike and let the rider control the lean in turns. Never make sudden movements that might affect the balance of the bike.
As you get more experienced, you may find it fun to lean with your rider a bit in the corners. If you are slowing, brace yourself to not move forward. When accelerating, brace yourself to avoid a sudden lurch backwards. It's important to find a comfortable and effective place to hold onto the bike and rider so you can control your body's movement under sudden changes in speed.
It can be annoying to a rider when the passenger conks helmets because she hadn't properly braced herself for a slow-down or stop. We recommend having one arm wrapped around the front of the rider and the other hand holding onto a grab bar to brace for acceleration and deceleration.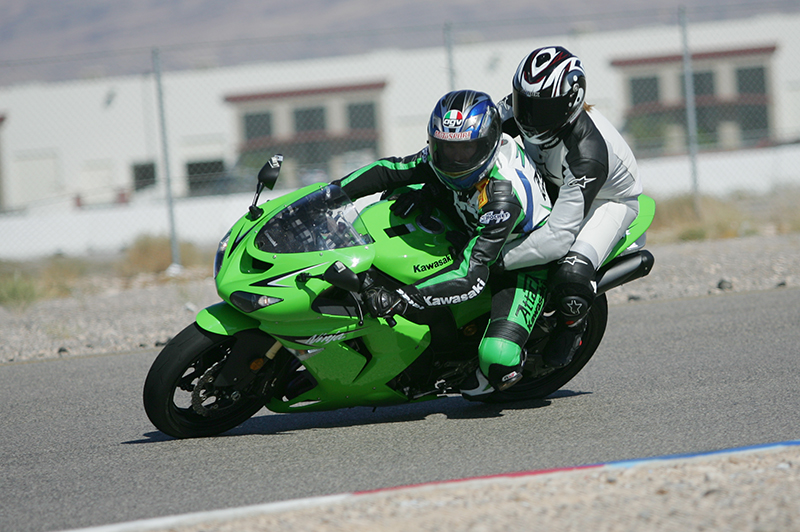 Passengers Are Participants, Too
I prefer to call the passenger a "pillion" or '"second-seat rider" because, when done right, there's nothing passive about it. Whether you want to take the open road to see the scenery, serve as the trip photographer or navigator, or play a more active role in the riding, you should enjoy it and not just tune out. Discuss with your riding partner what you'd like to get out of the ride and what would make it most fulfilling for you, and how to make it happen.
ATGATT Applies To Everyone
Wearing the proper gear is just as important for the pillion as it is for the driver. While this might seem obvious, how many times do you see a passenger with just a helmet and no other protective gear? WRN contributor Brittany Morrow shares her story of learning this the hard way so you don't have to. Don't get on the bike without full protective gear, and if your rider doesn't respect this request, find someone else to ride with.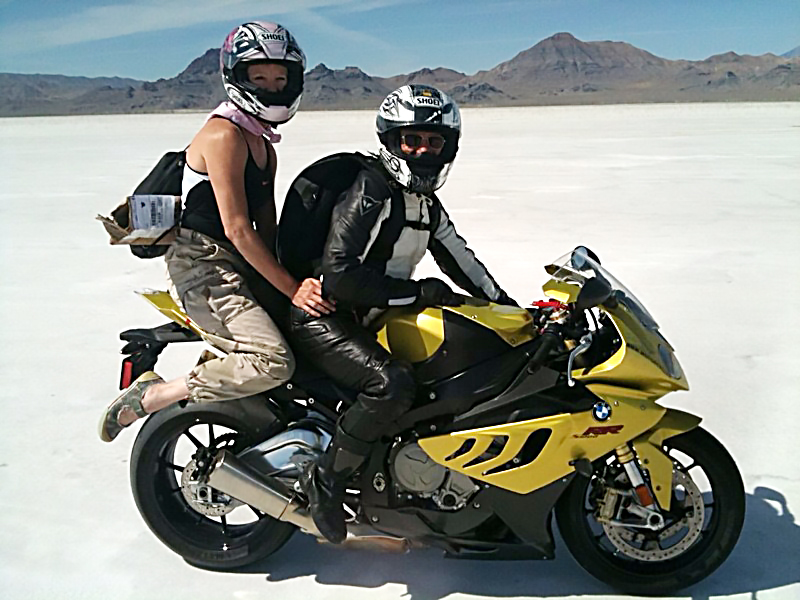 Now A Word For The Rider (Driver)
Riding with a passenger is different and you must approach it knowing that. You are riding for two and have the lives of both in your hands. This is not the time to show off. If you are giving someone the experience of motorcycling for the first time, take it slow and easy. Respect that your passenger may need time to get used to the feeling of leaning and not having anything between her or his body and the ground, and may even be scared.
It's paramount that you respect that there are changes in weight, balance, movement, and communication when two are on the bike vs. when you are solo. With a pillion, you need to plan ahead more to minimize the frequency of sudden movements that can make the bike unstable. 
You are taking on the responsibility of another person's life, so be mindful of what makes it enjoyable or what might make it uncomfortable. The whole experience will be more fun for both of you if you share information about what you're doing and why.