Harley-Davidson Riding Academy Contest
WomenRidersNow.com (WRN) announces the four winners of our challenge to win a free Harley-Davidson Riding Academy New Rider Course. Congratulations to Allison Whitton, Melissa Bain (who was noinated by her loving husband, Charles), Carol Stone King, and Shirly Smedra for their winning entries about why they want to ride a motorcycle.
Thank you to everyone who took the time to send in their stories. Our wish is that everyone with the desire to ride has the opportunity to give it a shot in a safe and encouraging environment such as what you will find at Harley-Davidson Academy dealerships.
Want to ride but don't know where to start? Check out WRN's Beginner's Guide here. It is chock full of articles to help you get started. And be sure to read other women's stories of encouragement and advice while you're there.
Read on to see the entries that were chosen to win a voucher for a free new rider course at participating Harley-Davidson Riding Academy dealerships. Then check out our tips below for new riders who are preparing to take the New Rider Course.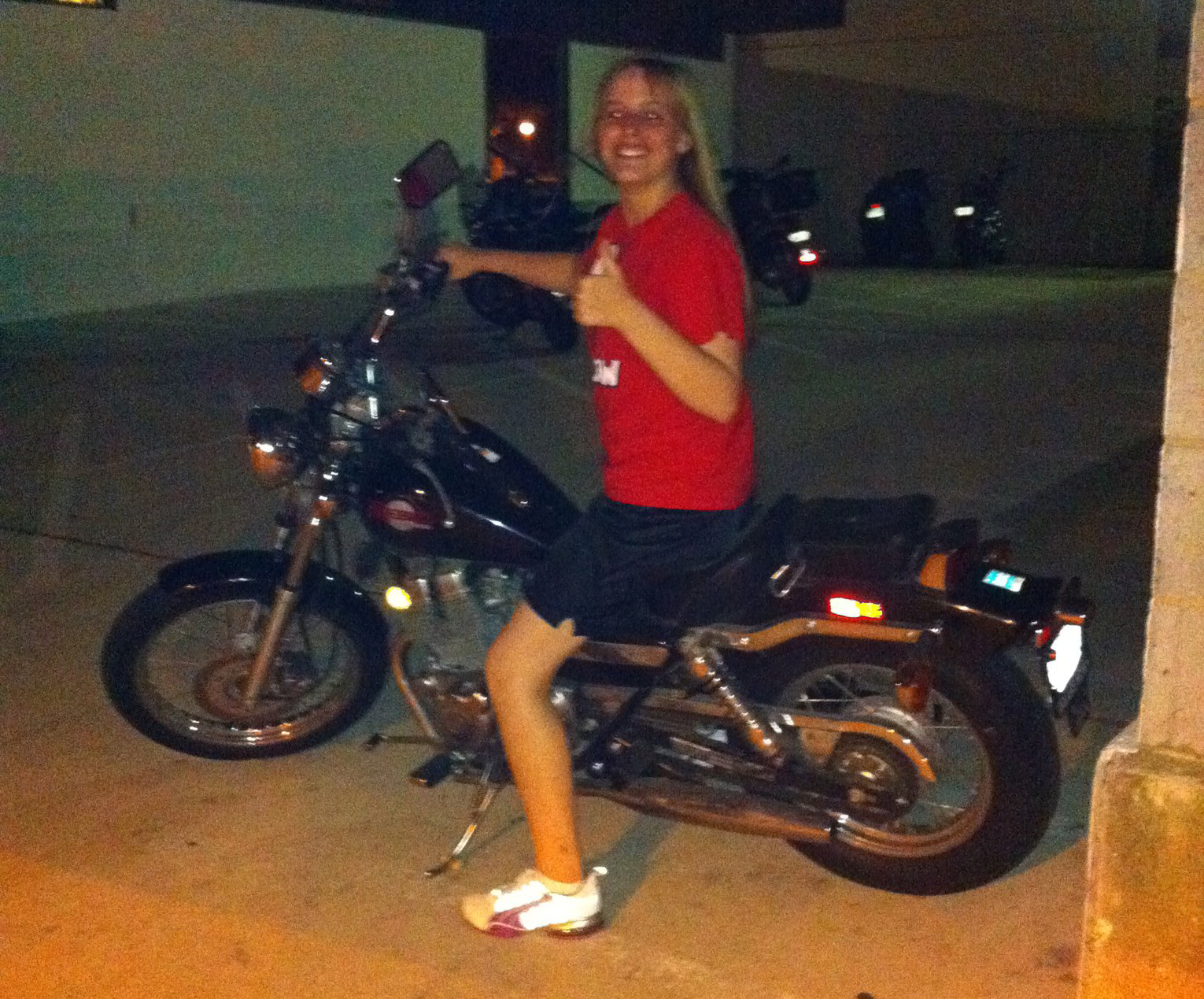 Reaching for the Stars —Allison Whitton
Motorcycles have always held a special place in my heart. As a young child, I would eagerly watch in awe as motorcycles zoomed past our car while mom drove. I was captivated by their powerful engines, the freedom they represented, and the exhilaration of the open road. More importantly, any time I would see a woman riding a motorcycle I would be so inspired. As a young girl this was really special to me. Now, at the age of 30, I am determined to transform that childhood fascination into a reality for myself.
One of the main drivers fueling my desire to ride a motorcycle is the empowering feeling it provides. The thought of taking control and navigating through the twists and turns of life on two wheels fills me with a sense of liberation and self-assurance. In a world that often imposes limitations on women, learning to ride a motorcycle is a statement of defiance and a declaration of independence. It allows me to break free from societal norms and embrace a daring and adventurous spirit. 
Moreover, riding a motorcycle offers a unique opportunity to join a vibrant community of riders, especially women riders. There is a growing movement of women who are defying stereotypes and shattering glass ceilings in the world of motorcycles. By acquiring my license and buying my first motorcycle, I aim to become part of this incredible community by eventually joining a women's riding group. Doing this will not only provide support and camaraderie but also allow me to contribute to the collective empowerment of women in the motorcycle/auto space.  
As I get older, I am realizing more and more that I hold the key to finally making my own dreams a reality. Learning to ride and take care of my own motorcycle will be one of my most important dreams I achieve for myself. Having access to resources for women riders like WomenRidersNow.com is making all the difference for me along the way as I continue to learn more and grow as a rider myself. Thank you for offering this opportunity to new riders!
To Melissa With Love —Charles Bain
Last year my wife, Melissa, expressed an interest in learning how to ride. We had been gifted a non-running 2009 Suzuki C50 in 2021 and she wanted to learn so that we could share experiences. We started by watching all the "learn to ride" videos on YouTube to give her an idea of what was involved. From there we started shopping for a motorcycle to let her get a feel of different styles and find what she liked. We probably sat on 30 different motorcycles that would be a good first bike, and she landed on a Harley-Davidson Iron 883. But once she sat on the Harley-Davidson 883 Super Low, she felt more comfortable with its lower seat height and mini ape handlebars. We purchased and brought "Ruby" home on October 22, 2022.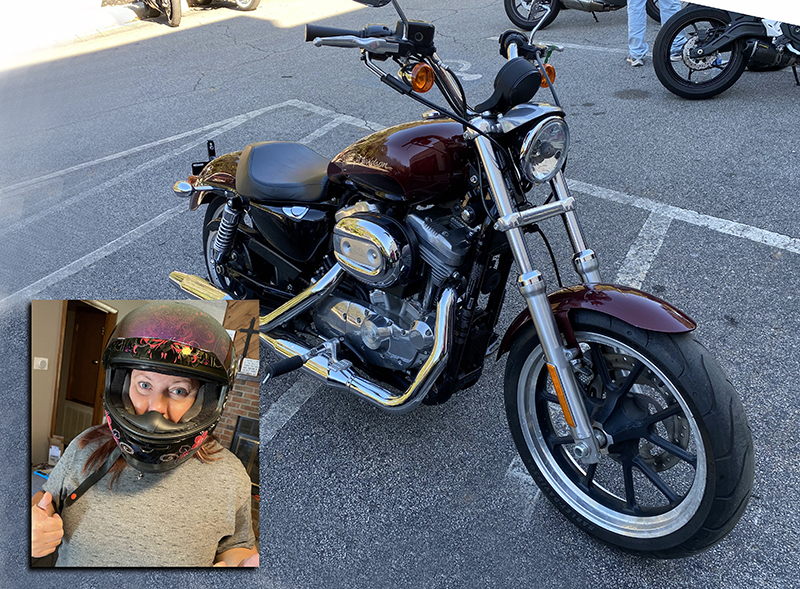 On Mother's Day weekend this year she took her two-day MSF course. When she left that Saturday morning, she was nervous but excited and optimistic. She had her helmet, riding gloves, tactical riding jacket with level 2 armor and riding shoes—all Harley-Davidson. During her lunch break she called, and, while still sounding optimistic, expressed how it was much harder than she anticipated and that she felt the class was going too fast for her.
I reassured her that she could do it and I was proud of her. When she got home that evening she was crying, feeling like a failure. She struggled through all her exercises and felt so dejected. We took time to celebrate the "wins." She never dropped the bike and she actually did ride, shifting from first gear to second gear. I was proud of her and I let her know it! She was unsure about going the next day but committed herself to continue.
The next morning her class started at 8am. By 8:30 am I received a text that she was done. Feeling unable to maintain pace with the class, and knowing that the day would become progressively more difficult, she called it quits. We talked on the phone, she cried, and I assured her that everything was okay. She made it further than the person that quit two hours into the first day, I told her, and that I was proud of her, and she did a great job. Melissa spent two hours at the gym that day to work all her feelings out. 
Melissa wasn't sure if she'd ever want to get on a bike again. She even talked about selling her Harley. I didn't press; this was her decision to make. But I told her I would support her either way. We've had some healthy discussions and last week she asked me to put the crash bars on her Harley so she could start practicing.
My wife wants to learn how to ride. Our hope is that the Harley-Davidson Riding Academy will give her the opportunity to become a motorcycle rider.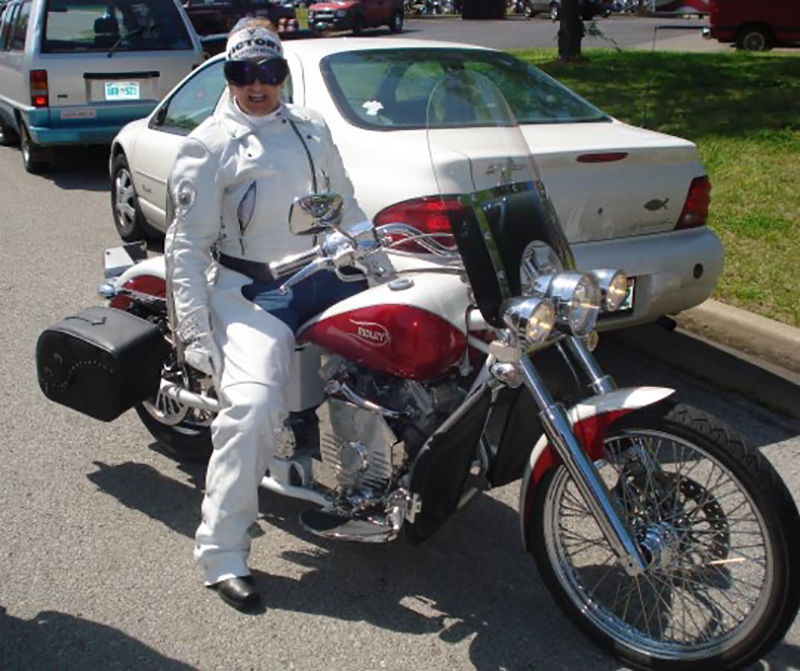 It's NOT Too Late! —Carol Stone King
First it was a concussion (not motorcycle-related.) Then I broke my left leg slipping on an icy curb. And since then, the old man has had two back surgeries, a hip replacement, then developed two forms of cancer and had two more surgeries. I have two motorcycles (a 2007 Ridley TT and a 1999 Yamaha V Star 1100) suffering severe neglect in the garage. They look so sad having been parked for four or five years. 
I know better than to just hop on and ride. My skills are beyond rusty. I want to feel the wind in my hair again and ride the twisties in Northwest Arkansas and ride in the ABATE of Tulsa's Toy Run, one of the biggest in Oklahoma.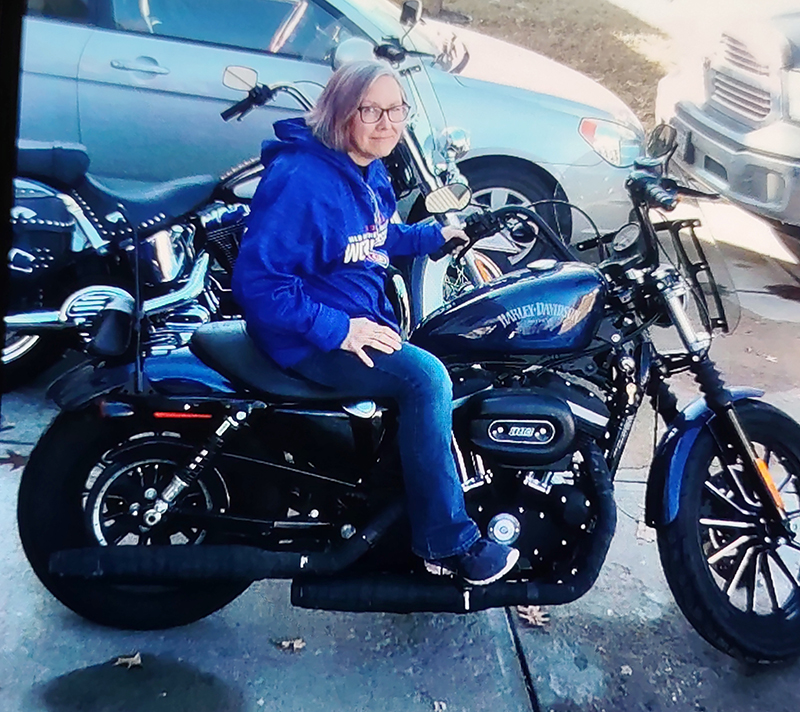 No More Scratches! —Shirley Smedra
Taking the Harley-Davidson Riding Academy New Rider Course would mean the world to me to learn how to ride properly and put my knees in the breeze on my own motorcycle.
I think I did things in the wrong order; I got excited and bought myself a beautiful blue Harley-Davidson Sportster Iron, and without really knowing how to ride it, tried it out and dumped it. Luckily, I was unhurt except for my pride (just a few bumps and scratches.) I need some expert teaching on how to get over my fears and get on to riding. Sitting on it in the garage is about all I can muster, as I can't seem to get over my fears to try to ride it. It would be awesome to have a gift of a free voucher for a Harley-Davidson Academy class.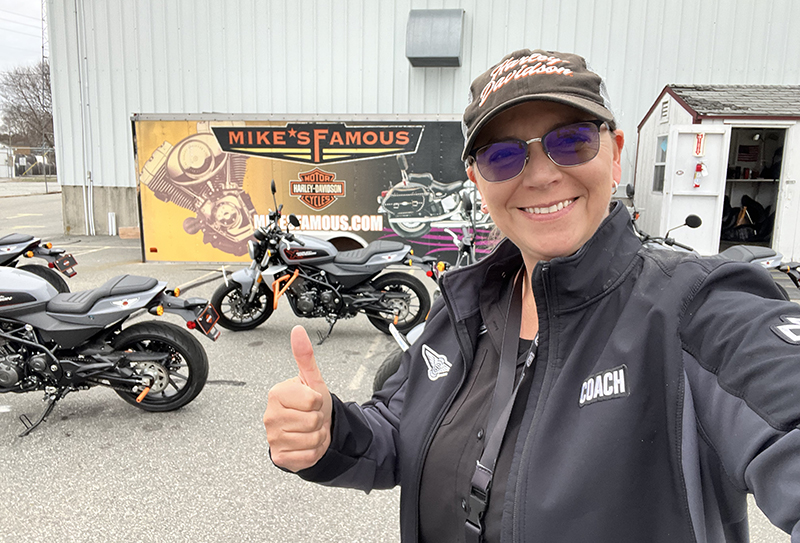 5 Tips for Harley-Davidson Academy Students
• Drink lots of water the DAY BEFORE class starts. Many people show up and struggle physically due to a lack of good hydration. The time to start hydrating is 24 hours prior to class. And bring plenty to drink for your riding days, too. Here's a helpful article about riding in hot weather which includes hydration tips.
• Visit the dealership before the scheduled class and request to try the Harley-Davidson Jumpstart trainer. This is a motorcycle secured on a special stand that allows the rear wheel to roll. This allows you to practice using the friction zone and shifting without the worry of balancing, stalling, and going out of control. It is an amazing learning tool and only offered through the Harley-Davidson Riding Academy.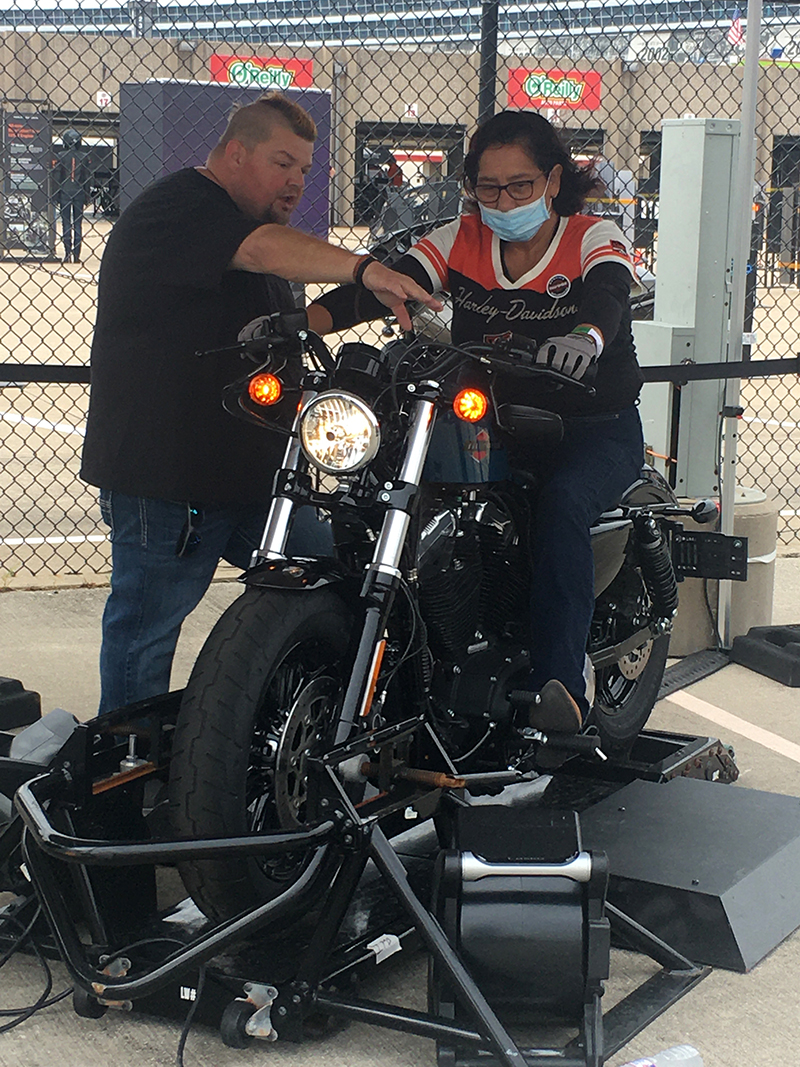 • Dress in layers that you can take off as the day gets hotter. Wear a long sleeved shirt as your base layer, as all skin must be covered when you're riding. If there is rain in the forecast, consider investing in a good motorcycle rain suit and bring a change of clothes for afterwards. Check out our review of Harley-Davidson's women's rain suit here.
• Even if you have a helmet with a face shield, bring sunglasses or safety glasses. If it's hot, you can wear the glasses and keep the shield up for more ventilation.
• Try not to stress and get a good night's sleep! You will be well taken care of at the Academy and you're not the only one feeling a little anxious!
WRN wishes you the best of luck and welcome you to the riding family.
Go to Harley-Davidson.com to find a Riding Academy near you.