Just Ride 5 — Alternative to Basic Black
Searching for an alternative to the sea of black skull and crossbones T-shirt designs you get lost in at every motorcycle rally? You aren't the only one. Just Ride 5 founder Jenn Guerriero began the company five years ago because she herself wanted more choices. The company offers designs that are not only cool-looking, but functional as essential motorcycle gear. Read on for a special WRN reader discount code.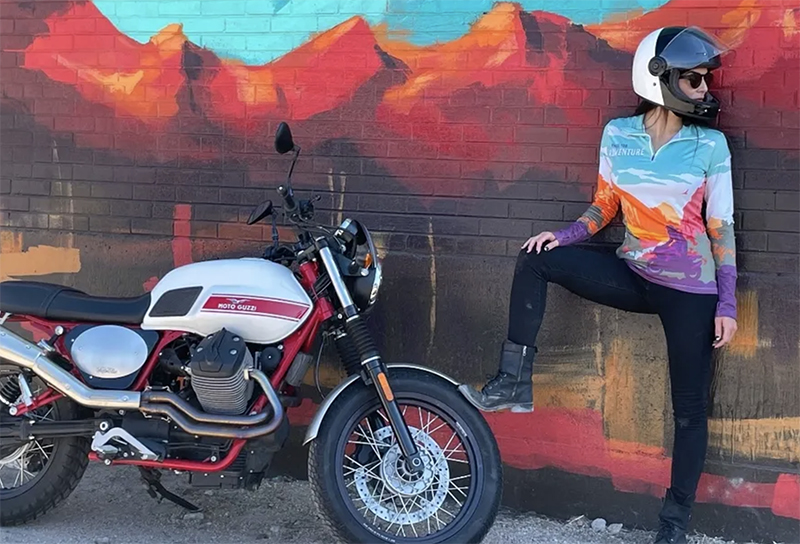 Why Base Layers Are Important
Probably the most overlooked piece of gear, wearing the right first layer could make or break your ride. A good base layer, like the Just Ride 5 shirts, will keep you warm when it's cold out and cool when it's hot out. Being comfortable while riding allows you to focus on the ride instead of your discomfort.
Just Ride 5 shirts are made from materials that are soft and comfortable to the touch. The base layers and mid layer jerseys are moisture-wicking, quick-drying, and easy to clean. Their smooth qualities make it much easier to get a tight-fitting jacket on and off quickly, too. And—a bonus—these shirts are super easy to pack because they can be scrunched down really small.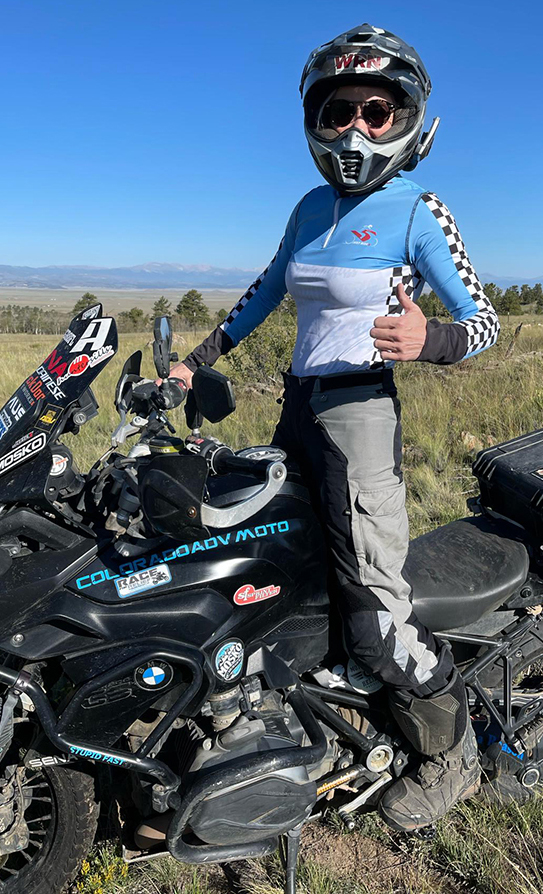 The Just Ride 5 shirts use what's called a dye-sublimation process. It is different from traditional screen printing and vinyl applications in that the high heat process infuses ink directly into the fabric, so the dye changes the color of the fabric itself. It is more costly than other methods, but the JR5 garment will not fade or wear. This process also allows for the design to be all over the garment…front, back, sleeves, collar…allowing designers to "go crazy" with their ideas.
Just Ride 5 Mid Layer Jersey
Spending long, sweaty days coaching motorcycle riders like Erin and I do is definitely not for everyone. The job is tremendously rewarding but physically challenging due to the amount of time standing, walking, and bending in crazy hot temperatures for up to 10 hours a day. I am constantly searching for the "right" gear to wear that is protective and comfortable in these conditions. Just Ride 5's mid layer jersey is a colorful, comfortable, breathable shirt with UV protection and long sleeves.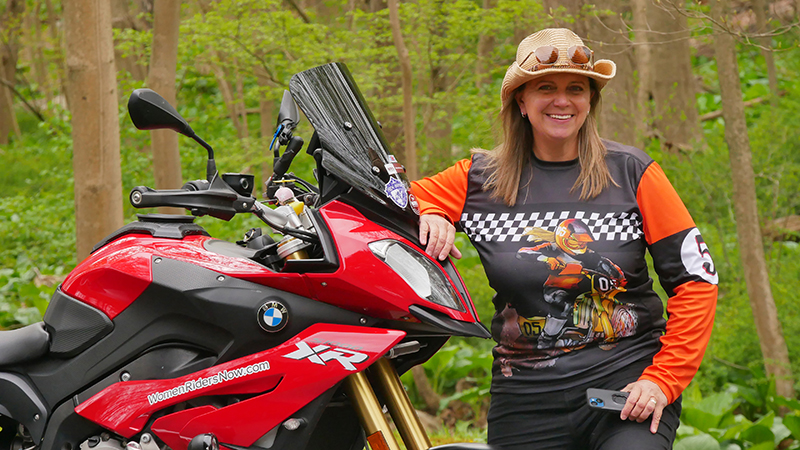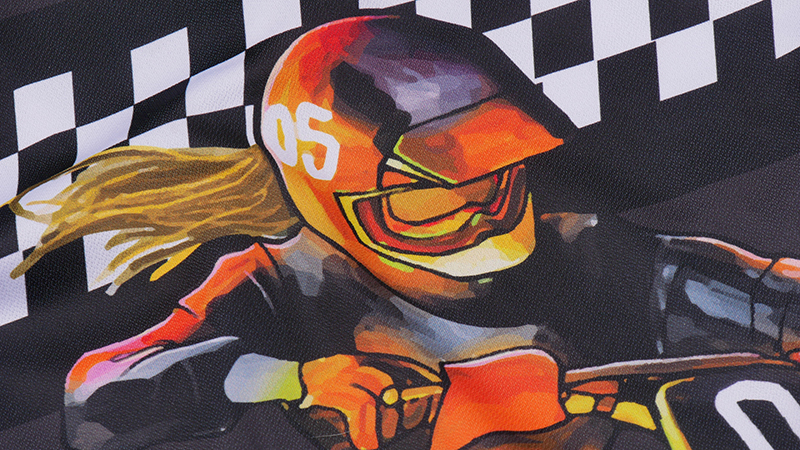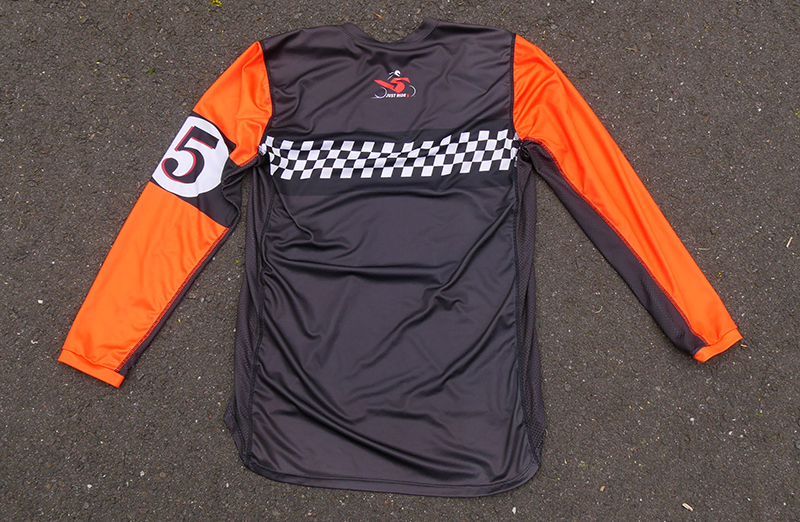 Just Ride 5's mid layer shirts are $65 and come in sizes XS–XXL. The fit is true to size, and (thankfully) the mid layer jersey style is a little less form-fitting than JR5's base layer shirts. There is a size chart and measurement guide on Just Ride 5's web site in the photo gallery of the shirt you are interested in.
They are made of a lightweight polyester fabric with mesh panels to keep you cool. The shirts are machine-washable and anti-microbial.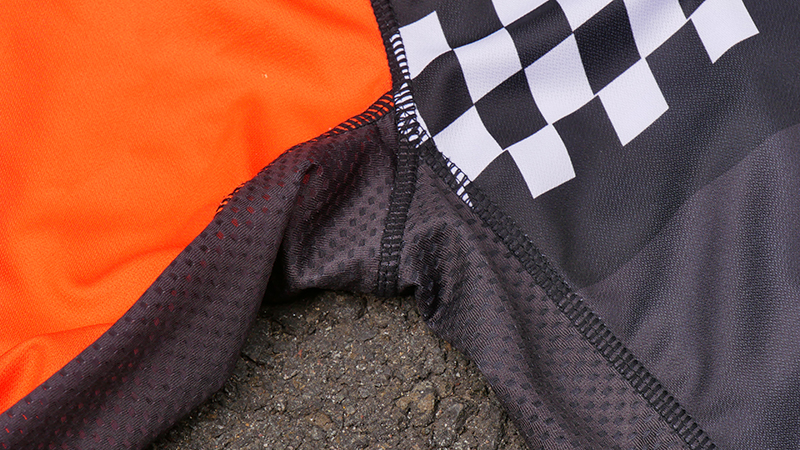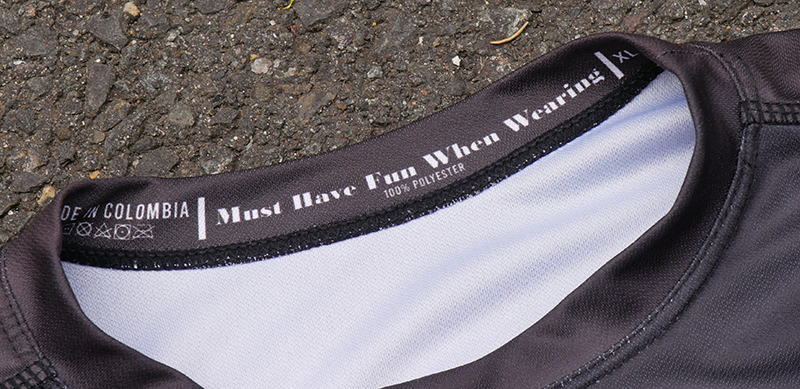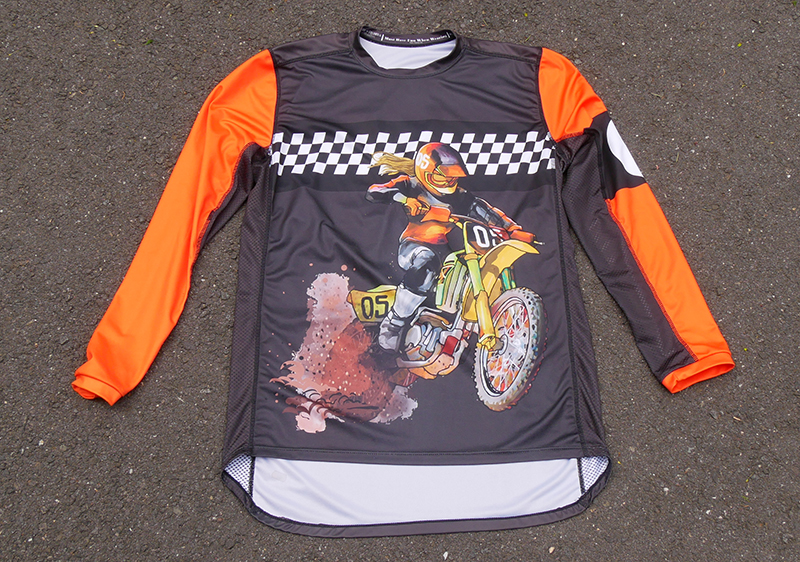 Just Ride 5 Base Layer Shirt
Just Ride 5 Deja Blue base layer shirt appeals not only to Erin, but it is now an essential part of Jenny Bass' riding gear bag, too. "As a vintage motorcycle racer, I am a sucker for the checkered pattern on the Deju Blue's sleeves," she says. In addition, she goes on to mention how the gorgeous color makes the shirt easy to find amongst the sea of black in her gear bag.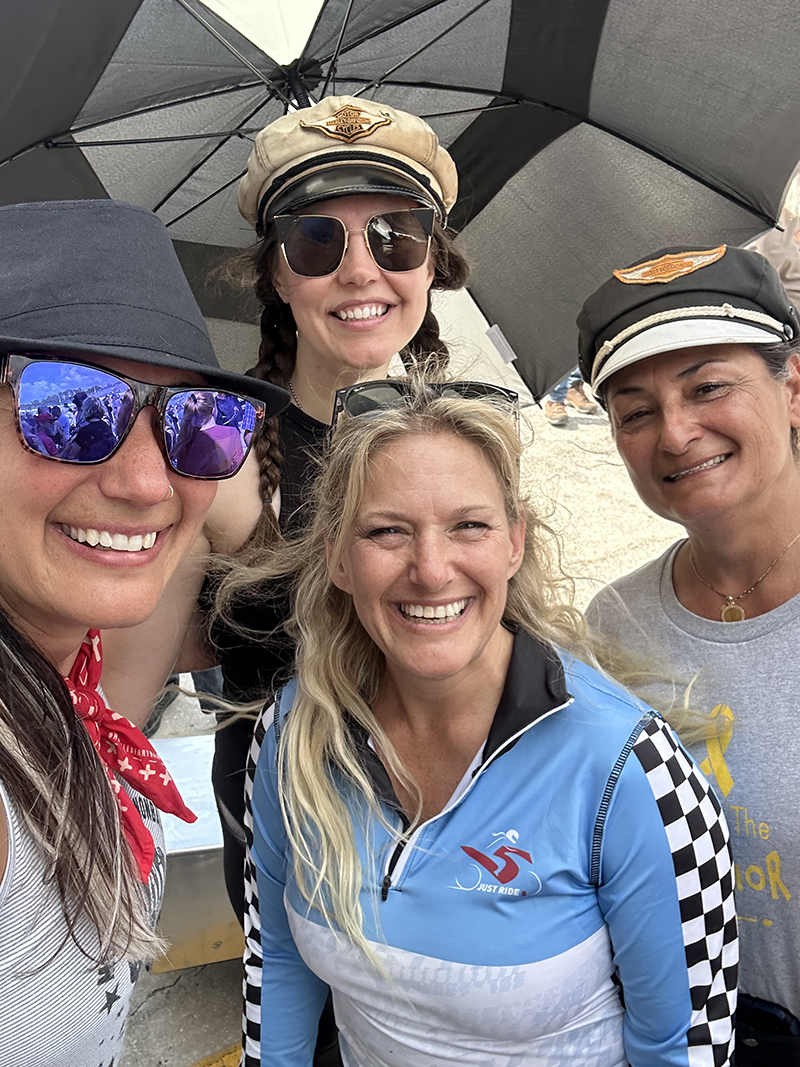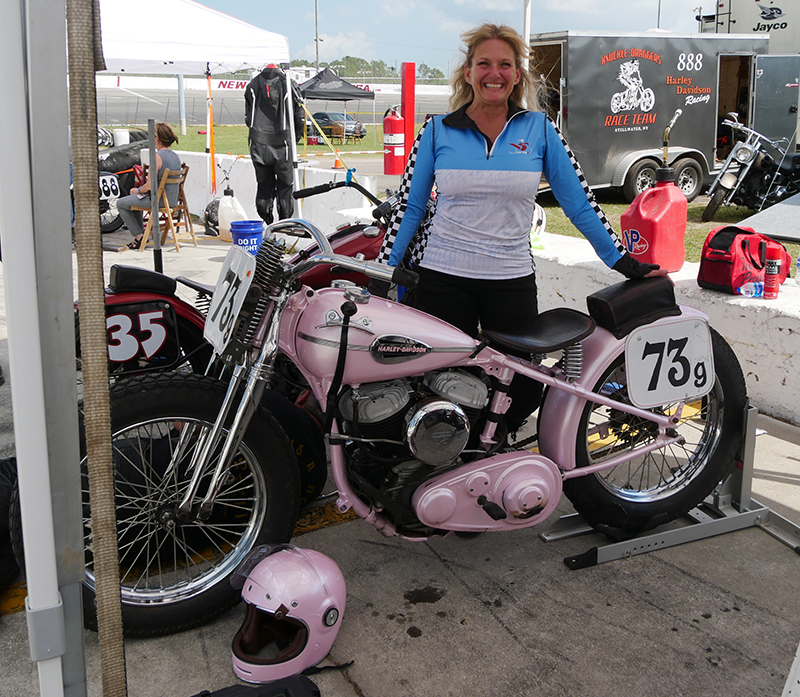 "The Just Ride 5 base layer's fabric feels incredible against my skin and drapes beautifully," Jenny says. "It's breathable and doesn't add bulk under my jacket. I even wear this base layer while putting in extra time on my yoga mat to keep limber for the rest of racing season!" she exclaims.
The base layer shirt doesn't pinch or pull, allowing Jenny to comfortably focus on her bike and the race. She states, "I can actually feel my torso glide inside my jacket as I shift my bodyweight from side to side."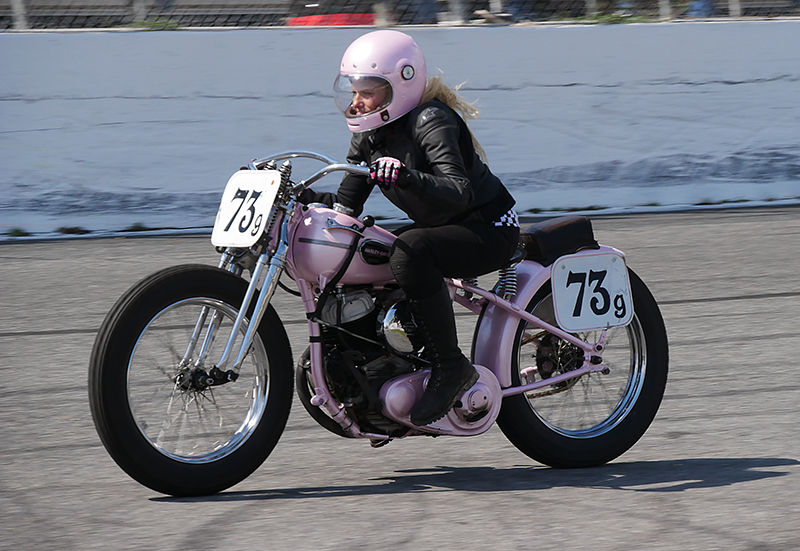 The sleeves on the Just Ride 5 base layer are nice and long and include "thumb holes" that hold the sleeves in place while getting a jacket on and off. Jenny likes keeping her thumbs in them all day long.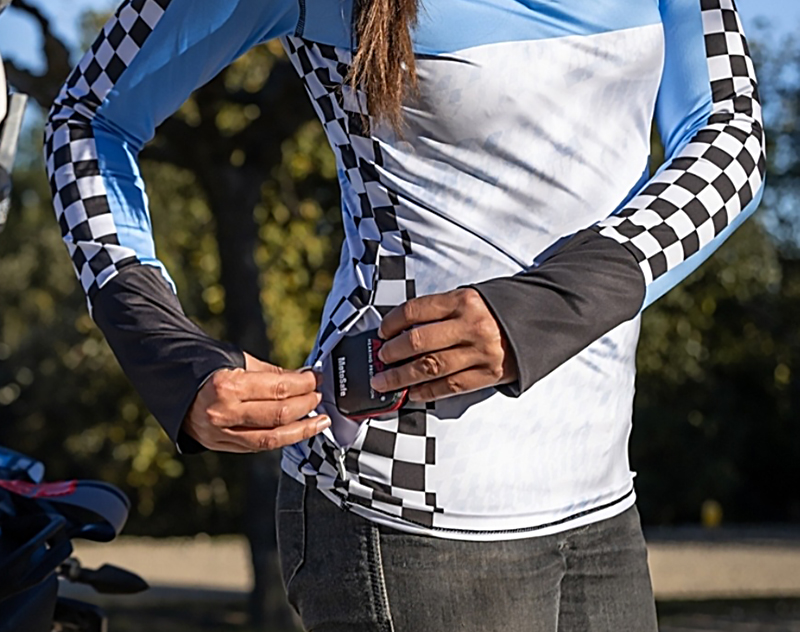 "There is a lot of grease and grime involved with vintage motorcycle racing," Jenny says. "I never see any sign of it on my sleeves though, because the thoughtful designers at Just Ride 5 made them black from the wrists down."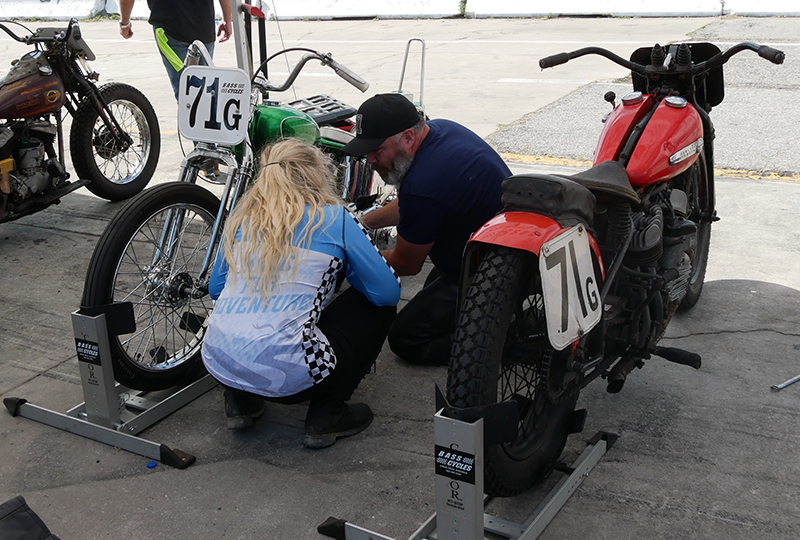 The Just Ride 5 base layer shirts cost $85 and include a collar that can either be worn down or zipped up to protect the neck.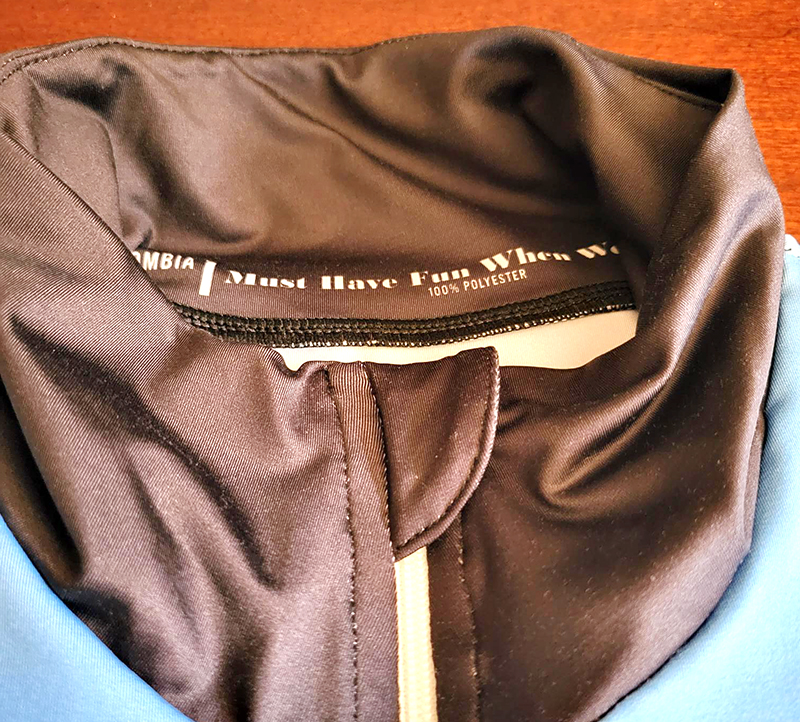 Just Ride 5 currently offers almost a dozen styles that show women racing different types of motorcycles, adventure outdoor scenes, and other colorful graphic representations of women and motorcycling. And they are adding more all the time.
Support Women-Owned Businesses and Save
Don't see a Just Ride 5 shirt that speaks to you? Or do you belong to a group you'd like to have shirts made for? Are you interested in a men's shirt or other sizes? Reach out to Jenn to find out about custom orders. She is always thinking about and exploring more design ­­­options, so reach out and let her know what you think. 
Check out all the current styles and order at JustRide5.com. Use code WRN555 (and hit "apply") to get $10 off any order over $50.