If youd like to submit a motorcycle product review, either with video or photos, please read these guidelines on how to do it.

Note from Editor: Hot Leathers has been a longtime supporter of Women Riders Now and recently wanted to get the word out to the readers that the companys leather jackets are not all made in another country. In fact, the Connecticut-based motorcycle apparel company has a line of Made in the USA motorcycle riding leathers that are high quality and beat the competitions prices.
Women Riders Now was invited to review one of the companys ladies leather jackets. We asked longtime reader Fran Mayko, a writer herself, to wear the jacket and ride in it and tell us what she thinks. Below is her review.
Ive never owned a leather motorcycle jacket before, so my preconceived notions about its weight, feel, and fit were quickly altered when I tried on the Ladies Leather Jacket With Braided Detail from Hot Leathers thats made in the USA.
I had always thought a leather motorcycle jacket would be heavy, bulky, and cut specifically for the male build. And the leather jackets made for women Id seen looked too pretty to be functional. And since I prefer practical over pretty in motorcycle clothing, I'm delighted this jacket offers several functional features: a removable quilted liner, several pockets, side and cuff zippers, pre-curved sleeves, a collar snap, and heavy-duty zippers.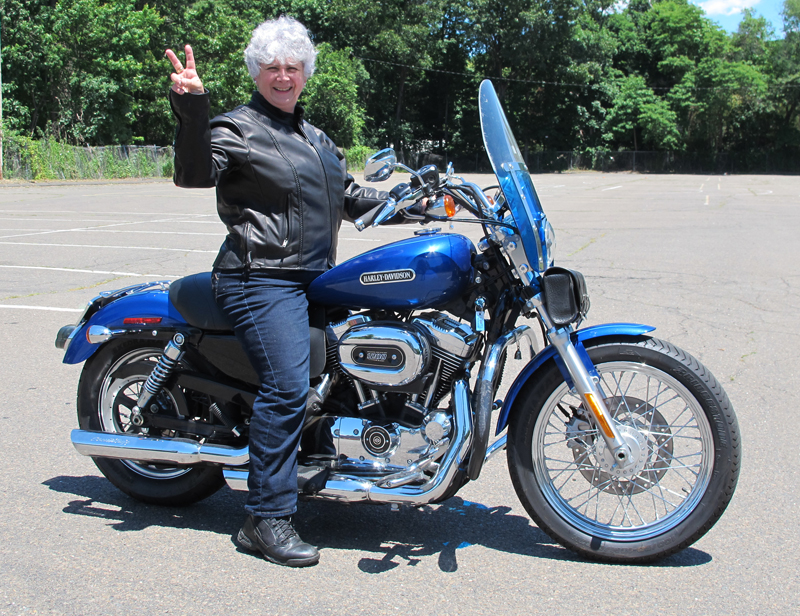 Because of my stocky frame, I usually have trouble finding clothes that fit properly. But if you follow the manufacturers sizing suggestions youll most likely get a good fit. Measure your chest, waist, and sleeve length and select your size based on your largest dimensions. If you plan to wear extra layers, the sizing chart recommends a size larger.
My usual jacket size is a Large, so I chose an XL, which fit comfortably. This size offered me enough room across the chest and the option to wear an extra thin layer under the quilted vest.
Made of heavyweight cowhide leather, this Hot Leathers ladies jacket feels soft and supple. I thought the sleeves were too long at first, as the cuffs extend past my fingertips. But I was happily surprised at how well the extra length worked when I sat on my Sportster and reached my arms forward to its reduced reach handgrips.
| | |
| --- | --- |
| Fran likes how the braided detail down the front and back of the Hot Leathers ladies leather jacket offers a bit of personality to its otherwise basic leather look. | She also likes that the jacket adequately covers her backside when seated on the bike. Note how the braided detail down the back of the jacket provides a slenderizing effect. |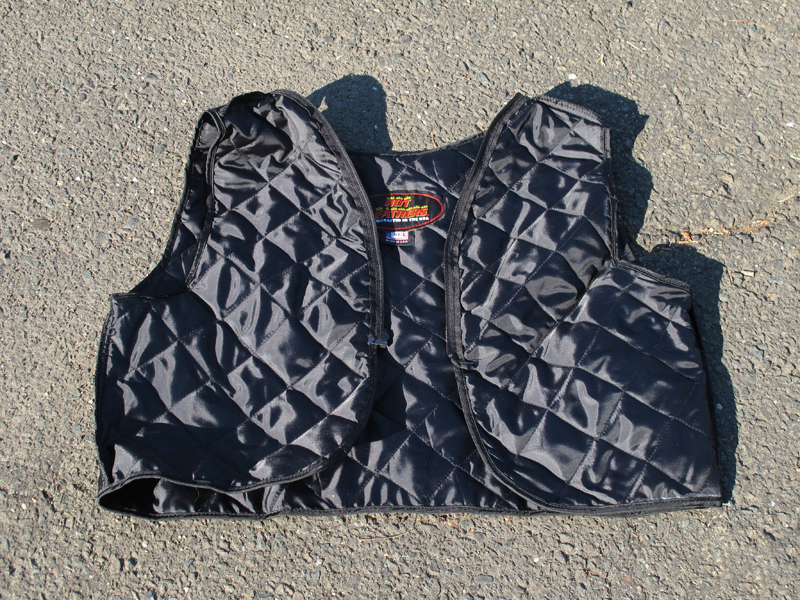 | | |
| --- | --- |
| A deep satin-lined interior pocket with a snap closure on the left panel is large enough to hold a cell phone or small wallet. It's accessible with or without the liner zipped in. | The jacket also has two external zippered satin-lined hand warmer pockets that are not as deep as the interior pocket. Zippers are good to have on exterior pockets on a riding jacket so items stay safely inside when zipped. |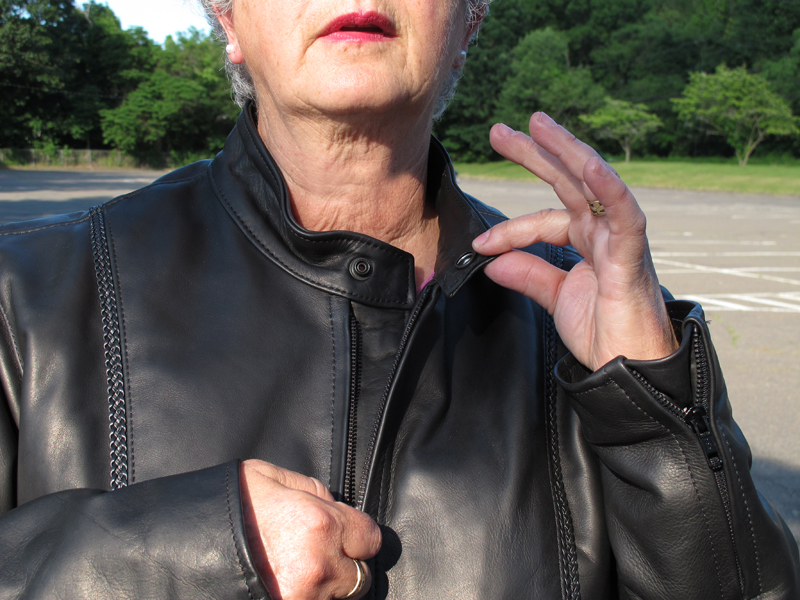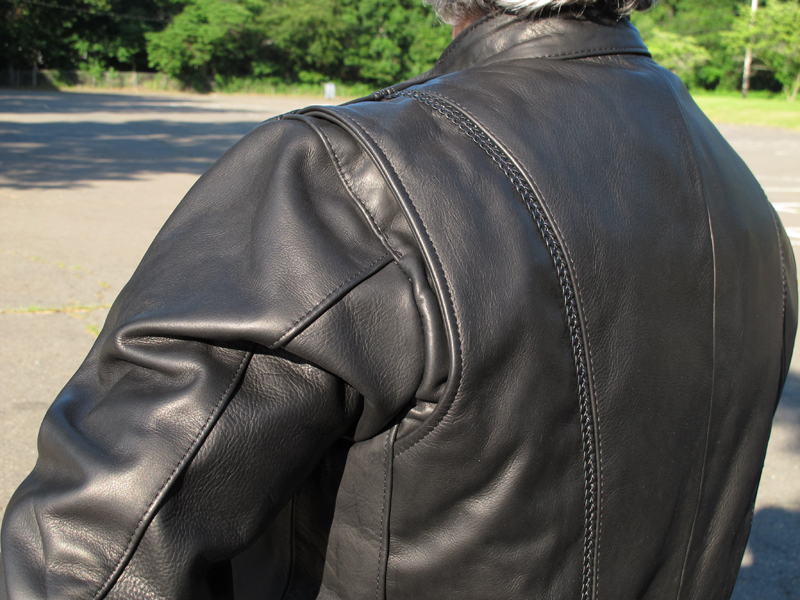 | | |
| --- | --- |
| The zippered cuffs easily cover the gauntlets of your riding gloves to keep cold air out. Wearing unvented leather like this on hot, humid days can be very uncomfortable. Leaving the jackets sleeves unzipped allows some air to flow up the arms while riding. | Snaps and zippers on both sides allow for some airflow and adjustability in the fit. Leaving them opened and unsnapped when you're seated on the bike prevents the front of the jacket from bunching up. |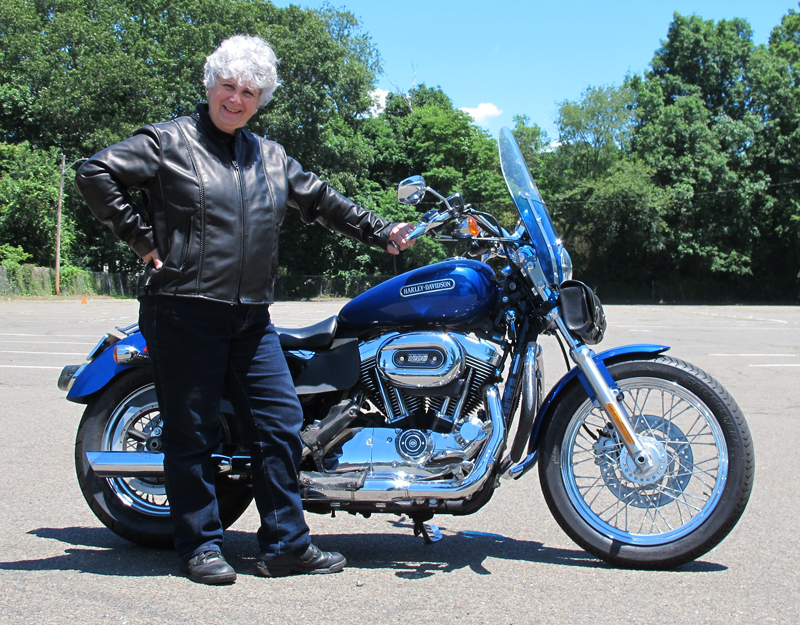 The Hot Leathers Ladies Leather Jacket with Braided Detail (JKL5002) retails for an affordable $299.95 and is available in sizes S – 2XL. The company offers a generous five-year warranty against defects on its Made in the USA leather goods.
Click this link to order the jacket online and use the code "WRN" to receive free shipping.
If youd like to submit a motorcycle product review, either with video or photos, please read these guidelines on how to do it.
Related Articles
Function and Fashion in New Leather Motorcycle Jacket
Review: Hot Leathers Comfortable, Functional Leather Gloves
New Motorcycling Gear Collection Debuts
All Leather Jackets and Vests Reviews