Do you have a story to share? Please send it to us, but follow these submission guidelines.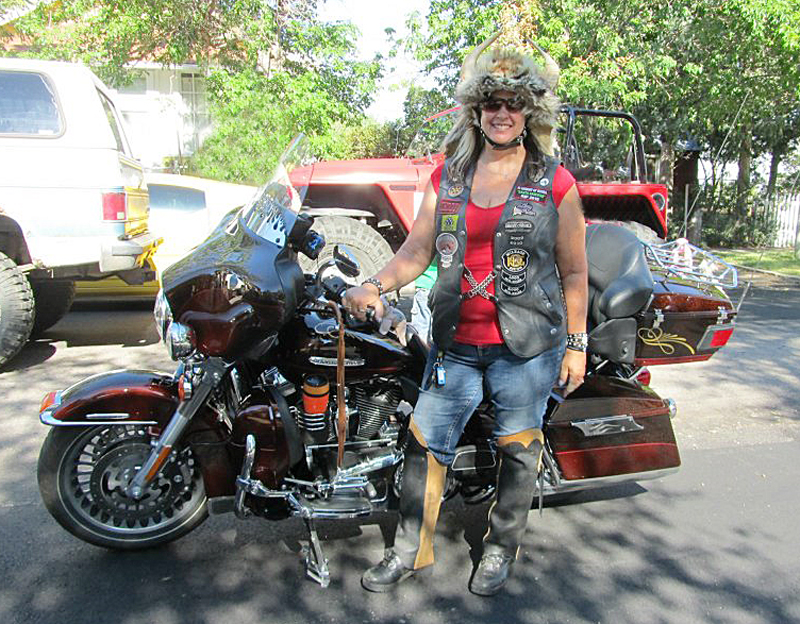 May 8, 2002 was a bittersweet day for me. My husband divorced me for a much younger woman. I was devastated but also felt a twinge of relief. We hadn't been happy with each other for a long time and it finally hit me that I could now do the things I wanted to but couldnt when I was with him. I met my second husband 30 days later. He took me everywhere on his 1991 Harley-Davidson Ultra Classic.
One of the things I really wanted to do was attend the Sturgis Motorcycle Rally in August. He was thrilled to take my four girlfriends and I to the rally where I fell in love with the lifestyle. After the rally he talked me into taking the motorcycle safety course and I aced the class. There were five other women in the class and none of them passed. I then bought my first bike, a 1985 Honda 750. It was rough, but it worked. I was terrified to ride fast at first and I rarely rode the bike.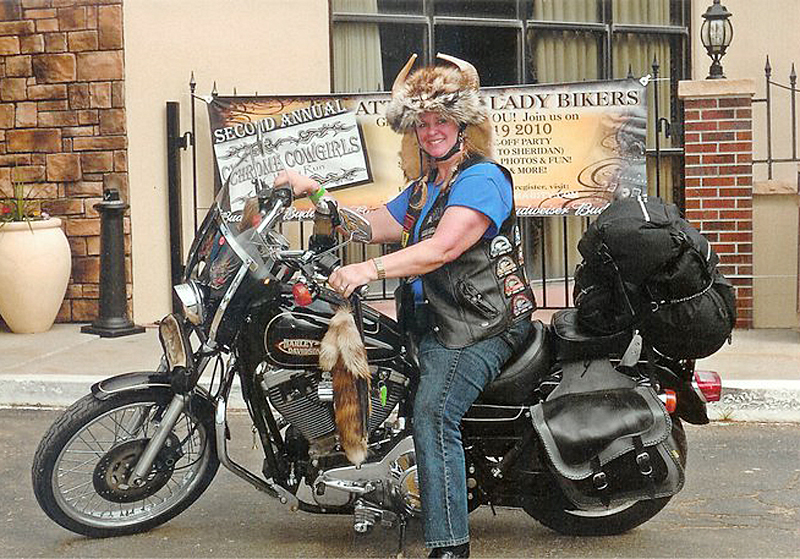 Then a good friend of mine sold me her 1993 Harley-Davidson Dyna Low Rider. I was so excited to have a Harley! My husband, Rick, rode with me every time I got on my bike and always gave me tips on how to handle different situations. He had ridden for most of his life and had a lot good advice. The only time I would ride was when he rode with me, but I still wasn't confident.
After a minor accident involving a curve and a barbed wire fence, I was petrified so I didn't ride a lot. I did go on some Sweeties on Wheelies rides, however, and I was thrilled to be with a bunch of women that had the same fears as me. We all supported each other and it was nice to know that I wasn't competing with experienced riders anymore. A good thing about a women's riding club is that most women want to learn as much as they can without someone criticizing them. We all shared stories and became friends.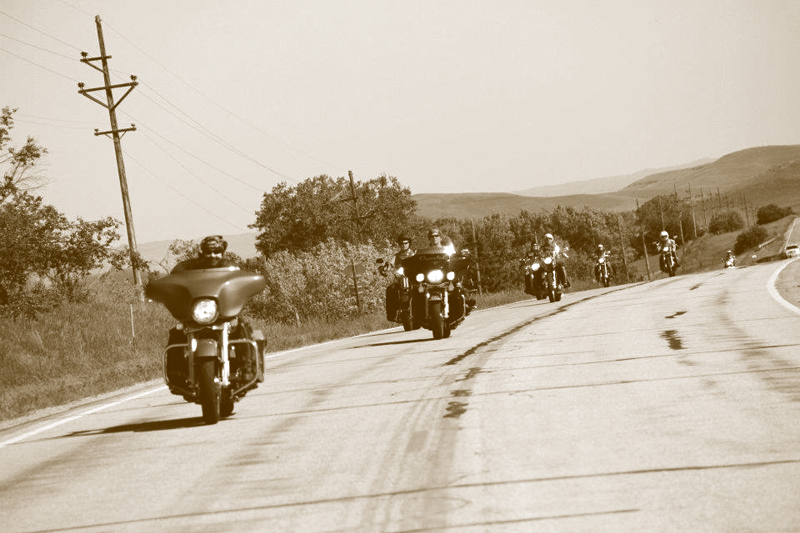 In 2010 Rick died in an auto accident. I was again devastated. My best friend, a wonderful man with the biggest "Santa" heart was now gone. I realized then I had a lot more friends than I realized. Soon everyone was calling me to go for rides, so I did. But the Low Rider was not riding very well. The front fork seemed out of alignment and I had a hard time with it.
Finally, I traded the Dyna in for the brand new 2011 Harley-Davidson Ultra Classic Limited in Candy Root Beer I had been drooling over. On the day of delivery, I rode to the end of the dealership's driveway and dropped it! Talk about embarrassed! But two very nice guys stopped and helped me pick it up. This was the first of many times that I dropped it, but I was determined to ride it.
Two weeks later, a couple friends talked me into riding to Glacier National Park in Montana for nine days! This would be my real test. Wow, what a beautiful ride! We had everything from dry pavement to heat, rain, and snow. I dropped the Ultra several times during the trip, usually while stopped, coming to a stop, or parking, but I was OK with it.
The first year I dropped the Ultra 11 times (yes, I was counting), and fortunately there was always someone around. But I needed to learn to lift it myself. One day I laid the bike down on purpose in my driveway and used the correct technique to pick up your bike with your legs and I did it! Talk about confidence. Now I could go anywhere! I rode to the Sturgis Rally and rode the hills by myself, and yes, I continued to drop the bike but not as often.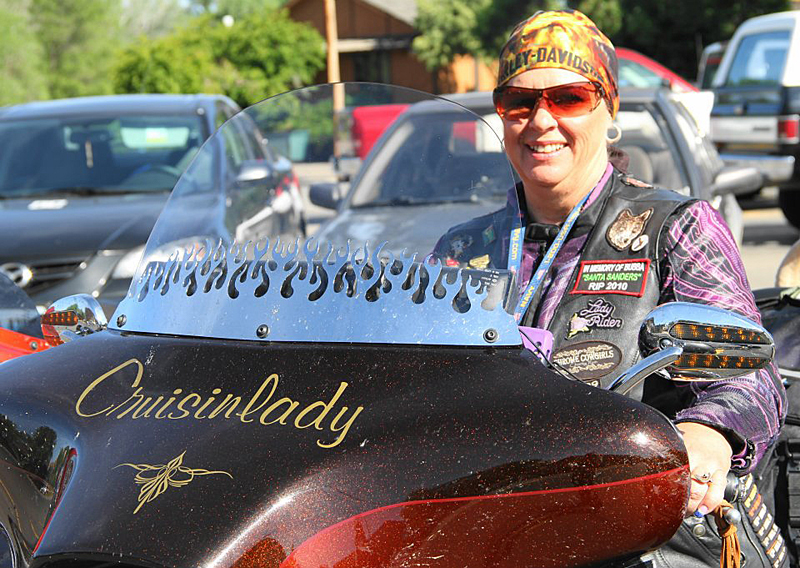 Now I ride all the time and usually by myself. Last year I put more than 15,000 miles on the Ultra, which I just love. She has become my best friend and every year I learn new things. A lot of new riders now come to me for advice and I'm honored to be able to help. I finally found what I've always wanted … freedom in the wind!
Some great tips Id like to share:
Always look for where you are going to park. Never park it on a downhill grade knowing that you will have to back it out. My bike weighs close to 1,000 pounds loaded.
Never stop where the road has a dip; your legs will never reach.
If you have to ride on gravel, ride at a comfortable speed. Don't use the brake.
Make sure your sidestand is down before leaning the bike at a stop. I know this sounds dumb but this is why a lot of guys drop their bikes.
When coming to a stop use your rear brake as much as you can. It evens out the weight of the bike while you are stopping.
If you hit a critter, try to keep going straight and slow down. I hit a huge raccoon going 75 mph. He actually went between the tires and I kept it upright.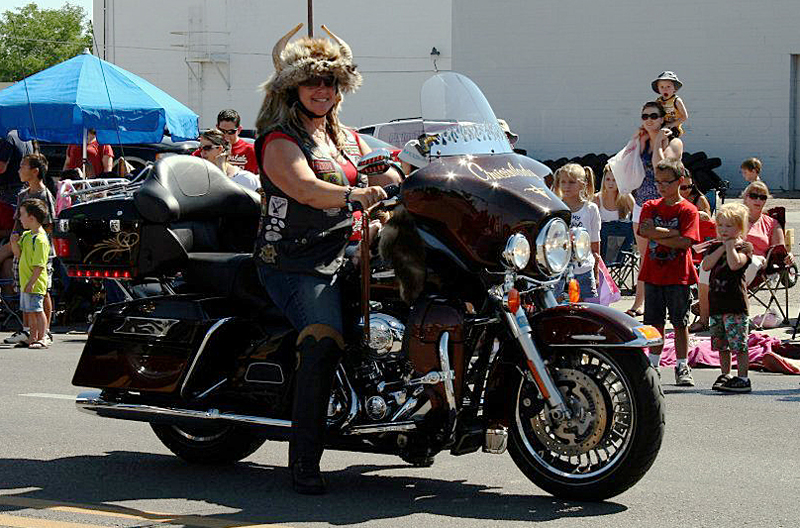 Do you have a story to share? Please send it to us, but follow these submission guidelines.
Related Articles
Trading Up to a Dresser: Should You or Shouldnt You?
Quick Look: Harley-Davidson Dyna Low Rider
4 Bucket List Motorcycle Rides in the West
Beginners Guide: Motorcycle Training Classes for New Riders
Womens Motorcycle Clubs
Sturgis Motorcycle Rally Virgins
Im Afraid to Ride Faster Than 25 mph