Update October 13, 2016: Hurricane Matthew has not affected the scheduled Biketoberfest Rally. The event is still happening so please visit this link for more details on planning your trip to Daytona.
The 24th Annual Biketoberfest, Daytona Beach's fall motorcycle rally, officially begins at 9:00 a.m. on Thursday, October 13. "We're excited to kick off Biketoberfest right on the Harley-Davidson Thunder Alley stage located in the new Midway," said Shawn Abbatessa, Daytona Beach Area Convention and Visitors Bureau (CVB) marketing director.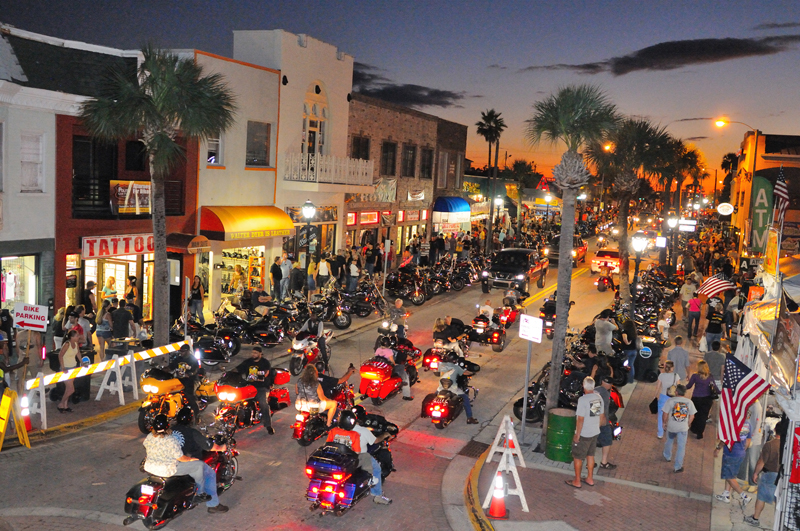 With the Speedway's $400-million Daytona Rising project as the backdrop, the Thunder Alley stage is right next to the FPL Solar Pavilion in the Midway, a fan-friendly location directly behind the motorsports stadium.
This will be a major hub of Biketoberfest activity for the 150,000 fans that frequent the four-day event. And the rally tradition continues along Daytona's world famous Main Street, Riverfront Park and Midtown in Daytona Beach, as well as at Destination Daytona and US1 in Ormond Beach, and throughout Volusia County in nearby New Smyrna Beach and DeLand.
Reaching out to Women
The organizers of Biketoberfest, the same group behind Daytona Beachs spring rally, Bike Week, continue to know the
value of women riders by reaching out to them through WomenRidersNow.com
and other avenues knowing women hold the pursestrings on where she and her family will spend their vacation dollars.
This year, city and rally organizers gave the greenlight to producers from the Discoverys Velocity channel show, South Beach Classics, to shoot in and around the rally with a focus on women riders. "The producer of the show, a rider himself, told me he wants to dispel the myth that the rally is mostly men on their Harleys," says WomenRidersNow.com editor Genevieve Schmitt. "So he has plans to film a segment specifically on women riders to show that women are a fast growing and influential part of the motorcycling community."
A video shoot is planned for Friday, October 14, 2016 meeting at Destination Daytona in Ormond Beach. There will be interviews with women riders and a planned ride with cameras from the South Beach Classics show following the ride. Women riders interested in being part of the shoot should arrive at the dealership between 9:00 and 9:30 a.m. that morning.
"We are fortunate to have the support of so many who have been working extremely hard to promote this event year after year," said Abbatessa.
Lori Campbell Baker, CVB executive director, adds, "We're happy to welcome new partners to help us ensure the sustainability of the event, and we love welcoming new motorcycle enthusiasts who enjoy the fall rally and festival scene while vacationing in Daytona Beach."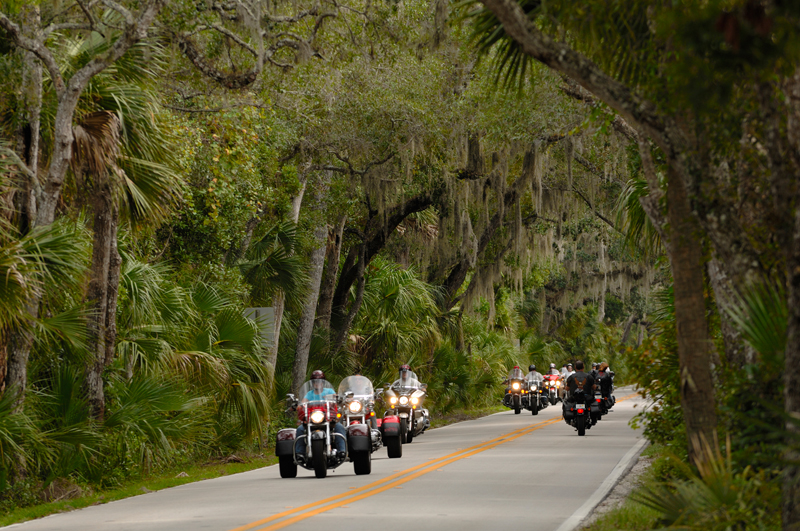 Anticipated events include:
•Official Biketoberfest Poster Free Giveaway (while supplies last) at The Welcome Center on Beach Street
•Contest Giveaway including His and Hers Leather Vest by Hot Leathers
•Discovery's Velocity Channel South Beach Classics television show filming throughout rally including the aforementioned segment on women
•33rd Annual Race of Champions Championship Cup Series Motorcycle Race, and American Sportbike Racing Association Motorcycle Race at Daytona International Speedway
•RATT, Jack Russell's Great White and Firehouse concert headliners at Destination Daytona, October 13
•Sons of Speed Vintage Motorcycle Race at New Smyrna Speedway, October 14-15
Biketoberfest official sponsors are: GEICO Motorcycle, Hill amp; Ponton Disability Law Firm, Russ Brown Motorcycle Attorneys and RAM Truck. The official radio sponsor is Southern Stone Communications with stations WHOG-FM The Hog 95.7, WKRO-FM 93.1 Coast Country, WLOV-FM 99.5 Love FM, KVYB-FM 103.3 The Vibe, and WNDB-AM 1150 News Talk.
For more information and the latest hotel availability list, please visit
Biketoberfest.org
.Save the date for next year when the milestone 25th Annual Biketoberfest motorcycle rally takes place October 19–22, 2017.
Related Articles
Daytona Bike Weeks Big Marketing Push to Attract Women
Make Plans to Attend Biketoberfest 2015