Just like the three bears beds for Goldilocks, our stock motorcycles are just not right sometimes. Often its a matter of adjusting the handlebars, the footpegs or the shocks. Fortunately, Harley-Davidson is aware that not all riders are built the same, so over the last few years, engineers in the Pamp;A department (that stands for "parts and accessories") have been designing various parts to accommodate shorter and taller-than-average riders. Check out the newest parts from Harley-Davidson below. We also included something every rider should have—a set of auxiliary riding lights. Motolight, one of the leaders in this arena, has made a big improvement to its lights. Read about those changes at the end of this article.
Super Reduced Reach Handlebar for Harley-Davidson Dyna and Softail Models
Here's a great customization option for riders who stand less than 5-foot-5, a category that includes a lot of women motorcyclists. When a panel of riders measuring between 5 foot and 5-foot-5 evaluated Harley-Davidson's new Super Reduced Reach Handlebar for Dyna and Softail models, it proved to be the most ergonomically pleasing handlebar when combined with the recommended riser. Shaped to provide an ideal balance of pull-back and width, the handlebar produces an overall pull-back of 11 inches and a tip-to-tip width of 30 inches when combined with the company's Curved Riser Kit, sold separately. The rider's hands fall naturally in place, and the narrow width reduces arm stretch during low-speed turns and parking lot maneuvers.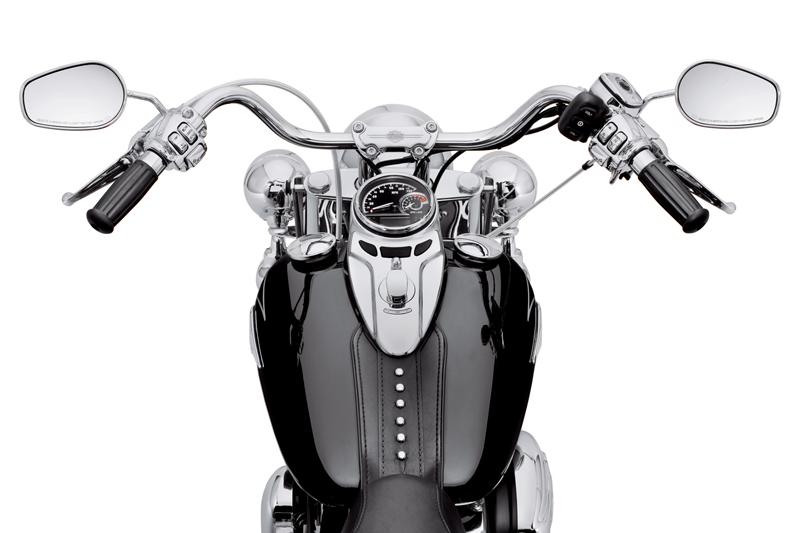 The Super Reduced Reach Handlebar retails for $69.95, while the Curved Riser Kit is priced at $139.95. Additional installation components must be purchased separately. For more information, visit Harley-Davidson.com.
Reduced Reach Forward Control Kit for Harley-Davidson Sportster Models
Another new option for riders of smaller stature—this one for Sportster owners—is Harley-Davidson's Reduced Reach Forward Control Conversion Kit. The kit repositions original equipment forward-mounted footpegs and foot controls up and back by 2 inches for added rider comfort and confidence. The reduced reach places the riders boot at the proper pivot point for improved leverage while maintaining the "foot-forward" riding profile. By moving the footpegs outward 1.5 inches to the left and 0.5 inches to the right, the kit also provides additional leg clearance around the chassis and air cleaner.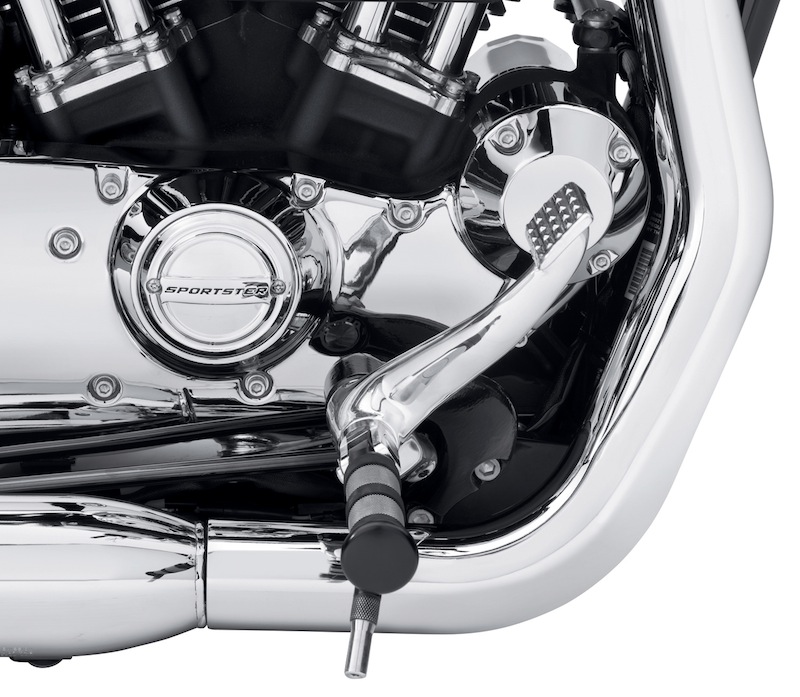 The Reduced Reach Forward Control Conversion Kit for Sportster models retails for $169.95 and can be personalized with custom lever styles. The easy-to-install kit includes heavy-duty steel mounts and a shortened brake rod, and it reuses original equipment control supports and brake and shift levers. For more information, visit Harley-Davidson.com.
Comfort Flex Shocks for Harley-Davidson Sportster and Softail Models
Heres an alternative to the popular mantra of lowering seat height. How about raising the slammed seat height on some of those very low Softails and Sportsters to get more ground clearance and a smoother ride? Harley-Davidson's new Comfort Flex Rear Shocks are designed for riders willing to exchange the low-profile "slammed" look for improved ride comfort. The standard-length shocks raise the seat height of a factory-lowered bike approximately 1 inch, delivering an improved ride through a longer stroke.
These Comfort Flex Shocks are available for Harley-Davidson Sportster and Softail models. Spring rates and damping on the shocks are tailored to ensure a controlled ride and optimal performance under varying conditions.
The Sportster-specific Comfort Flex Rear Shocks retail for $219.95 and include left and right rear shock absorbers. The shocks for Softail models cost $299.95 and include left and right rear shock absorbers and a pre-load adjustment wrench. For more information, visit Harley-Davidson.com.
Single-Sided Swingarm Bag for Harley-Davidson Dyna Models
This new swingarm bag from Harley-Davidson gives riders with newer Dyna models a convenient way to carry their everyday essentials with old-school charm. With a capacity of 265 cubic inches, the Single-Sided Swingarm Bag helps eliminate stuffed pockets and bungeed duffels. The bag is constructed of heavyweight leather and features a pouch-style flap lid secured with two quick-disconnect clips, which are hidden behind traditional straps and buckles. The semi-rigid-backed bag attaches to the bike's left side with easy-to-install brackets and adjustable straps.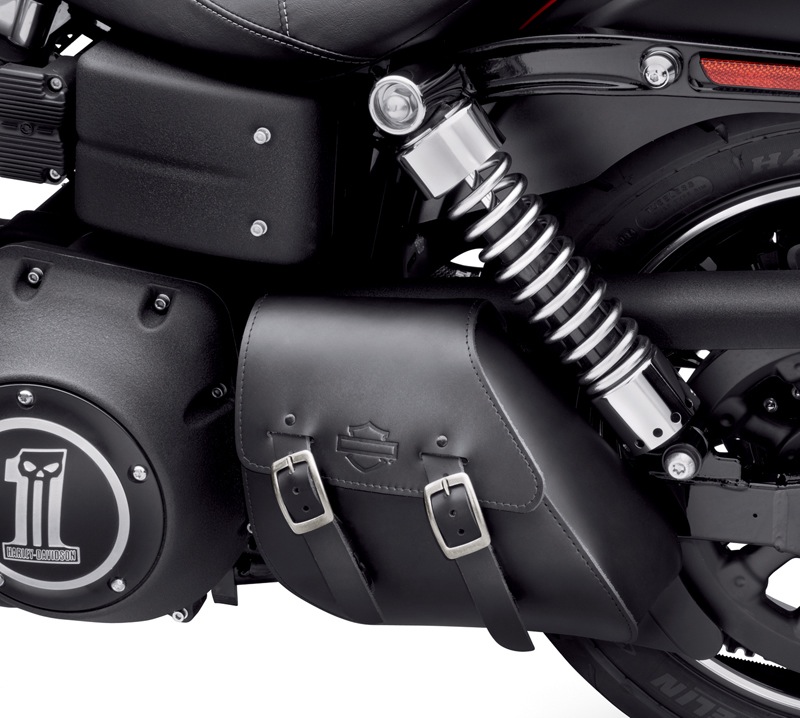 The Single-Sided Swingarm Bag is available in rich black leather or distressed brown leather finish and retails for $229.95. Note that installation requires the removal of passenger pegs. For more information, visit Harley-Davidson.com.
Motorcycle LED Lights from Motolight
We've told you before about the taillight/brake lights and powerful auxiliary lighting available from woman-owned motorcycle-light manufacturer Motolight. Now Motolight is offering two different models of motorcycle LED lights. The first option is a standard-output LED that produces 100 lumens, a light color of 6623K and a beam spread of 10 degrees. The second is a high-output model that produces 200 lumens, a light color of 6588K and a 25-degree beam spread. The standard bulb is available with a clear or amber lens.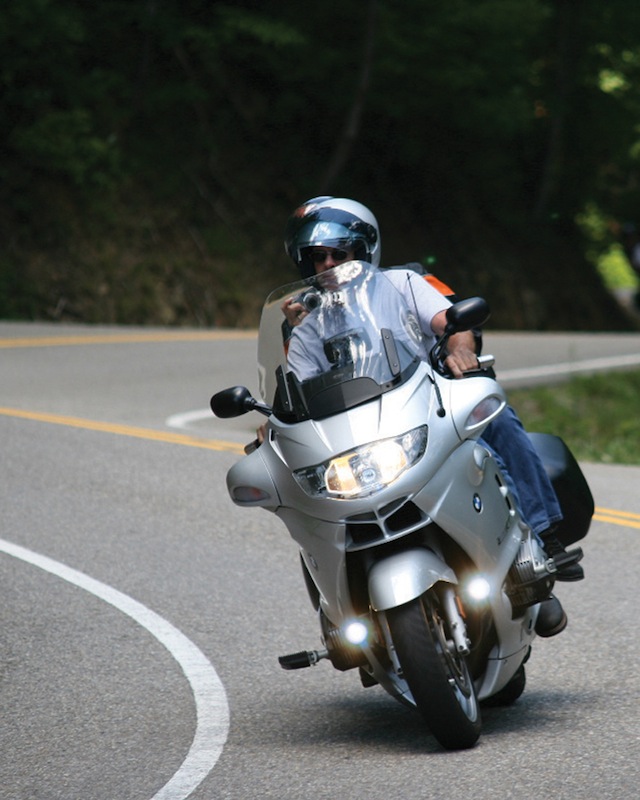 Motolight motorcycle lights are durable and vibration resistant and will mount on virtually any motorcycle or Spyder, as well as on ATVs and UTVs. They are available in a variety of finishes, including chrome, brushed aluminum, polished aluminum, gloss black or black powder coat. Mounting kits include everything needed for a complete and simple installation. For more information, visit Motolight.com.
Related Articles
Fall Motorcycle Products Spotlight
New Motorcycle Products Roundup
New Helmets, Accessories and More