Its the kind of rainy, blustery weather in San Francisco that I never, ever ride in if I can help it but its the perfect day for a thorough test of my new Firstgear wardrobe: the Monarch jacket and Escape pants. Im very cozy with the liners zipped in and vents zipped up when I go outside to start my bike. "Whatsamatter?" yells my neighbor across the street. "Did your truck die?"
"Nope," I reply, as nonchalantly as possible. "I just feel like riding today." OK, so I lied, but now everybody on the block considers me a real biker instead of the fair-weather weenie I really am.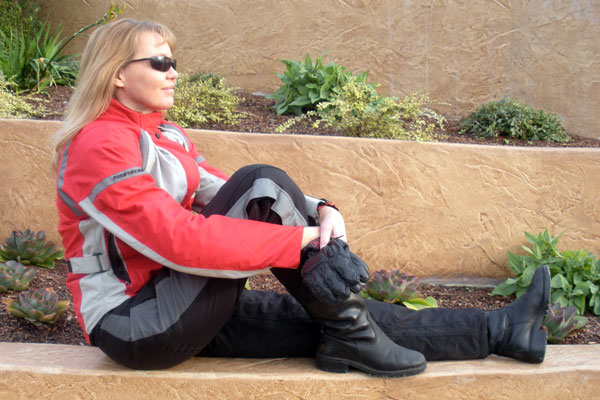 The Monarch jacket and Escape pants are built for Firstgears "Technical Performance Gear" (TPG) system (and are sized for women riders) a three-part layered set of outerwear, liner, and base gear. The jackets outer shell is a waterproof and breathable 600 Denier nylon. The removable liner in the jacket is windproof and breathable with waterproof zippers on the pockets, fleece-cuff bands inside the sleeves and around the neck, and air vents on the chest. The base gear layer is optional, as are heated liners and controllers that integrate nicely, which are worth considering if you're a real all-weather rider.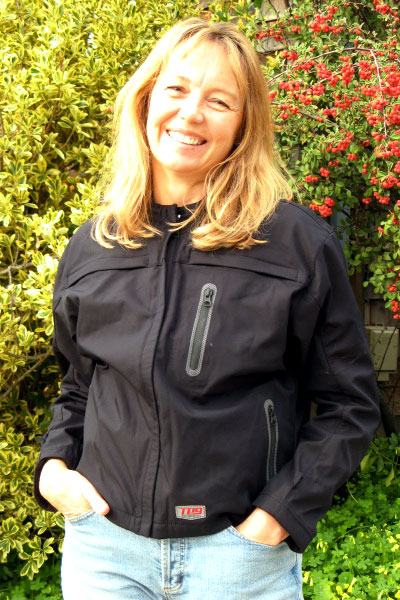 I tried out this outfit on for the first time in Monterey last winter for the launch of the Suzuki Boulevard M90. It was 8:00 in the morning and cloudy, but suddenly the sun came out and everybodyeven the riders from Southern Californiastarted shedding layers like crazy. I rode all day without the liners and was very comfortable in temperatures that ranged from high 40s to the low 70s. If I got too warm or cold it was easy enough to zip and unzip the front vents, even while riding.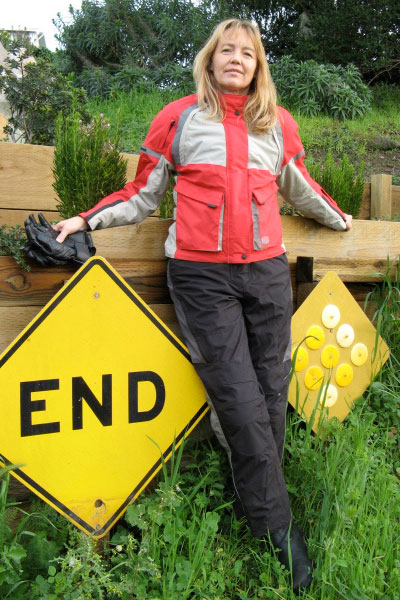 The hard armor in the jacket fits well at my shoulders and elbows and the soft armor in back is nice and flexible. The sleeves are exactly the right length to close the gap above my gloves. Many zippers and adjustable Velcro straps at the sleeves, waist, hips, and every other possible junctions let me cinch it in for a cozier, warmer, tighter fit or open it up to take advantage of airflow. Locking pull-cords on the inside make the vents pucker up so even more air can enter.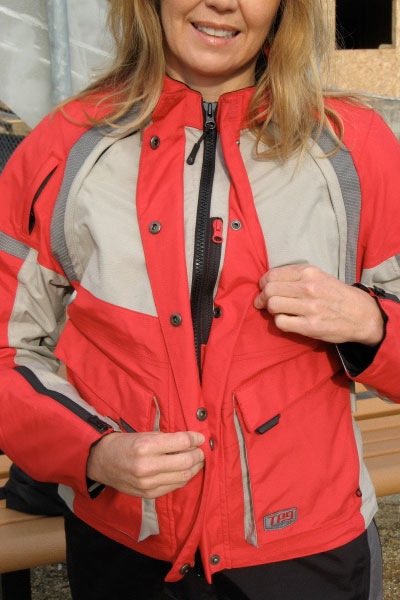 All these options had me fussing and futzing with the system pretty much constantly on my multi-temperature day in Monterey, but today, when I am simply concerned with staying as warm and as dry as possible, there is no futzing needed. I zip in the liners and then zip, snap, and Velcro myself in from hips to head.
| | |
| --- | --- |
| The collar holds a hidden lightweight hood, which keeps my head and ears warm under my helmet. | This jacket has features from A through N. All very useful in getting the perfect combination of fit, protection, or airflow. |
I start out, and wow, am I cozy! Maybe a little too cozy getting out of town, but then I hit the Richmond Bridge with cold crosswinds and rain blustering across the bay from Angel Island to Vallejo. Amazingly, by the time I reach my destination I havent felt a single drop of water or leakage of cold air. Im impressed, and so is my friend who opted to drive his car to our lunch date.
The Escape pants are less complex but just as effective at keeping me warm and dry. They, too, are made from 600 Denier nylon. The womens size 8 pulls on easily and fit just loosely enough for comfort and to accommodate the fleece quilted liner without having to walk around like the Michelin Man. The liners are poofy and even without them the Escape pants are made to be worn alone. I wore my black Danskin cotton/spandex tights under them both times. The waist sits true and adjusts easily with Velcro tabs at each side.
The hard armor cradles my hips and knees perfectly. Side-zips from the ankle to above the knee let me slip into them with my boots on, and theyre covered with wide reflective strips Velcro-ed over the zipper for maximum visibility. On the back theres a jacket-conjunction zipper and a substantial rear pocket. A thoughtful feature is the heat-resistant fabric from above the knee to the ankle, which I appreciate when I ride a big touring bike that throws heat.
| | |
| --- | --- |
| Okay, so the rear view of any armored pants gives the rider a boost to the booty. Love it or hate it, armor is essential to protect the hip bone from the asphalt if you ever find yourself in a slide. | The jacket fits at the waist (adjusted with Velcro tabs) and a locking cord system along the inside at the bottom lets you tighten the fit around the hips as well. |
The pants have air vents along the sides to cool you down and luxurious fleece-lined front pockets to warm your hands up. All pockets in the pants and jacket have waterproof zippers and fold-over Velcro-fastened construction where it counts.
Speaking of pockets, inside the jacket is a handy cell-phone pocket, a big map pocket, and a long, vertical zippered pocket along the edge thats also large enough for a map. A hidden pocket behind a pocket lets you pull a power cord through to accommodate heated gear. Two tiny zippered pockets (one on the sleeve and another on the shoulder) are just big enough for bridge toll or credit cards. The jacket has so many pockets that I lose track of where I put my stuff.
As for complaints, I dont really have any, so Ill quibble about the lack of a D-ring to clip on my gloves. And on my wish list: those yummy fleece linings in the pants to be included on the jacket, too. But for a super-high-quality outfit with waterproof zippers, double stitching, fold-over pockets, waterproof and heat resistant fabrics, and all the adjustable this and thats, at a cost of more than $600, it had better be pretty much complaint proof!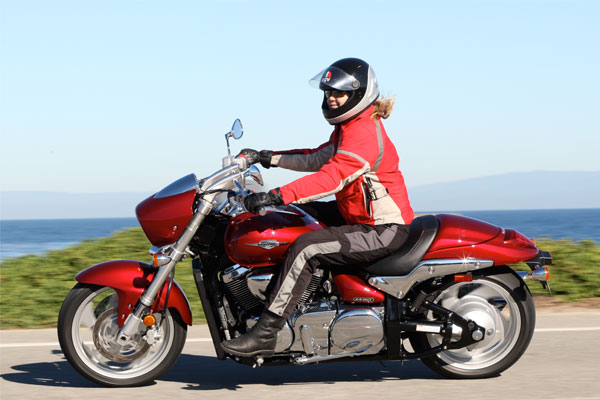 After half-a-day in most gear, from Cordura to leather, I find myself wiggling around to scratch an itch or adjust a pinch. But even though the Firstgear outfit is fairly heavy, the fit is so good and adjustment options so plentiful that I virtually forget Im wearing it. Moreover, I feel totally secure about the armor, and I like how it looks, too. It doesnt shout either "sport-rider" or "cruiser," which is nice because I ride both. But most of all, a system that doesnt let in a sliver of horizontal wind or rain is worth it at any price because it means that maybe, just maybe, Ill get out and ride a lot more often, despite having to cross the cold, windy bridges of the San Francisco Bay Area. Im a fair weather weenie no more.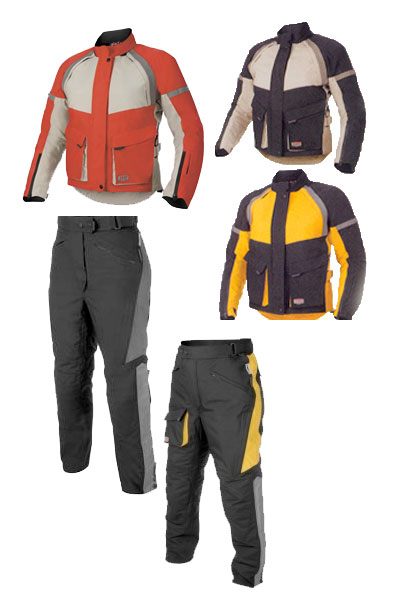 Firstgear TPG Monarch Jacket: $369.95, sizes XS-2XL (2XL is size 20-22); Escape Pants: $249.95, sizes 6-18. TPG Basegear and heated gear are available as options. Find a local dealer at FirstGear-USA.com.
About the Author
Carla King is a long-distance touring motorcyclist who travels to exotic places and writes about it. Her Motorcycle Misadventures series includes stories about trips in America, China, India, and Europe. You can buy her book (reviewed on WRN) and read her dispatches on the web at CarlaKing.com.
Support WRN by buying from our preferred womens motorcycle gear retailer.
Related Articles:
READER REVIEW: Firstgear TPG Monarch Jacket
REVIEW: New Waterproof Boot for Women
REVIEW: Tour Master Trinity Series 2 Ladies Jacket
REVIEW: Tour Master Womans Rain Suit