When looking for one jacket to achieve it all, then the Tour Master Trinity Series 2 Ladies Jacket deserves serious consideration. After nearly 5,000 miles of riding in this jacket, I have deemed it as multi-functional as a Swiss Army knife while offering styling that suits my feminine side.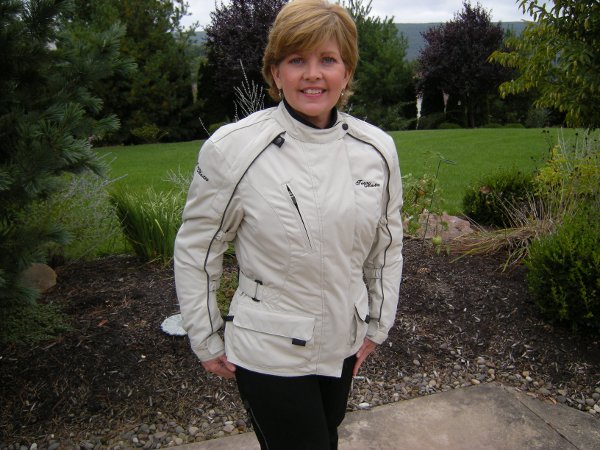 The Trinity 2 is a three-quarter length textile jacket, and its the fabric outer shell that first grabs your attention. The 400 Denier Nylon Dobby cloth feels unlike most rough and scratchy nylons you find on motorcycle jackets. This has a soft, smooth texture that actually drapes and flows instead of holding a stiff silhouette. It really feels luxurious, plus it doesnt feel very heavy, like it weighs 20 pounds or so.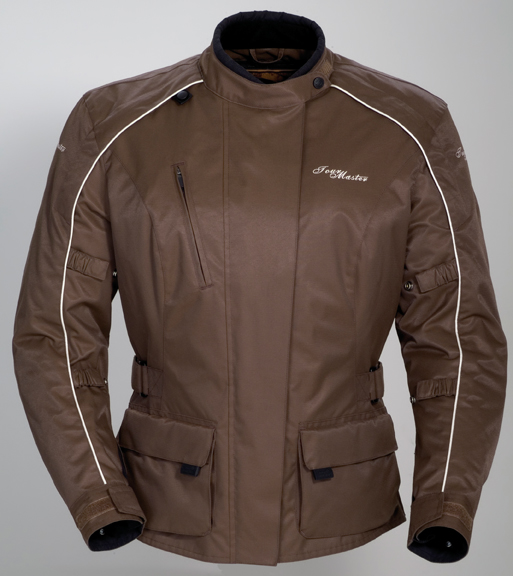 Even though it feels like a lightweight softy, this material is anything but. It uses a Rainguard barrier that provides waterproofing as well as breathability, so you wont feel clammy when bundled inside it. Three external pockets (one on the chest, one on either side of the jackets front) and the chest and back vents feature waterproof zippers. The Trinitys front two-way zipper receives protection from the elements via a storm flap that fastens with hook and loop-type closures over the length of the zipper.
The jacket comes with removable CE approved armor at the elbows and shoulders and the back utilizes an articulated triple density back armor piece. I found all the armor to sit where it should within the jacket and be comfortable to the point of invisibility. Two stretchy take-up straps on the bicep and forearm of each sleeve snap in place to secure the armor. Soft microfiber material lines the collar and cuffs and both adjust use hook and loop type fasteners. A convenient snap holds the collar open to catch more air on hot days. Elastic at the back waist and adjustable side waist belts further customize the fit, while zippered vertical gussets at the waist open to increase comfort while sitting.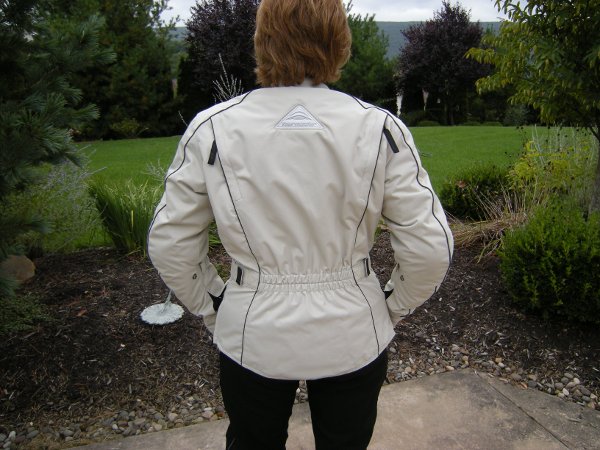 Reflective sleeve piping and a large reflective triangular logo on the upper back improve nighttime visibility to other travelers. The jacket can attach to riding pants thanks to the included zipper. I appreciated the non-binding comfort of the Trinity 2 Jacket, which didnt come at the expense of style. I like that it offered a feminine silhouette along with practical riding features and room to add layers underneath for cold weather.
Inside, the jacket offers one zippered chest pocket and three other pockets of varying sizes with hook and loop type closures. Also, a soft, 100 gram polyfill insulated zip-out quilted liner is part of the Trinity Series 2 Jacket system. This adds significant warmth for colder riding days. The liner has the same pocket placement as the jacket shell, meaning you have access to abundant interior pockets whether using the liner underneath or wearing the jacket alone. Large pull-tabs on two of the pockets make them easy for gloved hands to grab and open. The liner zips into place and uses snap attachments in the sleeves and lower back for extra security. Here I found one of the smartest details Ive seen in riding gear lately…the snaps closures are color-coded. So as long as you attach the white snap to the white holder and the red snap to the red holder youll never again suffer the fate of having your sleeves twisted shut.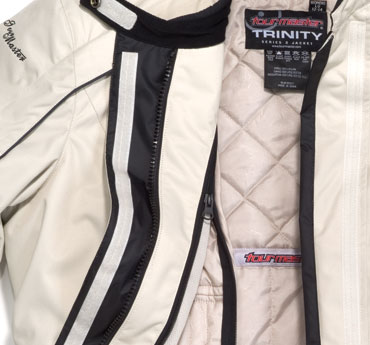 One other very smart feature I must mention concerns the venting system. Many riding jackets with zippered vents mean well, however, often the vent openings dont really stay open wide enough to catch any air. The Trinity Series 2 Jacket overcomes that problem using what the company calls a Scoop Vent Opening System. Once unzipped, a rider folds each side of the vent opening back onto itself, attaching it to a strip of hook and loop fastener. This greatly increases airflow. Should it rain or get chilly, the waterproof zipper does its duty. Just pull it closed without worrying about unfastening the vent cover. I wore this jacket on many 90-plus degree-days and felt comfortable.
Through my many miles wearing the Tour Master Trinity Series 2 Ladies Jacket in weather ranging from extremely hot to cold and rainy I found very little to criticize. During a day-long downpour water seeped in around my wrists…even with wearing waterproof gauntlet gloves. My best guess is the thinner cloth at the wrist that eliminates bulk while allowing you to tighten the cuff might have allowed the seepage. However, other than my wrists, I stayed perfectly dry. Also, I like when a riding jackets liner works as a stand-alone jacket for times when youre not riding. If it did, it would increase the usefulness of this versatile garment even more.
The color options for the Trinity Series 2 Jacket include chocolate, silver, black and light tan, the color of mine. I didnt hold much hope for a keeping a light-colored riding jacket looking reasonably good. And sure enough, in spite of my somewhat anal-retentive efforts to keep it clean during a 2600-mile trip, I lost in a big way to the combination of bug guts, road grime, and whatever else that pelted me during the ride. The jacket looked abysmal by the end of the trip. So, I washed it in a washing machine and hung it dry and…wow!…it looks brand new. So dont fear purchasing a lighter color. It cleans up well and actually reflected heat from the searing sun…an added benefit.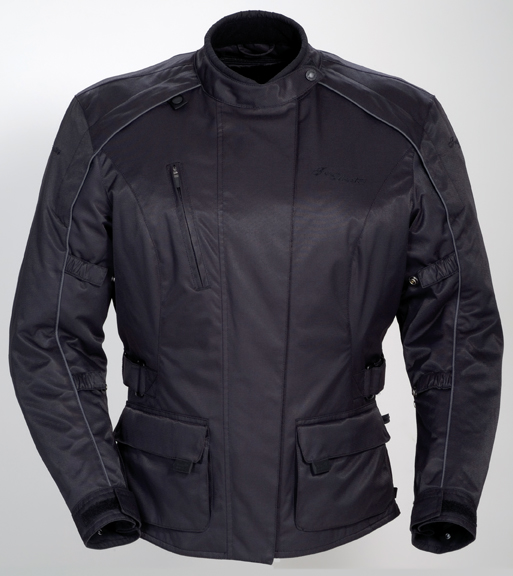 You might expect a multi-purpose riding garment such as this to carry a price tag as large as this jackets versatility. The Tour Master Trinity Series 2 Ladies Riding Jacket retails for $159.99, an excellent value in my opinion. It comes in womens sizes XS-XL and Plus Sizes S-L. You can purchase it at some motorcycle retailers or directly from Tour Master. For more information visit TourMaster.com.
Tour Master Transition Series 2 Mens Jacket
During many of our travels this summer and fall my husband, Tim, has worn Tour Masters Transition Series 2 mens jacket and found it as useful and versatile as I found the Trinity Series 2 Jacket. Actually, the two jackets are very similar in many details. The Transition Series 2 is a three-quarter length textile jacket, with a similar venting system, waterproof zippers, quilted liner, armor, nighttime reflectivity, customizable fit and versatility.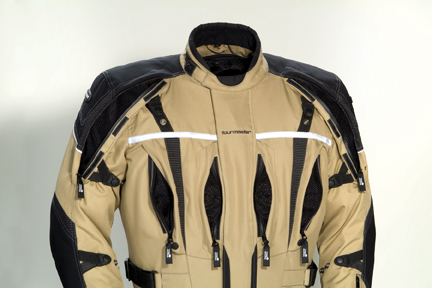 The outer shell uses a different textile material however. This one is heavier and rougher and more like what you expect to find in a riding jacket. It uses 600 Denier Ballistic Polyester for the shell along with 600 Denier Carbolex patches. The Carbolex provides extra durability and abrasion resistance you find patches of it on the elbows and shoulders and the front bottom part of the jacket.
The Transition Series 2 also adds venting on each side of the chest as well as near each shoulder. On the back it has one long horizontal vent through which air flows. These utilize the same "scoop vent" system as the Trinity jacket. Additionally, it has a handy small zippered pocket on the left arm, and a built-in, dual zippered "fanny pack" in the lower back of the jacket.
| | | |
| --- | --- | --- |
| The Men#39;s Transition Jacket comes in black and… | yellow | red |
| silver | brown | or high-visibility yellow. |
Tims opinions about his jacket echoed mine. He even had the same problem with seepage at his wrists during a rainstorm. His jacket, because of the heavier outer material, is warmer, and he says the jacket alone sufficiently kept him warm on days down to 50 degrees.
The Transition Series 2 jacket also offers great value as it sells for $184.99. It comes in black, yellow, red, silver, brown or high-visibility yellow (all with black accents) in men's sizes XS-4XL, men's tall MT-3XLT and in a women's version in sizes XS-XL. For more information, visit TourMaster.com.
Related Articles
REVIEW: Tour Master Solution WP Road Boots
Tour Master Crossover Garments Very Popular
Two New Waterproof Tour Master Jackets for Women