Up until the last two to three years there wasns a clearly defined womens market with which to identify any trends. However, in 2006 we saw a marked increase in apparel companies catering to women with the introduction of jackets and pants cut in female-flattering lines with female-oriented colors like pink and baby blues. Women riders were excited to start seeing some fashionable and functional gear for them. Now, in 2007, were seeing some key trends emerging from the womens market.
At this year#8217;s Dealer Expo in February, I spoke with several manufacturers who said women want a jacket that works both on and off the bike. "Were offering colors that allow women to jump off their bike and go to a restaurant and not look like theyre riding a motorcycle," says Mike Salvatore, apparel merchandising manager for FirstGear. FirstGear has a new cropped leather jacket called the Betty that comes in soft pink, soft blue, and ivory with orange piping. "The ideal jacket has all the function built into it without being able to tell it does."
| | |
| --- | --- |
| FirstGear#39;s Betty jacket in baby blue. Armor is hidden inside this stylish, waist length jacket. | The Betty in soft pink. |
ICON is going after the same on-bike/off-bike appeal, but with the flashy style for which Icon is known. "A lot of passengers are women with their husbands or boyfriends where it may be their first time on a motorcycle. Theyre wearing whatever leather fashion jacket they have," says Brenda Trumbo, sales and marketing manager for ICON V-twin. "We want those girls to have the designer look theyre used to having from department stores, but with all the protection."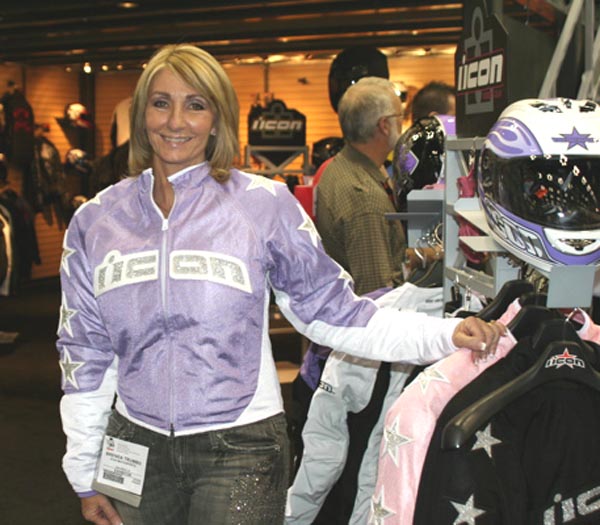 Shift Racing has apparel for sportbike style riding and its new styles "blur the line between function and fashion," according the companys promotional materials. New for 2007 includes the Siren Womens Leather jacket, a high-end leather sport style jacket, and two new gloves, the Dynasty and the Stealth.
Versatility in apparel also means the garments can cross the lines of the different motorcycling genres. "With our denim products weve seen them cut across all different motorcycle segments," says Richard Kimes, national marketing manager for Helmet House, distributor of Tour Master. "Cruiser people really like them, and a lot of sportbike people are buying them as a secondary ride-around-town jacket because they#8217;re just plain comfortable off the bike." Tour Masters Indigo Ladies Denim jacket looks like a fashionable ladies denim jacket, but has all the protective features one expects from the Tour Master line.
Regarding the pink trend that was so hot last year, Sarah Schilke, Fairchild Sports Director of Business Development for Hein Gerickes G Line, says dealers came up to her booth last year saying they were glad there were no pink colors in the line. Hot pink dominated many manufacturers 2006 offerings, although G has steered clear of it. "The pink thing will always be there because women identify with the color pink. It makes women feel feminine because they can show their femininity on their motorcycle." A lot of women dont wear it, though." Because demand for pink still exists, G Line has added new colors for 2007 including pale pink on the popular Bonzai suit. Schilke says the color white has also been incorporated into a couple of the jackets to reflect market trends.
Head-to-toe outfits
Another trend ICONs Trumbo sees developing is allowing a woman the option to outfit herself in gear entirely from one manufacturer. In the past, the limited availability of riding apparel forced a woman to wear a jacket from one company, pants from another and gloves and boots from yet another. "The future for women in motorcycling is giving them complete head-to-toe coverage so they have their helmet, the jacket, chaps or pants, boots and gloves. Were giving that to women with the ICON line."
G is taking that head-to-toe trend one step further giving women the opportunity to incorporate their favorite motorcycling brand into their lifestyle. "Weve created more soft goods#8212;sweatshirts, yoga pants, sports bras and T-shirts, because in addition to wearing their jackets off the bike, women really like sporting their motorcycle flair when theyre off the bike as well,#8221; says Schilke.
Helmets and accessories
A lot more helmet styles in female oriented colors and graphics were on display at Dealer Expo. Pink dominated last years womens helmet offerings; this year were seeing the pink toned down a bit with helmets offered in pale pink, as well as soft blues and lavenders. Plus, there were lots of new, fun female oriented graphics like the butterfly on Shoeis RF1000 helmet. "The new graphic for spring on the RF1000 is called the Flutter in dusty pink and black, and in blue and black," says Helmet Houses Kimes, exclusive United States distributor of Shoei.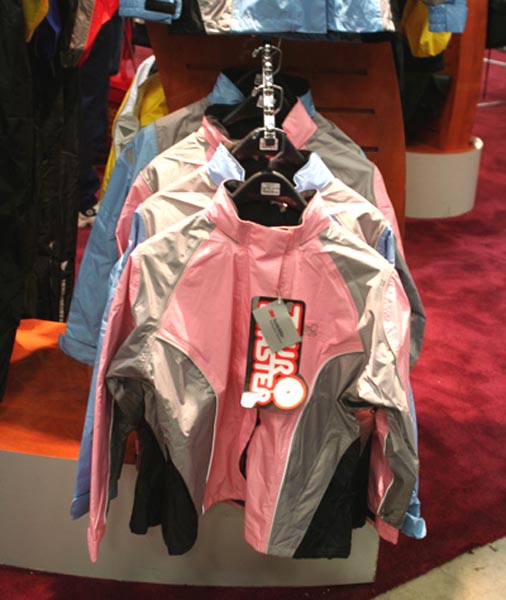 The Dirt
Since 2000, weve been witnessing motocross gear companies one by one coming around offering womens apparel. Nearly every company now offers something for the female off-road rider. The 5-year-old women-owned Girlyz is the only company making womens motocross gear exclusively having merged with Sick Racing last year, another women-only apparel manufacturer. The trend for 2007 is a refinement of fit and style in womens pants and jerseys.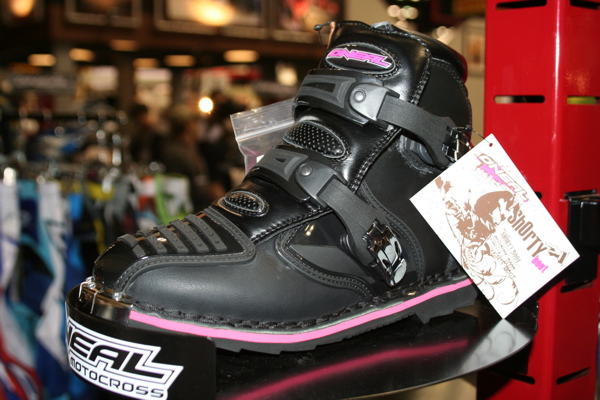 ONeal, has a new pink and black Shorty boot for women (shown right). Short off-road riding boots have been out for the last few years and have been a big hit among enthusiast dirtbike and ATV riders. Justin Duganne, General Manager of ONeal says women have a hard time finding a good fit in an off-road boot, even those sized for women, because often their calves dont fit the boot. "The Shorty gives them the option to wear a boot without worrying if they can fit their calf in the boot. Women definitely need to wear a knee brace that covers their shin, particularly dirtbike riders, when wearing the Shorty boot," says Duganne. The Shorty boot comes in women#8217;s sizes 5 through 12.
Judging by the wide array of offerings this year, its clear manufacturers recognize the growing womens market and are now trying to find out exactly what women want.