Update May 28, 2012: About a year after this story posted, Fox Racing, the parent company of Shift Racing, decided to discontinue manufacturing the Shift Racing line. These products are no longer available. You may be able to find closeouts from an online retailer or eBay.

Im starting to feel naked these days, naked wearing my regular blue jeans, that is, when riding my motorcycle. As I add up more time and miles my desire to ride while wearing armored gear from head to toe is becoming stronger. I think it has something to do with feeling our mortality more as we age.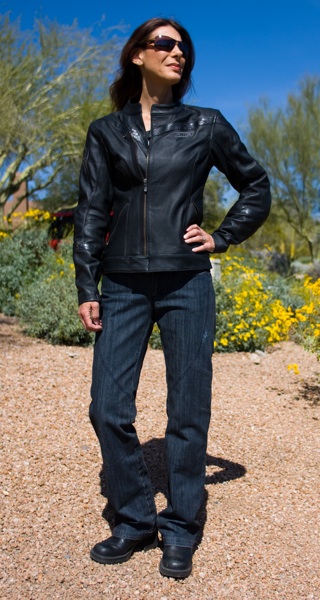 That said, when I hear about armored riding jeans for women, Im interested. Shift makes the Silhouette, a thick denim jean cut for the female figure. It has panels on the inside of the hip, thigh, knee, butt and crotch areas that are reinforced with 100 percent Kevlar. Kevlar is an abrasion resistant material used in a lot of motorcycle riding outer gear.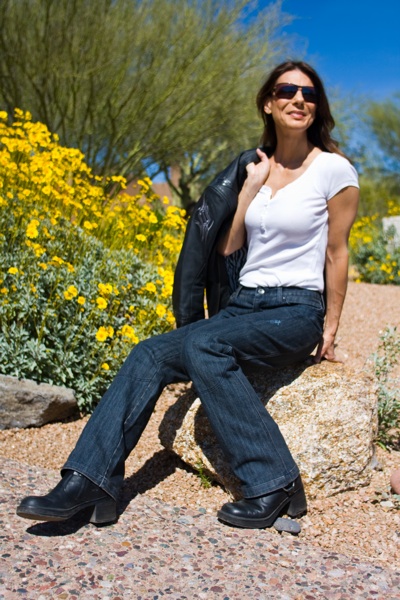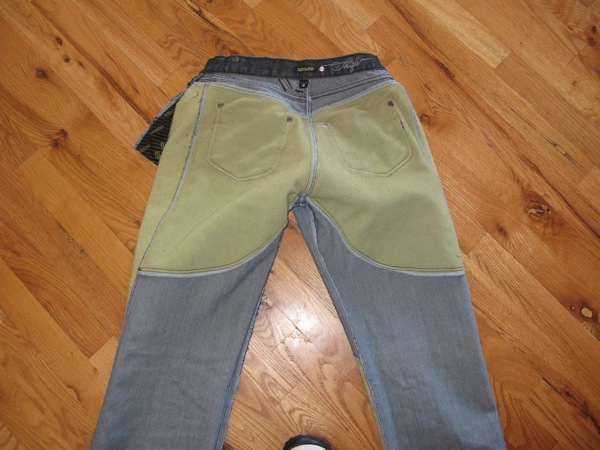 While riding in 90-plus-degree heat, the jeans did seem a bit fabric heavy, but at that temperature any jeans will feel warm. The Silhouettes have a nice shape—theyre aptly named—and run true to size. I wear a size 4. Sometimes with jeans, I find the waist too big, but the hips fit right. The Shift jeans fit me just right in both areas.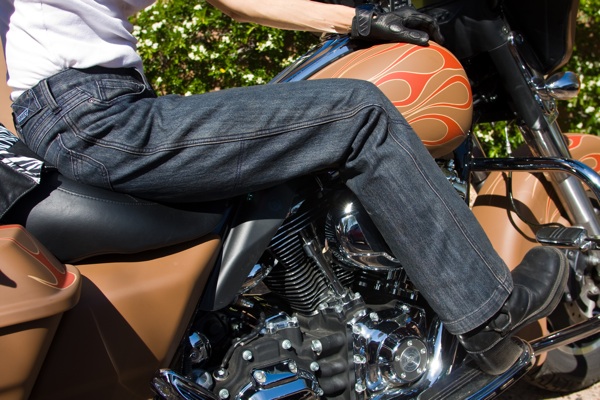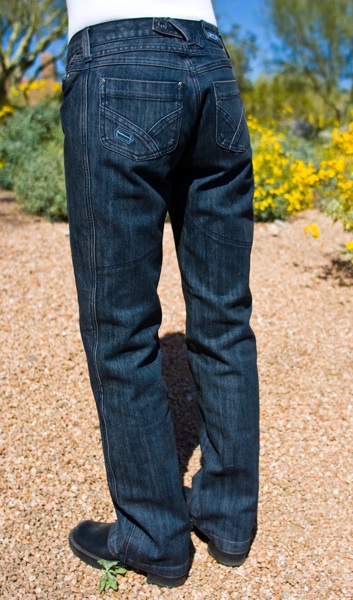 My thighs and calves are thinner than most women so I found the size 4 to be a baggy in the legs as you can in the photos above. However in the studio shot below, you can see the jeans really accent a more average size figure. Sizing goes from 0 to 12.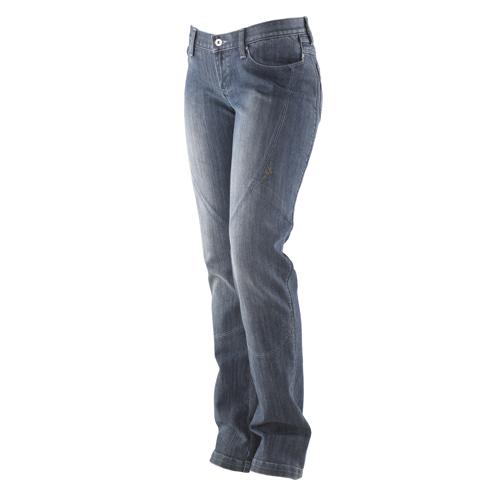 I asked a Shift representative if the company was going to offer plus sizes because based on feedback I get from women riders, the larger sizes seem to be quite popular. I was told that Shift is still growing its brand and it takes time to expand its offerings. The womens line is doing very well so the company hopes to offer more sizes and products in the future. Im impressed with Shifts first attempt at a womens riding jean. Its right on the money.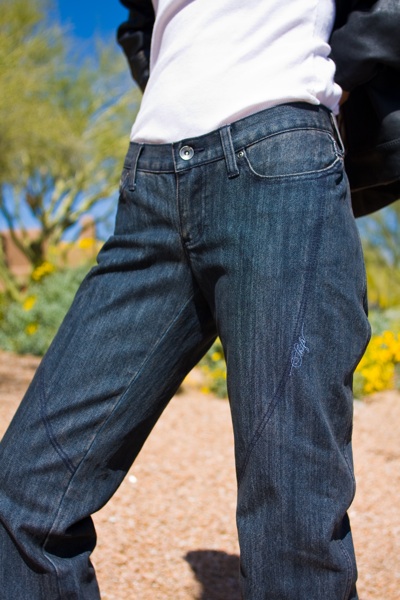 The jeans held up well in the wash as you would expect quality jeans to do. I put them in the dryer but took them out damp to line dry the rest of the way and ironed them like I do all my jeans. Im wearing the dark indigo color. Also comes in light indigo. Cost is $119.95, a fair price for a high quality Kevlar lined jean that should protect your hide in the event of crash. You can order them online at ShiftRacing.com.
Viper Leather Jacket
I chose to test the Shifts Viper leather jacket because I wanted the broken-in vintage look of this black leather. It looks more broken-in in the photo on Shifts Web site. I will just have to wear it a lot to give it that worn look.
The most notable quality with this jacket is that it looks fashionable but has CE-approved armor in the shoulders and elbows so its protective. The shoulder and elbow pads are the stiffer kind of armor and removable if you want. Ill leave them in as there is plenty of room to move around in this jacket so the armor doesnt restrict movement like Ive experienced with other armored jackets. By the way, no back armor (spine protector) and no spot to insert if I wanted.
| | |
| --- | --- |
| This silky polyester with zebra design and purple accents lines the inside of the jacket. There is no padding between this and the leather. Mesh panels on the underarms let heat escape through the perforated leather under the arms on the outside. | An asymmetric front zipper, it's off center a bit, adds to the stylish lines. Does not affect function at all. Notice the black synthetic leather striping horizontally across the chest, and Shift logo below it. |
| | |
| --- | --- |
| A zipper at the wrist opens to let air in or for easy on/off. A Velcro closure secures the wrist when zippered. | The horizontal leather strips go across the back and around the arms adding flair to the jacket. Two vertical zippers here in back open with a leather gauntlet to increase size in the hip area. A gray thread embroidered shift logo adorns the waist here. |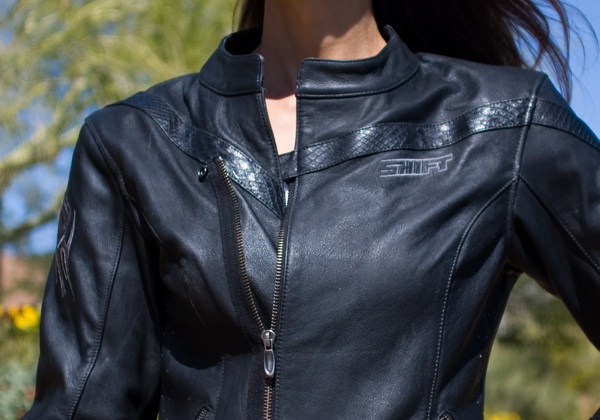 Air definitely flows in at that open part of the jacket near the collar, so when riding in cooler temps you might like a neck gator to block drafts. Note that there is a snap-able loop on the waist inside the jacket that can connect to the Silhouette pants.
Sizing runs XS to L, and is true to size as I ordered my normal jacket size of medium and the jacket fit just right all over. Comes in this black color, and an all-over white version.
While the Viper is low on creature comforts (only two pockets—outside on front; no zippered venting, no wrist gauntlets, no lined collar), the good leather, fun "different" styling, and quality armor make this a no frills performance oriented jacket thats stylish enough to wear off the bike as well.
Price is $349.95. Too high? Depends on the price you put on protective gear. The Viper has a nice balance of protection and style. You can order online at ShiftRacing.com.
Related Articles