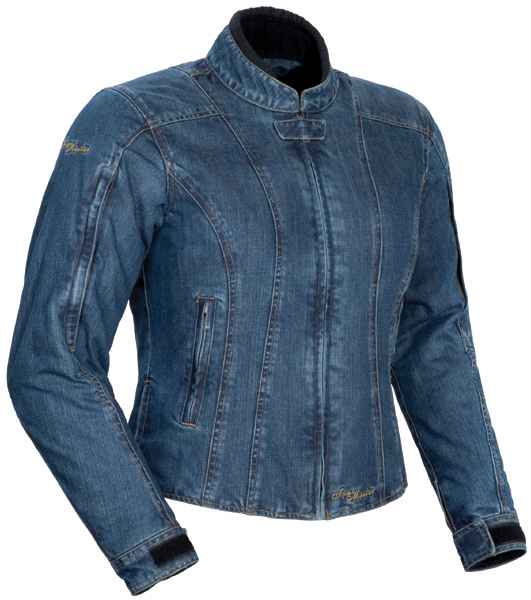 The new trend in motorcycle jackets is that women love to wear a riding jacket that works off the bike as well. While denim is a popular style and fabric, it doesnt work well on a motorcycle because it lacks protection and riding features. Until now, that is! Women who love denim can wear their favorite blue fabric on a motorcycle without sacrificing protection! New for 2007 is Tour Masters Indigo Denim jacket designed, patterned and styled specifically for a woman rider.
Its made of 13.5-ounce denim construction providing comfortable durability thats a little thicker than regular blue jeans. Tour Master has it dialed in when it comes to features riders demand for comfort and protection, and the Indigo Denim is no different. The sleeves are pre-curved and rotated to model the riding position. This increases ones comfort when wearing the garment.
The mandarin style collar is lined with a soft micro fiber fabric, a feature that Tour Master and Cortech have mastered. There are zippered vents on the sleeve and the back of the jacket for ventilation, and the hand pockets act as vents, too. Like the companys other jackets, the Indigo Denim has a zip-out quilted full-length liner.
The main zipper on the Indigo Denim has a wind flap to seal out the elements – wind cant seep through. Speaking of zippers there are two vertical hip zippers to improve fit when seated gives your waist a little extra room. Theres also a zipper in the back so it can attach to riding pants. Your riding pants dont have a zipper? Just sew on the attached pant zipper to your pants.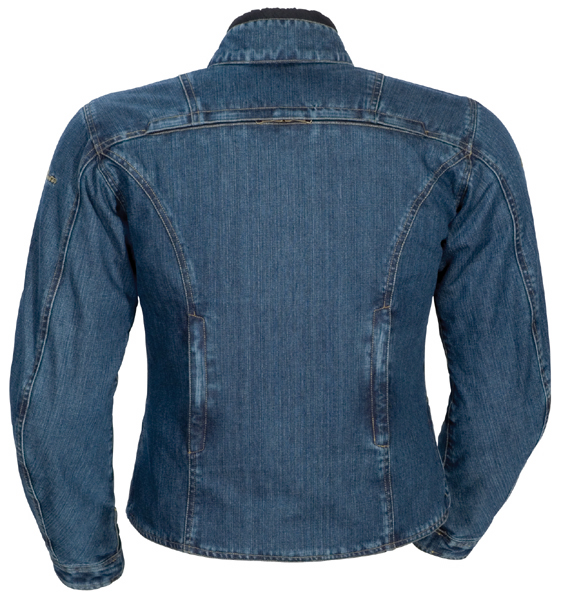 Now, what about storage? Women love lots of hidden pockets, and the Indigo Denim doesnt fail. Theres a zippered chest map pocket, hand-warmer pockets, internal mobile-phone pocket and a dual-zippered fanny packthats an area on the back of the jacket where small stuff can be stashed. Whew! Tour Master has thought of everything!
Lastly, and most importantly, there is removable, CE-approved armor at the elbows and shoulders, and protecting the back is an articulated triple-density back protector. The good part is, youd never know it. You can walk right into a restaurant and no one will know you just got off the bike, save for the helmet hair.
The Indigo Denim comes in sizes XS – XL, and Plus sizes S – L. MSRP: $109.99. We normally dont comment on price, but wow, what a bargain! Visit TourMaster.com for more information.