Twelve new members will be inducted into The Motorcycle Hall of Fame. Each new inductee has furthered American motorcycling through a lifetime of achievement. Induction ceremonies for the Class of 2007 are scheduled for the evening of Saturday, October 6, 2007, in Columbus, Ohio.
Through induction into the Motorcycle Hall of Fame, these champion racers and influential industry leaders are ensured that their stories and accomplishments will be preserved for the enjoyment and education of motorcycle enthusiasts for generations to come. Each inductee will be honored with the distinguished gold Motorcycle Hall of Fame medal, and have his name permanently featured in the Museums Hall of Fame gallery. The Motorcycle Hall of Fame Class of 2007 includes: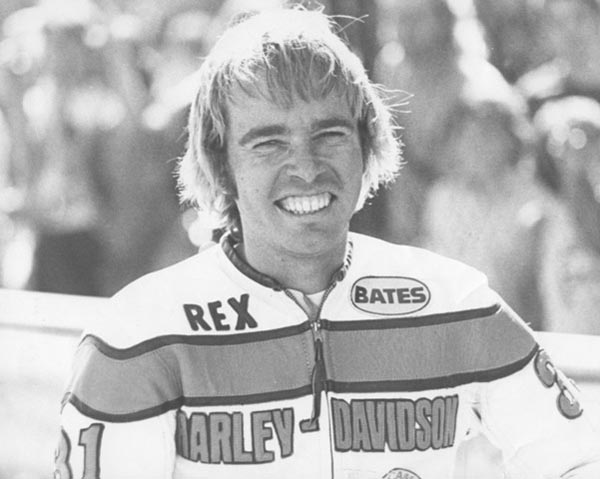 Rex Beauchamp: As one of the original "Michigan Mafia" flat track racers, Rex Beauchamp was a crowd favorite on his factory sponsored Harley-Davidson. Beauchamp was the winner of four Grand National races between 1973 and 1976. During all three years, he also finished in the top 10 in the AMA National Standings. Beauchamp may be best known for his race with Kenny Roberts at the Colorado Springs Mile in the early 1970s. The wheel-to-wheel action photograph of Beauchamp and Roberts taken during the duel has become an iconic image of flat track racing.
Bob Greene: Nicknamed "The Old Greenhorner," Bob Greene gained national recognition as the editor of Motorcyclist magazine. After his tenure at Motorcyclist, Greene went on to publish numerous books on motorcycling. Throughout his life, Greene also regularly competed in desert racing events, speed trials, and scrambles. From the 1940s through the late 1960s, Greene was the chief organizer of the prestigious Greenhorn Enduro.
Pat Hennen: Always a competitor, Pat Hennen was the first American to win a 500cc World Grand Prix race. His victory at the 1976 Finland GP paved the way for a flood of American riders who would come to dominate the sport. Hennen began his career in 1972 as an AMA dirt track and road racing competitor. His career was ended prematurely by a crash at the Isle of Man TT in 1978, while he was battling Kenny Roberts for the Grand Prix title. Hennens winning career continues to inspire Grand Prix racers.
Professor Hugh H. "Harry" Hurt: Award-winning author Professor Harry Hurt set the benchmark for motorcycle safety research in 1981 with a study titled "Motorcycle Accident Cause Factors and Identification of Countermeasures" that became widely known as the "Hurt Report." In addition to that groundbreaking study, he is the author of dozens of publications in the fields of motorcycle handling, safety, crash analysis, and helmet performance. Currently, Professor Hurt is president of the Head Protection Research Laboratory of Southern California and Professor Emeritus, Safety Science, USC.
| | | |
| --- | --- | --- |
| Bob Greene | Mike Kiedrowski | Billy Uhl |
Mike Kiedrowski: During his seven-year career as a motocross racer, Mike Kiedrowski won championships as easily as he did fans. Between 1988 and 1995, he was a four-time AMA National Champion. Kiedrowskis career included nine top-five season finishes in motocross and six top-five season finishes in Supercross. Kiedrowski was also a member of three victorious U.S. Motocross des Nations teams.
Sammy Miller: As a trials competitor, motorcycle designer, and motorcycling historian, Sammy Miller has won international renown. During his career, Miller rode his way to nine gold medals in the International Six Days Trials. He also designed trials motorcycles, including the Ariel GOV 132 and Bultaco Sherpa, which influenced the Trials movement across America in the 1960s. As founder of The Sammy Miller Motorcycle Museum in Southern England, Miller continues to promote and preserve the history of motorcycle competition worldwide.
Trampas Parker: As versatile as he was consistent, KTM factory racer Trampas Parker made history as a two-time World Motocross Champion. He was an unknown American rider living in Italy when he burst onto the world motocross scene by winning the 125cc championship in 1989. Two years later, he repeated the feat for a 250cc championship. Now residing back in the United States, Parker enjoys participating occasionally in Supermoto racing.
Derek and Don RickmanL Brothers Derek and Don Rickman found success ran in their blood as motocross racers in 1960s England. After tasting victory on the track, the Rickmans began designing and building their own motorcycle frames. Soon their distinctive designs allowed them to expand their business to include street machines and fairing production.
Orie Steele, Sr.: In the early twentieth century, hill climb racing was an immensely popular sport dominated by Orie Steele, Sr. In 1926 alone, Steele competed in 49 events and won 33 firsts. A National Hill Climb Champion and an Indian factory rider in the 1920s, Steeles legendary skill thrilled crowds across the country.
Billy Uhl: Racing alongside his father at the International Six Day Trials in 1973, Billy Uhl won his first of six ISDT gold medals. At age 19, Uhl was one of the youngest riders to ever win a gold medal. In 1979, he was the top performing American at the first ever ISDT/DE in the U.S. and won the Count Lurani Trophy. After reinvigorating the Idaho State Trail System and beginning the Idaho State Parks Trail Ranger Program, Uhl became the Senior Instructor at OHV Training. He uses his trials experience to educate motorcycle, ATV, and snowmobile riders of all skill levels and teach trail design, building, and maintenance.
Ed Waldheim: A tireless advocate for off-road motorcyclists, Ed Waldheim also won more than 30 trophies during his racing career. Waldheim is the founder and President of the California Off-Road Vehicle Association. He has won numerous awards for his advocacy on behalf of all off-road enthusiasts, including the prestigious AMA Motorcycling Advocate Award, and continues to advance their cause with the government and in the media.
The Motorcycle Hall of Fame Induction is an emotional celebration that brings together some of the most recognizable people and machines from the world of motorcycling. Besides induction ceremonies, the Hall of Fame Weekend will also feature the Museums 6th annual Concours dElegance, which drew more than 100 juried entries in 2006 including many bikes ridden, raced, designed or built by current Motorcycle Hall of Fame members.
The weekend kicks off with "An Evening of Stars and Legends," a reception honoring the Class of 2007, set for the evening of Friday, October 5, at the Museum. All activities are open to the public. For more information, call the Motorcycle Hall of Fame Museum at 614.856.2222, or visit motorcyclemuseum.org.