Do you have a story to share? We want to hear it!

When I found out that my employer, Stonyfield Farm—who by the way, makes the best yogurt in the world—was implementing a two-month paid sabbatical policy, all I could think about was using that time for a motorcycle trip. With all the potential trips I could take, I kept looking West, with all of the national parks and the Rocky Mountains, which I had never seen. I also thought about returning to upstate New York where I had lived for 12 years before returning home to New Hampshire 25 years ago. I worked on my trip and routes for months and couldnt believe it when the time arrived for me to start my vacation! Many friends couldnt believe that I would really go—a woman, mostly alone, with just four riding seasons under my belt and a new boyfriend who couldnt go with me. But, I just had to go! It felt like the chance of a lifetime that I just couldnt pass up.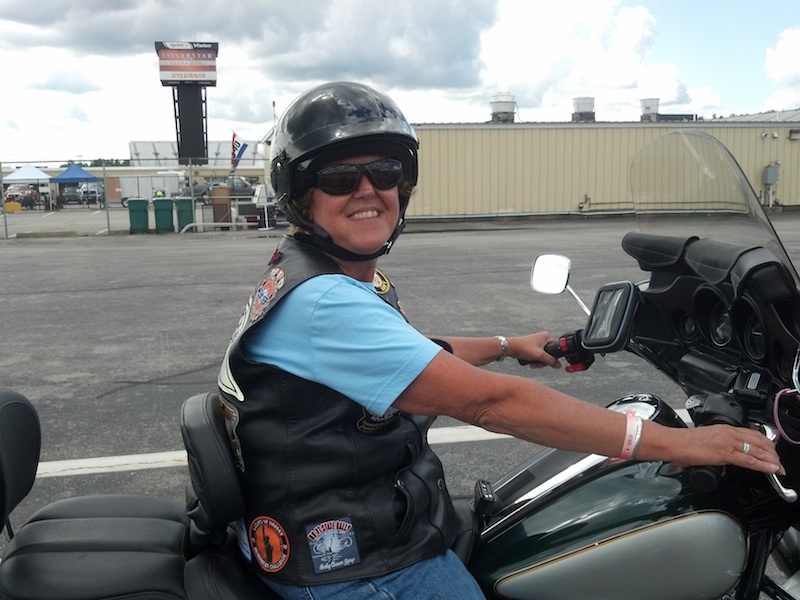 I left home on August 15, 2012 and headed to Loon Mountain, N.H. for the New Hampshire / Vermont HOG Rally. I had planned to go to this rally a year in advance, and it seemed like the perfect sendoff. I had a wonderful time with my HOG friends during those four days, and then on Sunday I met up with my brother Dave to start my journey.
"Even in the most beautiful places, people will still tailgate, cut you off…"
We had a wonderful ferry ride across Lake Champlain into New York and crossed the beautiful Adirondack Mountains into upstate New York and to my old stomping grounds in Rochester. I was so happy to meet up with long-lost friends, and even stayed an extra day to visit and rekindle old friendships. From there we headed to Niagara Falls, crossing into Canada, somewhere I had visited often when I lived nearby, but a place which Dave had never been. The falls were beautiful and it was amazing to spend time with my brother. (Just to note, I have since traveled back to Rochester for an extended visit with those rekindled friends—who will always be my friends!)
After our Niagara adventure Dave headed home. I continued west following the shores of the Great Lakes all the way through Amish Country in Indiana to the big city of Chicago, Ill., following the Harley-Davidson Cross Country Tour Map, which I used for my entire trip. From there the scenery started changing as I saw the effects of the drought across our country, with field after field of desiccated corn and alfalfa fields. It was ironic that the first rain I experienced on the trip was in Iowa, one of the hardest hit states. Nebraska was also drought-stricken, but it was still beautiful, with fields of Angus cattle as far as you could see. It was also where I had the best steak dinner ever in a little town called Valentine.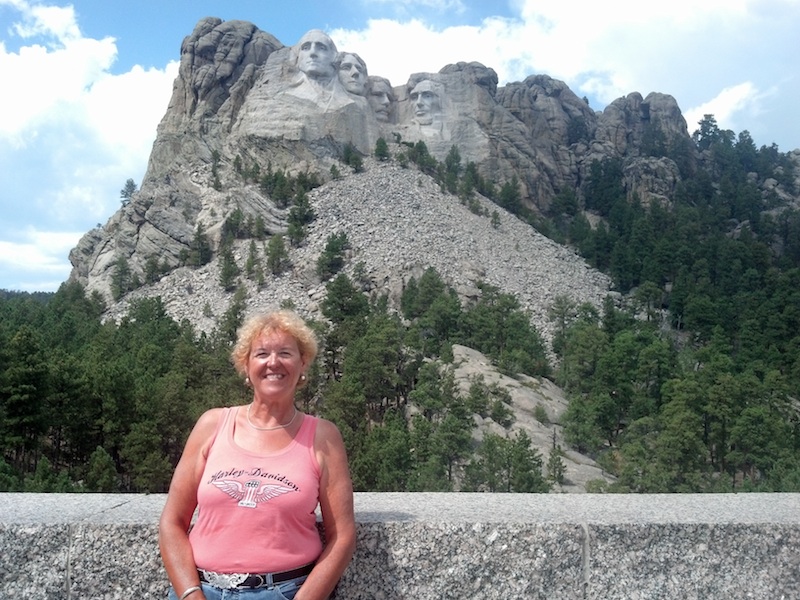 My favorite day of the trip started in Nebraska and crossed into South Dakota past field after field of sunflowers in bloom, into the Lakota Indian Reservation and past Wounded Knee. I continued on through Badlands National Park, with a stop at the Caputo store, a cool little country store, which just happens to be across the street from the "Dances with Wolves" filming site. Then on to Mount Rushmore, through historic Deadwood and into Sturgis. What an amazing day!
"Dead skunks smell the same from east to west."
Although Sturgis is a known motorcycle destination, nearby Deadwood was my pick! Deadwood is nestled in the Black Hills, surrounded by beautiful mountains, and is a "living history" Wild West town. During my day in Deadwood, I saw Wild Bill Hickok shot during a poker game in Saloon #10, and then saw a shootout in the street from the veranda of the historic Franklin Silverado Hotel where I had managed to book a room for the night. I also attended the trial of Jack McCall, Wild Bills killer in the Town Hall. Then I found myself dancing and enjoying the wonderful night life of the town with new friends I had met that day. I know I will go back to Deadwood and the Black Hills of South Dakota someday.
After my time in Deadwood, I headed west from South Dakota past the most beautiful scenery in Wyoming including Devils Tower National Monument and Big Horn National Forest. From there I went to Cody, Wyo., where I spent hours at the Buffalo Bill Historical Center, but I could have spent days enjoying all the wonderful exhibits. I even visited the chuck wagon out front, tried the beans and biscuits and sat in the tipi nearby.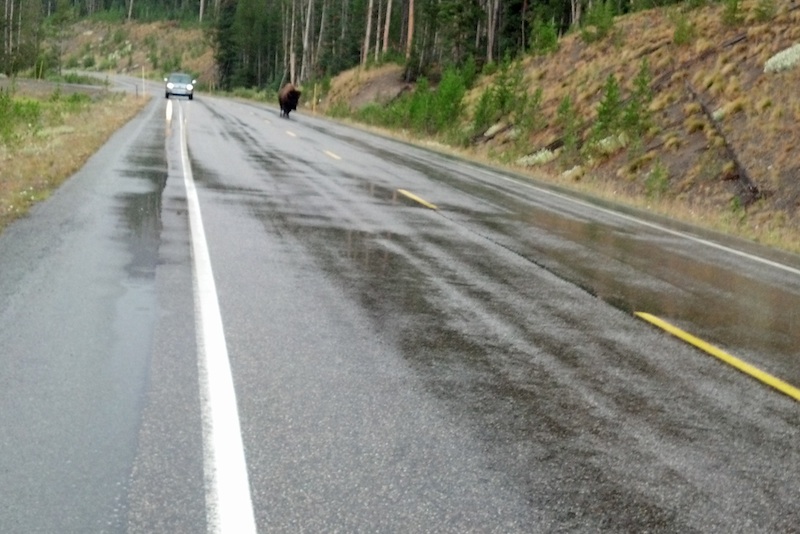 The next stop was Yellowstone National Park where I had a close encounter with a bison! The rangers at the entrance told me to be careful because the bison were rutting and aggressive, so when I found myself face-to-face with one on a small two-lane road, I was very excited to see it, but also pretty scared! Thank goodness I had learned to do tight U-turns with my big motorcycle during a Police Skills course at my local Harley-Davidson dealership. I did a quick U-turn and pulled off into a parking area where a national park ranger assured me that I could pass him…very carefully! I slowly went past in the left lane as he looked at me with a huge eye from the right. This was just one of many close animal encounters on my trip.
"…its a beautiful country, but theres still no place like home."
I was able to get a last minute cancellation and got to stay in a cabin right in Yellowstone. It had been pretty smoky from the wildfires, but an overnight heavy thunderstorm left the air clean and skies bright for my exploration of the park the next day. Old Faithful geyser was awesome, but I loved all the spooky steaming ponds and bubbling mud in the Norris Geyser Basin.
From there I headed south though Grand Teton National Park and into Jackson, Wyoming, one of the most beautiful towns on my trip. The next day I ventured into Idaho and Logan Canyon, Utah, and to Salt Lake City where I stayed with one of my best friends from high school. We spent Labor Day weekend touring around Salt Lake City, catching up and reminiscing.
My next stops were in Colorado, my favorite state of the trip, and the highest elevations. I actually rode my motorcycle to the alpine heights of 12,000 feet above sea level in Rocky Mountain National Park! Another favorite stop in Colorado was the Garden of the Gods National Park in Colorado Springs, with amazing red rock formations looking out at the Rocky Mountains and Pikes Peak.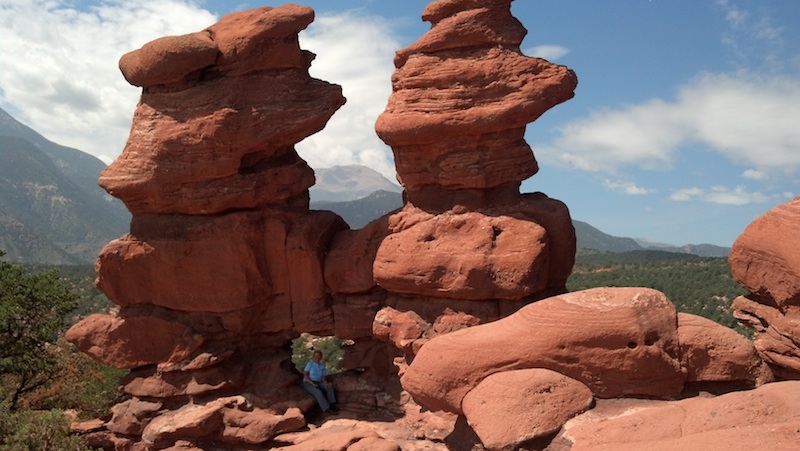 It was getting to that time where I was ready to head back east, and I knew it was a long ride home. I loved seeing herds of pronghorn antelope as I crossed into Kansas, rode through the beautiful Ozark Mountains in Missouri, and stayed in a lake front lodge on Barkley Lake in the Land Between the Lakes National Recreation Area in Kentucky. I rode past the Grand Ole Opry in Nashville and through Great Smoky Mountains National Park. I then made my way to South Carolina and the last stop of my trip with my old HOG friends, Tina and Bob. From there, the three of us headed out on a tour of the Blue Ridge Parkway. We had some close animal and bird encounters on the Parkway before Tina and Bob headed home—a huge black bear crossed our path and a red tailed hawk nearly landing on my helmet! Alone again, I was ready to head north—home was looking pretty good.
I arrived home in Exeter, N.H. on Monday, September 17th—33 days, 24 states, and 7,600 miles since I had left. I have a lot of t-shirts, pins, patches and other souvenirs, but the memories I have of this trip and these beautiful places will be with me forever.
Since my trip, many people ask me what I learned from traveling across the country. This is what I tell them:
• You can't stop at every scenic vista or you'll never get to your destination.
• Even when you feel like you have all the time in the world—you still can't see everything.
• Sometimes pictures just can't capture the beauty of a place.
• Dead skunks smell the same from east to west.
• Even in the most beautiful places, people will still tailgate, cut you off and try to run you off the road.
• And finally…it's a beautiful country, but there's still no place like home.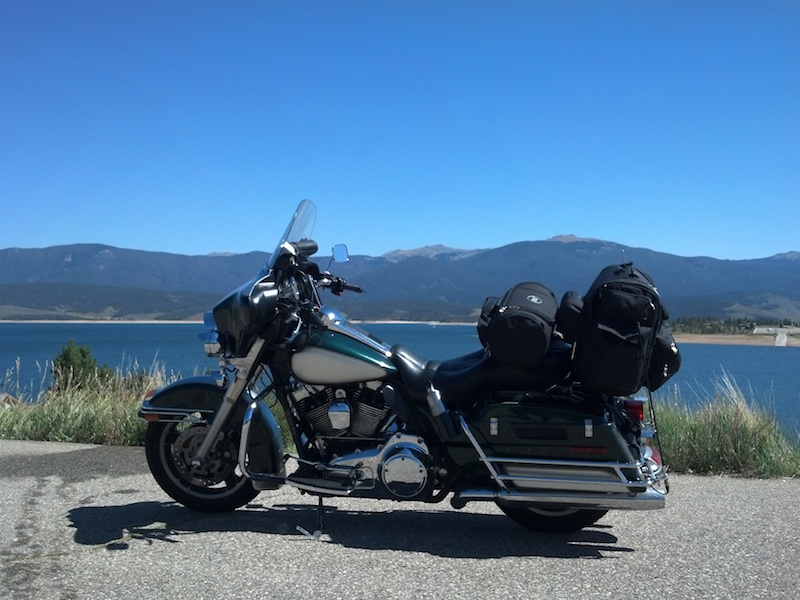 Do you have a story to share? We want to hear it!
Related Articles
Maintaining Your Life While Going on the Ultimate Motorcycle Vacation
Motorcycling Through Yellowstone National Park
The Most Scenic Route to Yellowstone
Celebrating 50 Years with a Solo Trip
Motorcycling Montana Book Review
Backroads With Betsy: Trip of a Lifetime
More Reader Stories