Because
I live near Yellowstone National Park
in Montana, motorcyclists frequently ask me to share what I think are some of the best roads to ride in this area when limited time is a consideration. I recently discovered a scenic loop encompassing Idaho, Wyoming and Montana, covering 400 miles that can be ridden swiftly within four days or stretched out over a week for some breathing room.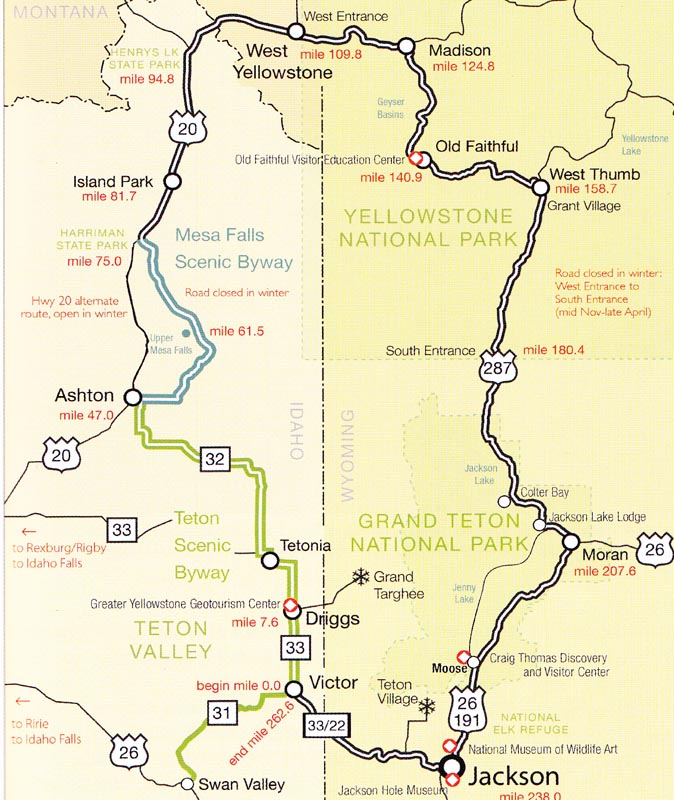 The Yellowstone-Grand Teton Loop was established as a complete road tour in 2009 and was recently selected as one of the top 10 scenic drives in the northern Rockies. As in 2009 when I was asked by the Idaho tourism division to ride the International Selkirk Loop and share it with my readers, I was invited by the same entity last September to tour the Yellowstone-Grand Teton Loop.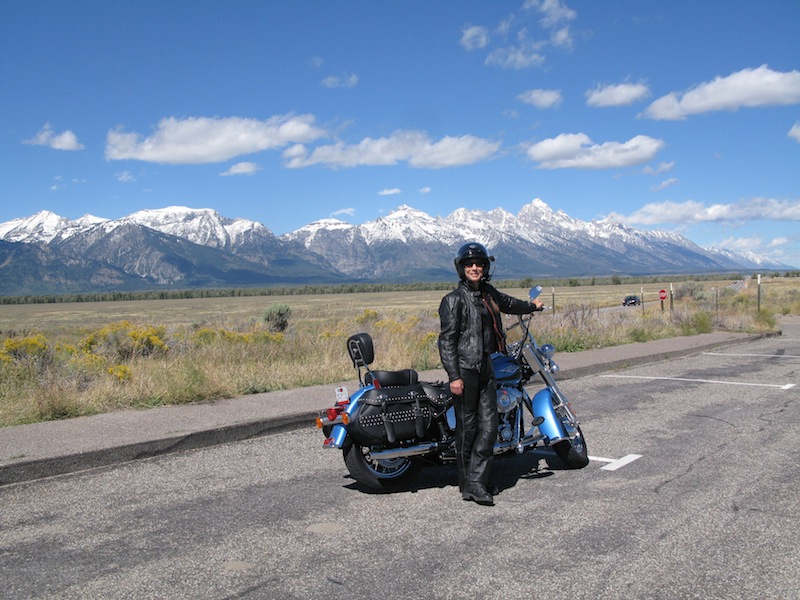 I drove the 250 miles from my home in Livingston, Mont., to Idaho Falls, Idaho, to join my fellow female motorcycle journalists who had flown into the Idaho Falls Regional Airport. This all-girl ride was led by Diane Norton, who works for Idaho's tourism division and just happens to ride and love motorcycles.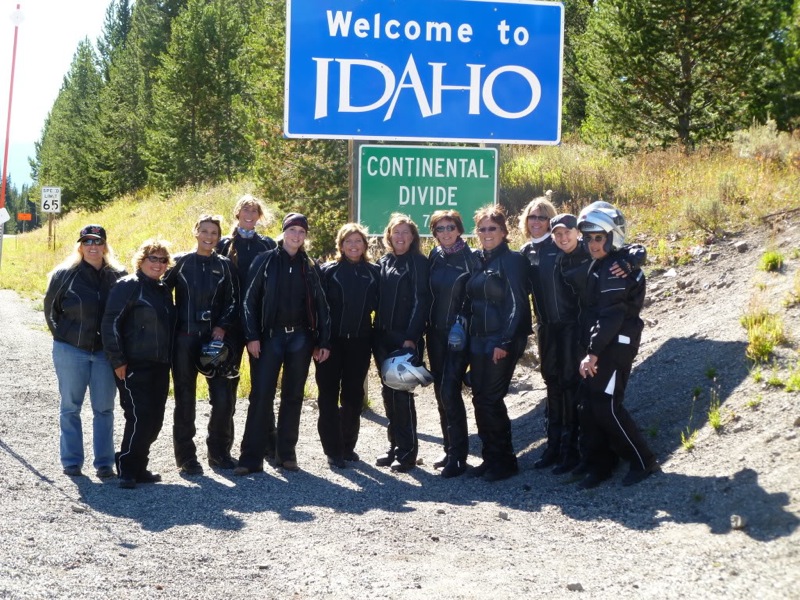 Idaho Falls … Ahhhh!
You might be inclined to pass right through Idaho Falls because it doesn't have a showy "look-at-me" attitude like its neighbor in Wyoming (that'd be Jackson). But spend a little time in this inviting city of 56,000 and you'll discover a friendliness and unpretentiousness that beckons a biker to hang out for a few days and enjoy a hearty breakfast and delicious dinner downtown. It's home to a full-service Harley dealership, Chester's Grand Teton Harley-Davidson, if your bike has any issues. Stop by on Fridays in the summer and you can indulge in their evening buffet like we did. Grand Teton Harley also rents motorcycles starting at $95 a day.
Before dinner, we were treated to a guided tour of the Museum of Idaho, now featuring the "Bodies: The Exhibition" exhibit that's been making the rounds of U.S. museums the last several years. I'm told it's a must-see!
| | |
| --- | --- |
| The Museum of Idahos Director of Exhibitions, Rod Hansen, shows us one of the permanent exhibits about local history. | An American flag with 13 stars was on display, which was carried in the Civil War by Joseph Lawyer, great-grandfather of Idaho Falls resident Frank Lawyer. |
Riding Day 1: Idaho Falls to Yellowstone National Park (167 miles)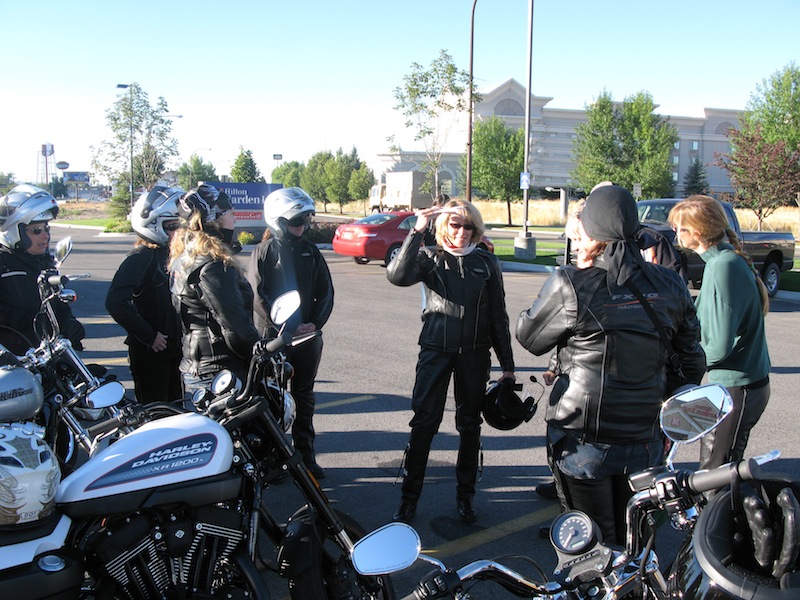 I was surprised at how cool the air was so early in the fall, with morning temps in the 30s. It was September 11, 2010. We'd be riding the Teton Pass to Jackson and had heard it had snowed up there the day before. Hoping the morning sun had melted it, we charged on ahead. I suggest riding this route in July or August to ensure warmer temps. Certainly if you're in a car you can drive this well into the fall to witness the spectacular autumn colors.
Thanks goodness I'd asked Harley-Davidson, who had loaned our group a fleet of 2011 motorcycles, to outfit the Heritage Softail Classic I'd be riding with heated gear hookups. I plugged in my Powerlet heated jacket liner, turned on my
battery-operated Harley-Davidson gloves
, and was toasty warm for our brisk ride over the pass. I live in these parts; I know what to expect this time of year.
| | |
| --- | --- |
| Our group atop Teton Pass looking down into Jackson. | View looking down into Jackson. To get to the Teton Pass, we traveled on U.S. Route 26 east out of Idaho Falls to Idaho's state Highway 31 up to Victor, Idaho. |
I was unable to take any photos of Route 26 to Swan Valley, Idaho, from my motorcycle like I did later in the tour because my fingers were bundled up in thick gloves from the morning chill, but I highly recommend this road, along with Highway 31 (Teton Scenic Byway) out of Swan Valley, as a way to get to Jackson. You ride right along the Snake River, and the views of the sprawling, hilly lowlands framed by the Tetons combined with the well-paved, curvy asphalt are a motorcyclist's paradise.
| | |
| --- | --- |
| In Jackson, we parked our motorcycles in front of the world-famous Million Dollar Cowboy Bar. | Billy Burgers served lunch for us next door, which Diane and Debbie enjoyed immensely. |
I would love to have stayed in Jackson longer, as the shopping is incredible and the vibrancy of the town is tangible, but our destination was still 70 miles away, well into Yellowstone Park. I suggest spending the night in Jackson to get a taste of this decadent down-home western town.
| | |
| --- | --- |
| Views of the Teton Mountain Range leaving Jackson. | Donya, Debbie and me. Grand Teton National Park is just south of Yellowstone Park. You pay one price, $20 per motorcycle, to get into both. |
| This is arguably the most scenic part of the ride, the Tetons. They're ahead of you… | …and behind you, as you can see in this photo I took while riding. |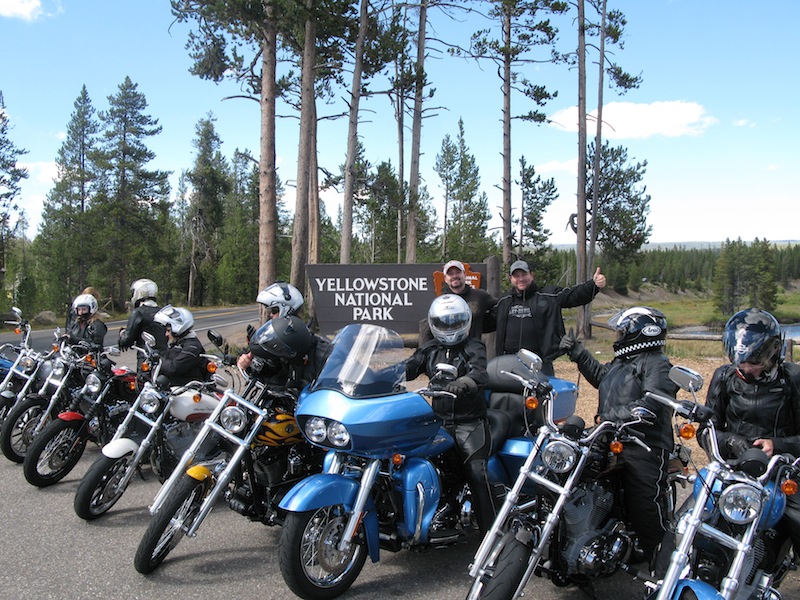 We ended our 167-mile ride (our longest day) at Grant Village, one of nine lodging properties in Yellowstone Park. I've always wanted to spend a night in a park hotel. Silly me, I live 35 miles from Yellowstone—you'd think Id get my butt down there and do it. But when you live so close, you don't think to do that.
Grant Village Hotel, built in 1984 and named after President Ulysses S. Grant, is situated on the southwestern shore of Yellowstone Lake, approximately 20 miles from Old Faithful. Summer rates in Grant Village are around $152 a night. Lodging in the park is very popular, so reserve early.
| | |
| --- | --- |
| Grant Village Hotel prides itself on the fact that there are no TVs, radios, air conditioning or Internet service available, reflecting the natural surroundings of the park. No cell service either, by the way. | Yellowstone is known for its geysers, hot springs and fumaroles. |
| A "bear jam" in Yellowstone. This is what happens when someone spots a bear off the side of the road. | Amanda Lee (in black), our Harley-Davidson rep on the tour, uses her binoculars to see the bear. Don't forget those or a spotting scope when visiting the park. You'll need them. |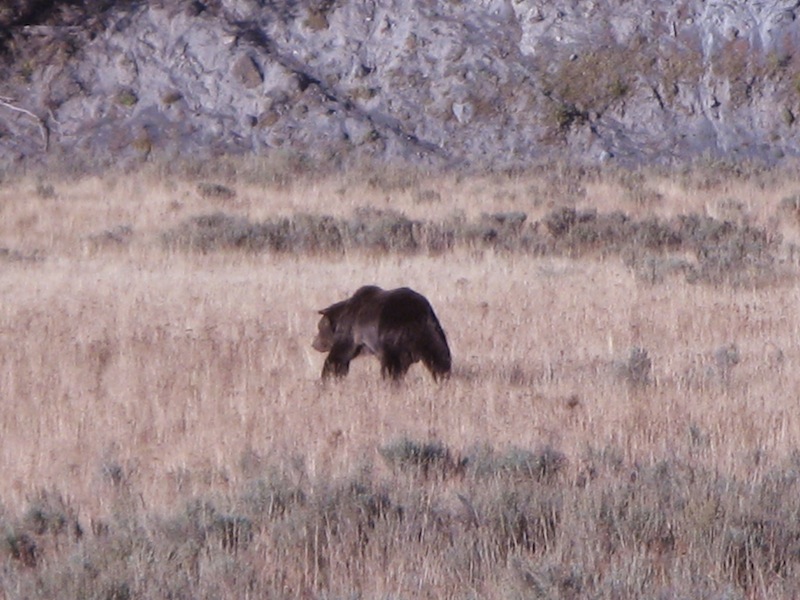 We ate dinner at Lake Hotel, another one of the park's hotels just to the north, offering fine dining and impeccable service. Be sure to make reservations. If you're on a motorcycle, I recommend eating an early dinner so you're not traveling back to Grant Village in the dark. The roads are teeming with wildlife at night, but remember, it doesn't start getting dark in these parts until around 9 p.m.
Riding Day 2: Yellowstone Park to Island Park, Idaho (95 miles)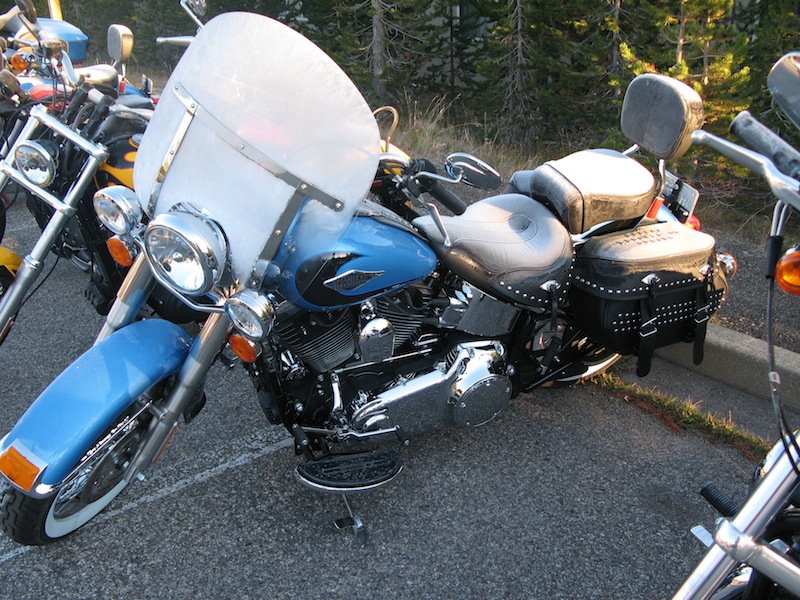 We delayed our early morning start to ensure that there was no black ice on the roads, finally leaving at about 10:30 a.m. to head to what is on everyone's must-see list for Yellowstone: Old Faithful.
| | |
| --- | --- |
| The new Old Faithful Education Center, which opened in 2010 and features historical and interactive displays, has a huge window to view the famous geyser indoors on very cold or rainy days. | You'll cross the Continental Divide on your way up to Old Faithful. |
| The Grand Canyon of Yellowstone is another must-see. The mighty Yellowstone River has carved this incredible rock formation over millions of years. My photo hardly does it justice. | The Hayden Valley is one of prettiest places to ride through in the park. Buffalo are seen off in the distance. |
| Herds of buffalo are usually on the side of many roads in the park, but it took all day for our group to see just one on this day. | The girls hop into the back of our chase vehicle in case the buffalo decides to charge. |
Our route had us exiting the park at West Yellowstone, traveling a short distance in Montana, then turning left onto U.S. Route 20 to travel to our day's destination of Island Park, Idaho.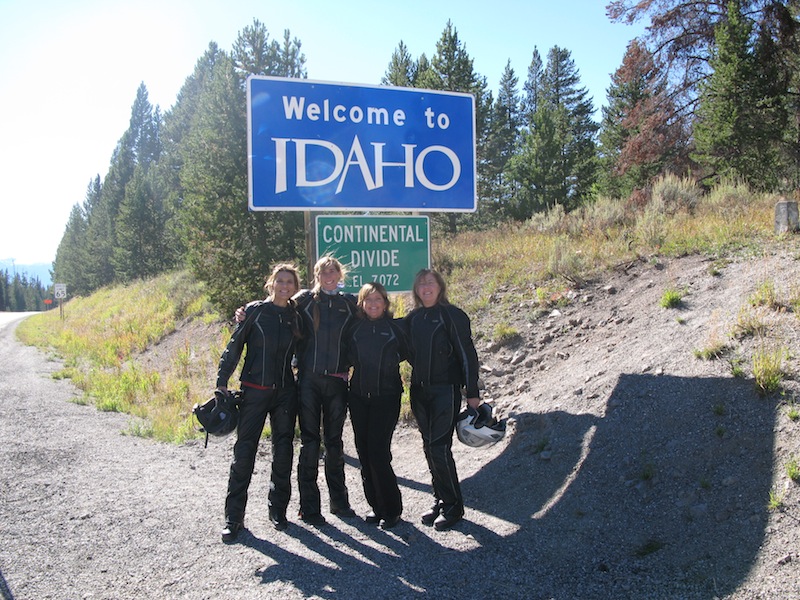 Island Park has the "longest Main Street in America" at 34.8 miles long. In winter, the area is a snowmobiler's paradise thanks to the vast amounts of snow it receives. The terrain is alpine, with crystal-clear lakes and tall lodgepole pine trees. The roads have very little traffic. You'll love the peace, solitude and clear air with its distinct smell of pine.
We split up into groups in the one-, two- and three-bedroom cabins at The Pines at Island Park and ate a hearty-portioned dinner at the Lodgepole Grill, the hotel's on-site restaurant.
| | |
| --- | --- |
| The Pines is one of the nicest places to stay in Island Park. | The cabins are finely appointed and start at $189 a night during peak season. |
Riding Day 3: Island Park to Victor, Idaho (66 miles)
Here's where the ride got very interesting for me. I've traveled this route many times but never veered off Route 20 to Idaho's state Highway 47, the Mesa Falls Scenic Byway, the highlight of this day's ride. It's a short 30 miles out of the way, paralleling Route 20. The topography changes, as do the views. Pull into the Upper Mesa Falls to witness an incredible waterfall display that just kind of appears out of nowhere, as the surrounding topography does not hint at what you're about to see when you ride up.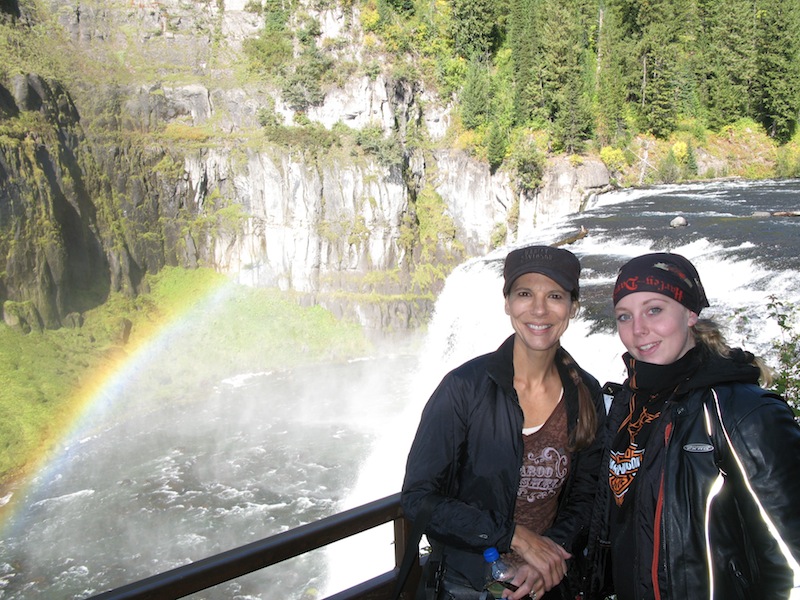 On our way to Teton Springs Lodge and Spa in Victor, Idaho, where we'd spend the night, we passed through the cute towns of Tetonia and Driggs, both with lots of character.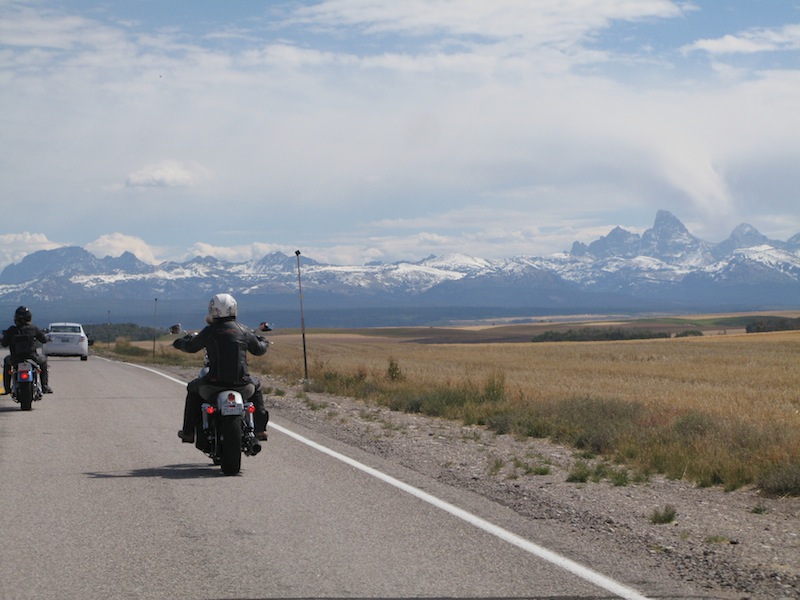 | | | |
| --- | --- | --- |
| The Teton Springs Lodge and Spa in Victor, Idaho, is a great place to unwind at the end of your ride. | In addition to these upscale rooms, there is a full-service spa. All of us indulged in a massage, facial or other spa service. | The lodge rooms start at $165 a night. Cabins are also available to rent. |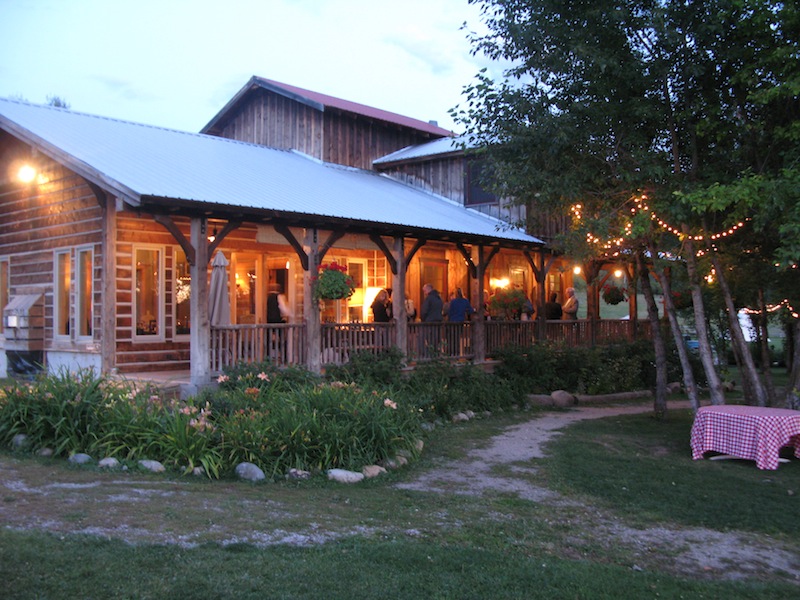 From Victor, it's a scenic 66 miles back to Idaho Falls the way you came to drop off your rental bike and hop on a plane. Or you can continue on your own motorcycle to see more of the beautiful sights that make up the magnificent Wild West. I loved this loop so much that I'm going to do it again, this time on my own motorcycle since I live so close.
Resources
YellowstoneGrandTetonLoop.com
DriveTheTop10.com
I highly recommend this website that has incredible photos and the most details about hiking, camping and traveling in Yellowstone Park,
TrailGuidesYellowstone.com
.