Kawasaki is not just talking about wanting to attract women riders to its brand#8212;the company is doing something about it by offering an attractive deal to women who buy a brand-new Kawasaki motorcycle during the weekend of International Female Ride Day.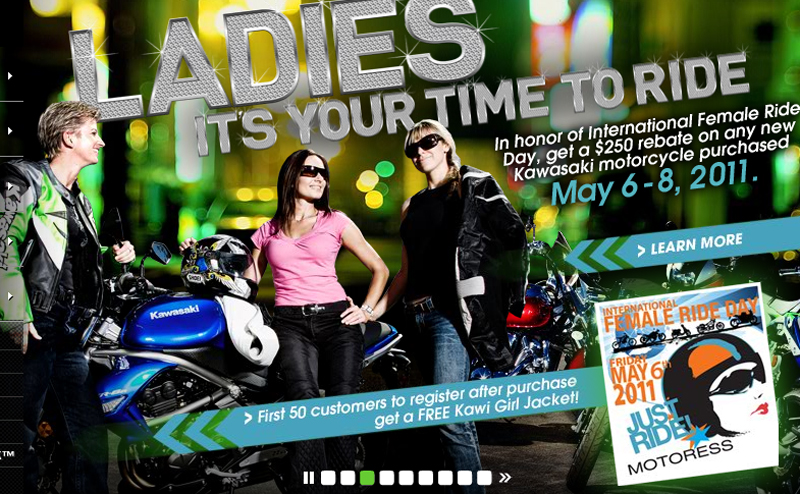 To celebrate May 6 as International Female Ride Day, Kawasaki is offering a special three-day-only $250 pre-paid MasterCard debit card to the first 500 individuals who purchase a Kawasaki motorcycle between Friday, May 6 and Sunday, May 8 and register their new motorcycle VIN online at Kawasaki.com/kawigirl. In addition, the first 50 individuals who register will receive a free Kawi Girl jacket.
This program rebate may be used in conjunction with other current offers (e.g., Ticket To Ride Demo Dollars, Good Times Sales Event specials) and is open to guys and gals by law. When combined with other promotions, buyers can discount up to $1,000 off the price of a new motorcycle. Check out the video Kawasaki put together to promote the deal and see what the jacket looks like.
If you#8217;ve been thinking about buying a new bike or upgrading to a bigger one and can#8217;t decide on which of the Japanese manufacturers you want to go with, Kawasaki is saying choose us by laying out the welcome mat with this attractive discount deal. The deal applies to any motorcyclein Kawasakis lineup, including dirt bikes and dual-sports. For more details, visit Kawasaki.com/kawigirl. And to learn more about International Female Ride Day, visit the link below under Related Articles.