The Kawasaki Ninja 250R gets a complete redesign after 20 years offering more features while keeping its price tag ultra-affordable at less than four grand. What makes this the top-selling model in the Kawasaki lineup? Affordability. Its inexpensive to maintain and insure, plus it has exceptional fuel economy. The 250R is not only an ideal beginner bike for those who like sportbikes, its the only 250cc sportbike on the market.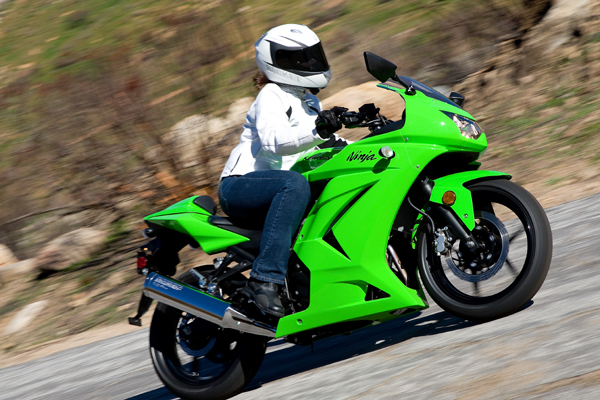 According, to the latest Kawasaki Owners Survey, the Ninja 250 is a popular choice among new riders, and 33 percent of its sales are to women. Not surprisingly, one of the biggest considerations for buyers of the Ninja 250R is the price. Its just $3,499.
Not too long ago, I wouldnt have considered riding a bike like the 250R because a 250cc displacement usually means an underpowered engine meant for beginners. But when I heard that the 250R has been completely redesigned for 2008 with 70 percent of the engine updated and styling borrowed from the super sporty Ninja ZX-6R and ZX-10R bikes, I was curious.
I prefer an upright riding position as opposed to leaned over position because it is more forgiving on my lower back, and doesnt put added pressure on my wrists. The redesigned 250R really delivered in this area with user-friendly ergonomics that puts the rider in a natural riding position.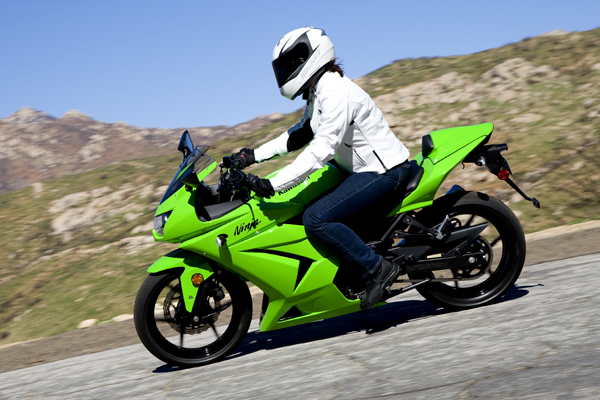 Weighing just 335 pounds, the 250R is extremely light so its easy to lift off the kickstand a definite plus for beginners. The stepped two-piece seat has a forward-leaning slant to position the rider into the cockpit of the bike. Stepped means the passenger part is a little higher than the riders. Seat height is just 30.5 inches – low for a sportbike. (The pictures show the bike with the optional rear seat cowl installed that covers over the passenger seat.)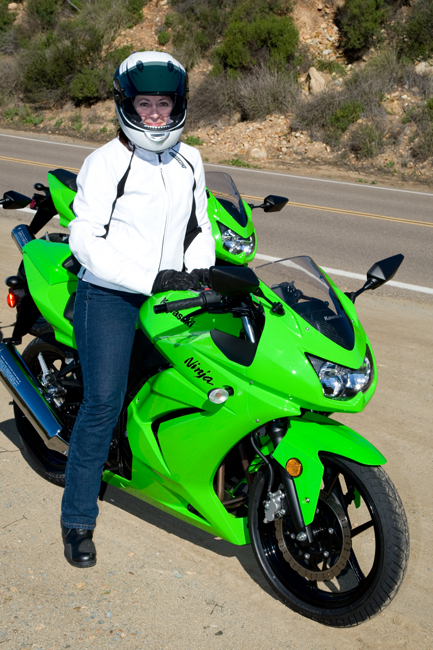 Lots of Spunk
The funky downtown area and scenic back roads of San Diego provided a backdrop for my road test that included busy city streets, freeway riding and plenty of beautiful canyons and valleys for a good sampling of the 250Rs capabilities.
Earlier Ninja 250 models required higher revs (meaning you have it give it more throttle) just to shift out of first gear which can be challenging for entry-level riders still learning where the friction zone is. The new 250R has plenty of low and midrange torque for brisk acceleration and a smoother, more responsive take-off, so a rider doesnt need to crank the throttle a lot to get it going. Kawasaki specs indicate maximum torque is 16.2 foot-pounds at 9,500 rpm. At one point, I found myself taking off in second gear instead of first. In my experience, most bikes are forgiving allowing you to get away with this. You can crank the throttle to quickly rev up to second gear speeds without a lot of engine choking and sputtering. The 250R was not very forgiving taking off in second gear.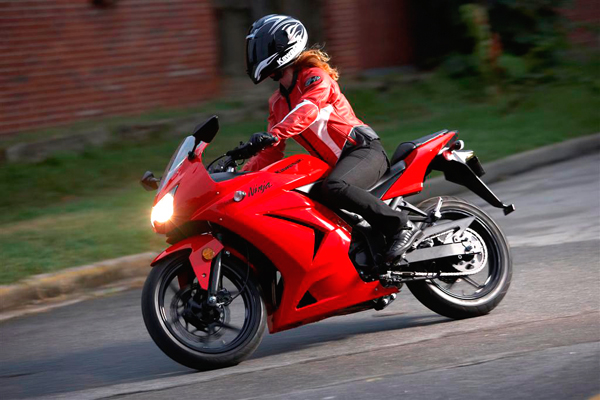 You might wonder how a 250cc parallel-twin powered engine performs at freeway speeds. The bike felt stable and solid keeping up with 70 to 75 mph traffic. Shifting into sixth gear, the speedometer revealed an effortless 75 mph at roughly 8,000 rpm. The new windshield provided a decent amount of wind protection, and I didnt feel the wind pushing into me too much.
Something I was able to feel firsthand while riding along a badly pot-holed road in the city is the improved suspension. Approaching the nasty stretch of pavement, I thought for sure I was going to get knocked out of my seat, but the little Ninja took it all in stride. The new Showa front forks are a smidge fatter than on the previous 250R providing better stability and a more planted feeling. The rear shock features a 5-way adjustable preload, meaning you can loosen or tighten the shocks from the factory "pre-loaded" setting to adjust when carrying a passenger or bags.
A shorter rake angle set at 26 degrees makes steering and cornering easier. The shorter the rake, the easier it is to do tight U-turns. I noticed this on some of the narrow roads I traveled. U-turns were effortless so long as you look where you want to go, the key to a doing a U-turn without putting your feet down.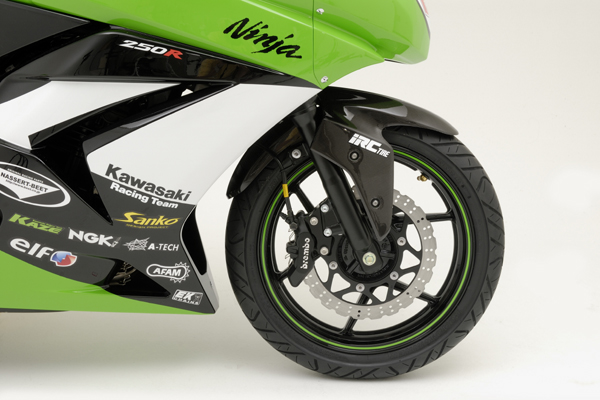 Also new for 2008, is an improved braking system with an enhanced feel at the lever that makes two-finger braking easy. Two fingers means the lever is so sensitive it only takes two-fingers to pull it in. A larger 290mm petal shaped disc was put on the front (larger means it increases your stopping power). Its squeezed to a stop by new dual-piston calipers on both the front and rear. The petal disc is shaped like a flower petal (hence the name) instead of having a circular shape like most bikes. This curvey shape improves wear and tear on the disc.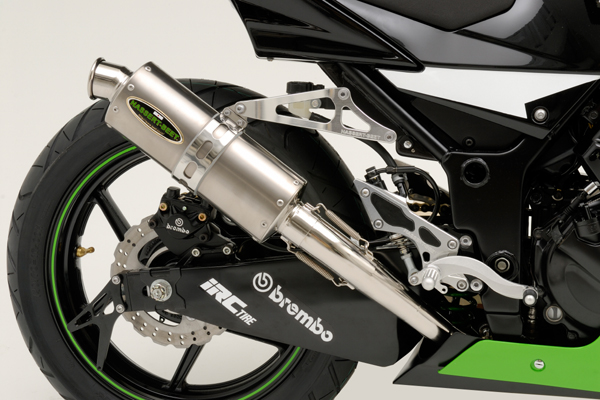 The all-analog instrument cluster includes a large-face, easy-to-read speedometer and separate tachometer. Its surprising to see an all analog dash these days (even the odometer features the old-fashioned individual numbers that rotate), but this is one way Kawasaki keeps the bikes price down. A fuel gauge was added for 2008 a convenient feature absent on most small displacement bikes.
The 4.8-gallon fuel tank keeps you in the saddle longer between fill-ups meaning fewer trips to the gas station. The 250R gets roughly 50 mpg (unofficially, some riders say they have been able to stretch that to almost 70 mpg), depending on the type of riding you do. To help keep the price low on the 250R, Kawasaki stuck with the carbureted engine. Fuel injection is found on the models shipped to Europe but they also come with a higher price tag.
My only real issue was with the new diamond shaped mirrors that are smaller than Im used to. They required several adjustments before getting them to a suitable angle where I could clearly see behind me.
The clutch is a little stiffer than I would expect on an entry-level bike, but it is certainly not a deal breaker. Once moving, the updated six-speed transmission shifted smoothly, and I never had a problem finding neutral. All Kawasaki motorcycles are equipped with a "positive neutral finder," Kawasakis proprietary technology that makes finding neutral a cinch. The green indicator light on the instrument panel confirms when youre in neutral.
The Bottom Line
So, what do all of these improvements mean to someone interested in this bike? Simply stated, it translates to a more rider-friendly package in terms of comfort and improved ergonomics; better throttle response – important especially for beginners getting used to the feel of the throttle; more low and midrange torque so the oomph is felt as soon as you take off; improved braking – always a good place to make better; smoother shifting – who doesnt want to shift through the gears with ease; better cornering ability – Im all for riding a bike that helps me take the turns more efficiently; an updated instrument panel – everyone can appreciate a fuel gauge; and all-new bodywork that gives the 250 a cool, modern look.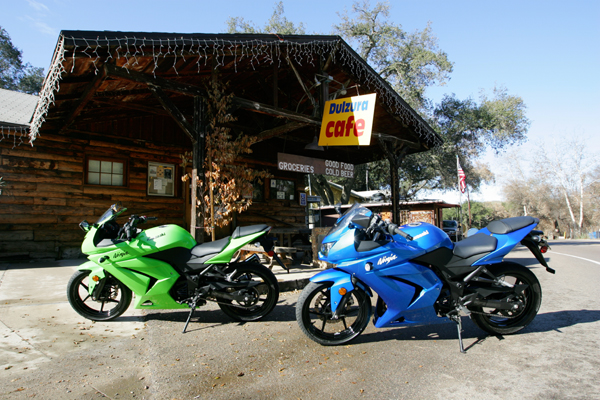 The best part is that even with all these improvements, the price is just $500 more than the previous years model. With so many upgrades on a bike that has been going strong for so long, I wouldnt be surprised if current 250 owners choose to upgrade to the 2008 version. Judging from its popularity and the number of enthusiasts waiting to demo this bike at Daytona Bike Week, you may have a hard time finding one on the showroom floor. No longer is this the little Ninja that could; it is the little Ninja that does!
For more information, visit Kawasaki.com
The Specs at a Glance: 2008 Kawasaki Ninja 250R
Displacement: 249cc liquid-cooled, parallel twin
Seat Height: 30.5 inches
Fuel Capacity: 4.8 gallons
Dry Weight: 335 pounds
Colors: Lime Green, Candy Plasma Blue, Ebony, or Passion Red
Price: $3,499 (Matching Seat Cowl $99.95 – optional)
WRN Recommendation
Kawasaki has a winner with the Ninja 250R. This new and improved version has become hugely popular; dealerships are having a hard time keeping them in stock. It makes a great beginner bike for those preferring a sportbike style; it's also a viable option for experienced riders who want a super commuter that can help save on gas prices.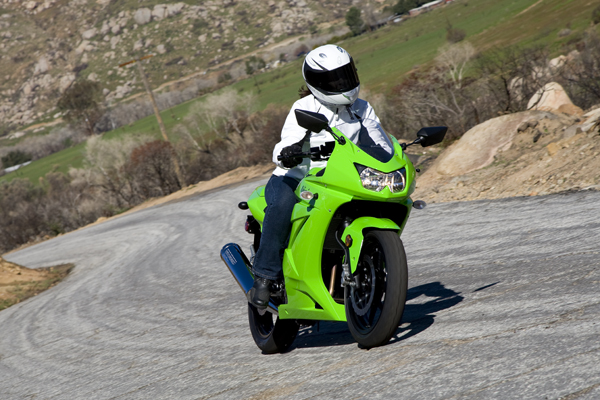 About the Author
Teri Conrad is the editor of Accelerate magazine, Kawasaki's enthusiast publication for Riders of Kawasaki (ROK). She is also a contributing editor for WomenRidersNow.com. Her work has appeared in Iron Horse, Ride Texas, Biker Ally, Friction Zone, Adventure Sports Outdoors, Portrait of Achievement, and Cycle Trader magazines. Teri grew up riding on the back of her mom's motorcycle, and has been riding her own bike since 2003. She rides both cruisers and sportbikes, and has appeared on the Speed Channel in a segment about Kawasaki's Ninja 650R. Visit Kawasaki.com.
Related Articles
MOTORCYCLE REVIEW: Kawasaki Ninja 650R