Want to share your story? Click
here
to find out how.
To some, the age of 50 is anticipated with dread. Me? I started planning my 50th birthday celebration a year or two before I even reached that age. I considered 50 a milestone to celebrate—a time to revel in the joy of feeling young and alive with endless possibilities!
A dear friend introduced me to the thrill of riding a motorcycle at the age of 48. I rode on the back of his bike for a year and loved every moment. I took the MSF class at 49 and bought a used Honda Rebel as my starter bike. Fifteen hundred miles later, I was ready to move onward and upward. My Harley-Davidson 2008 Sportster 883L is the perfect "intermediate" bike, and I have gained great experience and confidence from riding with friends and my local H.O.G. group. While riding through the mountains and hills on the back roads of southwest Virginia, I began to plan my "50th Birthday Solo Ride."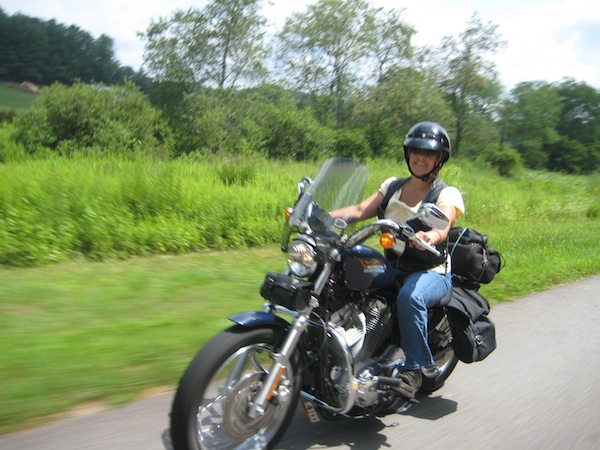 I decided to simultaneously celebrate my 50th birthday and the 75th anniversary of the Blue Ridge Parkway by riding the North Carolina portion of "America's Favorite Drive." This route offered me the spontaneity I longed for while never putting me more than 400 miles from home—the perfect way for an intermediate rider to venture into solo riding. Yes, other women have gone farther and stayed out longer, but my 925-mile/five-day/three-state ride was perfect for me and is one that I think any woman would feel comfortable attempting.
I kept a journal of my ride to capture the spirit of it, and I've included it in the hopes that it will inspire other women riders who would like to attempt the same kind of journey.
T-minus one day til the 50th Birthday Solo Ride – July 25, 2010
Tomorrow morning I leave on my very first solo motorcycle trip (and only my second long-distance trip altogether). My plan is to tour many of the places along the North Carolina portion of the Blue Ridge Parkway (BRP). I have no specific schedule nor do I have any hotel reservations. I'm looking for a bit of spontaneity! I do know that I want to ride a lot, eat some good local food, enjoy a cold beer in the evenings, hike and swim along the way, and end it all by riding the Tail of the Dragon on the North Carolina/Tennessee border…319 curves over 11 miles. Yikes! But no worries, I'll be riding slowly for sure.
Day 1: The solo ride begins – July 26, 2010
I cant believe the first day of riding is done! How did that happen? Michael and I pulled out of Radford at 9 a.m. He rode behind me for quite a while to make sure things stayed tied down. I am so glad I had such a great friend to ride part of the first day with. We rode to Stations Inn in North Carolina, where I ate a "Harley Dog" (hot dog, bacon and cheese—no calories there, huh?). That is where we parted, and I have to confess to a few tears as I headed off on my own. But within five minutes I was fine and ready for my adventure.
I got caught in my first rainstorm and spent 20 minutes hanging out under an overpass. I guess Im a real biker now! I rode on to Blowing Rock, N.C. (200 miles the first day). What a cool place! There are lots of shops and restaurants in this mountain town. I found a cute little hotel where the owner said he would bring out towels so I could wipe off my bike in the morning. I just finished a couple of cold beers and some fish and chips at a local pub. I plan to read a bit on my little porch, and then I promise you, this woman will sleep well tonight.
Day 2: Exploring the BRP on bike and on foot – July 27, 2010
I slept better than I have in weeks, and started the day by enjoying scrambled eggs on the porch of a cute little coffee shop. I was on the BRP by 9 a.m. and rode back and forth several times across the Linn Cove Viaduct, a part of the parkway that swings out adjacent to the mountain.
From there I headed to Grandfather Mountain and walked over the mile-high swinging bridge. I followed that by hiking to Linville Falls. It was overcast all day, so the pictures wont be great, but my memories are wonderful. Next stop was at Mt. Mitchell, where the elevation is more than 6,500 feet. Even though I couldnt see far, it was neat to have the fog swirl around me as I walked around up there. From that point, it was a curvy ride back down out of the mountains. I checked into a hotel in Asheville (where I was able to talk down the price by telling the desk clerk about my 50th birthday solo ride). I enjoyed beer, fried pickles and bluegrass in a place called the Fiddlin' Pig. Life is good!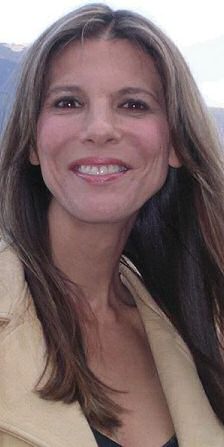 Day 3: The end of the BRP, and folks along the way – July 28, 2010
Hello from Bryson City, N.C., located at the southern end of the BRP. I rode the last 78 miles of parkway today, and it took me a long time because I kept stopping to stare at the beautiful mountains. The section between milepost 400 and 425 is stunning. I have taken so many pictures, always thinking, "This is the best one."
I havent said anything about the great people I have been meeting along the way. Two bikers from Indiana used brute strength to adjust my highway pegs (which got out of position when I dropped the bike yesterday—yeah, I didnt tell you that, did I?). I also loved the folks, about my parents' age, who said, "If you were my daughter, Id kill you for riding alone." To which I replied, "Why do you think I havent told my parents?" I met a guy who hauled his bike from Missouri so that he could ride the BRP while his wife went shopping in Asheville. Smart man!
Ive ridden about 500 miles so far. Not much compared to my friends who ride cross-country, but Im proud and happy.Tomorrow…the Dragon.
Day 4: Curves – July 29, 2010
Let me tell you, the curves on the BRP are nothing like the ones I have ridden all day today! The Tail of the Dragon is evidently known worldwide for its 318 curves in 11 miles. You get to put a sticker on your helmet and your bike if you finish (you have to ride it both ways), but your broken bike parts go on the Tree of Shame if you dont.
Well, I am proud to say I have a sticker on both the bike and the helmet. Woo-hoo! The road is a blast (even though I went at granny pace at 30 miles per hour), and I cant wait to go online to see the pictures. Just like when you raft a river, there are professional photographers posted along the way. What a hoot!
After eight hours on the bike, I checked into the Iron Horse Station in Hot Springs, N.C. The road to get here (Rt. 209) is just as curvy as the Dragon and runs for 30 miles, a lot of it through the Pisgah National Forest. Beautiful! As I was often entirely alone on that road, I am grateful I had no problems.
Hot Springs is a cool little (very little) historic train town. As always, I had a cold beer and a shower. Tonight, after that, I enjoyed a wonderful glass of red wine with some delicious white bean and chicken chili. Now? Time for bed. Almost 700 miles…supposed to come home tomorrow…we shall see!
Day 5: What a ride! – July 30, 2010
A huge storm woke me during the night, and I wondered how wet my bike would be. The sun was out this morning, though, and I thought all was well. I am not sure why I didn't think about all the water that the seat had absorbed during the storm—I rode with a wet butt all day. Lesson learned!
I rode 275 miles today (a record for me) and I spent almost all of it on back roads. I rode through parts of the Cherokee National Forest, the Jefferson National Forest and the Mt. Rogers Recreation Area. I rode on a long stretch of road that passed through multiple "no stoplight" towns in Tennessee. I've been really lucky in terms of weather on this trip, but today was the best yet. An "Idaho sky," for sure!
I have loved the freedom of these past five days—no plan and the freedom to spontaneously pick my route. Today I literally went from one town to the next, choosing the roads as I went along. The folks I met and who helped to guide me were so great. I often hear bikers talk about the wind in the face and the freedom of the road. I feel like I finally get it. It has been such an amazing trip, and I really was not ready to come home. Nonetheless, I was glad to cross over the New River for the first time in five days.
What a ride! Five days, three states, and more than 925 miles. What a great way to celebrate my 50th birthday!
Want to share your story? Click
here
to find out how.