At Women Riders Now, we encourage every person whos interested in motorcycle riding to give the riders seat a try. After all, for every fearless rider who took naturally to the handlebars, you'll find a formerly timid rider amazed to find herself comfortable at the controls. But whether it's personal preference, physical limitations or another circumstance, it's perfectly natural for some people to feel more comfortable in the passenger seat—and we applaud you if thats your decision.
Because so many riders, especially couples who tour, prefer to ride two-up, learning to be a good passenger is a crucial part of riding safely and riding right. Here are some tips that every passenger—and rider with a passenger—should keep in mind when riding two-up.
Women Riders Now E-Newsletter
Stay up-to-date on all things motorcycle! Latest gear, bikes and products reviews. Travel ideas, great product giveaways, and more.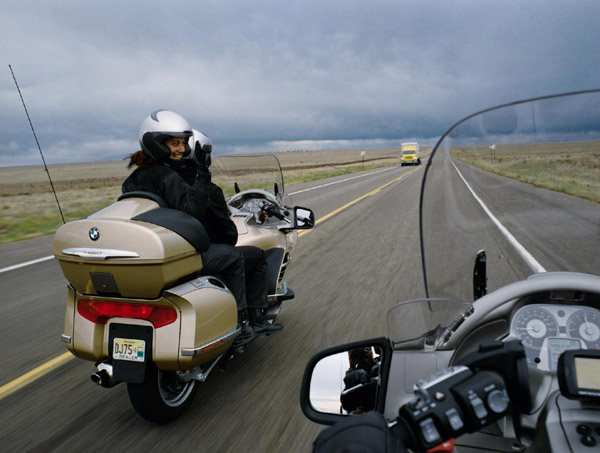 Tips for Being a Good Passenger
Be sure the rider is ready for you to get on the bike. Once on, sit still. A shift in your weight can drop the bike, especially at a stop.
Once riding, lean with the bike. Looking over the riders inside shoulder in a curve will nearly always provide the correct angle.
If you are to be the navigator, be sure to give directions soon enough that your rider has plenty of time to maneuver.
Pay attention to the rider's physical signals. You can often predict and brace for a quick stop just by feeling the riders muscles tighten.
Communicate. If you need to stop, let the rider know.
Take the Motorcycle Safety Foundation (MSF) beginner course.Better yet, you and your rider should consider taking the course together.Many non-riders say they gained valuable knowledge in the rider course that made them better passengers.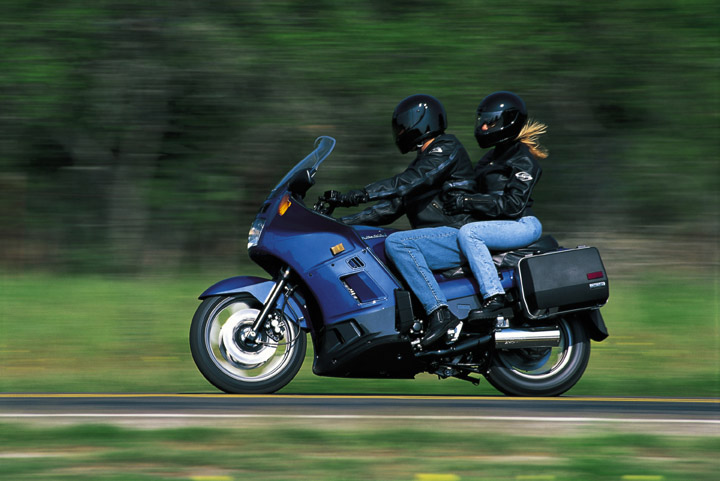 Tips for Being an Effective Two-Up Rider
Realize that the passenger is more prone to wind effect, cramping and boredom. On many bikes, the windshield deflects the airflow over the rider and into the passenger, who is often seated higher on the bike. That air pressure can strain the passengers back and leg muscles as he or she tries to simultaneously stay back from the rider and fight the wind effect. Passengers may also get colder than the rider due to the wind chill.

In addition, most passenger seats are not as comfortable as the front part of the saddle. Many of them keep the passenger leaning at a slightly backward angle, straining the back and putting the impact of bumps on the tailbone. If you plan to bring along a passenger regularly, you might consider investing in a good aftermarket seat designed for both the riders and the passengers comfort.

As the driver, remember that you have the constant mental stimulation of piloting the bike. The scenery might not be the most fascinating for your passenger (there are only so many words that can be made out of the letters on the DOT sticker on the back of your helmet). Give your passenger a break off the bike every few hours to stretch his or her legs and break up any boredom that might have set in.
Be sure you're aware of and comfortable with the adjustments necessary for riding two-up. Always allow for the added stopping distance you'll need with the extra weight at stoplights and during parking lot maneuvers.
Have your passenger hold onto you tightly enough to move with you as you lean into corners, and make sure he or she knows to brace as you are about to brake. Dont try to impress your passenger with quick acceleration or knee-dragging cornering. He or she wont be delighted.
Make sure your passenger has the same protective gear as you do when riding—helmet, leathers or a riding suit, and a rain suit.
Always stop on request. Remember, this is supposed to be fun for both of you! Your passenger trusts you with his or her safety. Earn the trust.
–
Looking for more stories about riding in back? Return to the WRN Passenger Friendly section of the WRN Beginner's Guide.

Related Articles