Independence. Freedom. Solitude. At one with the machine and alone on the road. OK, so the going-it-alone image may be the reason for getting into motorcycling, but sooner or later, most riders want to share the experience—turn to someone and say, "Did you see that? Wasn't that last curve great?" Its then that riders look at the empty seat behind them and wonder if there's room for someone else in the world of curves and horsepower.
Women Riders Now E-Newsletter
Stay up-to-date on all things motorcycle! Latest gear, bikes and products reviews. Travel ideas, great product giveaways, and more.
Can two people be content wedged together on one bike, with one holding all the power of maneuvering the machine and one literally putting his or her life in the hands of the operator? Sure! Thousands of couples ride motorcycles two-up for thousands of miles a year and love it.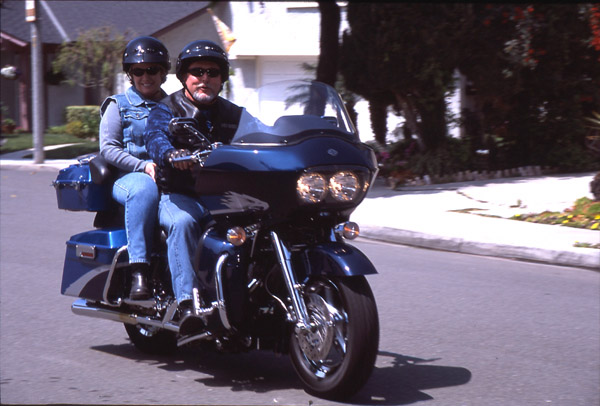 Some couples meld together on the bike as one rider, comfortable and happy, each with his or her own experience. I rode many years with retirees Terry and JoAnn King of Lafayette, Ind., who moved in unison aboard their BMW K100RS, leaning in perfect harmony through each turn of sweepers or switchbacks. On one occasion, I led the group, gleefully chasing a Porsche over Independence Pass in Colorado at a knee-dragging pace. Just as I was feeling a bit smug at keeping up with what was obviously a skilled local driver, I glanced in my rearview mirror to see the K-bike behind me, with a grinning, dapper, gray-templed rider on my tail and a happy, 50-something passenger leaning over his shoulder, videotaping my chase. That kind of copiloting comes with faith, communication, skill and years of practice.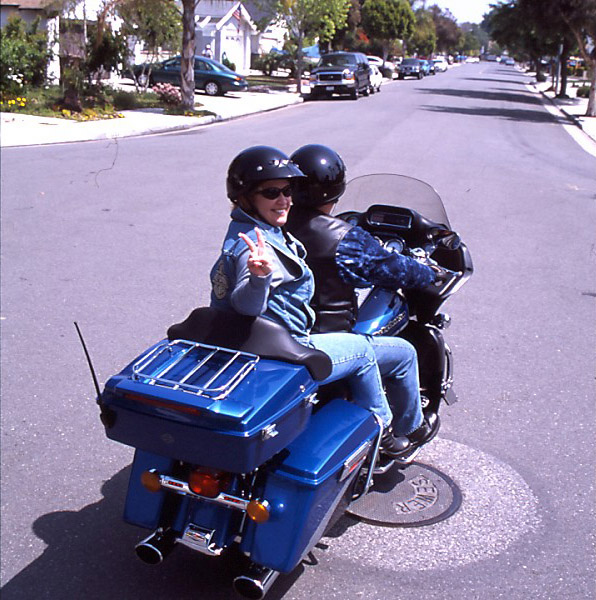 With more and more women getting off the back and into the riders seat, is the day of the passenger coming to an end? Not on your life. Patty Barton of Three Rivers, Texas, and Charlotte DeGaetano of Pulaski, N.Y., who met while attending a STAR Days rally in Kentucky with their husbands, shared their experiences. "We ride with a group of people, and while several of the women are on their own bikes, they haven't put any pressure on me to ride my own bike," Charlotte said. Patty laughingly explained her motivation to hop on the back of their bright- red Yamaha Venture. "Well, if I want to spend time with him, this is the way to do it." She likes not having the responsibility of being the pilot. "This is a lot better. I just sit back and let Randy do the work. Besides, I have a lousy sense of direction."
While Charlotte has ridden dirt bikes, she prefers the backseat of their red Venture, a position husband Frank declares is invaluable. "She is the navigator and can watch a wider area than I can. On a ride six years ago near Richmond, Va., she kept us out of an accident by noticing a car coming up on our right," he said. Then, with a twinkle in his eye, he added that, of course, her most important job is to pay for the gas.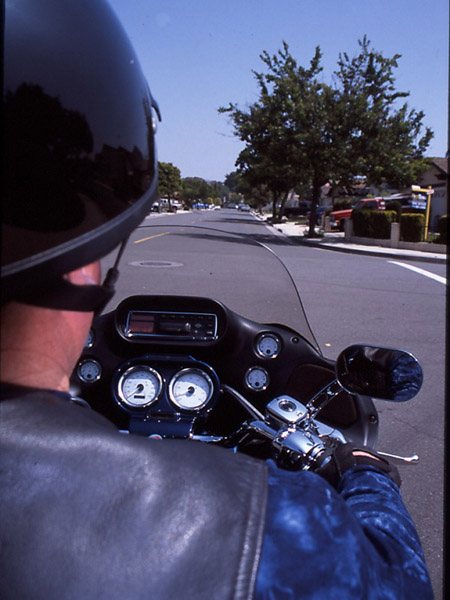 What does it take to be a good passenger? Some passengers just don't get it. They sit like a sack of potatoes, afraid of creating any input that would upset the bike. A good passenger, however, works with the rider, looking over the shoulder on the low side of the lean and keeping in touch (literally) with the rider in order to read what he or she will make the bike do next.
Terri Schlensker of Cypress, Calif., who rides behind her husband, Don, on his Harley-Davidson Screamin Eagle Road Glide, says in order to be comfortable riding as a passenger, you have to trust your rider. "Sometimes I cringe a little when he gets a bit aggressive," Terri said. "But I remind myself that he has taken advanced rider courses, and I just relax and go with him (as he leans the bike)." She added that buying the big 2001 Harley improved her enjoyment. "When we first started touring, my lower back would hurt, and the wind and weather would tire me out. On this trip, a 2,200 mile tour of the West, I haven't hurt at all."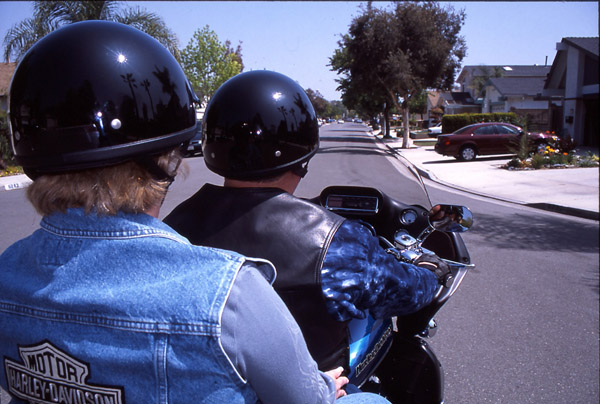 The couple has ridden together for 20 years, since Dons days in the military. While taking a break outside their motel in Oregon, Charlotte explained her love of touring on their bike. "This was the first time Ive seen the redwoods. We could use helmet headset intercoms and point out the scenery, and I could just relax and enjoy the view and the smells and the feel of riding through those forests." Sometimes the backseat is the "best seat in the house."
Looking for more stories about riding in back? Return to the WRN Passenger Friendly section of the WRN Beginner's Guide.
Related Articles
Passenger Friendly: Being an Effective Passenger and Two-Up Rider