Want to share your story? Click here to find out how.
Amarillo, Texas: We were halfway to our final destination, with 1,244 miles behind us and about the same ahead. We punctuated our accomplishment with a perfect rib-eye steak at Smokey Joe's. The celebration was only slightly marred by the logical conclusion that if we had already traveled half the journey, the trip was half over. The bittersweet realization that two novice riders had already covered half of Old Route 66 on motorcycles, using only the "Route 66 EZ Guide" and a Michelin road atlas, didn't sweep over us in peels of macho celebratory emotion. No high fives exchanged. No fist bumps. Just the lingering calmness of a long motorcycle ride.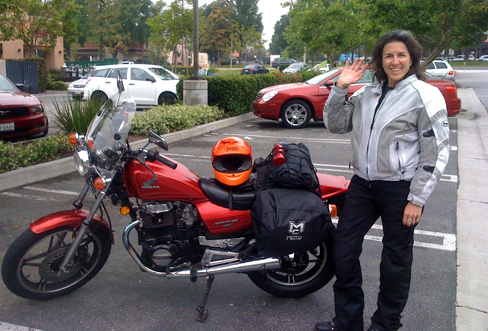 It was time to move to Chicago, where my father resides. I was born and raised there, and with the recent passing of my beautiful mother, it made perfect sense that I should relocate to spend all the time in the world with my father. He and my mother had shared a marriage that began in 1955 and ended when she lost her battle with dementia in December 2010. A man whod honored his vows to stand strong in sickness and health deserved to have his children honor him with the same love and respect hed shown our mother.
The trip to Chicago via Route 66 began early on June 11, 2011, at the intersection of Colorado Boulevard and Arroyo Parkway in Pasadena, Calif., where I'd lived for the past six years. I had covered the portion of Route 66 that runs from the Santa Monica Pier to Pasadena several weeks earlier and met my fellow rider, Carole Huguet, on a cloudy morning peppered with light drizzling rain that was gone by the time we caught I-15 North to Barstow, Calif.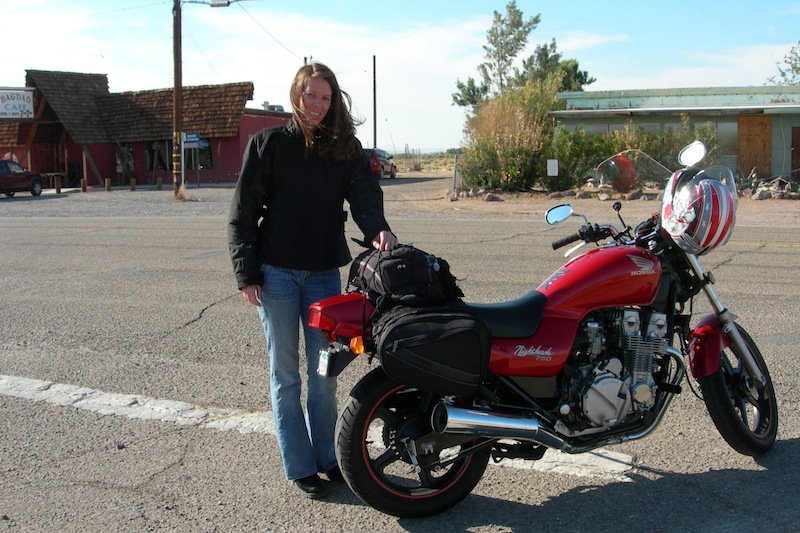 Many before us had traveled the "Mother Road" on motorcycles, but not as many had traveled from the Pacific Ocean to Lake Michigan. We were an odd breath of fresh air to the residents of Route 66, who are accustomed to people traveling in the opposite direction. Melba of 4 Women On the Route, a historic gas station on an old section of Route 66 in Galena, Kan., purchased by four women, was thrilled to finally have someone to send to Gary's Sinclair Gas Station in Ash Fork, Mo. We were happy to visit with Gary for three hours, sipping root beer and listening to his original songs about Route 66.
The direction we were traveling wasn't the only thing that got people excited—so did the fact that we were operating our own motorcycles. I was surprised that the sight of two women riding motorcycles on a very long road trip was out of the ordinary to some people. If that wasn't enough, the disclosure of our relatively small machines launched us from a couple of cool chicks on bikes to superhuman rock stars. Carole rode her 1991 Honda Nighthawk 750, and I rode my 1986 Honda Nighthawk 450—our bikes aren't just small, they are old!
| | |
| --- | --- |
| Carole, whos French, liked that she had parked her bike under the French flag. Moments later, that wild burrow, one of several roaming Main Street of the old mining town of Oatman, slobbered on Amys saddlebags. | Amy points to her Honda Nighthawk somewhere in the desert. |
While in the planning stages for this trip, I was privileged to receive much unsolicited advice regarding the size and age of my Nighthawk. I was told I would be blown off the road, that my back would be in constant pain from all the vibrations, that trucks would squash me, tires would go flat, oil would leak, and the engine would overheat. Rubbish! My bike is perfect for me, and it did not disappoint—not on the Oatman-Topock Highway, that precarious section of Route 66 to Kingman, Ariz., with its 10 mph hairpin turns, and not while passing big rigs on I-40 through the windy corridor of Holbrooke, Ariz. With the exception of minor altitude sickness that my little Honda experienced coming down to sea level from Santa Fe, N.M., both bikes were flawless. The aches and pains we "should" have expected did not happen.
Each day's ride was better than the previous—even through Texas, where the heat never dipped below 100 degrees and water was nonexistent. Cattle grazed in yellow grass that looked as though it might ignite spontaneously beneath that relentless sun. More heat and dangerous wind greeted us as we crossed the border into the great plains of Oklahoma. Prior to that harrowing ride from Shamrock, Tex., to Oklahoma City, the weather had been unexceptional. It was hot, but we took plenty of breaks to rehydrate, sometimes sheltered by a rare shade tree.
| | |
| --- | --- |
| Amy with the Round Barn in Arcadia, Okl. | The restored Conoco gas station in Shamrock, Texas. |
It was on one of our breaks in the shade that we experienced the camaraderie of motorcycle riding. We had missed a turn on our way to Albuquerque. We were not far off course, but we needed to consult the guide. For several miles leading up to our missed turn, I had been experiencing something odd. I was concerned that either my tires were going flat or that I had lost my steering, as I'd been experiencing the feeling of drifting. I knew if Carole had felt the same sensation, then it must be the road and there was no need to panic. With my hands holding imagined grips, I moved my arms in the swaying motion I had been experiencing. My little show caught the eye of a man named Ed.
He stopped to ask if we needed help, then revealed that he was a motorcycle mechanic. I relayed my concerns about the drifting sensation, and he assured me that the uneven surface of the road was the culprit. When we assured Ed that we knew where we had made our mistake and could find our way, he departed. Barely 10 minutes had passed when Ed returned, this time bearing two plastic cups and a healthy-sized pitcher of ice water. An avid rider himself, Ed had experienced the elements and knew the thing we needed most at that moment was water. He also took a closer look at my bike, checking that there were no loose bolts and that the tires had enough air.
| | |
| --- | --- |
| Carole Huguet on her Honda Nighthawk in Lincoln, Ill. | The old truck on the left was the inspiration for the character Mater in the movie "Cars," but Amy says its the people who own and operate 4 Women of the Route that make it a must-visit. |
We discovered that Ed's kindness was no aberration. There were decent, generous people all the way to Chicago. The staff at the Cherokee Restaurant in Calumet, Okla., welcomed us and allowed us to sit at the lunch counter for three hours to wait for the wind to dissipate. We nibbled on appetizers while I sketched from memory the pony truss bridge over the Canadian River. The woman running the front desk of the Best Western in Lincoln, Ill., let us park our bikes beneath the portico during a thunderstorm. The staff at La Posada in Winslow, Ariz., found and returned my sunglasses at no expense to me. In Ash Fork, Mo., we were invited to ride a horse named Dolly that lived in a field next to Gary's Sinclair.
On June 26, 2011, we pulled up to my sister's place in Forest Park, Ill., for a couple of days of rest before finishing the last 15 miles of Route 66. The "Taste of Chicago" was just winding down as we turned right onto Michigan Avenue from Jackson Boulevard. We had completed 2,488 miles, and as in Amarillo, no high fives or fist bumps were exchanged—just the peaceful, joyous feeling that had carried us safely from the Pacific Ocean to the shore of Lake Michigan.
When I decided to ride cross-country, I wasn't certain that my motorcycle or I could make it, but I wasn't going to let the unknown stop me. The unknown sets me in motion. There are so many places I can go on a motorcycle. Life is less complicated on two wheels. Carole and I traveled without the aide of communication devices. All we could do was ride our bikes—no music, no talking, just riding. I miss the trip and the road and the feeling of freedom you get when all you need for the journey is packed neatly into two saddlebags on the back of a motorcycle.
Want to share your story? Click here to find out how.