We at WRN love to support hard working women in our motorcycling community, especially when they are producing innovative products designed with useful features that have a fashionable flair. All garments listed in this "Boutique Collection" are designed for and by women riders, and showcase special qualities that offer comfort and protection while being super stylish making them stand out in the crowd.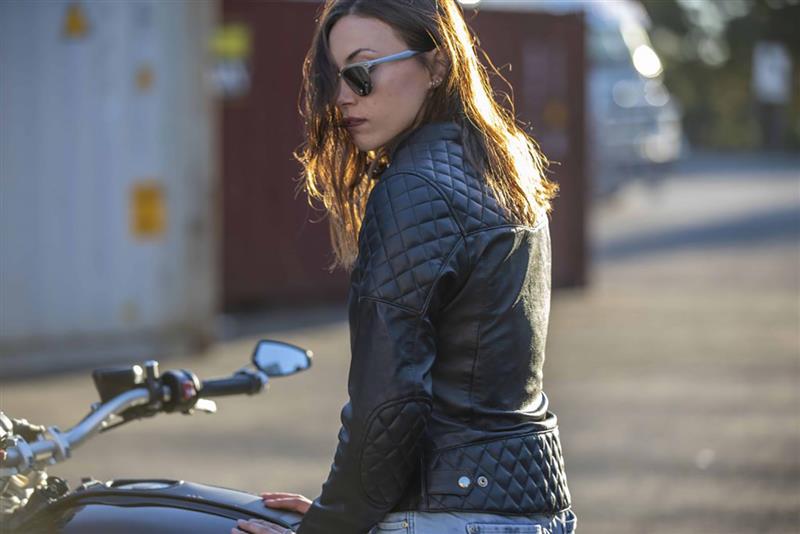 This article serves as a sampling of what these companies offer. Be sure to check out the links to their websites, listed at the bottom, to shop their full collections.
---
Atwyld
Atwyld was created to fill a void in the market of women's motorcycle gear that is both stylish and functional. Founders Anya Violet, Jaime Dempsey, and Corinne Mayer are driven by a sense of freedom, independence and a bond to the road, proven by the company's strong presence at many of today's trendy moto events like the women's motorcycle campout, Babes Ride Out, and the Mama Tried and Born Free motorcycle shows.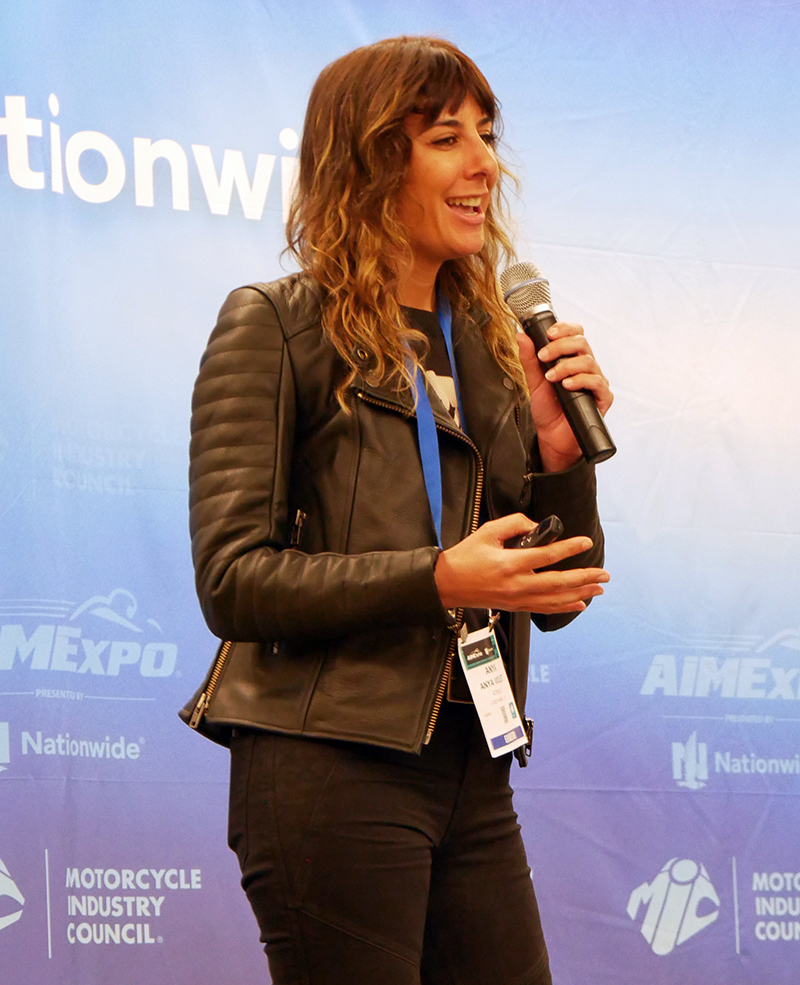 Atwyld's moto apparel ranges from leather, fleece, bomber, and cotton herringbone jackets to a textile "shirt jacket" that stands out at women's motorcycle events and garage parties. The company also has a variety of moto jeans, overalls, and the latest moto trend— jumpsuits. Atwyld also carries a robust catalog of lifestyle apparel and accessories.
Atwyld Alltime 2.0 Moto and the Onyx are two of the company's best leather jacket options. The Alltime 2.0 Moto jacket has tons of texture and unique detail on UV Coated 1.0mm buttery-soft cowhide leather. This jacket features zip gussets at the side seams to allow adjustability, stretch panels at back shoulders and a drop tail for comfort and coverage when in the riding position, and 4.6 ounce Twaron (a heat-resistant, strong, lightweight synthetic fiber) lining at all impact zones for extra abrasion resistance. UV coating helps prevent color fading after long sun exposure.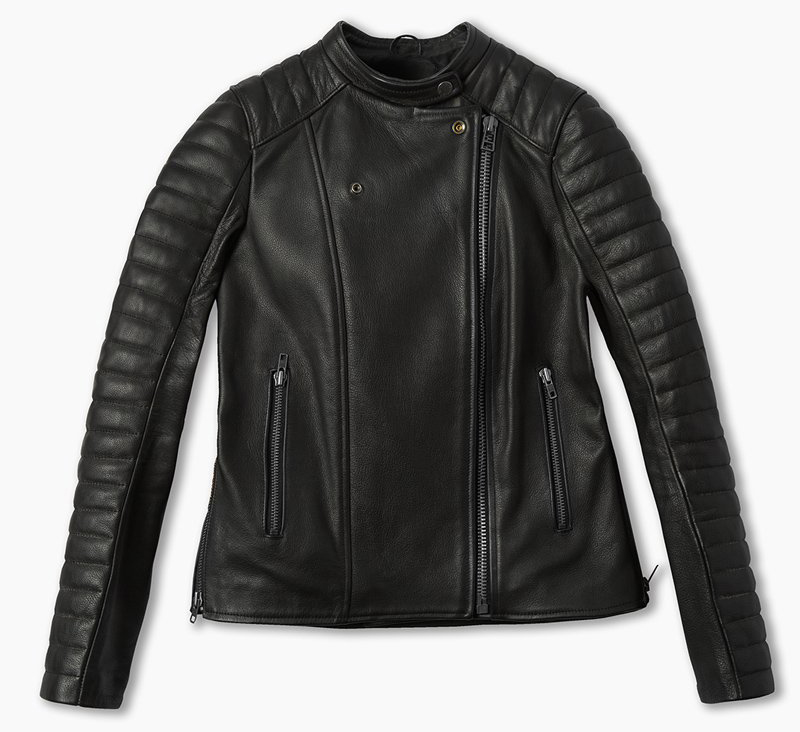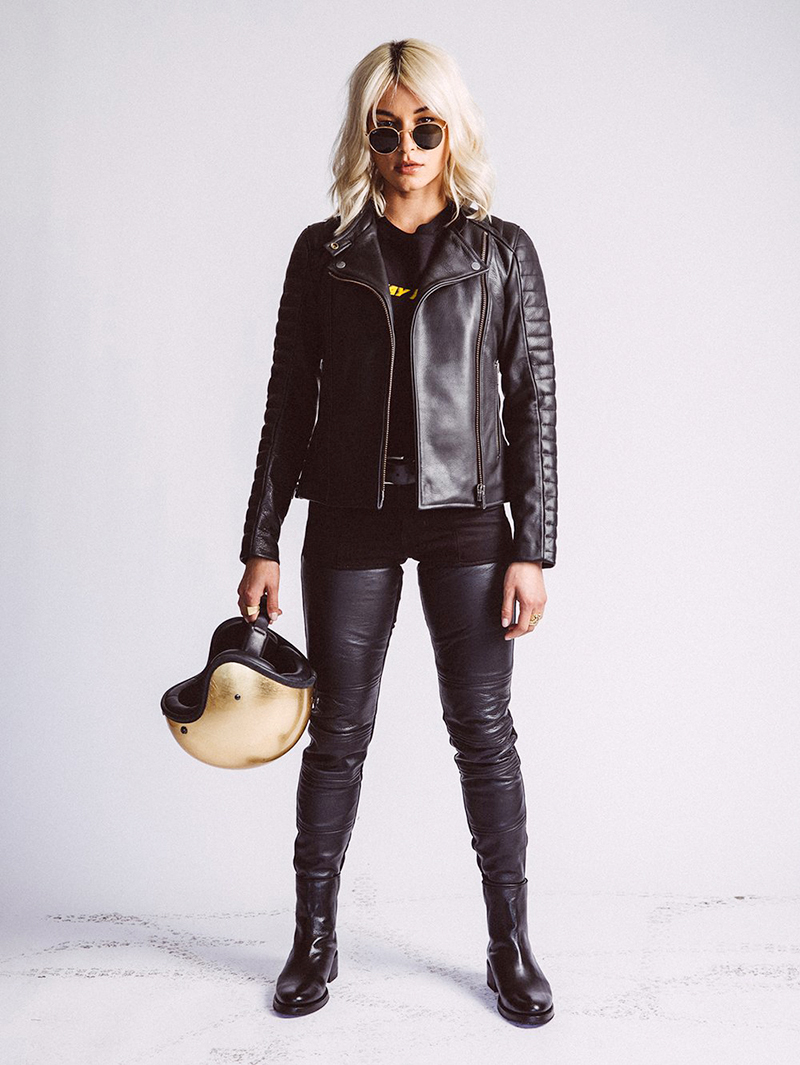 The Onyx is a classic and comfortable bomber jacket made from fully perforated 1.0mm cowhide in a matte finish. This is a true hot summer leather jacket when it comes to airflow. Designed to fit a bit loosely, you'll be able to easily fit an armored shirt underneath to add some protection.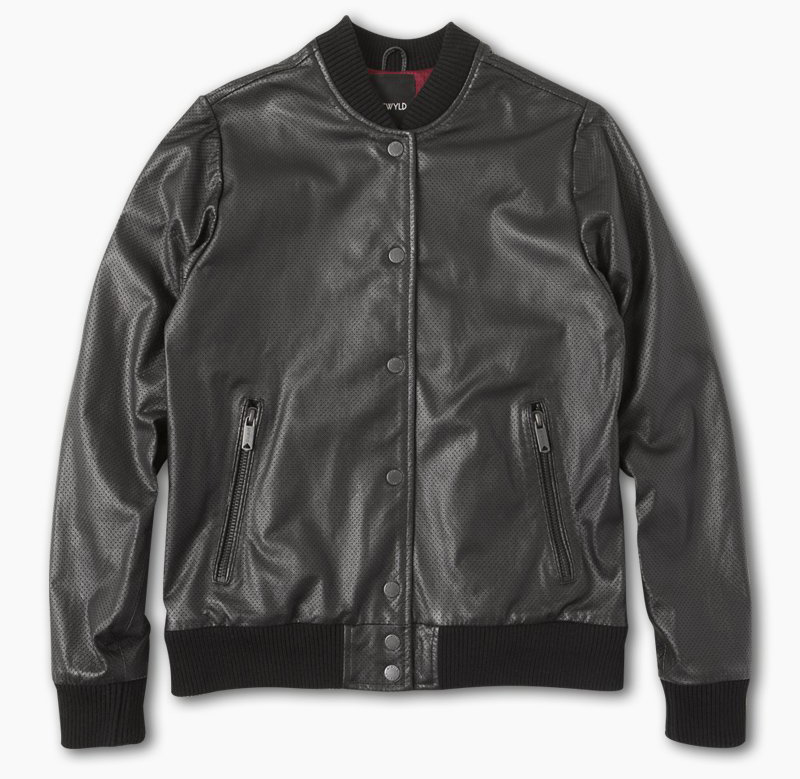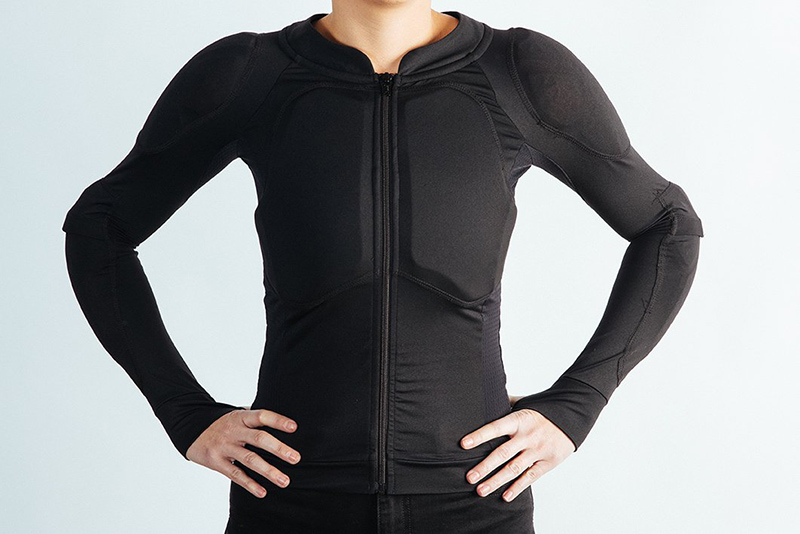 ---
Black Arrow
Over in Australia, Black Arrow Moto Gear has a nice collection of women's jackets, but also carries pants, boots, gloves, and more. The motorcycle jackets range from classic cruiser leather to nylon bombers. Jackets in the Red Label collection come with A-XOC level 2 armor in elbows, shoulders, and back, ensuring high quality and comfort. Black Arrow currently carries two motorcycle pant styles, but both are slim fit and offer very limited size options.
With retailers in the U.S. and Canada (and other parts of the world), be sure to check the company's website for ordering information.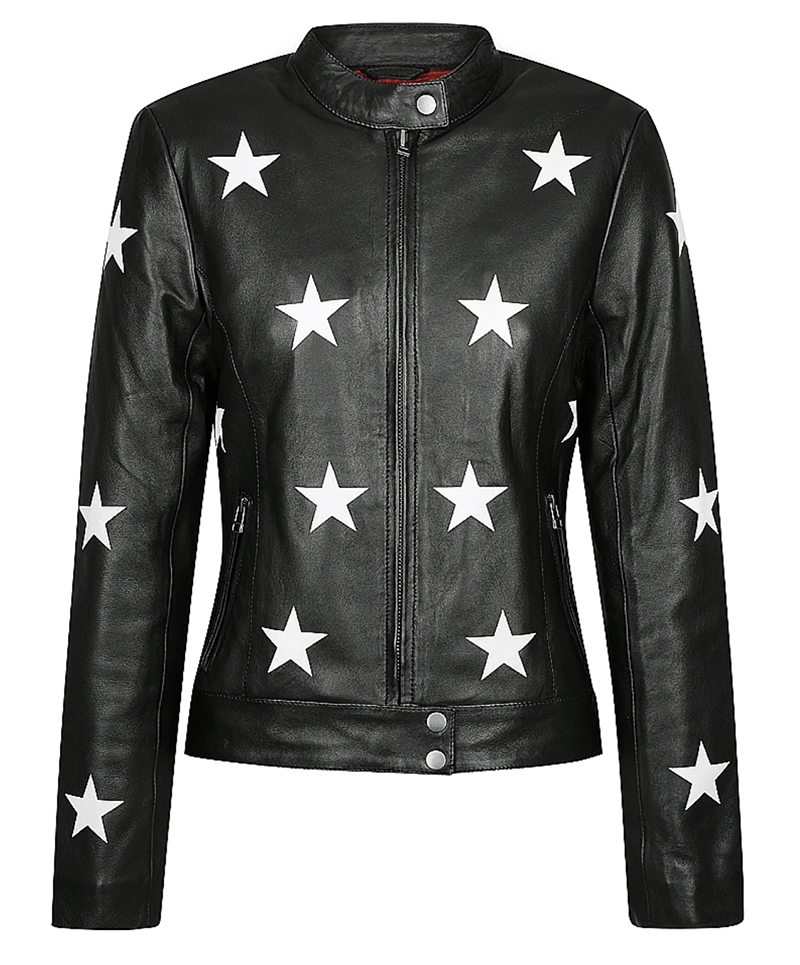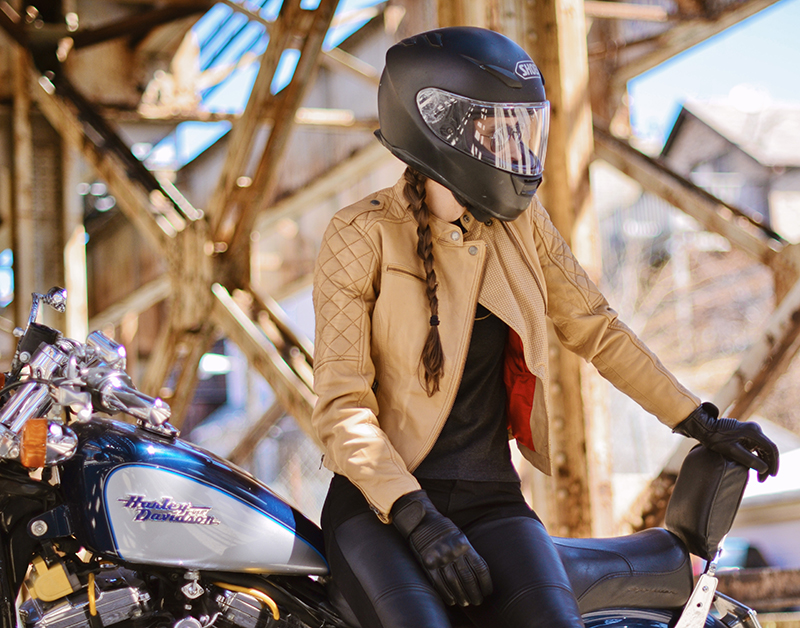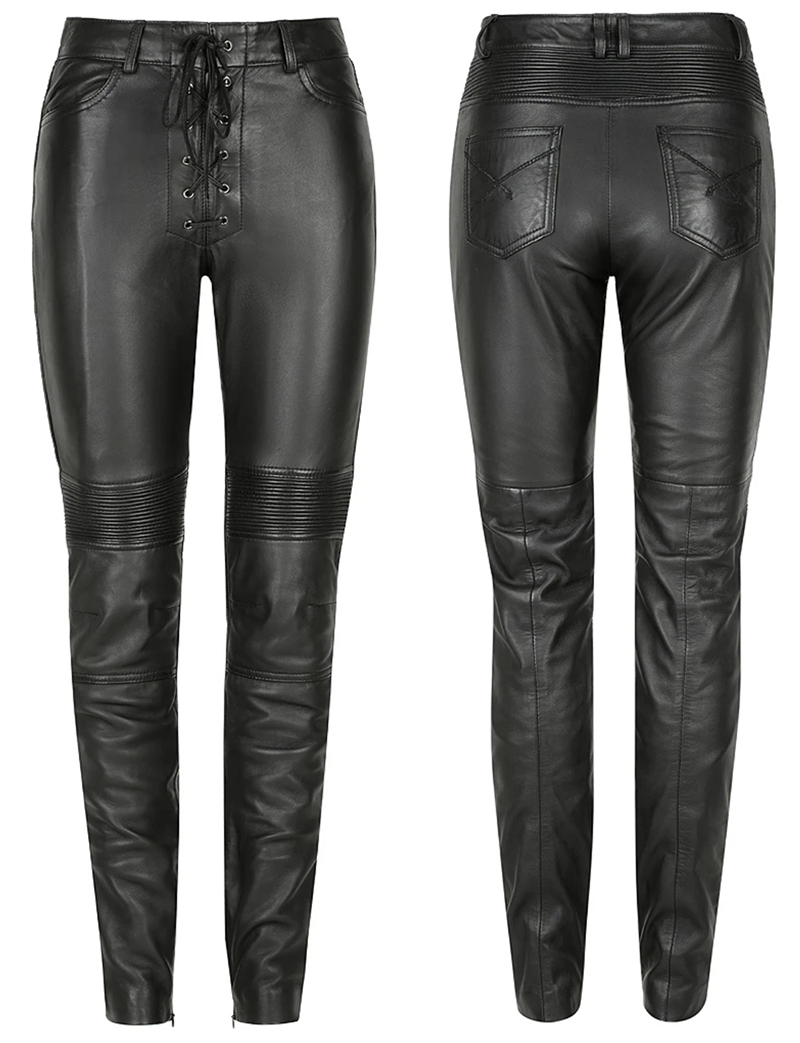 ---
Flying Duchess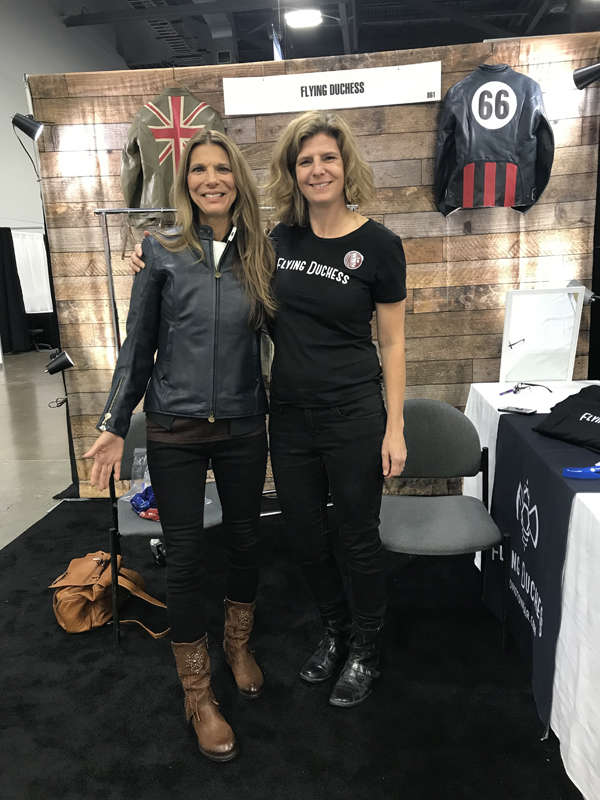 A self-taught fashion designer, Alexis Dudley's line of Flying Duchess jackets currently include three classics, each with its own flair. With a focus on protection and features motorcyclists desire, each top-grain leather jacket has curved sleeves, a longer back for full riding position coverage, a quilted zip-out liner, a two-way front zipper, perforated front venting, custom snaps and zippers, two exterior pockets and two hidden interior pockets, and removable Forcefield Armour for the elbows, shoulders, and back. The materials that make up this high tech armor allow it to be thinner and moldable, so it's more discreet and comfortable than traditional CE armor.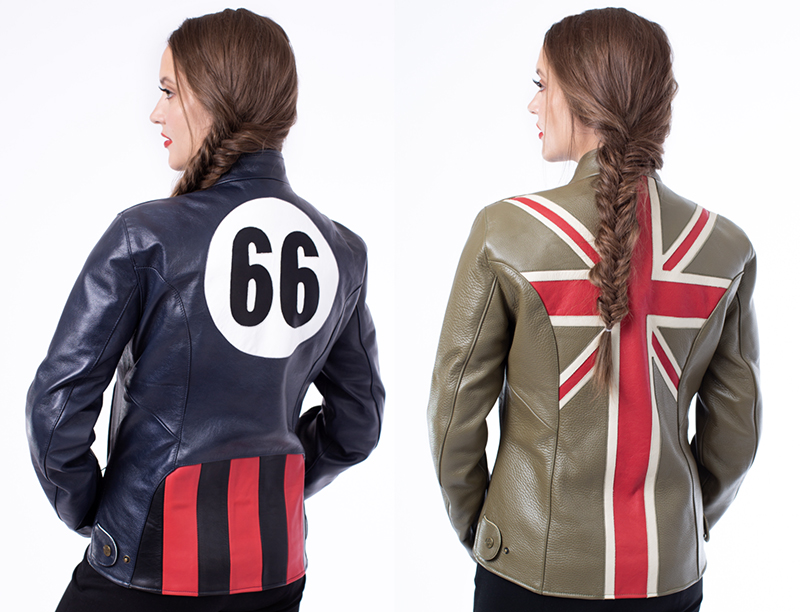 ---
Gigi Montrose Moto Couture
Gigi Montrose Moto Couture is a unique line of womens fashionable motorcycle apparel with an emphasis on function and technical design. Unlike most of the other (leather) jackets featured in this gear guide, Gigi's current offerings include two wax-coated, water-resistant 9-ounce denim jackets, Speed and Fearless. While these jackets don't have armor or the option to add any, they are made with DuPont Kevlar aramid fiber (a very strong and lightweight protective material) used as an inter liner throughout the body and sleeves of each jacket. Using material like this protects your skin much more than regular denim during a slide.
Both jackets include quality YKK zippers, built-in back pocket for extra gloves or small items, and extra length in the back for a bent-over riding position. Unique design elements like custom buttons and red stitching give these denim jackets a stylish, signature look.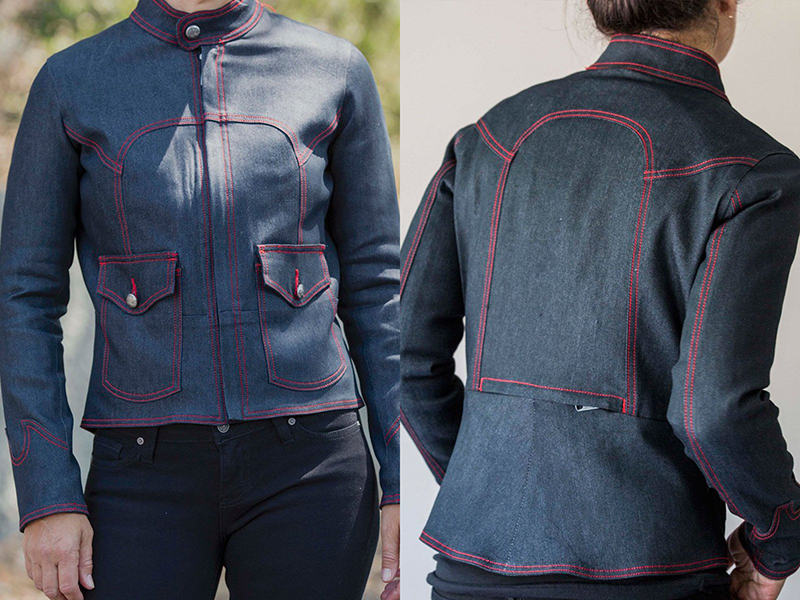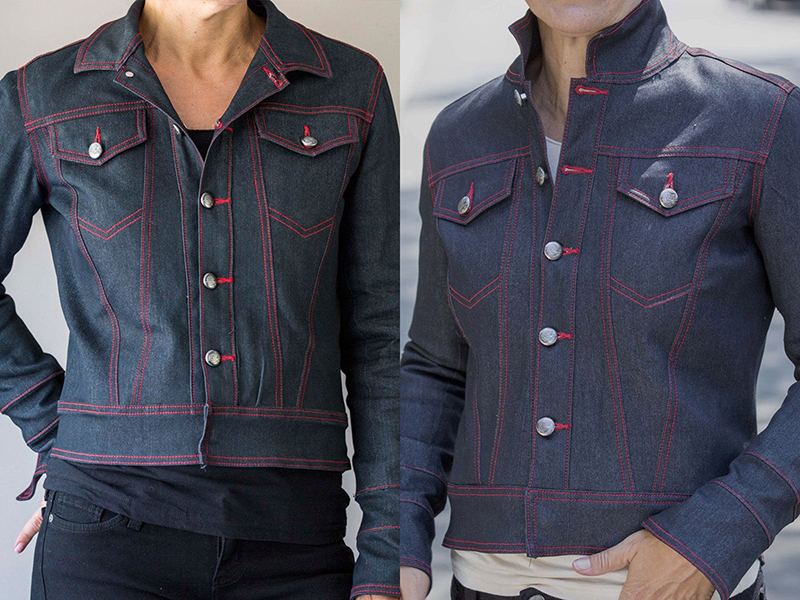 The Gigi Montrose Moto Couture Speed and Fearless jackets are available in sizes XS–XL and retail for $475.
---
Liberta Moto Gear
Liberta is all about the free-spirited rider. Karolina Unciuryte says she created Liberta Moto Gear for women so they don't have to compromise style for safety or functionality for style. Believing that women deserve to look and feel good while riding, she envisioned motorcycle gear that moves with the body and helps to keep a rider safe.
Designed and developed in Australia in collaboration with a professional in the racing industry, the armor used in Liberta's jackets is made from specifically designed material that is called "impact reactive," meaning it hardens on impact. It's soft like memory foam as opposed to hardened plastic. This allows for a comfortable fit without sacrificing safety.
Liberta Moto Gear currently has just one women's jacket, the Sugar Glider, a soft, lightweight summer leather jacket. Perforated panels in the .9-1mm sheepskin leather allow air to circulate throughout the arms, front ,and back. Quilted panels on the Sugar Glider's elbows, shoulders, and lower back section add to this jacket's sleek style. Adjustable side and collar snaps help achieve a great fit. Storage includes two zippered exterior pockets, with two interior pockets on the removable liner. Removable level 1 armor comes in the shoulders, elbows, and back.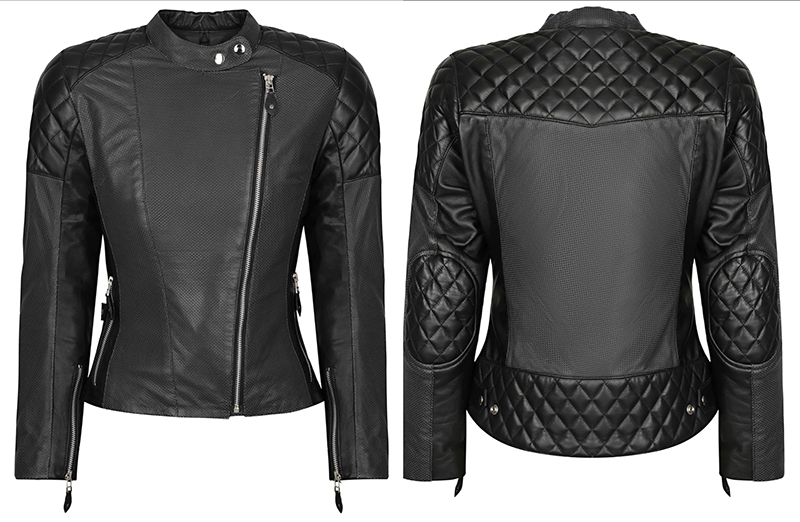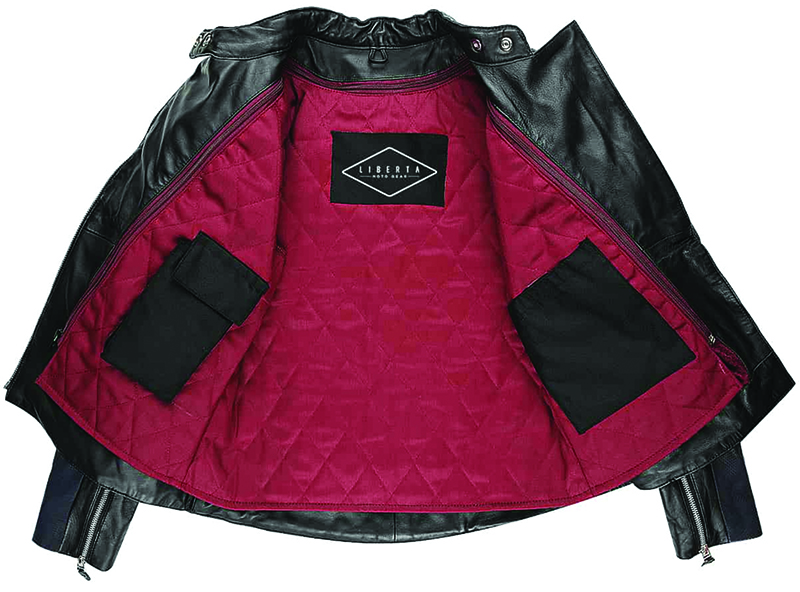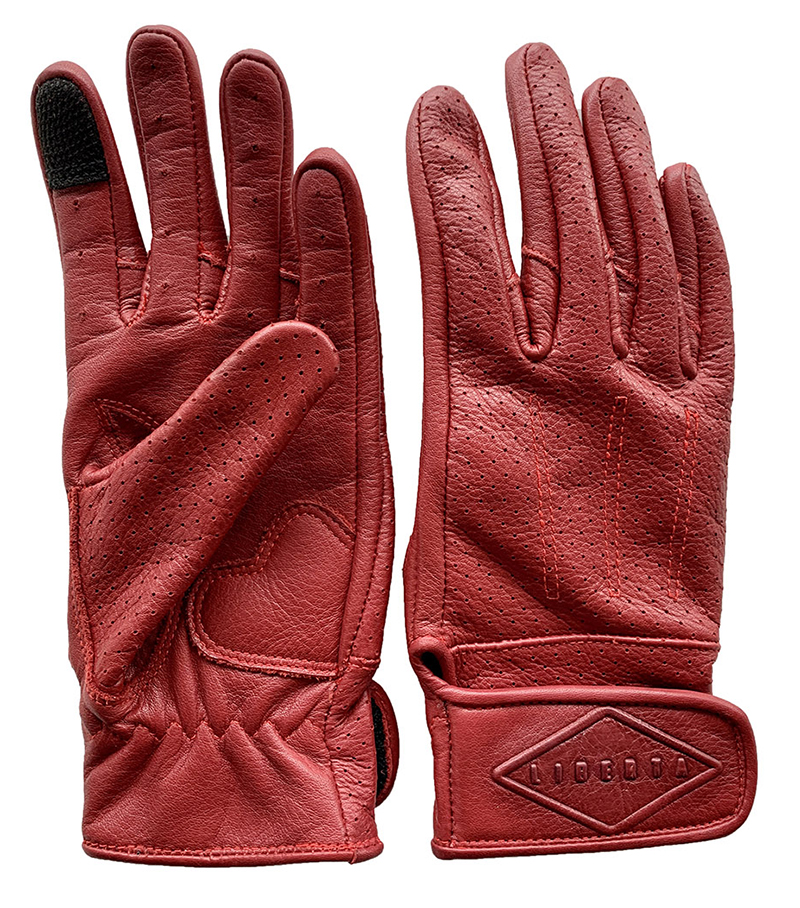 ---
Stellar Moto Brand
Mixing old school vibes with innovative space age technology so you wont look or feel like you are wearing protection is what Stellar Moto Brand is all about. The company's founder, Jenna Stellar has designed costumes for Hollywood films and rock bands like Green Day and The White Stripes before getting into the moto market. Stellar uses technical design, and offers a unique take on timeless classic looks. And we love that Stellar Moto Brand clothing is made in the USA.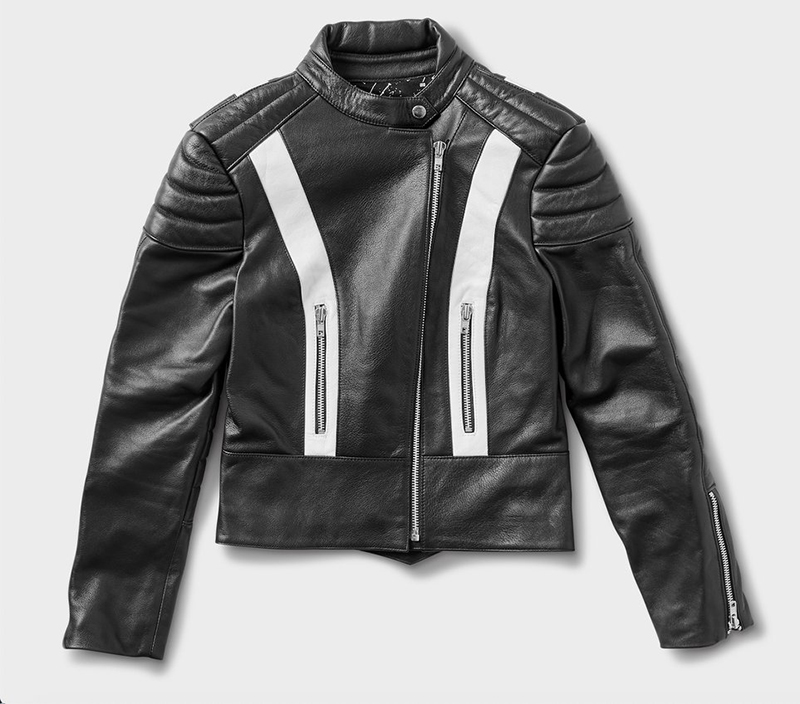 We can tell the Stellar Starfield MX jacket is designed by a woman who rides, for women who ride—just look at all these features. Gusset sleeves with zippers provide a tight fit at the wrists; hidden shoulder gussets offer maximum mobility in any riding position; accordion leather stretch panels on the sides allow room for layers; extra material in the lower back keeps you covered; ripstop lining with a cool constellation pattern offers longevity with normal wear and tear; optional armor can be added to perforated stretch mesh armor pockets in elbows, shoulders, and back; and adjustable elbow armor pockets allow a great fit with no Velcro touching your skin.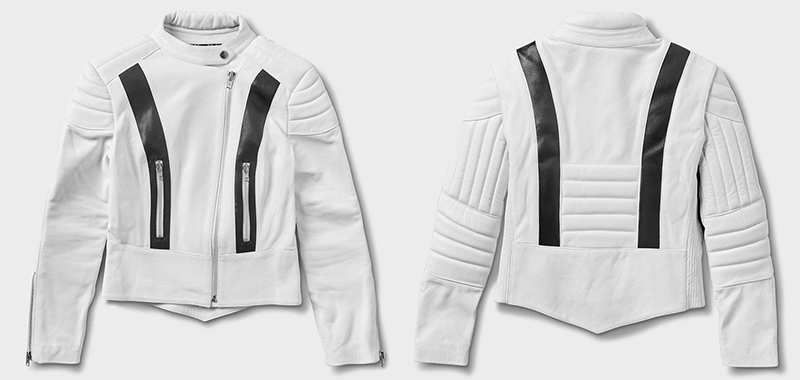 The Stellar Voltage jacket is for those with like shiny colors, but without compromising protection. Stellar tell us this is inspired by Evel Knievel's showmanship. Made with 1.3mm cowhide super soft leather, it includes breathable yet wicking 50/50 lining and a ripstop stretch liner in the arms for added wear and tear. The Voltage jacket also features soft stretch mesh armor pockets, gusset sleeves with zippers for tight fit at wrists, bi-swing shoulder gussets for maximum mobility in all riding positions, and a drop waist at the lower back for maximum coverage.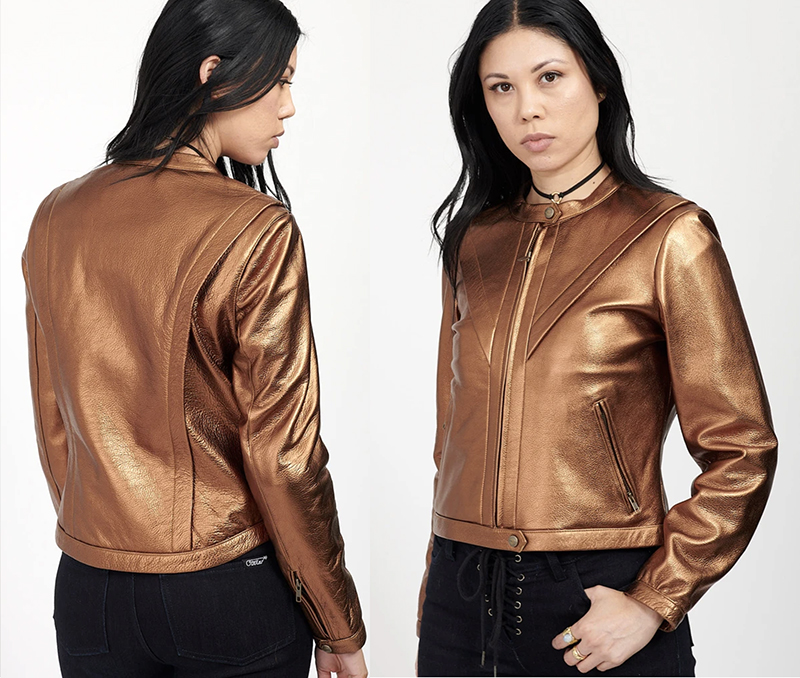 Stellar Moto Brand offers several styles of jackets, pants, and one piece jumpsuits like the STRATOSPHERE we awarded "Best Pants" at the 2019-20 Long Beach IMS show. The suit uses the high tech material called Dyneema. This fiber has an unbeaten strength-to-weight ratio, which is five times stronger and 40 percent lighter than Aramids/Kevlar, and 20 times stronger than your average denim. While leather can't be matched in the case of a slide, this material is a great alternative.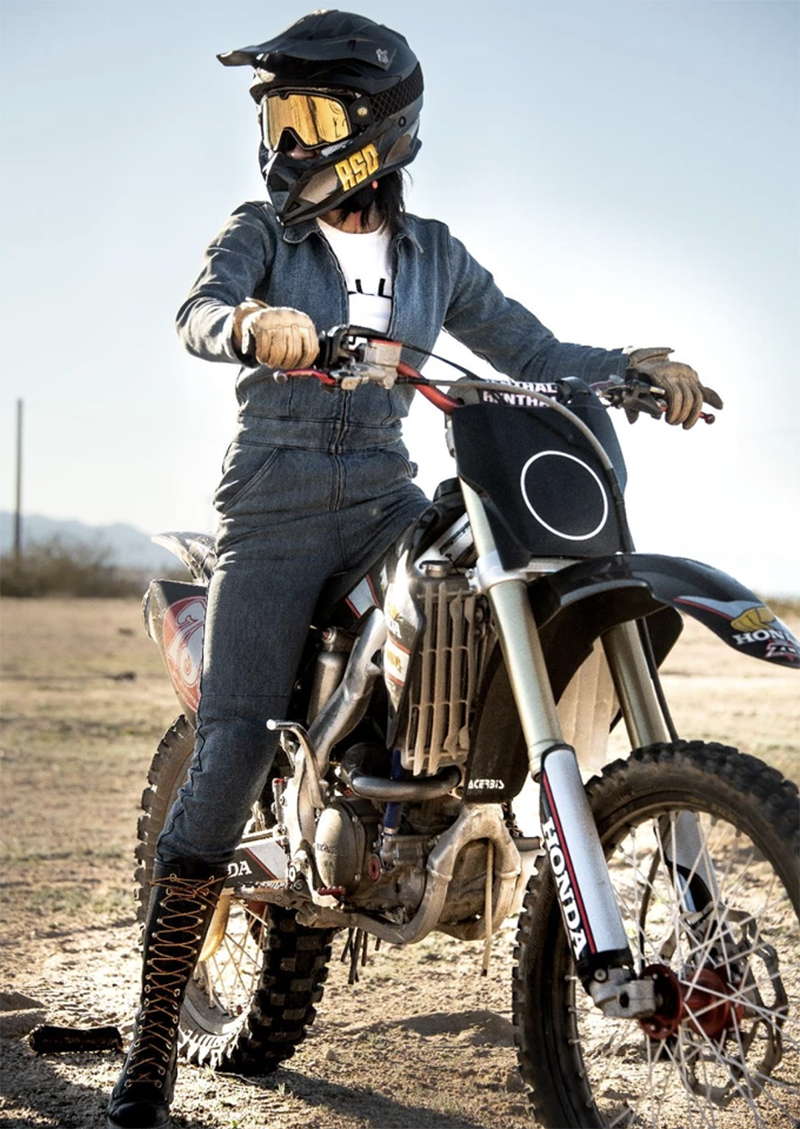 For more information and to see more styles by these companies visit their websites:
Atwyld, Atwyld.com
Black Arrow Moto Gear, BlackArrowLabel.com
Flying Duchess, FDMotowear.com
Gigi Montrose Moto Couture, GigiMontrose.com
Liberta Moto Gear, LibertaMoto.com
Stellar Moto Brand, StellarMotoBrand.com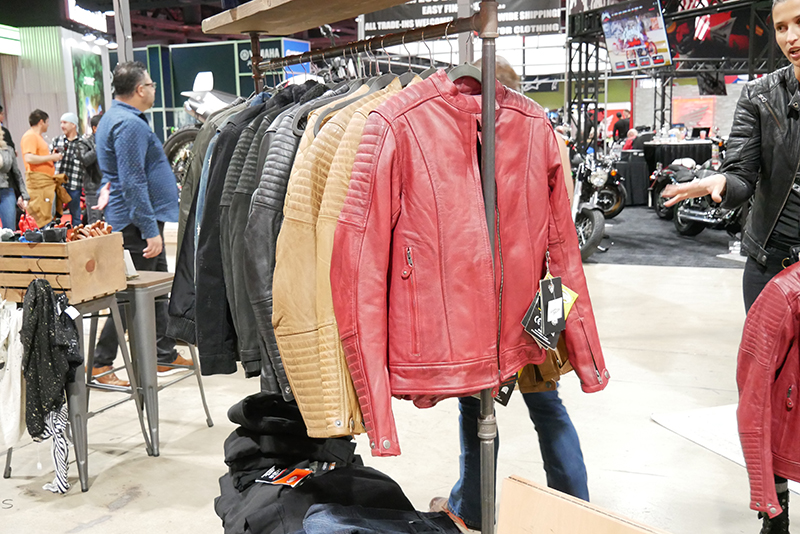 Online retailer Wind & Throttle carries many of these brands and supports small women's motorcycle clothing makers. Be sure to visit Wind&Throttle.com.
Related Articles
Reviews of Gear by Smaller Brands
RSD Trinity Leather Jacket Review
All Leather Jacket Reviews on WRN
Do you have a favorite female-designed motorcycle jacket or pants not listed? Tell us about it (with a photo, if possible) in the comments section below or on our Facebook or Instagram pages.