When the folks at Roland Sands Design (RSD) roll out a women's motorcycle jacket I get pretty excited. That's because the aftermarket manufacturer has a good track record of combining function and safety into a stylish motorcycle jacket. I know there will be another winner in the collection that combines function and fashion well.
I first reviewed the Maven back in 2014 and loved everything about the way the designers combined good looks with protection in a leather jacket. Now comes the Trinity, another leather motorcycle riding jacket, but with a slightly different style and a lower price.
Women Riders Now E-Newsletter
Stay up-to-date on all things motorcycle! Latest gear, bikes, and product reviews. Travel ideas, great product giveaways, and more.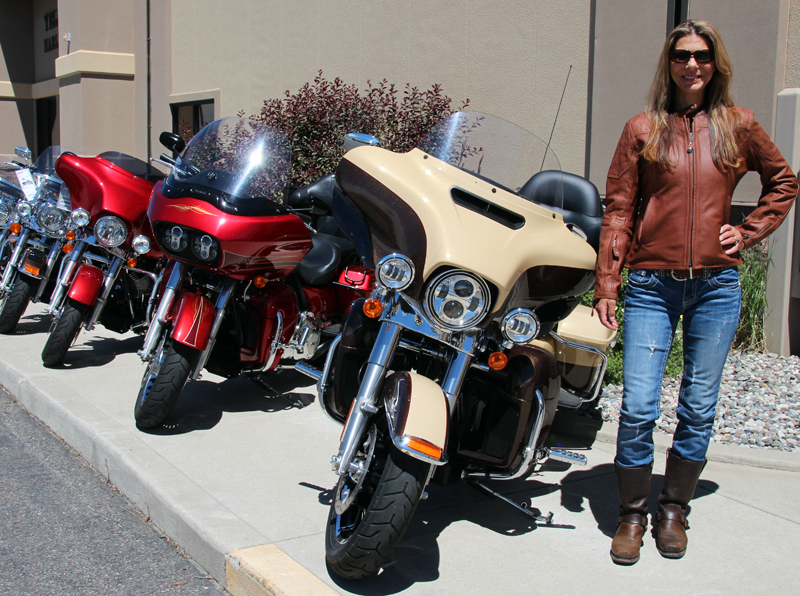 According to the press release on the jacket, "We received very positive feedback on the buffalo leather styles we released in fall 2016 [in the men's line] and have now bolstered that offering with a women's specific style, which adds a bit of price point diversification to the product line," says Rob Ramlose, Brand Manager.
And that is the main difference with this jacket over the other leather ones in RSD's women's collection—that the fabric is genuine top grain buffalo leather (1.0-1.1mm thickness). This gives the leather a "raw" feel to it compared to the "smoothness" of the treated cowhide in the Maven. The Trinity leather jacket is soft and supple right off the rack so no break-in period is needed. All of RSD's jackets are designed to get better with wear and age.
| | |
| --- | --- |
| The Trinity has a roomy yet slimming fit that lands just below the waist. I am wearing shoulder and elbow armor. Hard to tell! | Quilted details on the shoulders, elbows and lower back add subtle flair to the simple style of the jacket. I am wearing a back protector here that I slipped in the interior pocket. |
The Trinity motorcycle jacket is billed as a "performance riding fit," which means it's designed to move with you as you lean forward to reach the handlebars while still covering your backside. The pre-curved sleeves are a motorcycle jacket must.
Passengers will appreciate the roominess in the jacket when they reach forward to hold on to the rider, or when grabbing passenger rails. The jacket won't bind up, restricting movement.
I'm a solid size medium in most motorcycle jackets and the Trinity fits just the same. Consider ordering your "normal" motorcycle jacket size and you should be good. I have broad shoulders, long arms, and a small bust. A medium always fits my frame just right while giving me enough room for another layer if I need one.
The Trinity offers some areas of expansion should things get really tight with layers underneath. The sides have a leather stretch panel that expands, and the waist area has a gusseted perforated zipper on either side for further expansion.
| | |
| --- | --- |
| Both sides of the waist have a zipper that opens to adjust the fit on the hips. | A pocket on the right sleeve can fit small items like credit cards, cash, lip balm, and a bandanna. There are also two zippered pockets on the front. |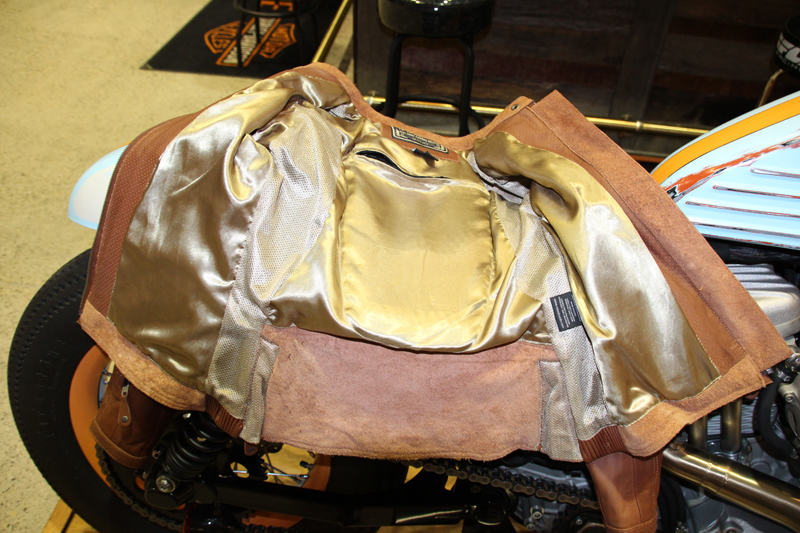 While the Trinity is not the most functional leather jacket I've owned (it has no zip-in liner, no inside pockets, no two-way zipper just to name a few features) it does offer the most important motorcycle jacket feature to me—pockets for armor in the shoulders, elbows, and back. I have armor from my RSD Maven jacket so I moved it to the Trinity.
I'll admit it's a pain to both remove and insert armor into a jacket, especially in the sleeves—if you've ever done it, you know what I mean—but armor is a riding essential knowing it can reduce the amount and level of injuries in a crash.
RSD's armor is sold separately from the jacket. For an extra $100, you can order Knox CE 1 shoulder and elbow armor, and back protector.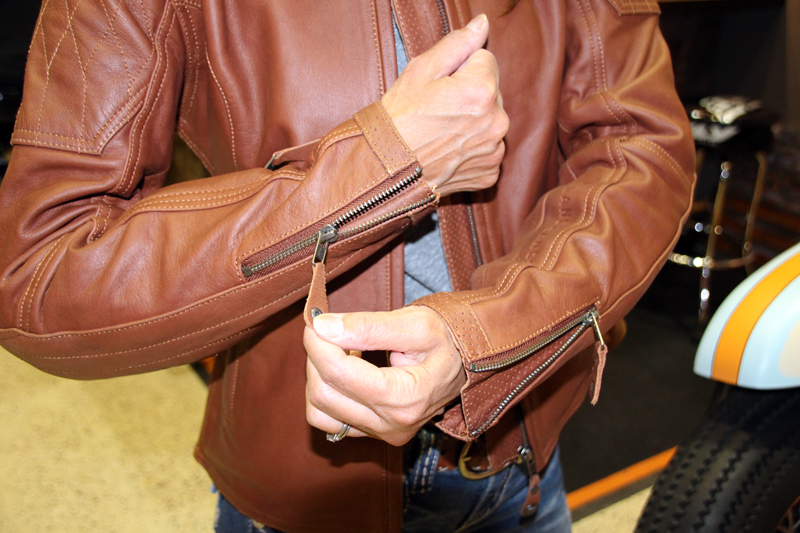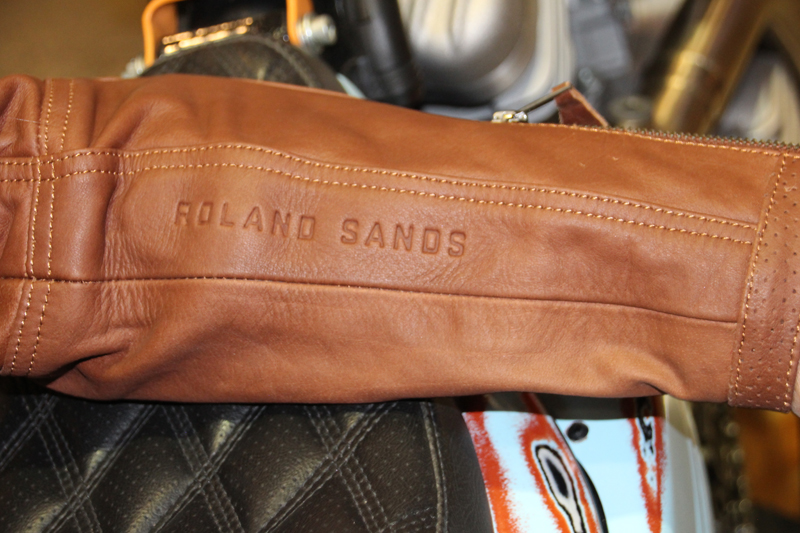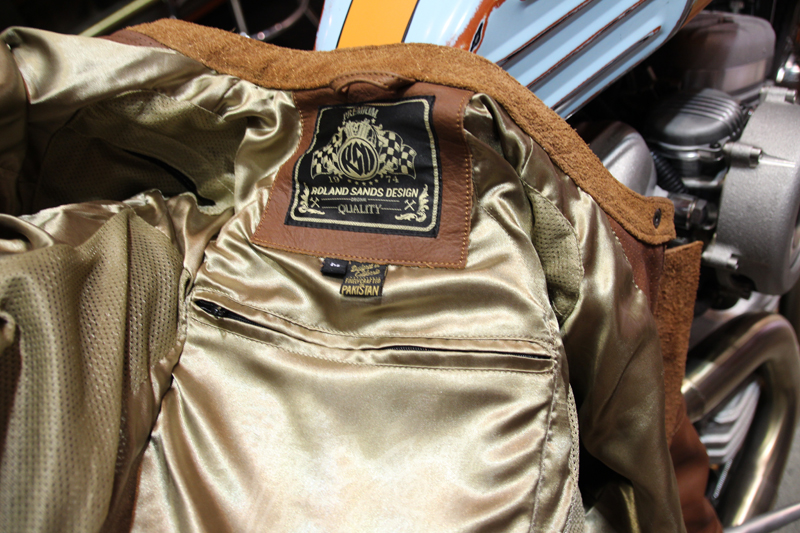 As mentioned earlier, the Trinity costs $450 without armor. It's now the least expensive jacket in RSD's women's leather collection. I feel this is one of those motorcycle jackets that's worth the investment because you will have it forever, assuming it does not get torn up in a crash. Wear it a lot and it will age well. Sizes run from small to 2XL, with the 2XL equating to a US size 12-14. Be sure to check RSD's sizing chart when ordering.
For more information and to order online, visit RolandSands.com.
Related Articles
Review: RSD Maven Leather Jacket
Review: Miss Enthusiast Mid-Weight Black Leather Jacket
All Leather Jacket Reviews on WRN