We get excited when a new company starts making quality women's motorcycle jackets. The latest motorcycle company to branch out into women's riding gear is Roland Sands Designs (RSD) with its Maven jacket. We told you about this exciting RSD jacket when it first came out.
"It feels like a fine Italian leather jacket…"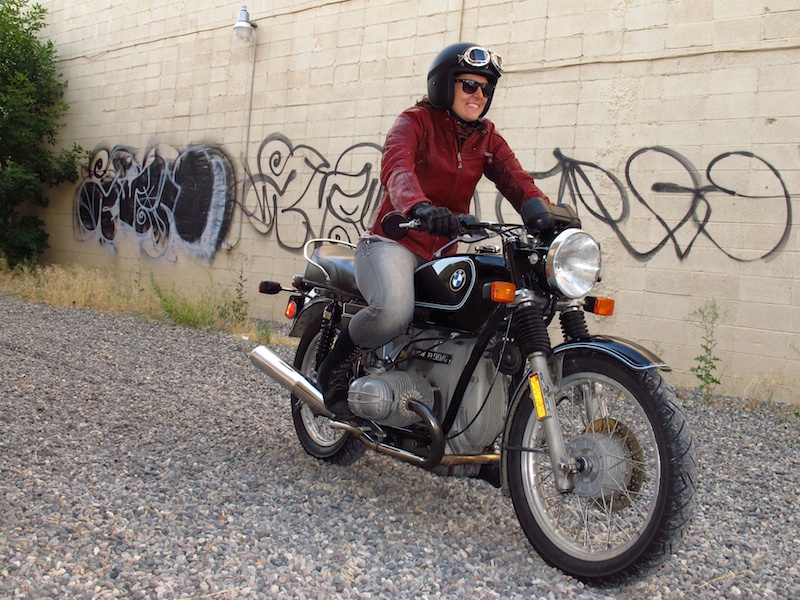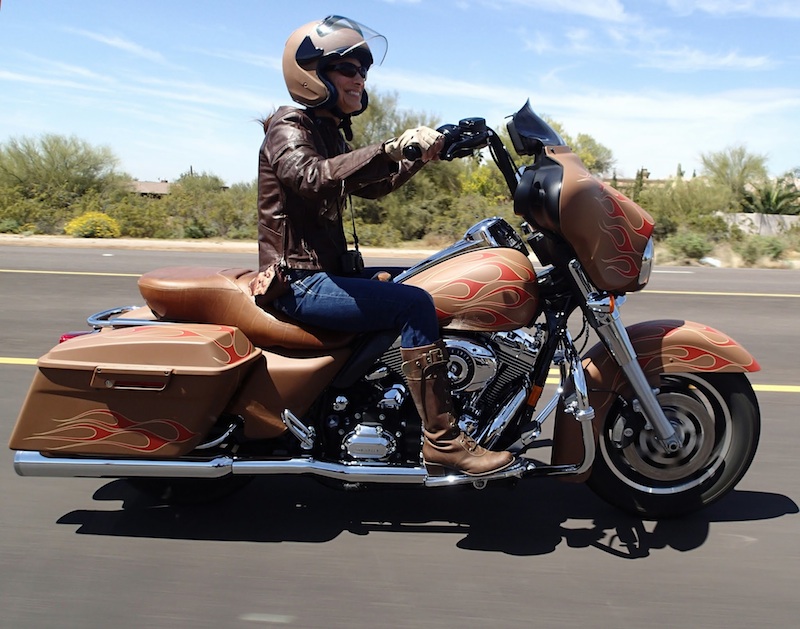 | | |
| --- | --- |
| The Maven is a café racer style jacket, which means it is fitted with clean tight lines. | The leather is top grain cowhide in a medium- to heavy-weight thickness. In new condition, it has some stiffness, but after a few wears it softens up and contours to your body. |
Riders who like high-end leather products will appreciate the design that went into creating the Maven. It feels like a fine Italian leather jacket created specifically for motorcycling. A lot of thought went into making the strong leather comfortable to wear on a motorcycle.
The leather has been pre-oiled, washed, then hand finished with wax and oiled again so it has a finished feel to it. In fact, it easily resists road grime. This is the kind of leather jacket you'll have for years, one that gets better with age. Laura said, "It has that vintage look that I like, and will stay in style for a long time."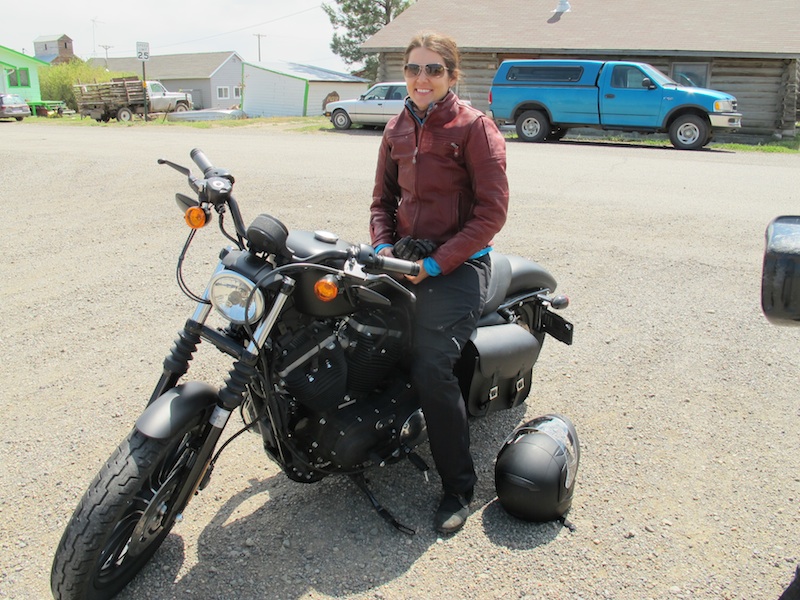 | | |
| --- | --- |
| The only identifying name on the jacket is on the sleeve. | A perforated panel runs the length of each inner arm. "The jacket is really cool on a hot day," Laura said. "I don't use the pocket on the forearm though because it's too much work to put anything in there because the jacket's so fitted." |
Before I share any more of the Maven's features, let me address the jacket's safety components for those who wonder if the Maven is all fashion and no function. Pockets are sewn into the shoulders and elbows to accept CE-approved armor.
| | |
| --- | --- |
| The shoulder, elbow and back protector armor for the Maven are sold separately for $90 since not all riders want armor. | The armor is Nitrex Evo brand CE rated body armor that has a lightweight and flexible grid pattern that reduces weight. |
Laura bought her Maven in a size large that fits her well, but is a bit snug. She feels RSDs sizing runs small. With a bust measurement of 35 A-B, it doesn't allow her to have much bulk underneath, let alone armor. "It's a little too small for me to put in armor. I wish it came with it. For 580 bucks, it should come with the armor," she said.
My Maven is a medium and I have a bust measurement of 36A. I can comfortably wear the jacket with the elbow armor and back protector, but putting in the shoulder armor limits flexibility and makes the Maven feel like a straightjacket. If having armor is important to you, order the Maven a size larger.
| | |
| --- | --- |
| A stretch accordion panel under each arm helps with flexibility and movement. A perforated waist panel allows for an expandable—and breathable—fit. Notice the large leather zipper pulls. Easy to grasp with gloves. | I love that the RSD Maven jacket is super stylish for wearing off the bike, but loaded with features riders need. |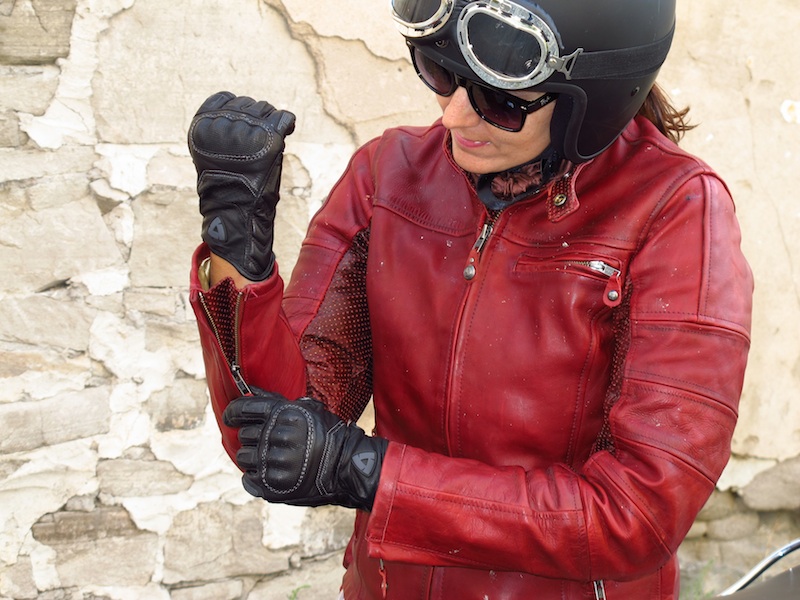 | | |
| --- | --- |
| A perforated panel under the main zipper helps with air flow. The mandarin style collar has a snap closure. | Even though the jacket's specs indicate it has a "dropped back" it wasn't long enough for Laura in her lean-over position so she wears a long shirt to cover the gap between the jacket and her jeans. |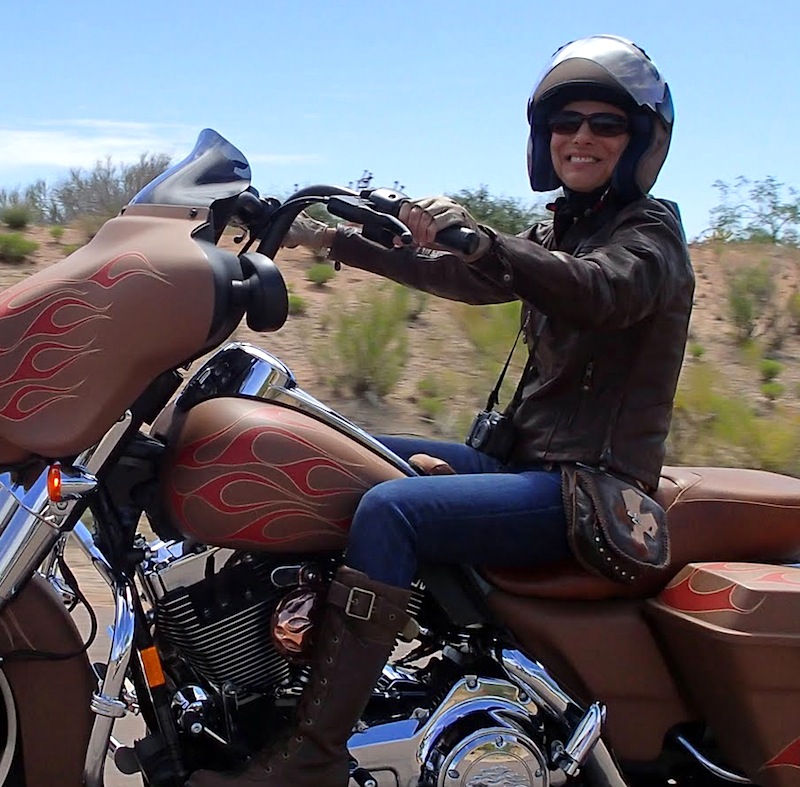 Traditional leather motorcycle jackets lack the versatility offered by the Maven. The perforation on the thick leather outside and on the inside liner allows the jacket to breath, but adding a windbreaker underneath, like Laura did when she rode over Montana's Beartooth Pass last summer, where temps average 55 to 60 degrees, blocks the perforation keeping heat inside.
| | |
| --- | --- |
| The inside has a smooth satin liner that feels nice on your skin, but does stick to it when you're real sweaty. Laura likes the inside pocket here. "I can throw sunglasses or other stuff in it. The zippered ones on the outside are not very big." | The back is simple with no logos. You can see the "dropped back" here; it goes below the waist when standing up. |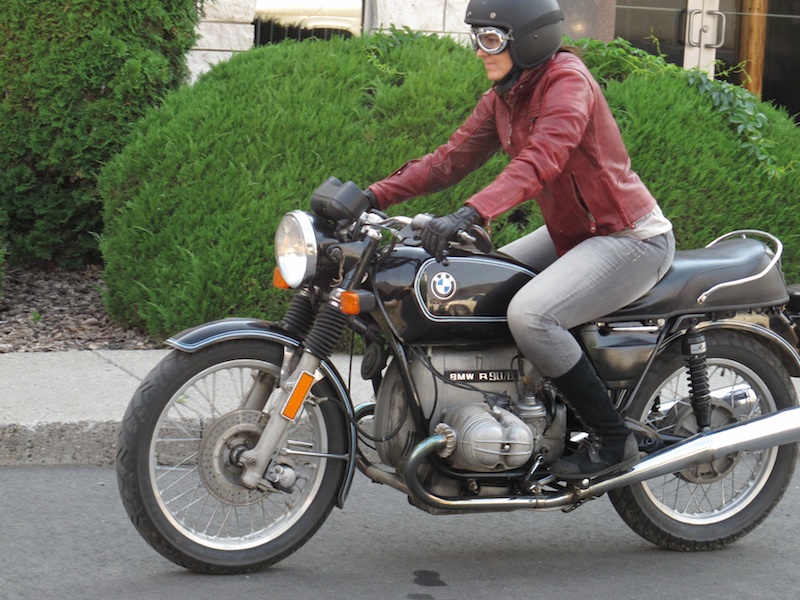 The Mavens sizes range from S to 3XL, and the jacket comes on a sturdy wooden hanger in a cloth garment bag. As Laura mentioned earlier, this is not an inexpensive jacket at $580. She said she'd been drooling over the thought of owning one for months before she finally dropped the cash. No regrets though, she says. She wore it all last riding season. I love mine, too.
You can order online at RolandSands.com
Related Articles
Leather Motorcycle Jacket Reviews
4 Sexy Black Leather Riding Jackets
Fox Creek Leather Motorcycle Jacket
4 Classy New Motorcycle Jackets