As the source for women in motorcycling, WRN was on hand providing women with voting ballots at this year's International Motorcycle Show in Long Beach, California. This is our way of showing the industry that women are paying attention, money in hand, and we want to acknowledge the vendors who are best representing the needs of female riders.
We are very pleased with some of the results, but disappointed with others. Unfortunately, just like at the AIMExpo, we had an "epic fail" in the Best Boots for Women category. Sadly, there just weren't more than a few "unisex" versions offered as a consolation. Hopefully, the hordes of women storming booths in search of the women-specific items serves as a wakeup call to the industry.
---
Best Off-the-Bike Product
Boost Your Confidence Through Motorcycling: A Woman's Guide to Being Your Best Self On and Off the Bike, By Alisa Clickenger.
Once again our best "Off-the-Bike Product" award went to an author—this time it was WRN Leadership Board member Alisa Clickenger, whose book serves to motivate and inspire women to be their best selves both on and off the bike. We are proud of you, Alisa!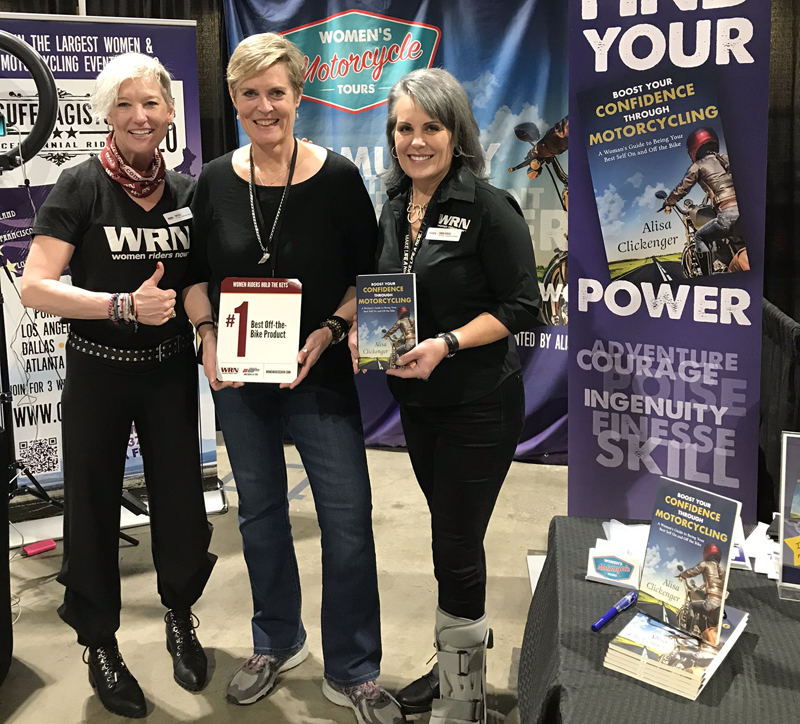 ---
Best Motorcycle Jackets for Women
ATWYLD
We are delighted that there were a few worthy nominees for this category, as we all know how important the right protective jacket is to our comfort and safety while riding. Congratulations to woman-owned motorcycle gear company, ATWYLD, who was selected because of its high-quality jackets that are durable, protective, and fashionable.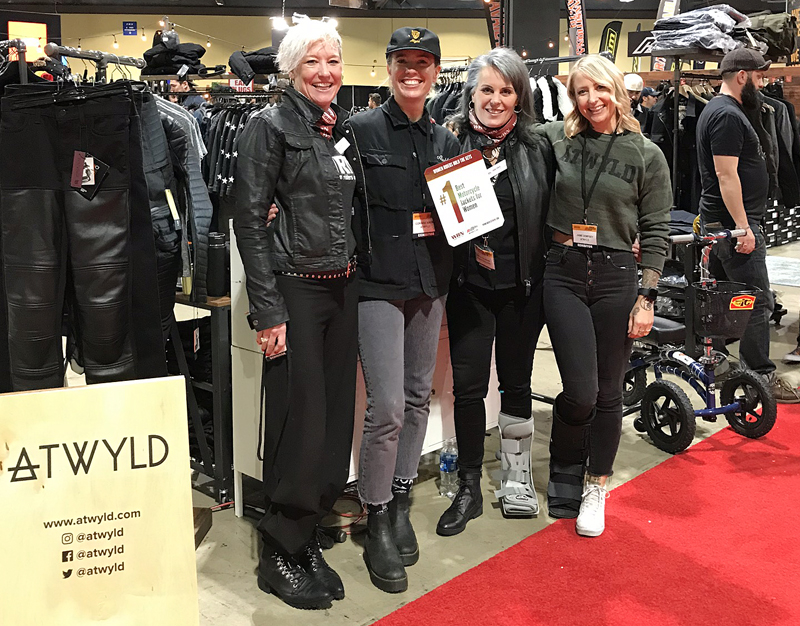 ---
Best Product for Pillions
SENA
For the second event in a row, a Bluetooth communication company well-known to longtime WRN readers was selected as the best product for pillion riders. Riders and passengers who took the survey think SENA products are the best for two-up riding because the Bluetooth helmet communicators allow them to talk with their partner while riding—or just tune them out and listen to music as they enjoy the open road.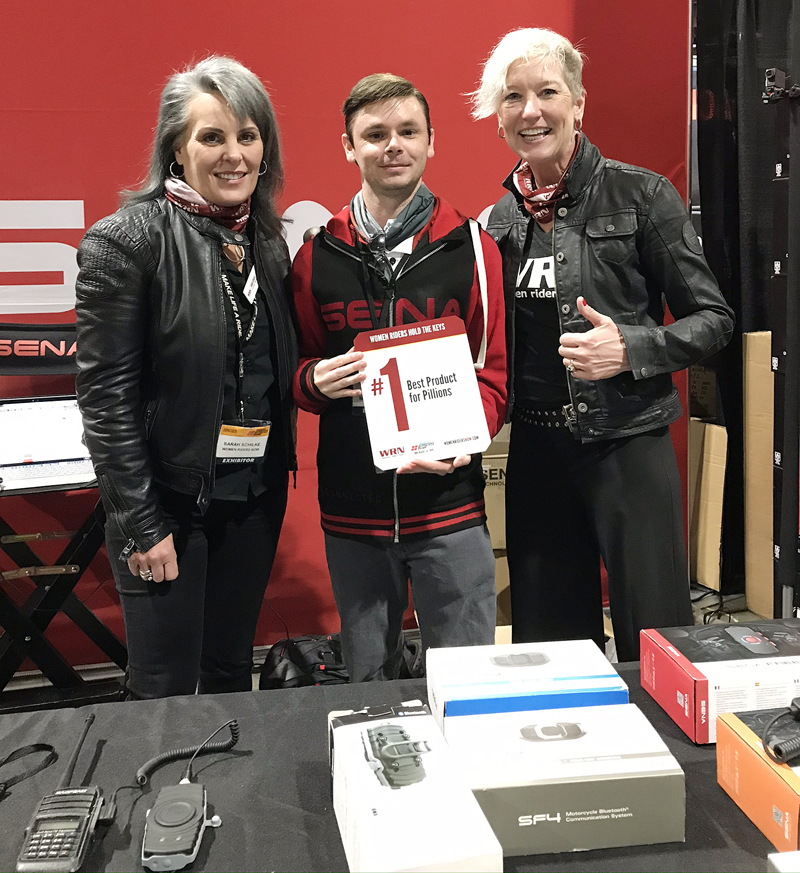 ---
Best Gadget or Accessory
UKoala hip bag
The highly functional hip bag stole this category. Extremely durable, these bags strap around your waist and one thigh to allow you to safely and conveniently carry small goods while riding and walking around off the bike. UKoala hip bags are incredibly versatile and useful for both women and men to carry things like a wallet, money, phone, tools, firearms, and more. It's always nice to find products at motorcycle shows that can be useful on and off the bike.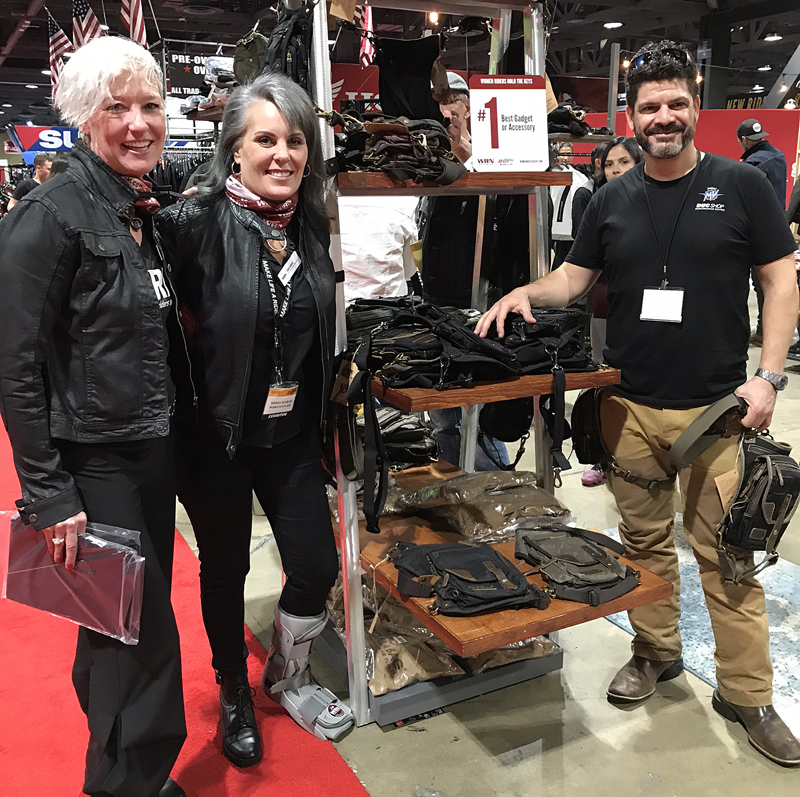 ---
Best Motorcycle Gloves for Women
Wind and Throttle
While the Wind and Throttle gloves were pretty much the only women-specific gloves available at the shows in both New York and Long Beach, we were very impressed with their protective qualities and how attractive they looked on the hand. They also come in a variety of cool colors to provide both function and fashion while riding.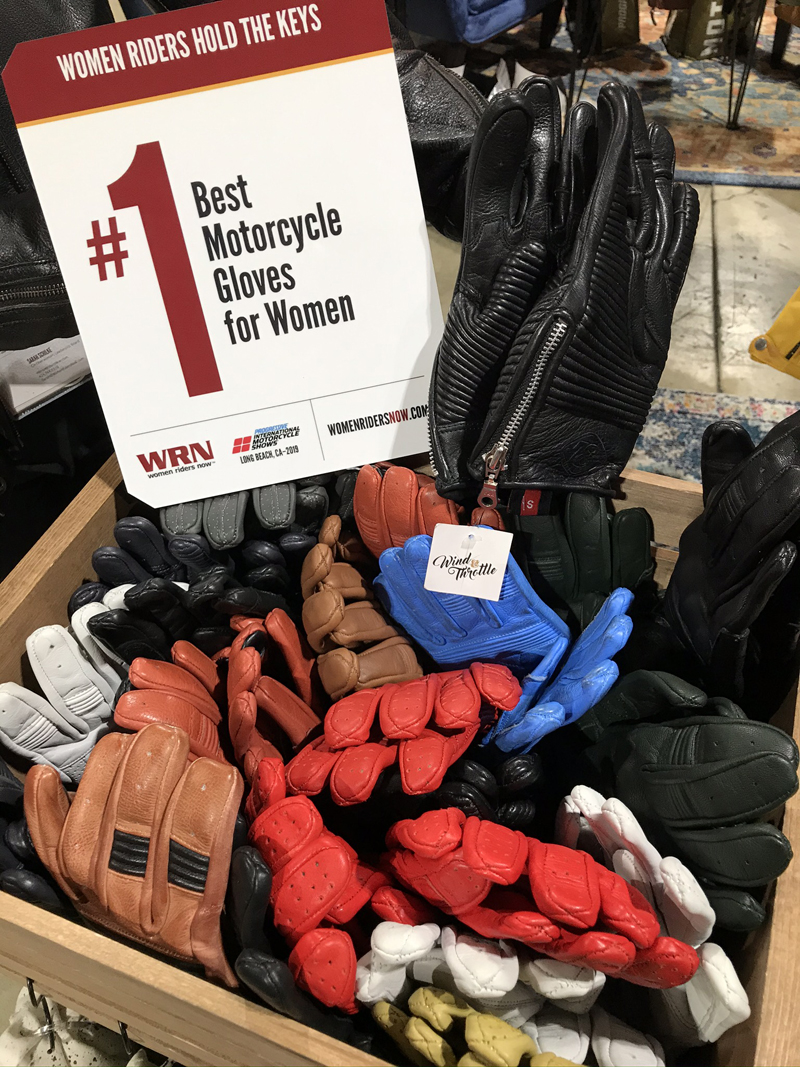 ---
Best Motorcycle Boots for Women
Sarah's orthopedic walking boot
Just like at AIMExpo, this turned out to be an "Epic Fail" category because no one could find one single boot at the IMS made specifically for women. We hope vendors notice all the women looking for boots made for us so they bring some next year!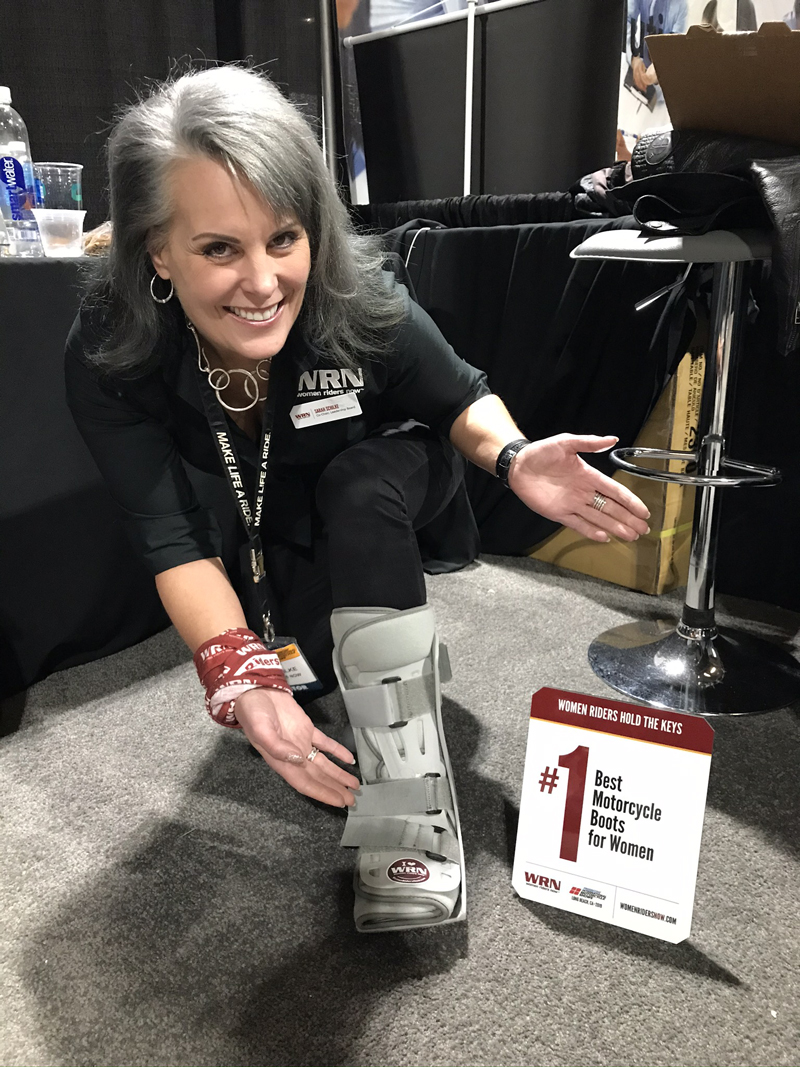 ---
Best Motorcycle Pants for Women
Stellar protective coveralls
While Stellar offers some pretty cool protective riding pants, the show attendees were taken by their STRATOSPHERE Dyneema Armored Jumpsuits. The Dyneema is stronger than Kevlar or denim and the suit comes with Level 2 CE-rated armor.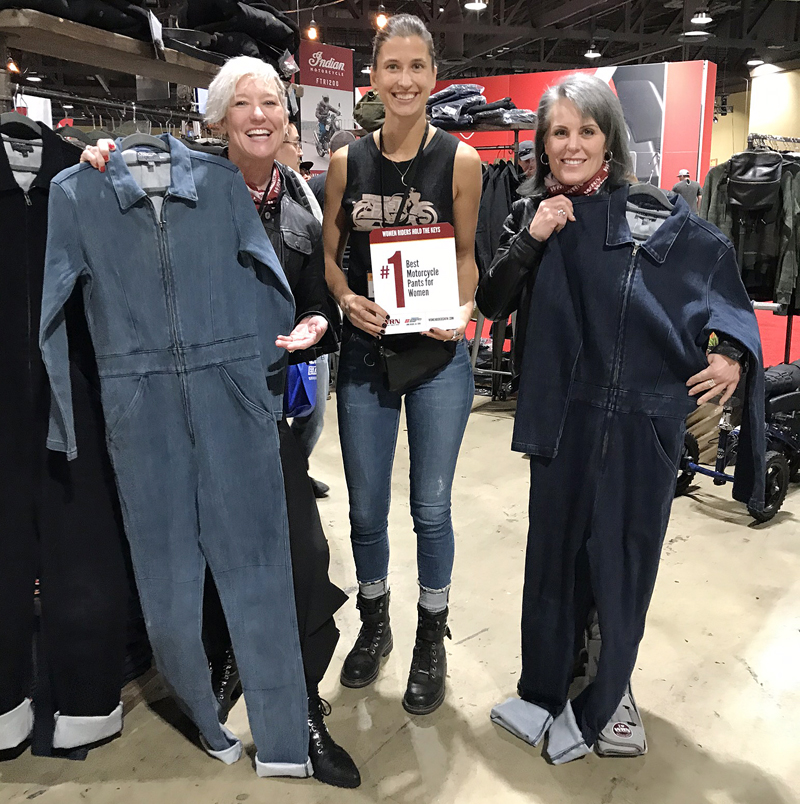 ---
Best Representation of Female Motorcyclists
Progressive Insurance coverall uniforms
A resounding sigh of appreciation was heard throughout the show as women attendees noticed the unique uniforms worn by the Progressive Insurance team. Rather than the same old skimpy "booth girl" style outfits seen throughout motorcycle shows everywhere, Progressive had gone with a classic coverall look that harks back to Rosie the Riveter and reminded everyone that women wrench on and ride bikes. Thank you, Progressive, for representing women powerfully!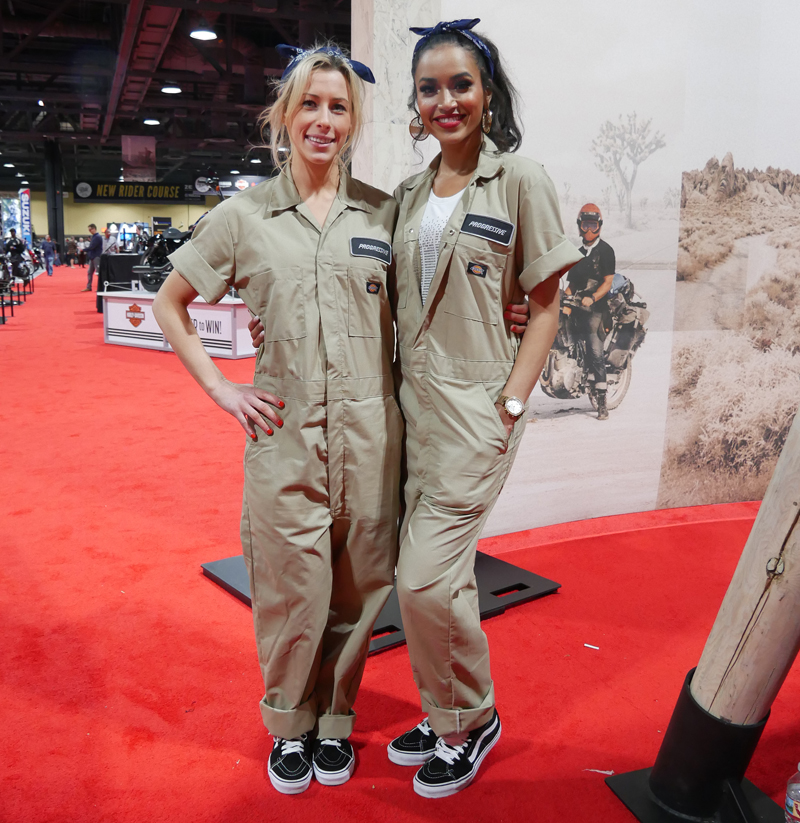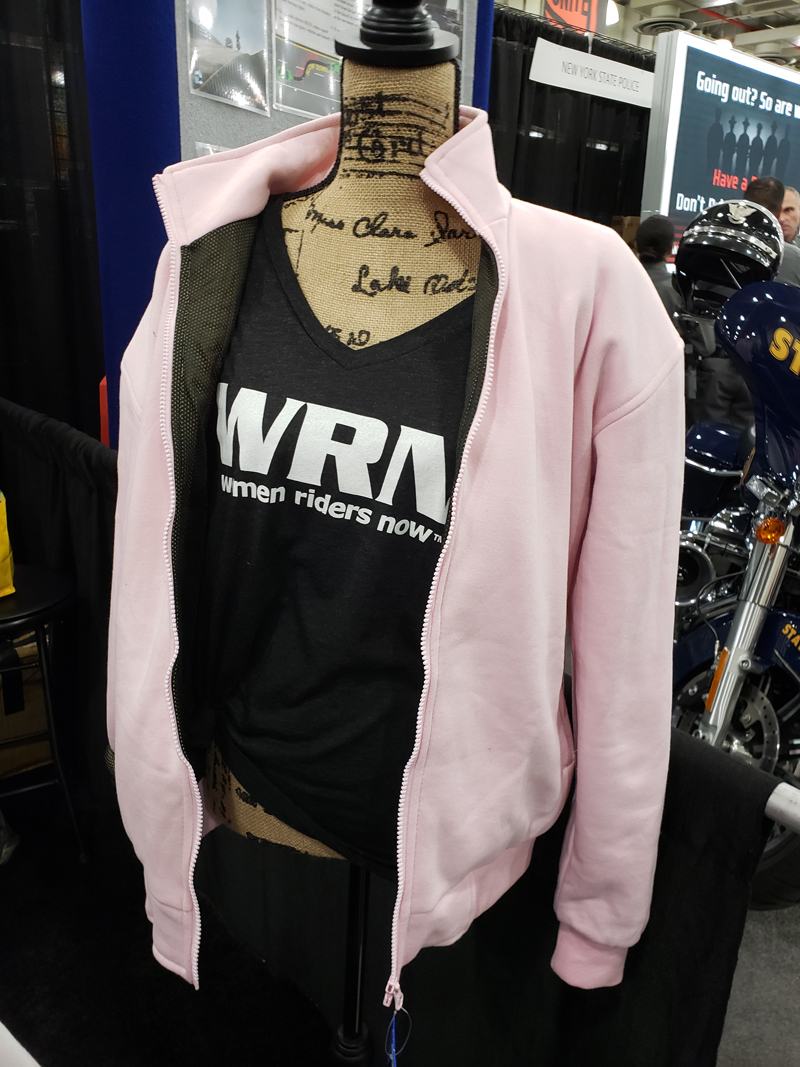 With six more cities to visit in 2020, be sure to check the Progressive International Motorcycle Show schedule so you can plan to attend an upcoming show to see it for yourself. Use code WRN20 to save $3 off admission. Please post a photo of your favorite bikes and products for women when you're there and use the hashtag #WomenRidersNowIMSFave.
Related Articles
Progressive International Motorcycle Show: Bikes, Wheelies, Winners, and More!
AIMExpo Awards for the Best Products
Women's Gear Reviews
WRN Calendar of Women's Motorcycle Events