This 2008 Powersports Dealer Expo in Indianapolis was larger than life, bursting at the seams of the downtown convention center. Much to our excitement, this years Expo catered to female riders more than ever before, giving women the power of choice, self-expression, independence, and protection. We spoke with a few well-known brands to get the inside scoop on what theyre doing for todays women on two wheels.
Scorpion EXO
Teri Gorrell, rider and protective apparel aficionado for Scorpion Sports showed me the new line the company is launching for women in March called Fem-Tech. This collection includes five jackets in 16 color choices, two pairs of mix-and-match pants built specifically for women, matching gloves and helmets, and a size range to fit almost any rider. Whether you like leather or ballistic nylon textile, Scorpion has your butt covered, literally. I picked my favorite jacket and pant combination to show you just how serious Scorpion is about preserving the beauty of the sport.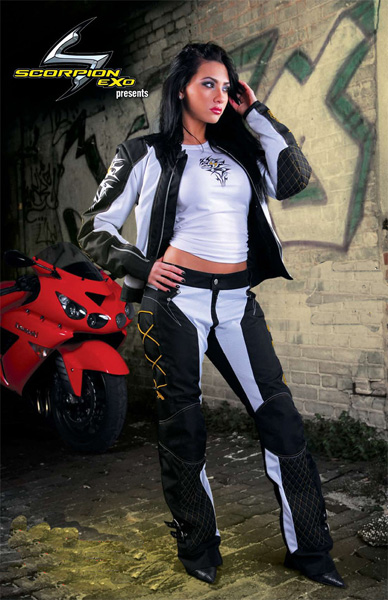 Nip/Tuck jacket: This jacket is made to keep the rider cool in warm weather or warm in cool weather, all while staying protected. It includes Exo-Tech armor in the shoulders and elbows and nylon mesh panels that allow plenty of airflow without compromising safety. There is a wind liner that can be zipped in or out as the temperature changes, and adjustable cords on the sides of the jacket provide a truly custom fit. The Nip/Tuck is available in six colors to suit any womans need for expression and choice.
Savannah pants: These pants are hot! Built to keep the rider cool, they have nylon mesh in areas that are less susceptible to impact and a removable wind liner for increased air flow. The rest is ballistic nylon, with adjustable chords on the thighs to ensure a snug fit, ankle straps to keep the lower legs protected in a slide, and an accordion-style waist-band to keep your lower back covered at all times. My favorite feature: they match the Nip/Tuck jacket perfectly for that much needed girly style with a hardcore edge and an attitude of safety built right in
You can check out the full womens line at ScorpionUSA.com.
Icon
Icon has been breaking new ground for female riders since its introduction of the Kitty line in 2004. This year is no exception, with several new items to protect the ladies. Icon rep Phil Davy showed me this years spring line which includes jackets, gloves, boots, pants, chaps, and helmets all cut, shaped and styled specifically for women. With so much to offer, I decided to highlight the newest creation from Icon to protect our best assets, our heads!
Airframe Regal helmet: Besides the sexy womens specific graphics in three colors and the outstanding level of protection, this helmet is made to keep you cool, dry, and focused on the road ahead. The shell is a composite of three strong cutting edge materials, while the liner is made from energy-absorbing dual-density EPS foam a combination that is ideal for preventing head injuries in any crash. It also comes with Icons new Proshield, which locks in place and comes in several shades and tints.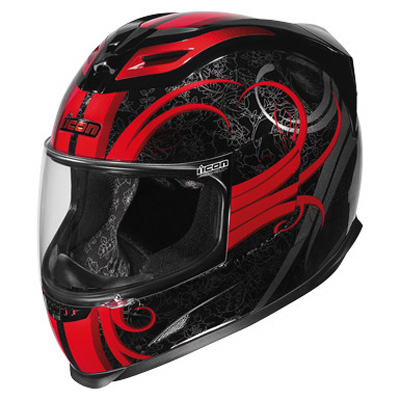 The interior is styled to match the graphics on the outside of the helmet, with removable cheek pads that are washable, and available in six sizes to ensure a perfect fit for any head. With an extensive venting system and moisture wicking material, Icon boasts that this helmet is the closest thing to air conditioning for your head. I already love the way it fits, feels, and looks without forgetting the excellent protection it provides.
You can see the full line of Icons new products at RideIcon.com.
Tour Master
Founded in 1978 under the ownership of Helmet House, Tour Master continues to raise the bar every year for sport touring and cruiser-style apparel. 2008 is proving to be no exception as a new generation of female riding jackets, pants, gloves, and boots made for cold and wet weather and prolonged riding give women an opportunity to hit the open roads without compromising comfort and style.
Richard Kimes showed me the new womens collection anticipating another great year for the brand. Many of Tour Masters new products include CE approved armor, breathable waterproof nylon, removable quilted liners, soft microfiber cuffs and collars, plenty of zippered ventilation, perforated leather, full circumference zippered pant attachments, and several colors to match any riders style. My applause goes out to the makers of Tour Master gear for offering five ladies jackets in plus sizes, a feature often overlooked in todays protective apparel for women.
Solution WP Road Boot: This boot is not new, in fact, it has been praised for its durability and comfort level since 2005. What is new, however, is that its now available in womens sizing with a slightly narrower foot. I had to check them out.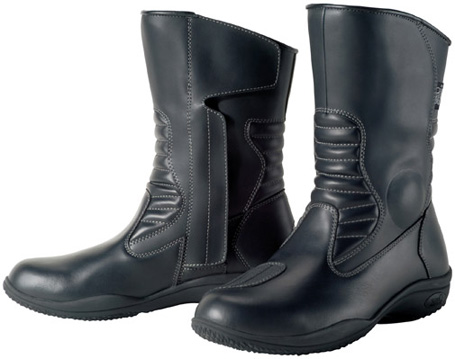 The name says it all: WP for waterproof. I was skeptical at first about a leather boot boasting waterproof capabilities, but one look at the list of features I was impressed. Made of thick 2.0mm waterproof leather these boots come up to mid-calf. They promise to hold up in cold rainy weather without making you look like youre planning a trip to the moon! Check out Diane Ortizs review of these boots on WRN by clicking here.
You can see all the new products for women at TourMaster.com.
Alpinestars
Alpinestars is well known for its world wide support of professional athletes competing in supercross/motocross, Moto GP, superbike road racing, sport bike stunting, Formula 1 racing, and now Nascar. Its a wonder the company has time to design new products for street riders, and yet there is a whole new lineup of apparel for road warriors.
Tim Collins from Alpinestars showed me products for women, the aptly named Stella line, ranging from textile jackets to leather racing suits, as well as street riding boots to womens specific bionic under armor. With a reputation for excellence and so many products to choose from, it was hard to pick just one piece to highlight. In the end, I decided to give two thumbs up to the new ladies sport performance gloves.
Stella Ice Glove: Not only is this new glove built with women specific ergonomic size and shaping, but also specifically made for females looking for performance with a little bit of style thrown in. These full grain leather gloves are designed to match the Stella jackets and suits already available from Alpinestars and come in four color combinations.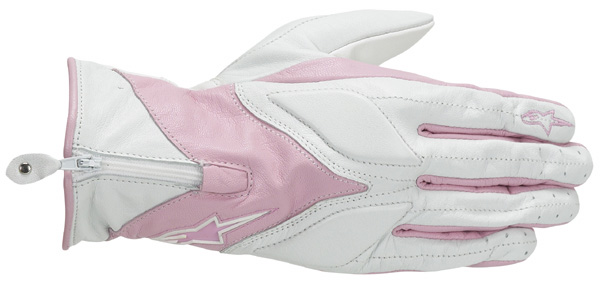 The knuckles are reinforced with 5mm EVA padding, and the fingers are perforated for airflow and pre-curved for ideal sport performance. These babies stay where they belong in case of an accident by a zippered wrist closure covered with elastic and Velcro. Our favorite feature: an additional full grain leather padded palm patch for maximum abrasion resistance and the ability to pull on that throttle with a confident and steady hand.
Check out the rest of the Stella products at Alpinestars.com.
Fulmer
Fulmer has been in the helmet business for 39 years so the company has a long history of designing quality products, including helmets for women. Fulmer reps Ray Woodall and Scott Holbrooks showed me so many new helmets for women and girls available this spring I couldnt contain myself.
The newlineup offers essential head protection for females in more shapes, colors and sizes than any other brand on the market; they must be onto something! As a family-owned company that does not use outside distributors, Fulmer is not only going to save your brain, it's going to save your wallet some grief as well, and that's enough to keep anyone sane.
Instead of highlighting just one product, I thought I'd give you a sneak preview of three new women specific designs that will leave you with peace of mind and your head in one piece.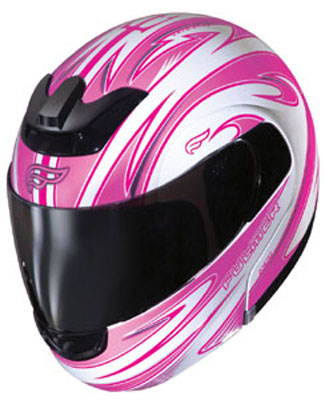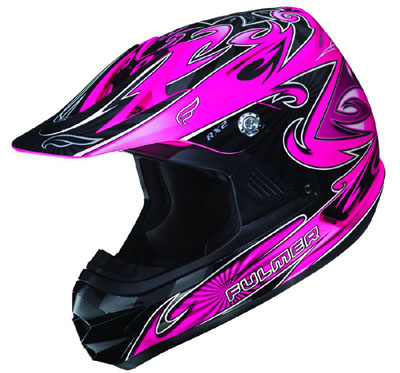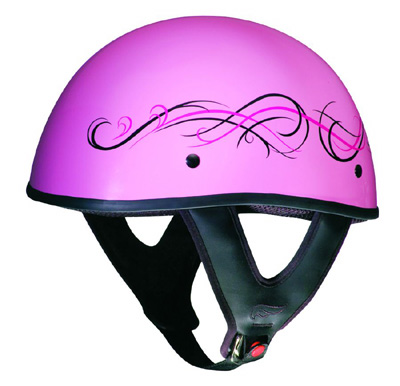 You can see newest line of female helmets at FulmerHelmets.com.
All these new lines will soon be in dealerships so visit the company Web sites and then check with your local dealer about buying. And check back soon for Part II featuring new products and accessories that make being a woman rider easier, more fun, and cooler than ever!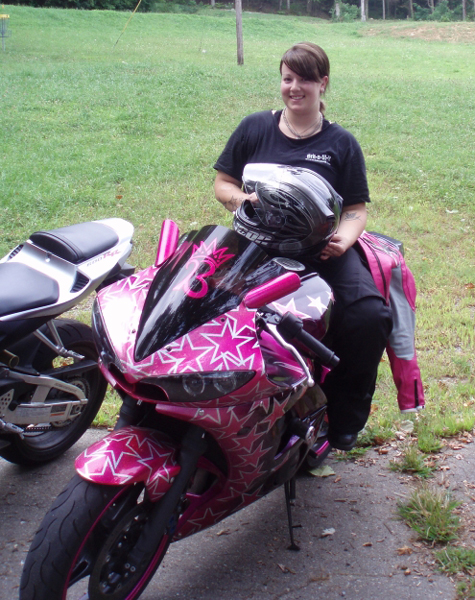 Support WRN by buying from our preferred women's motorcyle gear retailer.