Since I started Women Riders Now two years ago Ive been on a treadmill and the treadmills been running between fifth and sixth speed. For those who regularly use a treadmill you know thats between a jog and a run. Fellow entrepreneurs can relate, Im sure. Running your own business is fulfilling, fantastic, and fanatical. You work more than you play, fortunately motorcycling is a "fun" business so it easily merges with the "play" part of life. Despite the fun aspect, its still business so I find myself lying awake at night thinking about ways to market the business better, the email I forgot to respond to, or the proposal that needs attention.
If youve ever received an email from me with a time stamp of 3:00 a.m. now you know why. Part brain overload, part hormones – its impossible to get back to sleep so working in the wee hours of the morning is just part of the price an entrepreneur pays to be ones own boss.
I share this with you because I have hopes to blog more often, post a lot more stories on WRN, get to a lot more events, promote WRN in many more places but one can only do so much. Can we say "A" type personality? Ive recently hired some help to assist me in continuing to do what we do best at WRN – delivering the most up-to-date information on women and motorcycling as well as the lifestyle side of motorcycling. I am working on producing a lot of new motorcycle videos to post on WRN – something that is definitely the future of the Internet. We are right there on the cutting edge of all that.
Whats New?
In addition to the video, other aspects of Women Riders Now are evolving. Im asked time and time again by motorcycle dealership owners on how I can help them get more women into their store. I recently gave a presentation to Yamaha dealers on just that topic since that is my area of expertise. If youre interested in having me come to your dealership to consult, please visit the Speaking/Consulting link on WRN to learn more about my services.
Another aspect of the business that is evolving is developing women-oriented programs at events. Ive recently been hired by the organizers of Ohio Bike Week to bring them at turn-key womens conference. The day and half event will involve seminars, vendors and much more. Ill keep you posted on this through WRN.
Speaking of keeping posted, if you want to be alerted when we post a new story on WRN, then sign up for our RSS Feeds. If youre not familiar with what that is, its a simple program you download that when you launch it on your desktop alerts you when a new story posts. You can program it with your favorite Web sites so you know when new content is posted. You can turn it on or off whenever you want, but its there when you want it. We post a new news story just about every day. Occasionally, I leave up a news story for two days when I think its of big interest among our visitors like the AMA announcing the location of the next womens conference. But just about nearly every day, something is new on the site.
If you dont want to bother with the RSS feeds, you can always see what new stories are posted to WRN by viewing the white pulldown menu on the right side of every page near the top of the page. It says "The most recent articles posted to WRN." Youll never miss a story that way. It directs you right to the page that has a new motorcycle review, product review, feature story… or whatever else is new.
Be sure to regularly check our Readers Letters and Connect With Others links because Im always posting new letters. Same with the Reader Comments at the end of each Motorcycle Review. Im always posting new letters that come in regarding the various test rides weve done. Those can be read at the bottom of each review.
Whats On the Horizon
Im headed to Daytona Bike Week this weekend to test a couple of new bikes, shoot some video stories on various topics for you to view on WRN later including a visit to Roar Motorcycles a new retail store for women. Plus, Im taking part in Harleys big womens parade and shooting video of that! Lots to pack in in six days.
Its definitely a good time to be working promoting the womens motorcycling segment. Nearly every company is looking at ways to either produce a product for women, or market existing products to women. WRN is right there with the best resources in the industry to assist those companies in need as well as provide networking opportunities to hook up those who should be working together. Were all about sharing the wealth here.
Im excited at all the new apparel coming out this year for women. Scorpion Sports is entering the womens market for the first time with a new line of riding gear and the usual suspects are all introducing hot new lines for 2008. Be sure to read our report from the Powersports Dealer Show written by WRN contributor Brittany Morrow.
Plus, Betsy is back with another great reflection on motorcycling that will post on March 1. Be sure to visit Backroads With Betsy. I share this with you because after you read it, youll see that I have managed to squeeze in some personal time recently – a mini-vacation of sorts that she and I took – something we like to do when were snowed in and cant ride motorcycles. For me, its the next best thing. This is part of me finding balance in 2008 the issue that plagues us hard-driving women of the 21st century.
Must Sees
Speaking of balance, I have to mention to you my two new favorite TV shows. I dont have a lot of time to watch, but when I do, my guilty indulgences are watching NBCs Lipstick Jungle and ABCs Cashmere Mafia that Ive taped on my DVR. They are each spin-offs of Sex and the City, but take womens issues to the next level (no longer agonizing how many times a week they have sex with their partners). Rather these gal pals are all working in high powered jobs trying to manage life, love, kids, husband and boyfriends (sometimes the latter two together) in a real world scenario. Its worth checking out if youve not done so already.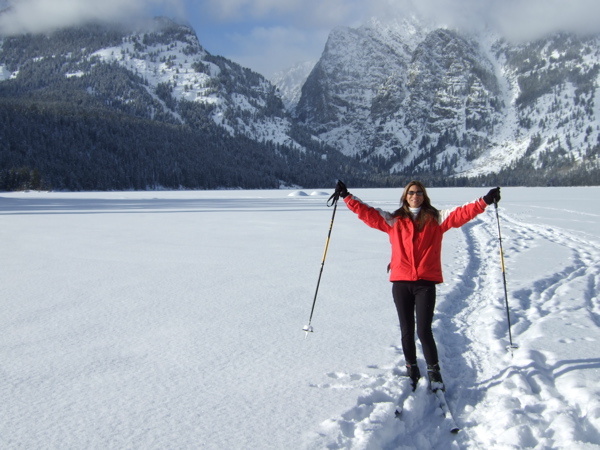 Thats it for now. Write me at gschmitt@womenridersnow.com to share your thoughts if you wish. I love hearing from you.